Obituary
Ygnacio Garcia (1942-2020)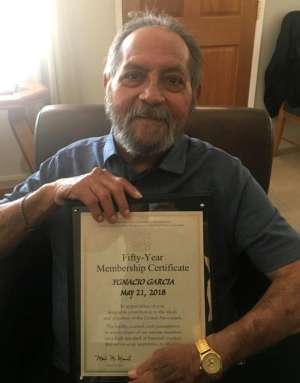 Ygnacio Garcia (1942-2020)
Ygnacio Garcia went with his Lord after a lengthy illness on February 10, 2020.
Ygnacio Garcia was a lifelong Fillmore resident born March 14, 1942. After graduating from FHS in 1961 he joined the United States Air Force.
He returned to Fillmore where he met the love of his life Belen, who he affectionately calls "sweetheart." They married February 15, 1969 and have celebrated nearly 51 years of marriage.
Nacho was part of the Union Pipe Fitters local 345, and The American Legion. He retired from SBCC in 2004.
He is survived by his wife Belen, daughter Yvonne, son Michael grandson Matthew and granddaughter Jasmine, brother John and sister Esther all from Fillmore.
The family would like to give a heartfelt thank you to his brother John and his grandsons girlfriend Amri friends Alice and Rosario for all that you have done to help support him.
Viewing will be at Perez Funeral Home in Fillmore, Tuesday, February 18th. Rosary Mass will be Wednesday February 19th at St. Francis of Assisi Catholic Church at 9:30AM burial will conclude at the Bardsdale Cemetery.