Obituary
William John Stocker (1926-2020)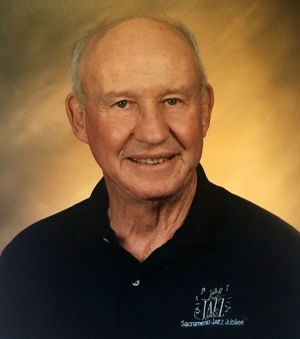 William John Stocker (1926-2020)
William John Stocker passed away peacefully in his home on March 4, 2020 at the age of 93. He was born on December 23, 1926 in Los Angeles, CA, to Samuel and Helen Stocker of Los Angeles, CA. Bill moved to Fillmore, CA with his parents and sister, Jean, in August of 1939 at age 12 when his father bought a variety store. Bill's adult brother, Lloyd remained in Los Angeles but did the bookkeeping for the business. A family of humble means they lived in the stockroom at the back of the store. After some months, the store began to prosper and there was no longer room for them to live so they bought the family home on Fourth Street where Bill's mother remained until her passing in 1980.
Bill attended Fillmore High School lettering in Basketball and Track. Always an active student, he also played football, was on the swim team, was a member of the Phi Theta Club and was in the orchestra and band. He also met Patricia Spangler at Fillmore High, his high school sweetheart and wife of 74 years.
At age 17 1/2 after graduation, he enlisted in the Army Air Corp in Dec. 1944 as WW11 was ending. The war ended as he completed his basic training. He was assigned a job as a clerk typist where he worked as a Separation Specialist and in the recruiting department in Colorado and Utah. He was commissioned to serve in Okinawa, Japan as a clerk typist for the 13th Depot Supply Squadron. He spent 8 months there before being Honorably discharged at the end of his second year. On returning home to Fillmore he asked for Patricia Spangler's hand in marriage. He presented her with a silk parachute he had purchased in Japan and a diamond ring. Patricia's mother, Doris Spangler, an accomplished seamstress, made her wedding gown out of the parachute and they were married, Jan. 31, 1947. (An altered version of the gown is on display at the Fillmore Historical Museum as well as a wedding picture of the original gown)
Home from the Army, Bill worked for his parents at Stocker's Dept. Store. In 1950 when his father, popular and well-loved Fillmore merchant and city councilman, passed away. With big shoes to fill, Bill, only 23 at the time, took over to manage the family business with his mother, Helen. During his years working at the store, two daughters were born to Bill and Pat. Cindy came along first in 1947 and Melinda was born in 1953. Stocker's was the place to go for all your family needs in Fillmore in those days before the big malls opened out of town. Stocker's carried in clothing, lingerie, cosmetics, hardware, toys, fabrics, and office supplies. Active in the community, Bill was a member of the Jr. Chamber of Commerce who sponsored the yearly May Festival. Bill and Pat built and decorated some amazing, award-winning floats for the Festival parade. Santa Claus made a visit to Stocker's Dept. Store every year, too, to the delight of all the kids in town. Sadly, they could not complete with the lower prices offered by the larger stores at the malls when they opened in 1961 so they sold the store.
Bill became the manager of Tip Top Drive-in on the highway after the store was sold. It was not fast food in those days. Food was homemade. French Fries, hamburger patties and hand -rolled corn burritos were all made on the premises- favorites of all the teens that hung out at the Tip Top. Always very social Bill had a men's coffee group that would meet daily in the back room. Bill loved his "routines" so when he sold the Tip Top in 1968, he continued the coffee drinking tradition at other businesses as the coffee group moved around town until the year before he passed. He was a proud member of the Grumpy Old Men coffee group outliving most all the guys in the group.
He sold cars for a while at Herb Gould Ford in Santa Paula and then sold restaurant supplies for a couple of years until he found his final occupation as a county employee at the Ventura County Fire Dept. He was hired by VCFD in 1969 as a Storekeeper 1. After 10 years he was promoted as a Fire Equipment Repair Technician. He retired in 1989 after 20 faithful years working for the Fire Department.
Bill had many hobbies and interests through the years. He played the trumpet for a local swing band and his wife, Pat, played the saxophone in the 1950 's and '60's. They also belonged to the Fillmore Dance Club that met quarterly for a formal dance. His love of music continued to recent years when Bill and Pat would drive their motor home to camp at places like Pismo Beach, Sacramento, and Three Rivers to attend annual Dixieland Jazz Festivals. He took an interest in sports of all types and could be seen at local football and basketball games every week. He even refereed little league baseball for a while. Bill loved Bowling and bowled on the weekly men's league and with Pat on the couples' league for many years. Bill and Pat enjoyed water skiing and took several trips with friends and family to places like Lake Shasta and Bass Lake. Bill even built his own boat He loved repairing things like lawnmowers and vacuum cleaners but most of all old cars. He was a member of the Classic Car Club and at one time was the proud owner of a 1929 Duesenberg and a 1939 Packard. In more recent years he owned a mint julep, two toned green Pierce Arrow Limousine and a yellow Model A with a rumble seat dubbed "Buttercup" which could be seen escorting dignitaries in the annual Fillmore Festival parade. He collected so many old car parts and gas pumps that he started a side business selling them to old car enthusiasts around the county. He took an interest in the history of Fillmore and served for a time on the board of the Fillmore Historical Museum where they enjoyed hearing all the stories he could tell about our town and the people in them.
Bill also enjoyed attending church in his later years and was a member of Faith Community Church where he and Pat attended faithfully every week. Always wanting to do what he felt was right, Bill chose to follow the Lord in baptism at the ripe old age of 87 showing it is never too late to ask the Lord Jesus into your heart.
Bill loved his family and took an interest in all their activities. He encouraged them to do their best and spoke his mind to give them guidance along their way. He is survived by his wife of 74 years, Patricia (Pat) Stocker, Daughter, Melinda (Chuck) Naas. Grandchildren, Lori (Don) Bennett, Ryan (Angelo) Wileman, Jeffrey (Kelli) Naas, Lisa (Jessica) Given, all of Fillmore, and Laura (Chad) Counts of Thousand Oaks. Great grandchildren Alyssa (Kenny) Lhotka, Tim Bennett (fiancée, Susan), Frankie Lozano, Kianna Lozano, Brianna Wileman, Carmen, Cody, Matthew and Kalyn Pinea, Madeline, Gabriella, AJ, Genevieve, Caleb & Jillian Munoz, Danica and Jonah Naas and Camille and Austin Counts. One Great-great granddaughter, Riley Lozano and step-great, great grandson, Carter Lhotka. He was preceded in death by his parents, Samuel and Helen Stocker, sister, Jean, brothers, Lloyd and Larry Stocker, Daughter, Cindy Wileman and Granddaughter, Melanie Wileman.
Services will be held for Bill on June 30th at 11:00 am at Faith Community Church. In lieu of flowers gifts in memory of Bill can be made to Faith Community Church of Fillmore or the Fillmore Historical Museum.