Obituary
William Edward Rife (1926-2014)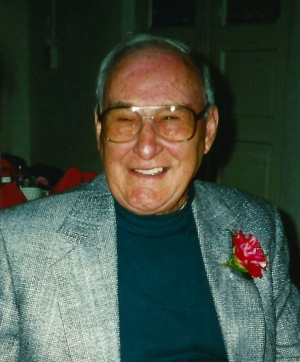 William Edward Rife (1926-2014)
Born Jan 29, 1926 the son of Irvin and Garnet Rife. Now both deceased Also deceased my sister Vera Thompson. Also, my wonderful wife Maxine Rife. We had 61 wonderful years together. Also deceased my mother-in-law Nancy Schmidt.
Bill was raised on a farm in Blencoe and Onawa, Iowa Bill always liked sports, He played basketball, an baseball in high school, and worked on the farm milking cows, and other chores.
I met my wonderful wife in 1945 and we married on May 20th 1946. Bill always said that Maxine was the best thing that ever happened to him.
After a few year in the army, Sargent Rife and Maxine started College at the University of Omaha. Bill and Max, that's what Bill called her. Got their BA degrees together, and both were teachers in Omaha, Nebraska. They then started working on Master's Degrees. After 3 years teaching in Omaha, They moved to Simi Valley, CA. where they both taught for 20 years. In the mean time they had bought a small orange ranch at Fillmore, California. They both worked the ranch, and grew oranges for Sunkist, That lasted for more than 20 years. When that got to be too much for them they sold the ranch, and moved into Rancho Ventura, in Ventura.
Bill and Maxine enjoyed life, did lot of traveling, both in the U.S. as well many overseas countries.
Bill and Maxine have many surviving, relatives, sister, Bonnie Krauth, and brother-in-law Wilbur Krauth at Lompoc, California, and my nephews, and my nephew Jimmy Krauth at Nipomo, California. Cousins Betty Gee at Mondanin, Iowa. Jonie and Don Neese at Missouri Valley, Iowa, Brother-in-law Don Schmidt and Ann Schmidt at Duluth, Georgia. Niece Elaine and Greham Lefton, at Duluth, Georgia. And Taylor and Parker. David and Debby Schmidt at Sarasota, Florida. And Tonya, Brian, Alexa and Alana. And Ann Miehe and Gary, and Son Jeff, Shannon, Colon and Andrew. Cousin John Spencer and Linda. Norma Bauer and Connie. Bob Thompson. Ohio. Cousin, Ann Miehe and Gary at Poolville, Maryland in Summer and at Mesa, Arizona in the Winter Months. And Jeff and Shannon Miehe at Corona Del Mar California. With Sons, Colon and Andrew. Bill had many good friends, Steve and Trudy Garner, Tom and Marie Powell these were really close friends, and a host of others.
Bill and Max built their own home in Simi Valley. Bill loved flying; he and Gale Fiscus owned a plane togethjer. We did lots of flying together. Bill also was a tennis buff, and loved to snow ski.
It was said that Bill never met a stranger, He will be Missed.
Visitation will be Sunday, February 23, 2014 from 4 to 8pm at Skillin-Carroll Mortuary, Graveside Service will be Monday February 24, 2014 at 1pm, at Bardsdale Cemetery. Arrangements under the care of Skillin-Carroll Mortuary 805-524-0744.