Obituary
William (Bill) Shiells Kimble (1926-2015)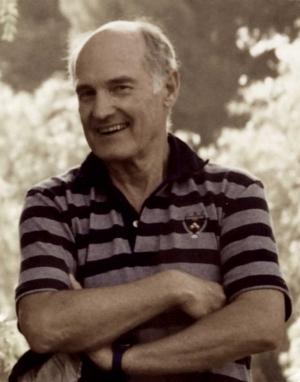 William (Bill) Shiells Kimble (1926-2015)
William (Bill) Shiells Kimble (1926-2015)
October 22, 1926 - November 23, 2015
William (Bill) Kimble passed away suddenly and unexpectedly on November 23, 2015 while boarding a local bus in Montecito, California. He had been active and fit and was running errands while helpers at Casa Dorinda were cleaning his apartment. Bill had been a resident at Casa Dorinda for 20 years and was beloved by all residents and staff who knew him. Always a gentle man, he took the time to befriend and take a personal interest in everyone he encountered. One staff member recounted that he loved to be called "Guillermo." " He was not just a resident," he said, "He was my friend."
Bill was born in Oxnard and raised in Wilmington, California. He was drafted into the army and served in Japan after the armistice. Thereafter, he lived in Los Angeles where he worked at Barker Brothers, a high-end furniture store. It was here that he developed a keen sense of taste in interior design. His many homes were impeccably curated and elegant set pieces that could have been photographed for Architectural Digest.
Around 1950, Bill moved to San Francisco, where he worked at the California Historical Society. His interest in history extended to his own family's history and he often included visits to distant relatives in his extensive travels. Bill was an avid traveler throughout his life. He circled the globe three times. Among his many adventures was a trip on the Trans Siberia/Mongolian Railway, many luxury cruises, including one on the QE2 for its inaugural crossing of the Atlantic, and a flight on the supersonic jet Concorde from Washington DC to London in a mere 3.5 hours! Bill hiked many National Park trails, the mountain peaks of Europe, and the Milford Track in New Zealand. He often spent holidays relaxing in Hawaii.
While in San Francisco, Bill began his lifelong exploration of life's deeper meaning. He was not a member of any religious faith, but explored life through lectures and extensive reading. He often wrote quotes and thoughts on napkins, used envelopes and scraps of paper. One said, "God asleep is man. Man awake is God."
In the early 1970's, Bill moved to Fillmore, CA to be closer to his mother, Helen Shiells Kimble during her later years of life. He left San Francisco's foggy weather and embraced southern California's sunny climate by creating a grand garden filled with succulents and bougainvillea. Ever adaptable, he began to incorporate art and objects from old California and Mexico into his collection. After his mother passed away, he moved to a one-room apartment at Casa Dorinda in Montecito overlooking the San Gabriel Mountains.
Bill was a bon vivant, a man of impeccable taste and a world traveler. He lived his life well and fully and on his own terms. We will miss his generosity of spirit, the twinkle in his eyes and his large fits of laughter. He was preceded in death by his father, Orva Lewis Kimble; his mother Helen Shiells Kimble; and his sister, Virginia Kimble Headley. He is survived by his brother, Donald Kimble; his sister-in-law, Mary Anne Kimble; his nieces, Martha Richardson and Kiyomi Kimble; his nephews, Scott, Loren and Christopher Kimble; and many cousins, grand nieces and grand nephews.
Bill was laid to rest at Goleta Cemetery along with other members of the Shiells Family on November 30, 2015. May God be with him on his greatest journey.