Obituary
Viola Riesgo Garnica (1932-2012)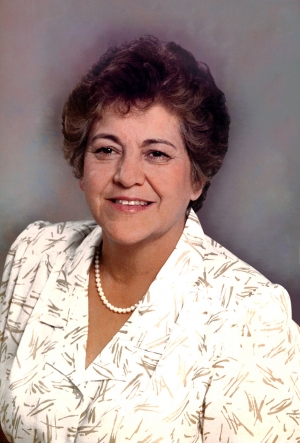 Viola Riesgo Garnica (1932-2012)
Viola Riesgo Garnica, beloved wife, mother, and grandmother passed away peacefully after a brief hospitalization for an infection, the morning of Sunday, August 5, 2012, at her home in Fillmore surrounded by her family. She had bravely battled non-Hodgkins Lymphoma since 2009. She had just celebrated her 80th birthday, having been in remission from cancer for a year.
Viola Catherine Riesgo was born on June 25, 1932, to cement mason James and housewife Lou Riesgo of Fillmore. The third of four Riesgo children, she began her education in Fillmore's segregated schools during the height of the Depression. A determined 5-year-old, Viola enrolled herself in Sespe School kindergarten instead of the old Mountain View School. Her innocent determination to attend school with her friends broke the 'color' barrier of the time opening the doors for many others to follow. She excelled in mathematics, spelling, reading, writing and sports. While attending Fillmore High School she lettered in four sports and was vice president of the Girls' Athletic Association. She graduated from Fillmore High with the Class of 1950 and had hoped to attend college but the Korean War and family necessity required her to go to work. She worked as an office clerk for the Frank Munoz Pipeyard until 1955 when she married her next door neighbor, Louis Garnica. The couple started a family, raising three daughters, Catherine, Luanne and Debra. As a working mother Viola was first a seamstress, then a payroll clerk and office administrator for the Fashion Development (Olga) Corporation in Fillmore. She was an officer with the Business and Professional Women's service club and also served on the Fillmore Planning Commission.
Viola and her family helped to fundraise for the new St.Francis of Assisi Church on Highway 126 in Fillmore. Louis and she chaired the St. Francis Church fireworks booth for 16 years with help from family and friends. Viola and Louis also made many friends as members of the church-affiliated Padrinos and Los Caballeros organizations. When Viola retired from the Olga Company after 25 years she was able to help raise her five grandchildren, one of the greatest joys of her life. And, because she and her husband missed the chance to attend college, she made sure that her three daughters attended and graduated from Pepperdine University. She also encouraged four of her five grandchildren -- Will, Marie, Karen and Jim -- to graduate from California public universities, with the fifth grandchild, Megan, on track to graduate from Cal State University, Monterey Bay in two years.
Viola was an affectionate "Nana" to her family and as a consummate cook. She lovingly prepared everything from tasty lunches and snacks to lavish meals of Mexican, Italian and All-American fare for "family night" dinners and special occasions. She loved to tend to her rose garden and backyard filled with fruit trees and exotic plumeria plants. In later years she enjoyed road trips along the historic "Route 66" highways through Nevada and other western states, visiting the Grand Canyon, Mount Rushmore, and attending mariachi festivals in Arizona, New Mexico and Las Vegas.
Viola is survived by Louis, her devoted husband of 57 years; sister Eleanor Vargas of Fillmore; brothers Frank Riesgo of Santa Paula and James Riesgo of Ventura; daughters Catherine Garnica of Fillmore, Luanne and son-in-law John Schaper of Simi Valley and Debra and son-in-law Kevin Louth of Fillmore; grandsons Will Schaper of Madrid, Spain, and Jim Schaper of Simi Valley; granddaughters Marie Schaper of San Diego, Karen and Megan Louth of Fillmore; and countless nieces, nephews, cousins, goddaughters, godsons and friends.
Family and friends may visit 4 p.m. to 8 p.m. on Sunday, August 12, 2012, at Skillin-Snyder Mortuary in Fillmore. Rosary will be recited at 6 p.m. Funeral mass will be celebrated at St. Francis of Assisi Catholic Church in Fillmore on Monday, August 13 at 10 a.m. Graveside services will follow at Bardsdale Cemetary. A reception will follow at the St. Francis of Assisi Church hall.
In lieu of flowers, the family asks that memorial donations be made to the American Cancer Society or to the "Relay for Life" fundraise.