Obituary
Veda Vest Southwick (1928-2014)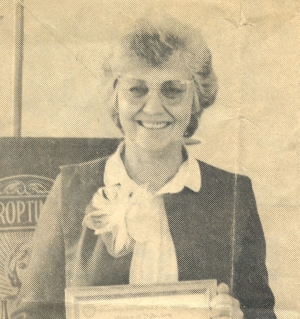 Veda Vest Southwick (1928-2014)
Veda Vest Southwick
Veda Southwick, a long-time resident of Fillmore, passed away peacefully at home on Friday morning, September 12, at the age of 86, due to a long battle with dementia. Her loving and devoted husband, Leland, was at her side, as he has been throughout her illness.
Veda was born on July 23, 1928, in Bolivar, Missouri. Her family moved to Fillmore in 1937 when Veda was 9 years old. She attended Fillmore elementary schools, then Fillmore High School, where she met her husband, Leland, They were married for 68 years and had three children together.
Veda worked for the City of Fillmore for 20 years, first as a clerk, then working her way through almost every department in City Hall until she became Finance Director in 1980. She was even appointed by the City Council to take over as Interim City Manager for three months in 1985. Because of her hard work and devotion to the city, she was selected to be Grand Marshall of the Fillmore May Festival parade in 1985.
Veda was also a member of the Soroptimist Club in Fillmore, where she received the Woman of Distinction Award for her outstanding achievements in professional and volunteer work in the community. She was very involved in her children's school activities, attending every program or sporting event in which they participated, and was an active member of the football and basketball booster clubs.
After retiring in 1988, Veda and Leland enjoyed many excursions in their motorhome, making three trips from coast to coast. They developed a passion for travel, visiting relatives and sightseeing in every state. Veda also had many hobbies on the side, such as refinishing furniture, painting, reading, and working in her rose garden.
Even though her grandchildren and great-grandchildren were spoiled with toys, gifts, and food, what impressed them the most about "Grammy" was the love, attention, and time she spent with them. They all remember the lavish feasts that she would prepare for family, cooking more food than any crowd could possibly eat and stocking the cookie drawer full of sweets.
Veda was a kind, loving person who had a wonderful sense of humor and a knack for finding the bright side of any situation. She had many friends who loved being around her because of her "joie de vivre." She will be greatly missed by her husband, Leland, her daughter, Diane Southwick Arundell and son-in-law, Jim, her daughter, Barbara Southwick Thorn, her son, Gary Southwick, and daughter-in-law, Susan.
Veda and Leland have six grandchildren: Marty Burdsal, Robbie Burdsal, Julie Arundell Grimstad, Jamie Arundell Latshaw, Stephanie Southwick Smith, and Ryan Thorn, along with ten great-grandchildren and many nieces and nephews. She was preceded in death by her parents, Audie and Addie Vest and her brother, Daryl Vest.
The family would like to take this opportunity to thank Assisted Home Hospice for their loving care of Veda for the last 11 months, especially Shari, Linda, Diana and Rosario. We would also like to thank her caretaker, Stella, for her devotion and her willingness to be there anytime she was needed.
Friends and family are invited to help us celebrate Veda's life on Friday, September 19 at 12:30pm at the Skillin-Carroll Mortuary at 600 Central Ave. in Fillmore. A private family service will follow at Bardsdale Cemetery.