Obituary
Thelma Ruth Dorton (1931-2014)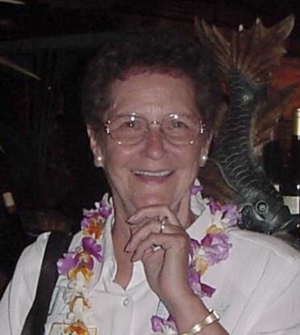 Thelma Ruth Dorton (1931-2014)
This obituary is for my Mother-in-law, Thelma Ruth Dorton 83 years old. Thelma passed on Saturday, October 4, 2014 in the ICU at Community Memorial Hospital on a day when the recorded temperature in Fillmore reached an unseasonable 107 degrees! She was surrounded by her Family as she passed on to be reunited with Bill and the many other loved ones that passed before her! Thelma and Bill were active members of the Bardsdale United Methodist Church until she could no longer attend services, but continued to practice her faith by watching The Hour of Power every Sunday as she rode her recumbent bicycle five miles in front of the television!
Thelma was better known as Ruth and was an authentic "Coal Miner's Daughter!" Born in Roda, Virginia on September 13, 1931 to John Markland and Cora Wilson. Ruth was # 3 of four children. Ruth, until recently was a resident of the El Dorado Mobile Home Estates where she lived with her love of forty years William "Bill" Brunet until his passing in January 2014. After his passing Ruth chose to live with her oldest daughter, Carolyn, Son-in-law Dick and Granddaughter Arron on Grand Avenue in Fillmore.
Ruth is survived by her oldest sister Carole Coleman of New Lebanon, Ohio and her three children; Carolyn L. Dorton-Diaz (Dick) of Fillmore, Karen Sue Dorton of Maui, Hawaii and Ralph Eugene Dorton (Yoshie) of Pahoa, Hawaii. Granddaughter Julia Marie (Diaz) Fitzgibbons (Daniel) of West Hollywood, CA, Phillip C. Diaz (Sarah) both proudly serving with the U.S. Navy in San Diego, CA, Johnathon Sotello of Hilo, Hawaii and Arron Diaz of Fillmore.
As my Mother-in-law, Ruth and I shared a traditional relationship for thirty-six years until she became a member of our home. Once Ruth settled in with us she became Mom to me. Mom then quickly embarked on her favorite pastime of, "Letting Dick" do the many things she needed to be done. Letting me do her requests always brought a chuckle to Carolyn and me because it was her way of telling me she needed me to do something for her. It was as if she was giving me her permission to run her errands, make her coffee, or her lunch. Mom enjoyed my cooking so much that her doctor put her on a diet. But when I made her favorite plate of spaghetti Mom would conveniently put that diet aside and enjoy her meal. I really will miss Mom and having the privilege of her "Letting" me do the things she needed to have done.
Ruth will be dearly missed by her Family and Friends. Ruth was a passionate lover of pets and she will be missed by her little companion dog Tinker Bell. Tinker Bell and Ruth were inseparable. Tinker Bell will remain in our home and will be loved in the manner she came to enjoy with Ruth.
Ruth's final arrangements were handled by Joseph P. Reardon Mortuary in Ventura. Ruth's services will be private following the wishes she expressed to her Family.