By Gazette Staff Writer — Wednesday, December 30th, 2009
By Gazette Staff Writer — Wednesday, December 30th, 2009
By Gazette Staff Writer — Wednesday, December 30th, 2009
Attorneys for the Fillmore Convalescent Center announced today they will take immediate steps to set aside a Ventura County jury verdict handed down last Friday awarding $7.75 million to the family of a 71-year-old resident who filed an elder abuse lawsuit.
Between 2006 and 2007, Mrs. Arellano's son hid a video camera in Mrs. Arellano's room for a period of several months. During this time, unknown to Fillmore Convalescent Center, the video camera recorded unlawful and unacceptable acts of the recorded physical abuse behavior by a now former employee against Mrs. Arellano. Although Mrs. Arellano's family was aware of the abuse, it was not brought to Fillmore Convalescent Center's attention until March 2007 nor was there any indication of issues with Mrs. Arellano's care until this time. Upon learning of these events, Fillmore Convalescent Center immediately terminated the employee and notified the California Department of Health as well as the long-term care ombudsman. Since this time, the ex-employee responsible for these unlawful and unacceptable acts was criminally charged and pleaded "no contest" to the criminal charges. Last Friday, after a 22 day trial, a Ventura County jury awarded $2.5 million in actual damages and $5 million in punitive damages against the facility, owner Eduardo Gonzales and the ex-employee.
"With regards to the verdict in this case, we strongly disagree with the decision and will be taking all appropriate legal steps to set aside the verdict," said Thomas Beach, attorney representing Fillmore Convalescent Center (FCC). "We are also concerned as to why Mrs. Arellano's family members did not inform Fillmore Convalescent Center or law enforcement of the recorded abuse when they first discovered it but rather allowed it to continue without notifying anyone," said Beach.
Fillmore Convalescent Center was recently awarded a five-star rating which is the highest rating given to a long-term care facility. This U.S. Government rating is from the Nursing Home Compare System which is run by the Centers for Medicare and Medicaid Services.
"We are proud of our five star rating and are committed to the health, safety and well-being of the residents at Fillmore Convalescent Center", said Eduardo Gonzales, Administrator, Fillmore Convalescent Center. For the past 32 years, Fillmore Convalescent Center has provided and continues to provide the finest in quality care for all of our residents, including Mrs. Arellano, who is still a resident.
By Gazette Staff Writer — Wednesday, December 30th, 2009
A single car accident occurred Tuesday on Goodenough Road at approximately 3:45 p.m. No injuries were reported.
Enlarge Photo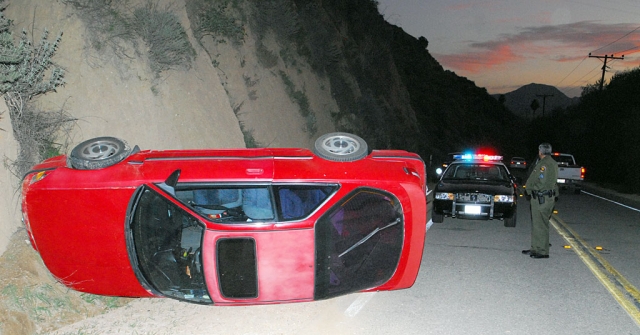 The male driver of the vehicle lost control, heading north, nearing "Deadman's Curve". No other vehicles were involved.
Enlarge Photo
By Gazette Staff Writer — Wednesday, December 30th, 2009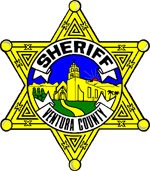 Ventura County Sheriff's Department
Detectives from Ventura County Sheriffs Department and Santa Barbara Co. Sheriff's Department have been monitoring some burglary activity that appears to be from the same criminal group working up the coast. The Santa Barbara detective has also been in contact with San Luis Obispo County Sheriff and they have had similar burglaries. Our recent burglaries are tied to this group.
It appears the criminal crew is now possibly working their way back down the coast to our area as they just hit a construction site at a school off State Hwy 154 in Los Olivos last night. Small hand tools, chain saws, and air compressors were taken.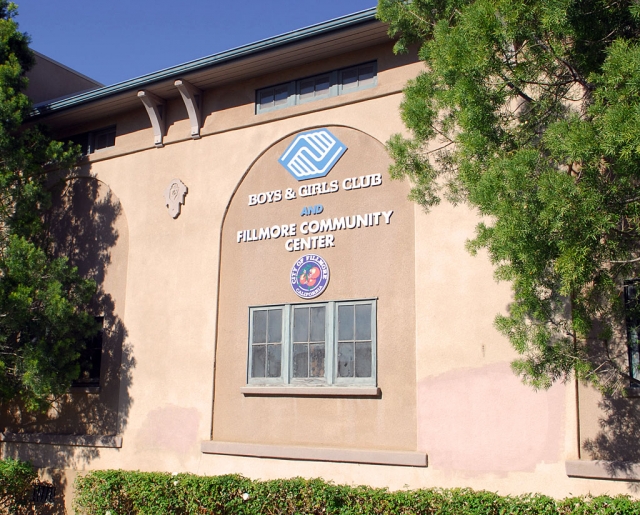 Fillmore Boys & Girls Club and Community Center.
Enlarge Photo
By Gazette Staff Writer — Wednesday, December 30th, 2009
Interim Chief Professional Officer for the Boys & Girls Clubs of Santa Clara Valley, Sheila Tate, is happy to announce the addition of three new members to the organization's Board of Directors. The new directors are Tammy Hobson, Earl McPhail and Tracy Grove. Tammy is a Fillmore resident local business owner (Live Well International) and comes to the Club with great dedication and enthusiasm. Tammy donated a great deal of time and effort for the Club's Annual Dinner/Auction held in September, 2009, and has already agreed to serve as the event chair for the 2010 Dinner/Auction scheduled for November 6th. Earl McPhail is a long time Santa Paula resident, having lived in the area over 30 years. As a result of his 29 ½ years of service through his position as Ventura County Ag Commissioner, from which his is now retired, Earl has seen a great deal of growth in the communities in the Heritage Valley and says " It is exceptionally important to do what we need to do to keep the Club open. Especially with today's economic climate, we need to make the Club as available to as many young people as possible." Earl became aware of the Club through his participation in several golf tournaments throughout the years, as well as his children's participation in various Club activities. Now, with his children grown and his retirement, Earl feels he has the time available to give to the Club, for which we say "Thank you!" The third new member to the Board is Santa Clara Valley Bank's Asst Vice President and Operations Manager, Tracy Grove. Tracy is not only in the newest group of Board members but is also the youngest person on the Board. Tracy is, having been born in Ojai, now living in Fillmore, a lifelong resident of the Santa Clara Valley and is looking forward to helping the Club as a Board Member. Tracy asked that we remind everyone, "We cannot always build the future for our youth, but we can build our youth for the future!" Well said.
The Board of Directors, and staff, is looking forward to the New Year, guiding the Club through the current economic challenges, forming the Club into a new and even more effective organization dedicated to its mission statement "To inspire and enable all young people, especially those from disadvantaged circumstances, to realize their full potential as productive, responsible, and caring citizens." This goal has never been more accurate or more needed, and the Board of Directors is ready to stand behind the Club, its purpose in the communities of the Santa Clara Valley and the children it is pledged to serve.
By Gazette Staff Writer — Wednesday, December 30th, 2009
Justin Neff, 40 of Fillmore, was sentenced to nine years in state prison after pleading guilty of two felony charges, misdemeanor battery and making criminal threats.
Neff had been out of prison for only three days in November 2008 when he threatened his father and step-mother, throwing a remote control at her. He was accompanied by another parolee. Neff also threatened to kill his step-mother and shoved her against a wall.
Joseph O'Neill, Neff's attorney, requested 32 months at sentencing, but with his long criminal history of domestic violence, Judge Steven Hintz imposed the nine year sentence.
Neff was also convicted of a drunken driving charge in a 1989 accident where a passenger was killed. He will receive anger management counseling as well as drug and alcohol counseling in prison.
By Gazette Staff Writer — Wednesday, December 30th, 2009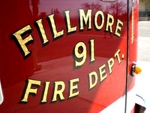 Fillmore Fire Department
On Saturday December 26, 2009 at approximately 9:45AM the City of Fillmore Fire Department was dispatched to a reported structure fire located at 540 Saratoga Avenue in the City of Fillmore. Upon arriving on scene personnel observed two rooms charged with light smoke as well as heat radiating from a wall adjacent to a wall furnace.
Upon removing the heater and adjacent gypsum board from the location, personnel were able to launch a quick attack Structure fire swiftly knocked down and knock down the remaining fire found within the wall space.
Firefighters conducted overhaul of the residence to insure there was no further extension to the attic or wall space. Damage to the structure was confined to the wall and wall furnace leaving the structure completely habitable.
No injuries to the occupants or firefighters occurred as a result of the incident. Residents are reminded of the
dangers associated with heaters – especially those greater than 20 years old. Installation and construction standards have changed to protect homeowners over the years however existing installations lack the margin of safety new devices provide. Prior to operating any heating device residents should contact their local heating &
cooling specialist for an annual inspection. You local expert can assist you in determining whether or not your device is functioning correctly.
By Gazette Staff Writer — Wednesday, December 23rd, 2009
By Andy Arias — Wednesday, December 23rd, 2009
Warming up the crowd of youth and adults in Piru got a helping hand through the recent distribution of over 300 new and used coats at two distribution points during this holiday season. In partnership with the Ventura Rotary Club's "Coats for Kids" program, volunteers distributed 125 coats to youth prior to the Wednesday night Christmas Program at Piru Elementary School. Then, Sunday December 20th another 200 coats of all sizes were provided to the community at San Salvador Mission.
These coats were gladly and appreciatively received by members of all ages in this tight-knit community. The many volunteers who made this all possible warmly welcomed the smiles and hugs. Many of the volunteers were members of the newly formed Piru Seniors & Active Adults League. This new group, P-SAAL, is a recently formed community group established within San Salvador Mission for seniors and other active adults. This group will focus on arranging activities and presentations to increase and expand opportunities and experiences for our local residents. These will include, but not be limited to, activities for exposure to local and regional cultural, historical, educational and entertainment destinations and proceedings.
For more information about P-SAAL, please contact Andy Arias at tactman@aol.com or 805-521-1554.
By Gazette Staff Writer — Wednesday, December 23rd, 2009
Fillmore Convalescent Center
Fillmore Convalescent center must pay $7.75 million to the family of a 71-year old stroke victim, Maria Arellano under the conditions of an elder abuse lawsuit. The trial lasted 22 days. The verdict splits liability among three defendants: Fillmore Convalescent Center, 40 percent; owner Eduardo Gonzalez, 40 percent; and employee Monica Garcia, 20 percent.
Arellano's family became suspicious when bruises appeared on the woman, who could not speak. The family set up a hidden camera, after complaining to the facility's management, which the alleged were not investigated. The camera was key at the trial. It showed Garcia slapping Arellano, pulling her hair, twisting extremities, and brutally in a shower chair.
Garcia was criminally charged and pleaded no contest to simple battery in February. She did 10-days work release.
The family of facility resident Daniel Sanchez, 83, suspect that Sanchez may also be a victim of abuse. They have also filed a lawsuit that is slated for trial in January 2010. Sanchez has since died. He was also a stroke victim and non-verbal.
Attorney Gregory Johnson, who represented the Arellano family, said he offered to settle the case with the Center in July for $500,000, according to the Ventura County Star. The Center made no offer of monetary settlement or mediation, said Johnson. Arellano is still a patient at the facility.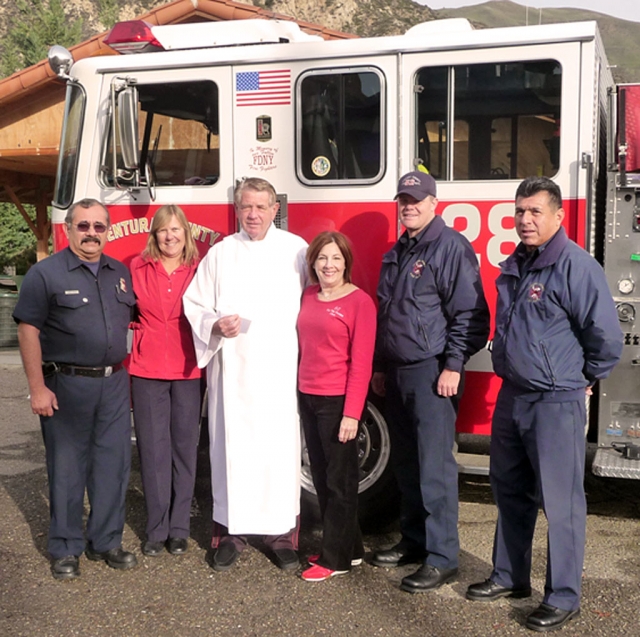 Pictured (l-r) Engineer Fred Ponce (VCFD Station 28), Virginia Obenchain (FTT), Father Barney, Paula Cornell (Co-founder of FTT), Fireman/Paramedic Jason Buckley (VCFD Station 28), Captain Danny Rodriquez (VCFD Station 28).
Enlarge Photo
By Dick Diaz — Wednesday, December 23rd, 2009
On Tuesday, December 15, 2009 Father Barney of the Parochial Mission San Salvador Catholic Church in Piru handed a second check to Co-Founder Paula Cornell of the Simi Valley based For The Troops (FTT) organization in the amount of $793. A $300 check was given to For The Troops in August of this year also. The total of $1,093 was collected from contributions made by parishioners from both the San Salvador and Saint Francis of Assisi Catholic Churches. Assisting with the presentation to FTT Members Paula Cornell and Virginia Obenchain were members of the Ventura County Fire Department's Station 28 headquartered in Piru; Captain Danny Rodriquez, Engineer Fred Ponce and Fireman/Paramedic Jason Buckley.
Recently the County of Ventura Fire Department joined with the "For The Troops Program" to send care packages overseas to United States Armed Forces serving in Iraq and Afghanistan. For The Troops is an organization based in Simi Valley that accepts donations and assembles care packages for our troops serving in Iraq and Afghanistan. The care packages are sent year around to our front line troops in Iraq and Afghanistan. These care packages contain much requested items such as snack items, batteries, DVDs, CDs, magazines, personal care items and letters of appreciation from children and adults.
For The Troops have placed collection boxes at all the County of Ventura CONTINUED »
By Gazette Staff Writer — Wednesday, December 23rd, 2009
Ruben Anthony Perez
On Monday, December 21, at 11:40 a.m., Fillmore Police received a call from La Flor Bonita owner Brandy Smith about a customer in distress. The woman came into the store looking "agitate, nervous and scared" according to Smith. She gave a note to Smith and said to give it to the police if anything happened to her. She said suspect Ruben Perez, 31, had been holding her hostage for four days, drinking and beating her. Perez was in the car with two young children waiting for the woman to exit. Police reports said the victim was injured and Perez had threatened to kill her. Smith hid the woman in the store's bathroom and called police. Before they arrived, Perez walked away with the children, but returned and was arrested without incident. It was determined that Perez and the victim live together.
Perez was arrested for 273.5 P.C. Felony Domestic violence, 422 P.C. Felony Criminal threats, and 236 P.C. Felony False imprisonment.
By Gazette Staff Writer — Wednesday, December 23rd, 2009
Javier Barajas, 31 of Los Angeles, was charged last week with intimidating a witness in a 2008 drive-by shooting in Fillmore. If convicted of the new felony, Barajas faces up to life in prison. He is now serving 300 days in jail. Barajas has an immigration hold on him and he is not eligible for bail. A preliminary hearing is set for December 24, 2009. He was credited 162-days served, including credit for good behavior. While out of jail, Barajas intimidated a witness who was forced to relocate because of the physical threat.
In September Barajas pleaded guilty to accessory after the fact in a gang-related drive-by shooting. Barajas and two other men drove to Fillmore on March 27, 2008 after the funeral of Jose Camacho, 22 of Moorpark. No one was injured in that shooting.
By Gazette Staff Writer — Wednesday, December 23rd, 2009
Jorge Hernandez, 24 of Oxnard, pleaded guilty to all charges Wednesday I drunk driving deaths. He admitted to drunken driving, causing injury, and driving with a blood-alcohol level of 0.08 percent or higher in the deaths of two county disc jockeys in September 2009. He is also expected to plead guilty to two counts of gross vehicular manslaughter while intoxicated in the deaths of David Garcia, 33 of Port Hueneme, and Alex Estrada, 33 of Ventura. Garcia was a graduate at Fillmore High School and well-known in the city and the county as DJ Gorilla.
Hernandez was driving his pickup truck the wrong way on Highway 118 near Rose Avenue on September 27th, when it collided with Garcia's vehicle. Garcia was driving his wife Sonia Garcia, 26, and Estrada home from the Relay for Life 2009 event held in Fillmore. Sonia was critically injured.
Hernandez' sentencing is set for January 25, 2010; he could receive up to 16 years and eight months in prison.
By Gazette Staff Writer — Wednesday, December 16th, 2009
By Andy Arias — Wednesday, December 16th, 2009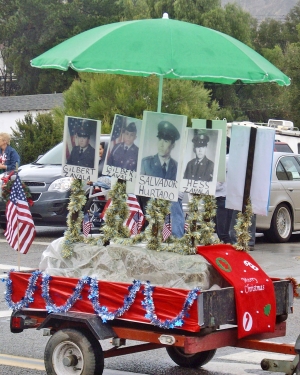 Not ever rain could stop the town of Piru from having their annual Christmas Parade. They honored the veterans of Piru as well as this year's Grand Marshal Mrs. Chessanie, or as some know her, Mrs. Cheese.
Sitting proudly aboard a decorated truck and trailer ensemble provided by OST Trucking, nearly two- dozen Piru Veterans waved and saluted the crowd lined up along the route through the historic downtown district last Saturday. These men were clearly full of pride as many dressed in military hats or attire. With a banner of the days' theme, "Merry Christmas to our Soldiers", the lead vehicle was a 1968 "deuce and a half" military transport vehicle provided by local businessman and classic car restoration expert Ellery Engel. The final vehicle in the convoy was Gilbert Zavala's restored 1971 Chevy truck, with patriotic flags waving in the wintry conditions. Zavala was also part of the tribute as a Vietnam War Veteran himself. This celebration literally covered the bases from A-Z, or Korean War veteran Lupe Alcozar to still-active Gilbert Zavala Jr., who just returned to the states after serving in the Middle East wars. Over 70 current or former Piru residents have been identified for serving our country and range from Manuel "Sleepy" Martinez who served during WWII to men and women still on active duty.
This annual parade and festival, sponsored by the Piru Neighborhood Council, continued into the evening as locals did not let the occasional downpours damper their spirit. This year's event was orchestrated by Chacha Troyke and her merry band of community volunteers. Grand Marshal Donna Chessani, known by many as "Mrs. Cheese", has served the town's youth through her work with Piru School and other local causes. She offered words of thanks and holiday reflections during a brief stop at the judges' stage, provided by Rancho Temescal; and was acknowledged for her many years of service by parade announcer Stephanie Acosta.
The parade began at the west end of Center Street near the Piru CONTINUED »

The Fillmore Flashes Football team was honored by the city council Monday night for their successful 2009 season. Pictured above but not in order are: Coaches Matt Dollar and Curtis Garner. Derek Luna, Ernesto Ballesteros, Brandon Barker, Emilio Gomez, Rudy Lopez, Johnny Golson, Major Lee, Brandon Pina, Dylan Dawson, Nick Paz, Corey Cole, Tate Suttle, Zach Golson, Branson Nelson, Alfredo Jimenez, Jose Rangel, Matt De La Cruz, Cody Jackson, Sammy Orozco, Ty Casey, Gabriel Gomez, Daniel Cruz, Kevin Brock, Nathan Garnica, and Tony Sanchez along with Mayor Patti Walker. Not pictured are Joel Amaro, Quinn Keller, John Paul Galvez, Bo Zinskey and Jonathon Sandoval.
Enlarge Photo
By Wanda Castel de Oro — Wednesday, December 16th, 2009
Bob Stroh spoke at council's open forum Monday night.
The Fillmore Flashes were honored Monday night at a joint City Council/Parks & Recreation meeting. The Frontier League Championship presentation was made by Mayor Pattie Walker, who read each young man's name, to the applauds and praise of those in attendance. The Flashes were the first Fillmore team to win the championship in 32 years. Each Frontier League Title winner was presented with a Fillmore City pen. Coach Matt Dollar expressed his pride in the team and said they won the title for all the Fillmore teams who didn't win in the last 32 years.
During public comment, resident Bob Stroh described the Council's recent Brown Act violations as "trying to put the toothpaste back in the tube." He also accused The Gazette of "subverting the truth" in an effort to "do anything to get them out of office," referring to the "Katzenjammer Kids", ie: Councilmembers Walker, Washburn and Brooks. Rich McKee, President of Californians Aware, a political watchdog group who recently filed suit against the city council, didn't escape Stroh's unusual churn, calling him an "ambulance chasing equivalent." The city settled the McKee lawsuit with a public admission of three Brown Act violations at its August 25th meeting, attendance at a 2-hour Brown Act Retraining workshop, and payment of McKee's legal fees, totaling $6,000.
Director of Public Works Bert Rapp reviewed the Two Rivers CONTINUED »
By Gazette Staff Writer — Wednesday, December 16th, 2009
The City of Fillmore Fire Department is proud to announce they have been awarded a grant by State Farm Insurance Agency in the amount of $1,500. The money received will be used to purchase a much needed electrical generator for the Children's Learn not to Burn Fire Safety Trailer. This trailer serves as an integral part of the City of Fillmore's ongoing campaign to educate local youth on the dangers found within their homes.
State Farm Insurance Agency has been a longtime supporter of the City of Fillmore Fire Department with their most recent grant award being one of several contributions received over the past six years. Through their generous dedication and commitment to the community of Fillmore, State Farm has provided upwards of $35,000 in grant funding to numerous projects throughout our agency. Grants such as these play an important role in providing an opportunity for projects that would otherwise be unobtainable due to budgetary shortfalls.
One specific area the insurance agency has continued to provide funding for is the Community Emergency Response Team (CERT) training program. Established in early 200, upwards of 300 Fillmore residents have been provided extensive seven week training on emergency response, free of charge.
By Wanda Castel de Oro — Wednesday, December 16th, 2009
Rich McKee, President of Californians Aware, is deciding whether to pursue the City of Fillmore for yet another alleged Brown Act violation. On December 3rd McKee presented the city with a letter for Demand for Correction for an alleged violation on the Council's November 24th agenda concerning "Existing Litigation…Richard P. McKee v. City of Fillmore; Ventura County Superior Court…" No such litigation existed on November 24, 2009, according to McKee. The "pending litigation" referred to McKee's lawsuit against the city for three previous Brown Act violations. McKee, and his attorney Kelly A. Aviles, contend that the litigation was no longer "pending", having been settled on November 16, 2009.
In his Demand, McKee sought two remedies at the December 8th council meeting: first, the council was to announce that it violated the Brown Act on November 24, 2009, by agendizing and holding a closed session…when in fact the litigation identified did not exist; and second, disclosure of the entire discussion had in that improperly held closed session.
The City sees it differently. At the December 8th meeting City Attorney CONTINUED »