By Gazette Staff Writer — Friday, August 1st, 2014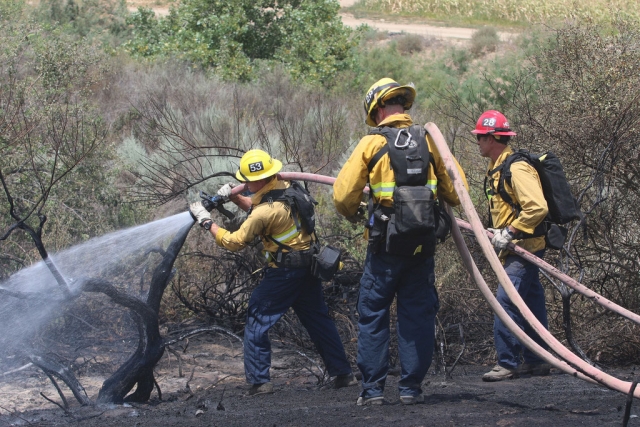 A brush fire in Piru burned about a halfacre Monday. Ventura County Fire Department crews knocked it down within a halfhour with the aid of a helicopter, hand crew, and water tender, along with the Los Angeles County Fire Department. The blaze broke out at noon just off Highway 126 and Camino Del Rio, in the Santa Clara River bottom, near the Los Angeles County line. Heavy brush was consumed; no surrounding crops were affected. Photos courtesy Sebastian Ramirez.
Enlarge Photo
By Gazette Staff Writer — Friday, August 1st, 2014
County & State Agencies Erroneously Issued Permits for Drilling on Private Land in Los Padres National Forest
Story Courtesy LPFW
Last month, two regulatory agencies cancelled permits for three oil wells in the Sespe Oil Field after receiving complaints that the approvals were issued erroneously, and without any public notice, hearing, or environmental review.
The permits – issued by the County of Ventura Planning Division and the California Division of Oil, Gas & Geothermal Resources – authorized Texas-based oil company Seneca Resources Corporation to deepen three existing oil wells along a tributary of Sespe Creek, just one-half mile from the boundary of the Sespe Condor Sanctuary. Operations like this in the Sespe Oil Field have increasingly relied on hydraulic fracturing, the controversial oil extraction technique involving pumping sand, water, and thousands of gallons of chemicals underground to stimulate oil production.
The permits were issued the same week that the U.S. Forest Service announced a proposal to hydraulically fracture eight additional wells on national forest land in the same area. Fracking has been approved or proposed for a total of 29 wells in the Sespe Oil Field since 2011.
"Fracking is making an alarming resurgence in the Sespe watershed, one of the most ecologically sensitive areas in Ventura County," said Jeff Kuyper, executive director of Los Padres ForestWatch, a watchdog organization that monitors oil drilling in the Los Padres National Forest. "No fracking should occur here until regulations are finalized and until environmental studies on the impacts of fracking are completed."
The drilling was initially approved by the Planning Division as an "over-the-counter" Zoning Clearance on May 5, 2014. Zoning clearances are issued by planning staff for minor projects that have already been approved under a Conditional Use Permit (CUP). The County issued a CUP for these oil wells in 1976, and significantly updated that permit in 1981.
However, when the oil CONTINUED »
By Gazette Staff Writer — Friday, August 1st, 2014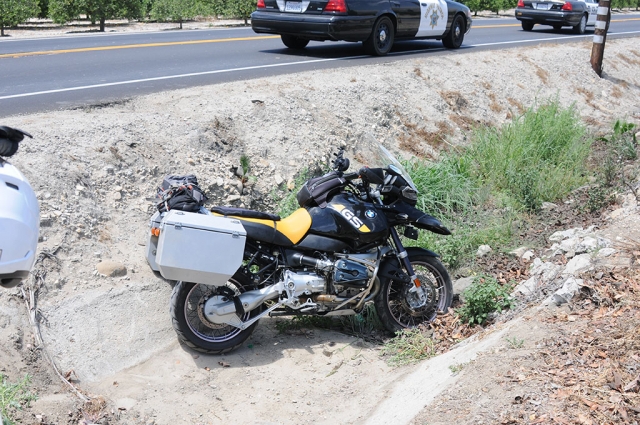 On Saturday, July 26, at approximately 1:25 p.m. an accident occurred on Highway 23 near the entrance to Elkins Golf Course. A Monster Energy Drink delivery truck was involved in a BMW motorcycle leaving the roadway and driving into a storm drain. The driver of the motorcycle appeared to be uninjured and the bike suffered minor damage. Cause of the incident was not stated at the time.
Enlarge Photo
By Gazette Staff Writer — Friday, August 1st, 2014
Long time Fillmore resident and local farmer Scott Beylik announced his candidacy for the Fillmore Unified
School District Board officially filing his papers for the November 2014 General Election.
Current Councilmember Diane McCall announced her candidacy for Fillmore City Council Monday, July 28, 2014.
More in next week's Gazette edition.
By Gazette Staff Writer — Friday, August 1st, 2014
07/08/14 to 07/14/14
07/08/14
Surveillance
700 Blk. A St.
Lost Property
500 Blk. Ventura St.
Search Warrant
200 Blk. E. Telegraph Rd.
700 Blk. Edison Ln.
Labor Camp
Keep the Peace
300 Blk. Saratoga St.
Abandoned Vehicle
500 Blk. Central Ave.
07/09/14
Surveillance
700 Blk. A St.
Robbery
Central Ave./Main St.
Search Warrant
300 Blk. Fillmore St.
Keep the Peace
900 3rd St.
Threats CONTINUED »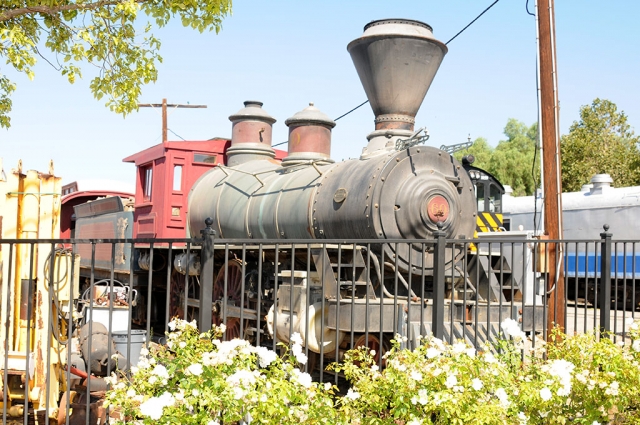 Fillmore & Western Railway has been in operation since 1991.
Enlarge Photo
By Jean McLeod — Wednesday, July 23rd, 2014
Will the City of Fillmore continue to attract tourism to town without the Fillmore and Western Train is a question many Fillmore residents are asking. It all comes down to money and who is responsible for maintaining the tracks and capital improvements.
There are approximately 177,200 miles of track in service in the U.S. which require vigilant inspections, maintenance, repair and replacement in order to keep freight and passenger trains moving safely. The dispute with Ventura County Transportation Commission (VCTC) and Fillmore and Western is a 32 miles stretch of track from Montalvo to Fillmore.
In 1991 the City of Fillmore, through its Redevelopment Agency (RDA), agreed to move Short Line Enterprises Fillmore Production Railroad (SLE) to Fillmore to create film production and tourism in town. The agreement between Southern Pacific and Fillmore's RDA was a lease of railroad tracks from Fillmore to 12th Street in Santa Paula for filming and tourist trains. SLE was responsible for maintaining the tracks at a Class 1 standard.
In 1995 the Cities of Fillmore, Santa Paula and Ventura RDA's and Ventura County Transportation Commission (VCTC) agreed to purchase Southern Pacific's branch line between Montalvo Wye to the Los Angeles County Line for a price of $9,000,000, mostly paid by government grants, with each town's RDA's contributing $50,000. At the time that stretch between Montalvo and Santa Paula was "Excepted" and could only haul freight. The following year Dave Wilkinson purchased the train and changed the name to Fillmore and Western (F&W).
According to Dave CONTINUED »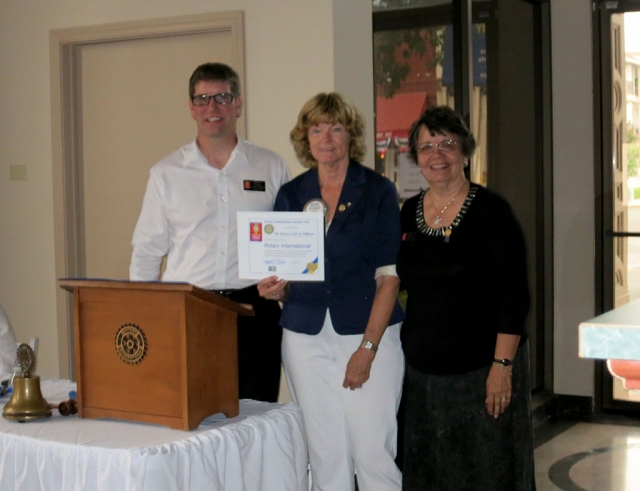 Sean Morris, Rotary President and Martha Richardson, Secretary were presented with a certificate from Rotary International recognizing 90 years of service. It was presented by Loretta Butts, 2014-2015 District Governor.
Enlarge Photo
By Gazette Staff Writer — Wednesday, July 23rd, 2014
The Rotary Club received their charter on May 19, 1924. Over the years the Club has sponsored many youth activities such as Boys Scouts, Swim Team, Cross Country, Mock Trial, Little League, Dictionary projects, High School scholarships and Library at Fillmore Christian Academy to name a few. Internationally donations were given for a Children's Hospital in Mexico, Lifewater International, Nicaragua and Haiti projects. The main goal has been giving to Polio Plus the Rotary International's project to eradicate Polio from the world. There has been a lot of history in the Club over these 90 years. It reminds us where we have come from and encourages us to continue to move forward in our service to the community and the world.
By Margie Bartels — Wednesday, July 23rd, 2014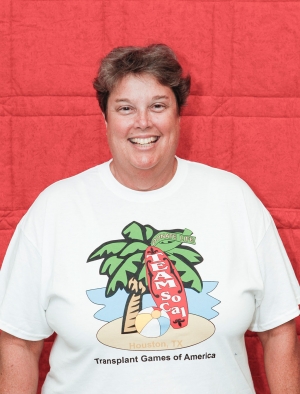 Marjie Bartels, transplant recipient, participated in the 2014 Transplant Games of America.
My transplant journey started in 1999 when I was 42 years old with a pain in my elbow! It was much more intense than muscle soreness, and pain medication didn't help. After increasing joint pain, fatigue, shortness of breath, and several visits to the doctor, I finally ended up in the hospital for twelve days and was diagnosed with a rare autoimmune disease called Wegener's Granulomatosis, a form of vasculitis. For 3 ½ years I took a chemotherapy drug called Cytoxan, along with prednisone, to control my symptoms. Long-term use of Cytoxan led to me being diagnosed with Myelodysplasia, then leukemia, in 2004.
After initial treatments failed, I had a bone marrow transplant on April 5, 2005. I was so fortunate that my only sibling, my sister Sally, was a perfect match and I did not have to search for a donor. I spent a month in the hospital at UCLA getting chemotherapy for the leukemia, then was able to enjoy three weeks at home before returning to UCLA for another month. I had a few days of full-body radiation, a massive dose of chemotherapy, the transplant, and then a few weeks of recovery there. Weekly visits to my UCLA doctor plus numerous daily medications and periodic infusions followed for several months. Though I returned to part-time work some months after the transplant, it really took about a full year to feel pretty normal again.
Nine years have passed since my transplant, and I am thankful I feel well most of the time. I don't have all the strength and stamina I used to have, but am able to live a normal and active life. The bone marrow transplant saved my life, and I am so thankful for my sister who donated to me and for my doctors who took such good care of me.
I enjoyed participating in the 2014 Transplant Games of America, and watching my SoCal team members compete in traditional sports like volleyball, tennis, basketball, track and field, swimming, and cycling, and in other events like darts, ballroom dancing, table tennis, corn hole, bowling, and Texas Hold'Em (poker). There was an event that just about everyone could participate in. We had many good athletes on our team who won medals, some in multiple sports. It proves that being an organ or transplant recipient doesn't rule out living a normal and active life. The Transplant Games of America gives organ and transplant recipients, their donors, and donor families the opportunity to reaffirm every two years that donation is truly the gift of life! It is so easy to register to be a donor; when you apply for, or renew your driver's license or state ID card, all you have to do is check the box "Yes--I want to be an organ and tissue donor." You can also go to www.donateLIFEcalifornia.org or www.doneVIDAcalifornia.org for more information.
By Gazette Staff Writer — Wednesday, July 23rd, 2014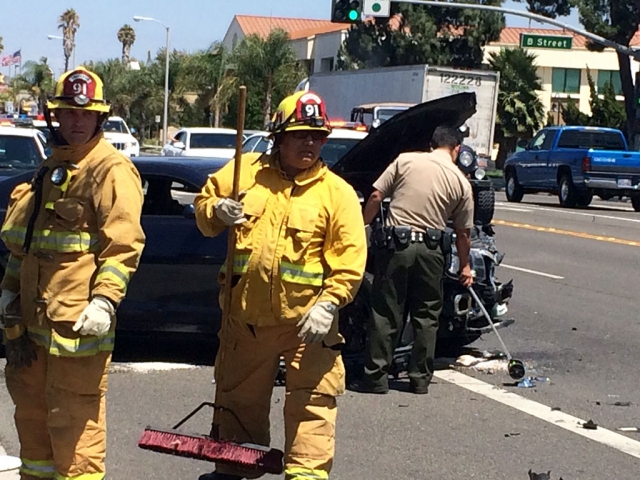 A traffic accident at the corner of Highway 126 and B Street caused a temporary traffic jam on Sunday afternoon at 2:15pm. No injuries were reported, but there was substantial front-end damage to the car pictured above.
Enlarge Photo
By Gazette Staff Writer — Wednesday, July 23rd, 2014
07/01/14 - 07/07/14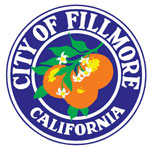 City of Fillmore
07/01/14
Search Warrant
1200 Blk. Los Serenos Dr.
800 Blk. Fine St.
200 Blk. E. Telegraph Rd.
Vandalism
100 Blk. Sespe Ave.
Hit & Run – Non Injury
Mountain View St./Ventura St.
400 Blk. Saratoga St.
Warrant Arrest
800 Blk. Fine St.
Keep the Peace
800 Blk. Edison Lane
600 Blk. Ventura St.
Trespass
A St./Santa Clara St.
Disturbance Fireworks
Dunton Ln./River St.
07/02/14
Bandishing CONTINUED »
Fillmore Centennial in front of City Hall
Enlarge Photo
By Jean McLeod — Thursday, July 17th, 2014
On Thursday, July 10, 2014 at 6:30 p.m., on a beautiful summer evening in front of City Hall, the City of Fillmore Centennial was honored, drawing elected officials from throughout Ventura County and Sacramento. Fillmore was incorporated one hundred years ago this year and is one of the oldest incorporated towns in Southern California.
With over 150 in attendance, the celebration began with the presentation of our US flag by Explorers Adrian Mejia, Tyler Hackworth and Brandon Pina, followed by the Pledge of Allegiance.
Each Council Member then commented on what Fillmore's Centennial Celebration meant to them personally. Mayor Manuel Minjares began with, "I want to state the importance of our incorporation....through floods and earthquakes we stood together." Council Member Rick Neal commented saying he was one of few words, then stated, "I'm honored to be serving at this time of our centennial." Council Member Steve Conaway stated, "What makes Fillmore great is its citizens...some people that don't even live here anymore, still give to the town.....I'm proud to say I'm from Fillmore. We're in an isolated little heaven, but without the people it is just geography." Council Member Diane McCall gave a short but heartfelt response, "Being on the council is so rewarding, there are no words for it.....it's fantastic."
The longest and most in depth response came from Council Member Douglas Tucker in a statement that was placed in the 100 years Time Capsule stating, "Author Michael Scott wisely said, 'We are nothing more than the sum of our memories and experiences.' Over the past 100 years, we have faced both difficult times and great accomplishments; from fires, floods, earthquakes and financial hardships to incorporation, economic development, rebuilding of our downtown including the completion of a beautiful City Hall and Vision 2020. Throughout the trials and tribulations, success and triumphs, our community has experienced one persistent theme: citizenship. Our community has rallied together to overcome, persevere and celebrate. We unite to come to each others aid in times of need and we rejoice in our collective success. We are there to welcome home our brothers and sisters from war or worse to mourn their losses, with the understanding that our way of life sometimes comes at a great expense. Our will to thrive shows in all our community does, with unmatched volunteerism to ensure we continue to blossom and grow.
Our enthusiasm for our mission has grown in the last 100 years and we are committed to creating a vision that will endure for centuries to come. Since you are reading this letter 100 years later, it would appear that our community has successfully continued this theme for over 200 years. One can only imagine what hardships and joys you have faced during this time, but we believe the spirit and foundation of our community set the tome for success will into the future. This foundation is rooted in the words of our forefathers, 'united we stand, divided we fall', and this excellent example of the United States spirit combined with the City of Fillmore's dedication to citizenship will ensure that it remains the best small town in California for future generations.
My hope is that the vision of this council and our predecessors will have set the tone and foundation for your future successes and carry you through the harder times. We strive to give future leaders the resources and tools to continue the tradition of citizenship and community unity that we have achieved to date. My advice is to look to the future and continue to evolve your vision for the coming years by building on what sets our city apart; Fillmore's tradition of success through perseverance, selflessness, volunteerism and passion. To me leadership is defined by actions and vision. Create a vision that will guide your future leaders or the next 100 years."
Following the Council member's comments, the elected officials and their representatives with Proclamations stepped up to the podium and expressed their congratulations at what Fillmore has accomplished in those 100 years. In attendance were; representatives for California State Legislative Assemblywoman Hannah-Beth Jackson and Assemblyman Das Williams, Ernie Villegas representing California State Assemblyman Jeff Gorell, Brad Hudson representing House of Representative Julia Brownley, Kathy Long Supervisor representing all of the County Board of Supervisors 3rd District Linda Parks 2nd District, Peter C. Foy Supervisor 4th District and John C. Zaragoza Supervisor 5th District (Long read a written statement discussing the partnership the Board and herself have with Fillmore to promote tourism and building new infrastructure such as roads and a medical center), Simi Valley City Council Members Mike Judge and Keith Mashburn and Assistant City Manager James Purtee and City Manager Eric Levitt, Sylvia Munoz Schnopp representing the City of Port Hueneme's Mayor Jonathan Starkey, City of Camarillo represented by Councilmen Mike Morgan, and representatives of BuenaVentura and Santa Paula. Representing Fillmore Unified School District was new Adrian E. Palazuelos, Ph.D. No School Board Members were in attendance.
The celebration ended with VFW Post 9637 Commander Jim Rogers, Al Rosette, Ismael Alonza, John Luna, Jim Mills, Richard Tansey, John Pressey, and Art Swetman standing in distinction as the 100 Time Capsule was place in the ground in front of City Hall.
By Ventura County Sheriff Department — Thursday, July 17th, 2014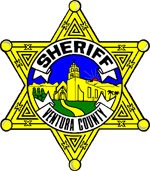 Ventura County Sheriff's Department
On July 9, at approximately 5:15 a.m., a female, 39 of Fillmore, was walking with her child in the area of Fillmore Street and Main street when she was robbed. The suspect approached the victim from behind and grabbed her purse. When the victim resisted, the suspect punched the victim in the face knocking her to the ground as he gained control of the purse and fled.
The suspect was described as being a dark complected male, 20-25 years old, 5'-0" to 5'-5" tall, 180-190 lbs, medium build, wearing a bandana on his face, a blue hoodie, black pants, and black shoes.
The Ventura County Sheriff's Office Fillmore Investigations Bureau is seeking assistance from the public with identifying this suspect. Anyone with information about this incident can call Detective John Fox at (805) 524-2233.
Prepared by: Detective John Fox
Ventura County Crime Stoppers will pay up to $1,000 reward for information, which leads to the arrest and criminal complaint against the person(s) responsible for this crime. The caller may remain anonymous. The call is not recorded. Call Crime Stoppers at 800-222-TIPS (8477).
By Gazette Staff Writer — Thursday, July 17th, 2014
The Ventura County Sheriff's Office is very pleased to announce that we have collected 2,830.3 pounds of unused / expired medication through the first six months of 2014. During 2013, we collected a total of 5,288.2 pounds of unused medication, so we are currently on pace for another record setting year.
A breakdown of this year's collection for the first half of the year is as follows: Fillmore station - 16.1 pounds, Ojai station – 106 pounds, Camarillo station – 1,196 pounds, Moorpark station – 158.2 pounds, Headquarters station – 178 pounds, and Thousand Oaks station, 1,176 pounds.
A breakdown of the 2013 collection totals is as follows: Fillmore station – 93.9 pounds, Ojai station – 143 pounds, , Camarillo station – 2,197 pounds, Moorpark station – 249.3 pounds, Headquarters station – 257 pounds, and Thousand Oaks station, 2,348 pounds. The Ventura County Sheriff's Office would like to thank the citizens of Ventura County, for their outstanding effort to make our communities safer.
The non-medical use of prescription drugs ranks second only to marijuana as the most common form of drug abuse in the United States. Additionally, the majority of teenagers abusing prescription drugs get them from family, friends and the home medicine cabinet. Unused drugs that are flushed contaminate the water supply.
If you want to drop off unused / expired medications at any Sheriff's Substation, we have Pharmaceutical drop-off bins in all of our lobbies. The lobbies are open Monday-Friday from 8:00AM - 5:00PM.
By Gazette Staff Writer — Thursday, July 17th, 2014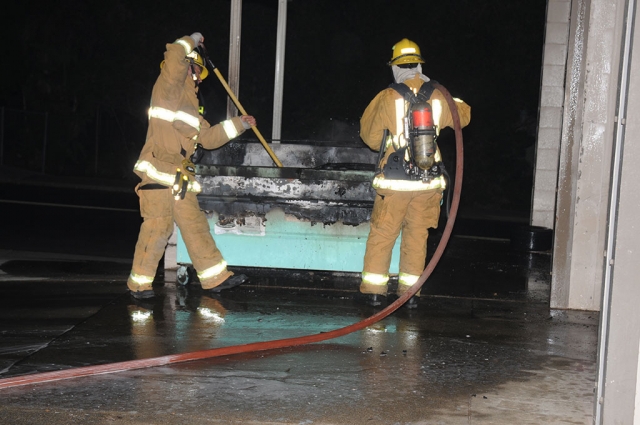 The 4th of July in Fillmore was a festive event, as always. One of the few trouble calls that went out was for a dumpster fire, above. No significant damage was reported.
Enlarge Photo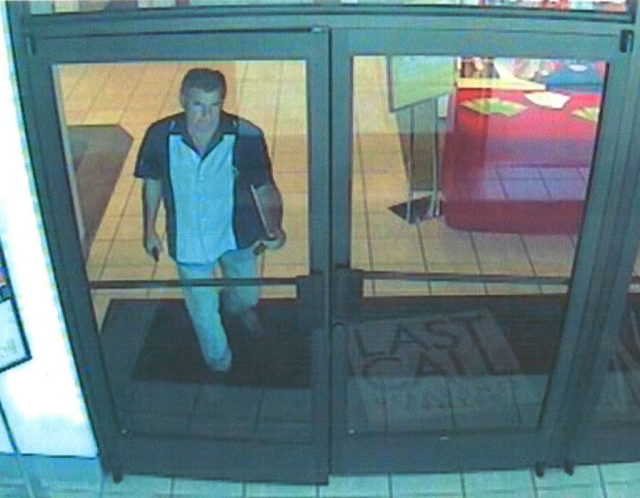 Suspect is a White male, 5'9", 165lbs., short brown hair approximately 50 years old.
Enlarge Photo
By Ventura County Sheriff Department — Monday, July 14th, 2014
Police asking anyone with information to contact them
The Camarillo Police Department is seeking the help of the public in identifying an indecent exposure subject.
On 07/08/14, at 12:51PM, an unknown male exposed himself to a female employee at the Camarillo Outlets. He used a ruse to ask for help in the dressing room and then exposed his genitals to the victim. Over the past year, the same subject exposed himself on two prior occasions in the same manner at the Camarillo Outlets. The suspect used the name "Simon" when communicating with the victim on all three occasions.
If you see the suspect, do not attempt to detain, immediately call 9-1-1. If you have any information regarding this suspect, or if a similar incident has happened to you, please call Detective TJ DeSalvo at 805/388-5157.
Ventura County Crime Stoppers will pay up to $1,000 reward for information, which leads to the arrest and criminal complaint against the person(s) responsible for this crime. The caller may remain anonymous. The call is not recorded. Call Crime Stoppers at 800-222-TIPS (8477).
Nature of Incident: Indecent Exposure
Report Number: RB# 14-15503
Location: Camarillo Outlets
Date & Time: 07/08/14, 12:51PM
Unit(s) Responsible: Patrol & Detective Bureau
(S)uspects, (V)ictims, (P)arty, (D)ecedent City of Residence Age
White male, 5'9", 165lbs., short brown hair Unknown 50
Prepared by: Detective TJ DeSalvo
Media Release Date: 07/10/14
Follow-Up Contact: Detective TJ DeSalvo 805/388-5157 or tj.desalvo@ventura.org.
Approved by: Captain Dowd
By Bob Crum — Wednesday, July 9th, 2014
By Bob Crum — Wednesday, July 9th, 2014
Part 1
By Bob Crum — Wednesday, July 9th, 2014
Part 2
By Bob Crum — Wednesday, July 9th, 2014
Part 1
By Bob Crum — Wednesday, July 9th, 2014
Part 2