By Gazette Staff Writer — Wednesday, March 27th, 2013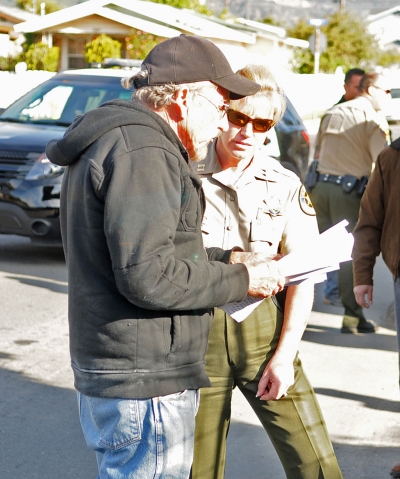 Sheriff's Capt. Monica McGrath speaks with property owner Herbert Haase, as he holds the warrant served on him. Haase has refused to spray his citrus grove for the Asian Citrus Psyllid, an invasive, aphid-like pest.
Enlarge Photo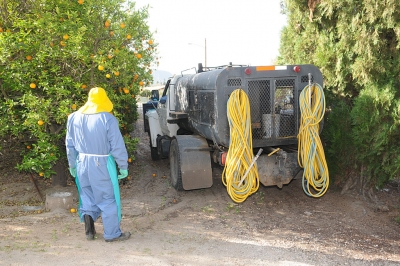 Warrant served, spraying begins. Sheriff's deputies served a warrant Tuesday on Fillmore resident Herbert Haase to enter, inspect, and treat his orange grove at Third and B Streets for a citrus pest, Asian Citrus Psyllid. A County worker waits to begin the spraying.
Enlarge Photo
Tuesday, at approximately 9:15 a.m., Sheriff's deputies served a warrant on Fillmore resident Herbert Haase to enter, inspect, and treat his orange grove at Third and B Streets for a citrus pest. The fly in the ointment is the Asian Citrus Psyllid, an invasive, aphid-like pest. Although "not a serious problem by itself, it can transmit a devastating bacterial disease to citrus trees. Known as Huanglongbing (HLB), the disease ruins the taste and appearance of citrus fruit, and eventually kills infected trees." (californiacitrusthreat.org)
Haase was contacted in October of 2012 by Dave Machlitt with the agriculture Department but refused to accept the treatment. Further attempts by the County Agriculture Commission were blocked by Mr. Haase. According to Ventura County Agriculture Commissioner, Henry Gonzales, Haase has resisted several attempts to treat his grove, claiming, among other reasons, his property was not within an 800 meter zone of protection.
At issue is the serious threat to all citrus production posed by the Asian Citrus Psyllid (fly) which, could destroy the citrus industry if left untreated. There is no known treatment once the tree has been infected. Spraying is the only known prevention against this pest and all commercial growers are anxious to cooperate with the spraying program.
The Asian Citrus Psyllid entered the United States from Mexico and is quickly extending its presence north in California, which could devastate the citrus industry. "Tens of thousands of trees in residential yards also are at risk. They, too, will die if infected with HLB...the backyard orange, lemon, lime, grapefruit or tangerine trees might also disappear from Ventura County." (californiacitrusthreat.org)
Sheriff's Captain Monica McGrath with approximately 10 Sheriff's deputies, Commissioner Gonzales and an assistant participated in the warrant service. According to Commissioner Gonzales it would have been far less costly had Haase cooperated initially. If spray is applied in the winter only one application is needed; if in spring or summer, two applications are needed. While the costs to be billed to Haase for the warrant service (County Counsel, Sheriff's Dept. personnel) are still being tallied, they could be substantial.
By Gazette Staff Writer — Wednesday, March 27th, 2013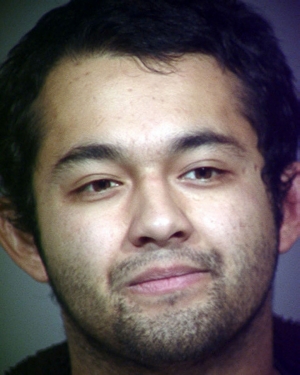 Torrey Phillips
A Fillmore man admitted Wednesday to shining a laser beam at the sheriff's helicopter. It happened in December 2011 as the copter was over Fillmore helping ground units look for a gunman in a shooting. 21-year-old Torrey Phillips pleaded guilty Wednesday to a felony charge of shooting at laser at an aircraft plus two special allegations. Phillips shined the laser at the helicopter twice. Following the second incident, the copter had to break off its search for the shooter and return to Camarillo Airport, but not before they got a fix on where the beam came from. Ground units arrested Phillips at his home in the 600 block of Fernglen Circle. Deputies say the pilot, crew chief, and paramedic on board the helicopter that night were all wearing night vision goggles. They say training a laser at an aircraft is dangerous in several ways, including disorienting or blinding the pilot, and, causing severe eye damage to the crew members, especially if they're wearing night vision goggles, as they were that night. Phillips is free on bail until his sentencing on May 16th.
By Jean McLeod — Wednesday, March 27th, 2013
A great deal of last Tuesday's Fillmore City Council meeting was talking about transportation. Both those who came to give a presentation and those who spoke during public comments addressed Fillmore's transportation needs. Other items on the agenda were a Code of Conduct document and the Mid-year Financial Report.
Ventura County Transportation Commission's (VCTC) Executive Director Darren M. Kettle gave an in-depth presentation on the transportation needs of both the County and the City of Fillmore and where their priorities must be given. Mayor Pro Tem Manuel Minjares is one of 17 members of the Commission Board. The VCTC uses Countywide polling to understand the transportation priorities of its residents, with the number one priority being completing local roads and maintaining them. Second priority is transportation connections in and out of the County; and next the capacity (congestion) and frequency of connection. Fourth is safety, and then planning for growth. Increasing bus routes was at the bottom of priorities.
Kettle explained that the Federal Highway Trust Fund cannot meet its present obligations and will spend $2.5 billion on transportation locally in the next few years. Over the next 30 years the cost is projected to be $4.9 billion with a shortfall of $1.8 billion. This shortfall is due to less tax revenue as more fuel efficient cars require less gas and therefore fewer taxes paid at the pump. To overcome this the State of California may consider one or more of the following; Raise the gas tax ten cents (estimated to raise $2.1 billion at today's consumption rate), tolling express lanes, raising vehicle registration, and/or asking for a 1/2 cent tax measure. Kettle said there is a real possibility of having a toll lane on Highway 101.
For now VCTC's CONTINUED »
By Ventura County Sheriff Department — Tuesday, March 26th, 2013
The Ventura County Sheriff's Office has applied for a Certificate of Authorization (COA) through the Federal Aviation Administration (FAA) to allow training flights of an Unmanned Aerial Vehicle. The COA will only allow limited operation within a restricted unpopulated area for training and evaluation purposes only. The evaluations will take place in conjunction with Sheriff's Search and Rescue, the Ventura County Fire Department, and other public safety agencies.
The initial training flights will occur in the area of the Ventura River as well as portions of the Ventura County backcountry. Since the application has not yet been approved, actual flights may still be several months away.
The ultimate goal is to use the small UAV for critical life-saving efforts, such as locating missing persons and monitoring incidents where a hazardous condition exists.
The UAV being tested is known as the Qube (pictured below), and operates with four small rotors that allow it to take off vertically. It is battery powered and remote controlled. It can stay aloft for a maximum of 40 minutes on a single charge. The Qube has a built-in camera system, but is otherwise incapable of carrying any payload.
The Qube is manufactured by Aerovironment www.avinc.com, a local company based in Simi Valley.
Currently, the Sheriff's Office utilizes four Bell Huey helicopters for a variety of public safety purposes. One of the primary missions of our air unit is search and rescue. While the UAV will not replace our Aviation Unit, there are many circumstances that do not require a fully equipped helicopter. It is hoped that a UAV will assist with lifesaving operations at a significantly reduced cost to the taxpayer.
UAVs also have a critical use in the fire service for mapping and aerial observation during wildland and other fires.
In addition to the FAA guidelines, which restrict flights to 400 feet above ground level and below, the Sheriff's Office has developed its own policy to govern the use of the UAV for search and rescue purposes only. The FAA guidelines and the Sheriff's Office policy are available to the public. (The documents will be attached with the press release).
Again, the request CONTINUED »
By Ventura County Sheriff Department — Monday, March 25th, 2013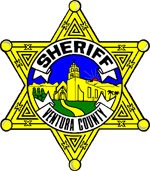 Ventura County Sheriff's Department
On March 4, 2013, sheriff's deputies responded to a reported home invasion robbery on Sulphur Mountain Road, outside of Santa Paula. The male victim (and occupant of the home) was brutally beaten and tied up. He lost consciousness and suffered multiple serious injuries including lacerations to his head and facial fractures. After the suspects left the residence, the victim regained consciousness, freed himself and summoned help. The victim was transported by ambulance to a local hospital where he remained in intensive care for several days.
The Sheriff's Gang Unit took up the investigation and quickly identified the suspects as Hallye Wright and Shavon Oboh of Los Angeles. Oboh was determined to be a member of a criminal street gang.
Search warrants served at both suspects' homes in Los Angeles, located some of the victim's property. Sheriff's Investigators recovered additional pieces of the victim's property at Los Angeles area pawnshops.
At the time of the search warrants, two firearms were recovered; a shotgun and a loaded .357 caliber handgun which had been reported stolen previously in Los Angeles County. A large amount of cash and narcotics were also found.
Both Wright and Oboh were arrested and booked at Ventura County Main Jail for conspiracy, robbery, kidnapping, and assault causing serious bodily injury. Wright's bail was set at $250.000.00, while Oboh's bail was listed at $750,000.00.
Nature of Incident: Suspects Arrested for Home Invasion Robbery
Report Number: 13-4862
Location: Sulphur Mountain Road, Santa Paula
Date & Time: 3-15-13 @ 1:00 PM
Unit(s) Responsible: Sheriff's Gang Unit
(S)uspects, (V)ictims, (P)arty (D)ecedent City of Residence Age
Shavon Oboh (male), Los Angeles, 20
Hallye Wright (female), Los Angeles, 19
Prepared by: Detective Brian Slominski 805-677-8771
Media Release Date: 3-22-13
Follow-Up Contact: Detective Jarrod Foote 805-654-3509
Approved by: Captain Patti Salas
By Ventura County Sheriff Department — Monday, March 25th, 2013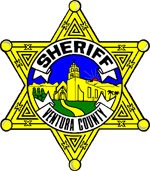 Ventura County Sheriff's Department
A Fillmore Patrol deputy was on routine patrol in the area of A Street and Third Street, when he saw Carlos Mejia using a "paint marker" to graffiti his moniker on a city park bench. Mejia was arrested for the vandalism and possession of a graffiti tool and transported to the Fillmore Police department for processing. While at the station, the deputy learned Mejia had done more graffiti in the area of the Sespe Bridge. The deputy went to the bridge to photograph the graffiti for his investigation.
When the deputy walked into the area of the Sespe Bridge and riverbed area, he discovered four male juveniles who had used spray paint to graffiti the support columns of the bridge. Two of the juveniles used spray paint to graffiti, while the other two were "look-outs." All four juveniles were arrested and transported to the Fillmore Police Department.
Carlos Mejia was arrested and booked at the Ventura County Jail – PTDF for Vandalism and possession of graffiti tools.
Two Male Juveniles were cited and released to their parents for conspiracy, vandalism, and trespassing.
Two Male Juveniles were cited and released to their parents for conspiracy and trespassing.
Nature of Incident: Five Graffiti Taggers Arrested
Report Number: 13-6234 & 13-6235
Location: City of Fillmore
Date & Time: March 20, 2013 / 1715 Hours
Unit(s) Responsible: Fillmore Police Department
(S)uspects, (V)ictims, (P)arty, (D)ecedent City of Residence Age
Carlos Mejia, Fillmore, 18
4 Male Juveniles, Fillmore, 14-16
Prepared by: Sgt. Anthony Aguirre
Media Release Date: March 20, 2013
Follow-Up Contact: Sgt. Anthony Aguirre (805) 524-2235
Email: anthony.aguirre@ventura.org
Approved by: Captain Monica McGrath
Ventura County Crime Stoppers will pay up to $1,000 reward for information, which leads to the arrest and criminal complaint against the person(s) responsible for this crime. The caller may remain anonymous. The call is not recorded. Call Crime Stoppers at 800-222-TIPS (8477).
By Ventura County Sheriff Department — Monday, March 25th, 2013
Anyone with information about the robbery or the suspect is asked to contact police
A man armed with a handgun robbed the Smart & Final store in Thousand Oaks. The suspect approached the cashier clerk, displayed a handgun, and demanded money from the cash register. After getting an undisclosed amount of cash, the suspect ran through the parking lot and was last seen leaving the scene in a 1990's white sedan.
Witnesses described the suspect as a Hispanic male about 35 years old, approximately 5'-11", weighing approximately 275 lbs, and clean shaven. He was wearing a white or light colored baseball cap, a light colored long sleeve button down shirt, baggy blue jeans, and white tennis shoes.
Anyone with information about the robbery or the suspect is asked to contact Det Mike Ferguson with the East County Major Crimes Unit at (805) 494-8222/ e-mail mike.ferguson@ventura.org.
Nature of Incident: Gunman Robs Thousand Oaks Smart & Final Store
Report Number: 13-6160
Location: 2222 West Hillcrest Drive, Thousand Oaks, Ca 91320
Date & Time: 03/19/2013 @ 8:40 PM
Unit Responsible: East County Major Crimes Unit
(S)uspects, (V)ictims, (P)arty, (D)ecedent City of Residence Age
(S) Unknown Unknown Unknown
Prepared by: Det Mike Ferguson
Media Release Date: 03/21/2013
Follow-Up Contact: Det Mike Ferguson
Desk (805) 494-8222
Approved by: Sgt Alan Hartkop
Ventura County Crime Stoppers will pay up to $1,000 reward for information, which leads to the arrest and criminal complaint against the person(s) responsible for this crime. The caller may remain anonymous. The call is not recorded. Call Crime Stoppers at 800-222-TIPS (8477).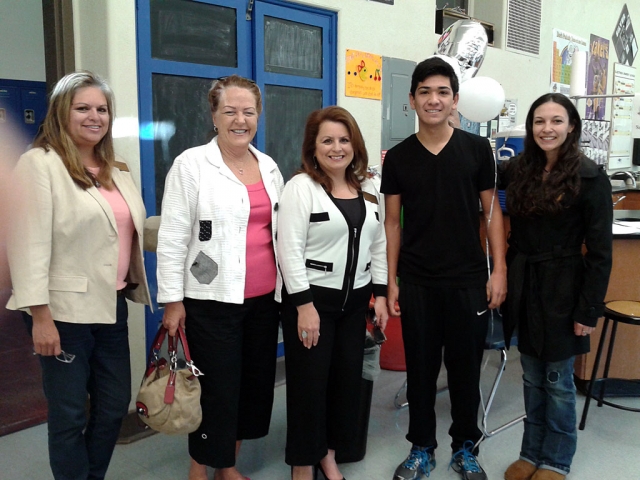 (l-r) Ari Larson, Brenda Hampton-Ortiz, Sammy Martinez and Rene Stovesand-Martels.
Enlarge Photo
By Gazette Staff Writer — Wednesday, March 20th, 2013
Sammy Martinez is a dynamic young man, who has a strong work ethic that ensures success in all things in which he is involved. Currently, he is the Associated Student Body (ASB) President for Fillmore High School. When asked who should represent Fillmore High School in different programs, Sammy's name comes up as "Mr. FHS." He is outgoing, listens well, and supports all students and staff whenever they ask for his assistance.
Sammy ran for ASB at the end of his freshman year and decided that he was going to learn to be a leader. After his sophomore year, Sammy was selected to attend the HOBY program, which is one of the nation's foremost youth leadership development organizations. While there, he learned different ways of analyzing school and leadership issues.
He used those new skills immediately upon starting his position as the FHS Speaker of the House in ASB last year. One of his job requirements was to attend all School Board Meetings as the high school student representative. Sammy definitely charmed the board members and superintendent. The district office commented on his stellar performance at board meetings. In addition, he was the student representative on the school site council both last year and this year. He does an exceptional job the on committees, and his views of student activities are vital to the committees as they make decisions regarding students.
Sammy decided to run for ASB President this year and he was elected by the student body. He has done an amazing job as president. This is not an easy job as ASB Presidents are required to lead in all aspects, and Sammy does so with a cheerful and optimistic demeanor. In addition to the regular ASB items, he started working with one of the elementary schools last year training them on proper procedures and helping them with an academic rally during state testing. Sammy has been instrumental in organizing and executing training the Fillmore Middle School's ASB. He set the goal of including all of the elementary and middle schools our trainings in an attempt to reach out to the youth in our community.
As a member of the FHS Cross Country team for four years, Sammy has spent many hours running miles and miles around Fillmore and also been a mentor for the Boys and Girls Club. Additionally, Sammy has participated in the California Lutheran University's Math and Science Upward Bound Program.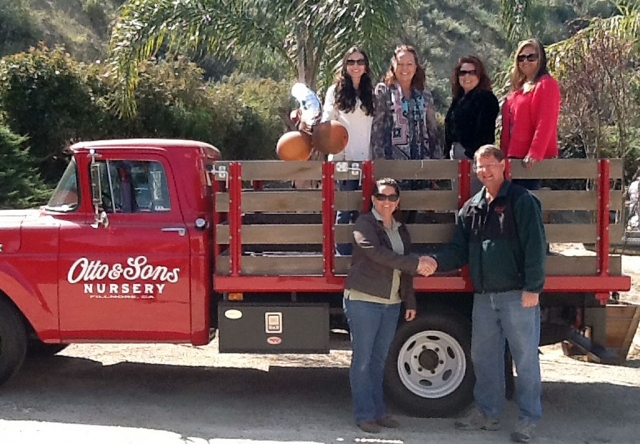 (l-r) Rene Stovesand-Martels, Brenda Hampton-Ortiz, Theresa Robledo, Ari Larson, Cindy Jackson and Scott Klittich.
Enlarge Photo
By Gazette Staff Writer — Wednesday, March 20th, 2013
Otto & Sons Nursery was recently named "Lifetime Achievement Business". Scott & Cindy Klittich own and operate the nursery which is located at 1835 E. Guiberson Road. Otto & Sons Nursery has been in Fillmore for over 30 years and has always supported the community in many ways. Plants have been donated or loaned for many events including High School Graduation, landscaping at Fillmore High School, Middle School, San Cayetano, Piru, Sespe and Mountain Vista Schools. Boys and Girls Club, Fillmore Women Service Club, Central Park, Relay for Life, Bardsdale Cemetery and Shiells Park have all been recipients of Otto & Sons Nursery's generosity. Otto & Sons Nursery has donated to the Fillmore Civic Pride Committee's Yard of the Month program for many years. They also participate in the Ventura County Fair by creating a beautiful rose filled landscape display each year for the past 25 years.
Otto & Sons Nursery moved to Fillmore in 1977 after being in Chatsworth for 20 years. Scott's father Otto was a landscape contractor in the San Fernando Valley when he developed the business into a nursery. Scott rejoined the business in 1984 after receiving his degree in Horticulture from Cal Poly San Luis Obispo. The nursery currently employs 18 full time, and 3 part time staff, many of whom have been there for over 20 years. The staff is a team of professionals who work together to supply the best plants for the best customers. Otto & Sons specializes in growing rose plants, fruit trees and landscaping plants. They have the largest rose selection in southern California with over 800 varieties. The nursery services retail garden centers and landscapers throughout California delivering plants in their fleet of trucks weekly. The nursery has a retail garden shop which is open Wednesday thru Saturday 8 a.m. to 5 p.m., with shorter hours in winter. Visit our web site www.OttoandSons-Nursery.com for great information about roses and fruit trees. Also become a fan on Facebook "Otto and Sons Nursery local business" for updates on special sales, events, and pictures.
Scott and Cindy have been married for 30 years and have 3 sons: Danny who is pursuing his doctorate in Entomology at UC Davis., Andy who is a senior at Cal Poly San Luis Obispo studying Applied Plant and Environmental Science, and Timmy who is in 10th grade at Fillmore High School. Cindy works part time at Associates Insectary as a biotechnician and also at the nursery. Cindy is a Community Club Co-Leader for Bardsdale 4H leading projects in entomology and gardening, secretary of Fillmore FFA Booster Club, and serves on the Fillmore Civic Pride committee. Scott currently is Scoutmaster for Boy Scout Troop 406, serves on the Ag Advisory Board for the Fillmore School farm, Board of Directors for Ventura County Farm Bureau, Board of Directors for the California Association of Nurseries and Garden Centers and is currently a member of the California Agricultural Leadership Foundation Class 43. The family attends Peace Lutheran Church in Camarillo.
Otto & Sons Nursery would like to thank the Fillmore Chamber of Commerce for selecting them as "Lifetime Achievement Business"!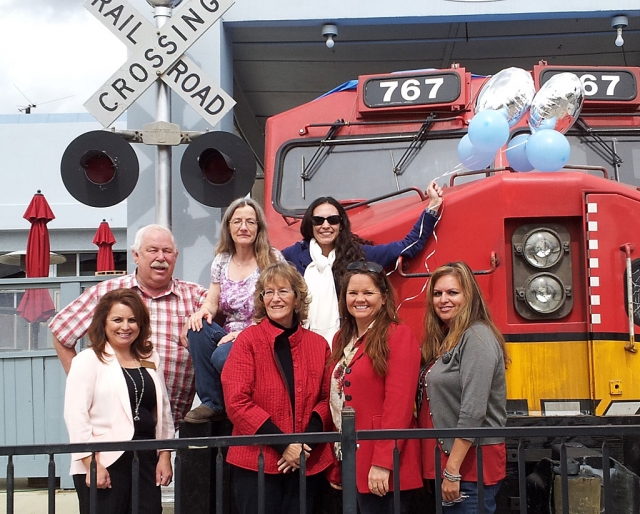 (l-r) (back row) Dave and Tresa Wilkinson, Rene Stoevsand-Martels. (front row) Theresa Robledo, Kathleen McCreary, Cindy Jackson and Ari Larson.
Enlarge Photo
By Gazette Staff Writer — Wednesday, March 20th, 2013
Fillmore Chamber of Commerce would like to congratulate Fillmore & Western Railway Co. for receiving Business of the year for 2012. Thank you for all you do for our community.
Short Line Enterprises was founded in 1967. Between 1967 and 1972, the company bought, sold and traded locomotives, passenger cars and freight cars, mostly of 19th century origin. The majority of the equipment was acquired from the property departments of three major movie studios: MGM, Paramount and 20th Century Fox. This activity, combined with Short Line's experience in buying, selling and evaluating railroad equipment led to the company's emergence as one of the foremost appraisers in America of rolling stock and other railroad-related items. It also focused the company on its long-term path of providing movie trains for the film industry.
During this time (1985), Short Line moved its movie operations to the Newhall Ranch, placing it within the Hollywood production zone. Between 1985 and 1990, Short Line was used in over seventy feature films, television series and commercials. No Hollywood railroad location had ever amassed that number of credits in such a brief period of time. The track lease was cancelled in 1990 when the Newhall Land and Farming Company decided to develop the surrounding area in a way, which was incompatible with movie operations.
A search began for a new home for Hollywood's "movie trains". The only line that met the specific needs of the film industry was Southern Pacific's Santa Paula Branch in rural Ventura County. The pastoral surroundings of the area also bode suitable for development of a passenger excursion business. The City of Fillmore showed great enthusiasm for the operation of a vintage train in conjunction with the revival of its 1920-era Central Business District. The objective—to create a major visitor destination that features the movie trains, passenger excursions and dinner trains as the master theme for the community redevelopment. To date over 400 feature films, television series, commercials and still shoots have been filmed on Fillmore & Western Railway, home of "The Movie Trains".
The "Movie Trains" found a home, and Fillmore became known as "train town".
In 1996, Short Line Enterprises became the film division of the Fillmore & Western Railway Company, when Dave and Tresa Wilkinson purchased the railroad from the former owners. Operations expanded from movie work and limited passenger trips to regularly scheduled daytime passenger excursions and Saturday night dinner trains, and have gone on to include widely recognized "train themed" events such as Day Out With Thomas, the first tourist railroad to present PumpkinLiners, the North Pole Express and Xmas Tree Trains. Because of the mild valley climate, Fillmore & Western is one of the few historic railroads that operates year round. Many southern California school children have ridden one of the "school field trip" trains either to the Fillmore Fish Hatchery or "Ichabog", Fillmore & Western's private pumpkin patch.
The antique trains of Fillmore & Western continue to attract visitors and railfans to the Heritage Valley and is as involved as ever in the magic of movies, while the company's passenger excursions, dinner trains, private parties and corporate events provide the means of travel to a bygone era. The owners and staff of Fillmore & Western are involved in many community based organizations and contribute to county wide and local fundraisers. Fillmore & Western has partnered with 5 tourism bureau organizations, several regional Chambers of Commerce all in an effort to bring more visitors and prosperity to all businesses in Fillmore and the valley. The owners have proven time and again that they are committed to giving back to their community by donating train trips and sponsoring non-profit organization. When the Heritage Valley Tourism Bureau lost its funding, the railroad owners stepped up and provided full time staffing to keep the Tourism Bureau operational. The train partners with local museums and businesses to promote not only the train, but all the historical and cultural treasures, festivals and events that our community has to offer. The original tracks, depot and trains arrived in Fillmore in 1887 hauling citrus and passengers, now one hundred and twenty six years later it is still "chugging down the tracks" carrying tourists and locals because Dave and Tresa Wilkinson have devoted the last twenty years of their lives to ensuring the history and heritage of railroading stays alive and thriving.
By Jean McLeod — Wednesday, March 20th, 2013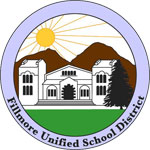 Fillmore Unified School District
The 45 parents and teachers who attended this Tuesday's Fillmore Unified School District (FUSD) Board Meeting were there primarily to hear the findings on Fillmore Middle Schools mold spore report, but received some very good news on other issues as well. It was reported that FUSD is in good financial shape and that a contractor has been chosen to begin the roofing repairs on Fillmore Middle School. Other agenda items covered were the Common Core State Standard Assessment Format and English Language Arts (K-5) Curriculum Update.
Superintendent Dr. Alan Nishino informed the Board that FUSD is in a strong financial position with a Positive rating, the highest of the three ratings the State of California gives to school districts. A Positive rating means that a district is on good footing and will remain in the black for the next three years. The next lower rating is Qualified which means a district's financial stability is questionable for the next two to three years. The lowest rating is Negative which means the district can not sustain itself for the next coming year. When that happens the State takes over receivership and governs the district. The Positive rating is really exemplary for FUSD considering the District received cuts five years in a row. Other districts in the County have not faired so well such as Simi Valley School District which almost landed in Receivership with a $20,000,000 debt that was reduced to $10,000,000 after Prop. 30 passed.
The FUSD financial figure are CONTINUED »
By Gazette Staff Writer — Wednesday, March 20th, 2013
Friday, at approximately 12:30 p.m. an accident occurred near the intersection of A Street and Ventura Street. A late model Mercury van struck a Chevrolet Silverado pickup on the left rear bumper. Moderate damage appeared to have been caused to both vehicles. The female driver of the Mercury was transported by ambulance to a local hospital for observation.
Enlarge Photo
By Ventura County Sheriff Department — Tuesday, March 19th, 2013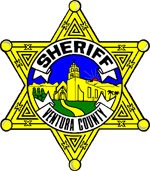 Ventura County Sheriff's Department
After an extensive eight-month investigation, a former employee of the Fillmore and Western Railway was arrested for embezzlement.
In July 2012, the railway company reported long time trusted employee Mariah Sjolund was embezzling from the company by manipulating the payroll. The investigation revealed tens of thousands of dollars were stolen from the railway, a Fillmore City landmark.
Sjolund was booked at the Sheriff's Main Jail with bail set at $10,000.00.
Nature of Incident: Embezzlement Arrest
Report Number: 12-16159
Location: 1400 Block Ojai Road, Santa Paula, CA
Date & Time: March 13, 2013 / 0800 hours
Unit(s) Responsible: Fillmore Investigations
Suspect City of Residence Age
Mariah Sjolund Santa Paula 33
Prepared by: Detective John Fox
Media Release Date: March 13, 2013
Follow-Up Contact: Sgt. Anthony Aguirre (805) 524-2233
Approved by: Captain Monica McGrath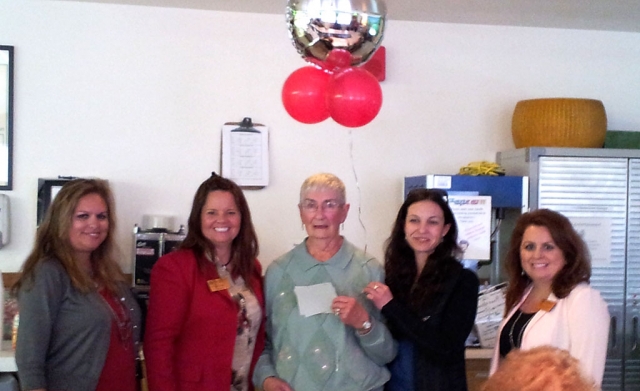 (l-r) Ari Larson, Cindy Jackson, Myrna Taylor, Renae Stovesand-Martels and Theresa Robledo. Photo courtesy of Fillmore Chamber.
Enlarge Photo
By Gazette Staff Writer — Wednesday, March 13th, 2013
Fillmore Chamber of Commerce would like to congratulate Myrna Taylor for receiving Lifetime Achievement Citizen of 2012. We appreciate all you do for our community.
Myrna started working for Fillmore in about 1954 when she moved to Fillmore as a wife of a new 6th grade teacher at Sespe School. Walt was in the classroom, but Myrna was behind him in every way. She was a volunteer in both Sespe School and San Cayetano School libraries and helped with a special reading program several years. She kept books repaired, read to the kids and helped them find a book "just for them."
When her children reached school age, she joined the Fillmore PTA and served as President. She was chairman for the Halloween Carnival for two years and pulled it all together to provide a fun evening Fillmore kids of all ages. She also worked with 4-H to teach sewing classes.
Soon her family participated in the Scout Troop 406 annual summer camp. Myrna was the best assistant cook in town. She played back up to Marie Wren for several years to keep everyone fed for the week and still enjoyed the fun. Only two years ago she was co-worker for several months with Marie in cooking class for Cub Scouts.
Eventually her family grew-up, married and moved away from Fillmore. Myrna soon started work with the Friends of the Library to help raise money for new books and present programs at the library for all age groups.
Myrna Taylor has been a main stay at the Convalescent Center Auxiliary almost since it was organized. For YEARS she has worked on Bingo days and helped in every way to make life better for the many patients there. She sews for their bazaar and helps raise money the Auxiliary uses to buy extra things for the Center to have to make life better for each patient. The Fillmore Convalescent Auxiliary was still a new group when Myrna became involved with them. She has worked three days a week to improve the life of those patients.
Myrna has been a very devoted and caring person to the residents at the Fillmore Convalescent Center and she has gone far and beyond what a true volunteer is. I know that her late Love of her life Walter Taylor is very proud of her as well as all the residents and staff here at the center.
Through the years, Myrna has worked from leading organizations to just being a worker bee behind the scenes, but she is always there lending a hand where needed and quietly making sure things are making Fillmore a better place to live.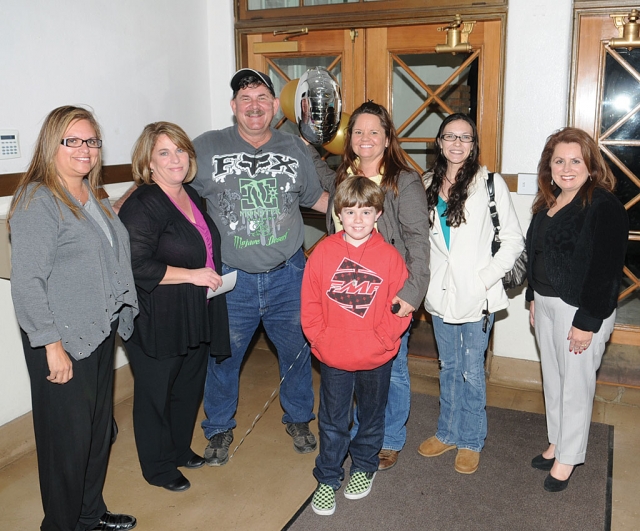 (l-r) Ari Larson, Joani Stump, R.J. Stump, Cindy Jackson, Renae Stovesand-Martels, and Theresa Robledo.
Enlarge Photo
By Gazette Staff Writer — Wednesday, March 13th, 2013
Since moving to Fillmore in 1996, RJ has been very privileged to be involved in this community. He has provided sound and announced at events such as the local parades, FHS Basketball games, and Raider Youth Football games. He has coached youth sports and served on various committees. If there is a way for him to be involved, you know he will be there, ready and willing to do whatever it takes to "git-er done". He has been a head coach for football, baseball and basket ball for many years. For 10+ years he has been a Board Member of Fillmore Little League and is currently serving as President of the organization. He has served in various positions on the Raider Youth Football Board for many years and was a member of the FUSD Reconfiguration Committee and a parks and rec sub-committee. He loves this community and is willing to help in any capacity to see it flourish for our youth and the community in general. He has been involved with Faith Community Church for many years, serving in multiple capacities, from providing sound to vacation Bible School "Fun and Games Engineer". He has devoted his career to construction management, with a primary focus on the building of schools and other public works projects. His hobbies include dirt bike riding, camping, spending time with family and friends. His true passion is spending time with the kids, coaching, mentoring and watching them grow in "the game" and in life. He is married to Joni, whom without the world would stop turning and has 4 wonderful boys, a daughter-in-law and one grandson, all of whom he is very proud!
By Gazette Staff Writer — Wednesday, March 13th, 2013
By Gazette Staff Writer — Wednesday, March 13th, 2013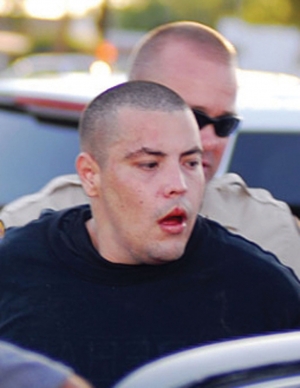 David A. Morales, of Fillmore.
District Attorney Gregory D. Totten announced today, March 12, 2013, that David A. Morales, of Fillmore, was convicted by a jury of the First-degree murder of his sister, Maricruz Morales, who was beaten to death with a variety of objects, including a hammer. The jury also convicted Morales of assault with force likely to cause great bodily injury on a second victim, Roselia Morales. The crimes were witnessed by neighbors who confronted David Morales and attempted to help the victims during the assault. Maricruz Morales died at the hospital one hour after the attack.
Sentencing in this matter is set for April 24, 2013, at 8:30 a.m. in courtroom 25. Morales faces a maximum possible sentence of 29 years to life in prison.
Related:
http://www.fillmoregazette.com/front-page/brother-accused-killing-sister
http://www.fillmoregazette.com/front-page/trial-set-brother-accused-kill...
By Jean McLeod — Wednesday, March 13th, 2013
American Water extends chemical coverage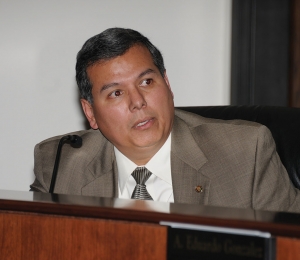 Rigo Landeros informed the Council that the Ventura County Alert System (VCALERT) had still not received the response from the County residents that they need to have a reliable responsive system in an emergency. To date only 294 Fillmore residents have registered their cell phones. Landeros wanted to remind everyone to sign up.
The City of Fillmore is about to become a Centurion, marking one hundred years since becoming incorporated. That was one of the items discussed at Tuesday night's meeting. Another was the opening of the City Pool, which in the past drew many to the Council Chambers, but less than ten people attended the short March 12, 2013 Fillmore City Council Meeting which ended after an hour and twenty minutes. Other items on the agenda were the direction of the City of Fillmore Vision 2020 and Ventura County Alert System.
The Aquatic Center (AC) was once again on the Council's agenda. The AC is still running a deficit but has been reduced from $76,000 to $41,000 due to greater usage and more revenue than expected last year. As of February 28, 2013 the AC Fiscal Year 2013 operating expenses were $96,963 with revenue of $82,062 with a deficit of $14,901. The operating costs for utilities are estimated at $960 per week, staffing costs for lap swim and water exercise is $608 per week.
Looking for ways to control the costs Council Member A. Eduardo Gonzalez contacted the YMCA, an organization with a great deal of experience in managing a pool, asking for advice. The YMCA believes they can run the AC from April thru October and break even on revenue and costs, similar to what the City of Santa Paula does by leasing their pool out for the summer. Interim City Manager Rigo Landeros and Annette Cardona, Community Service Supervisor, have since been meeting with the YMCA about contracting the AC out. Besides the negotiations the City continues trying to find ways to open the AC as soon as possible, suggesting April 1st, but some said that was unrealistic due to having to hire staff so quickly. The Council began the evening discussion of what to do about the AC by stating that they were at a crossroads of whether to keep control of or share it. The YMCA is willing to take on the task but does not want a long contract, three years at the most with a 30 to 60 day to reconsider. This would mean YMCA would cover the utilities which ran $25,328 last April thru October. American Water has given a one year extension on covering the cost of chemicals.
Some of the questions CONTINUED »
By Gazette Staff Writer — Wednesday, March 13th, 2013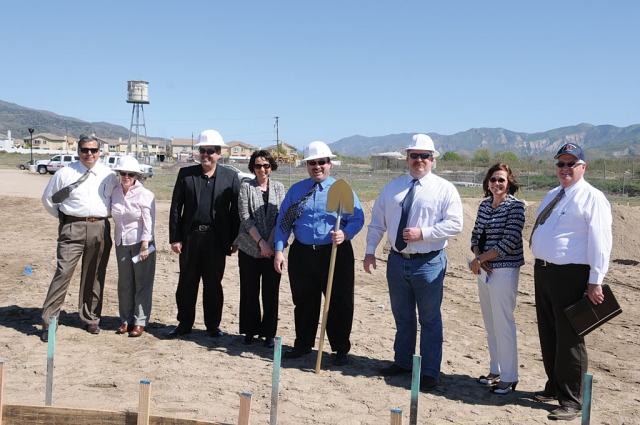 A groundbreaking ceremony was held Tuesday, March 12, for the new Tot Lot Project at Two Rivers Park. Pictured (l-r): Acting City Manager Rigo Landeros, County of Ventura – CDBG/ ESG Management Analyst II Meg Kimbell-Drewry, Councilmember Eduardo Gonzalez, Community Services Supervisor Annette Cardona, Councilmember Doug Tucker, Mayor Rick Neal, County of Ventura Deputy Executive Office Christy Madden and Building and Safety Director Steve Stewart.
Enlarge Photo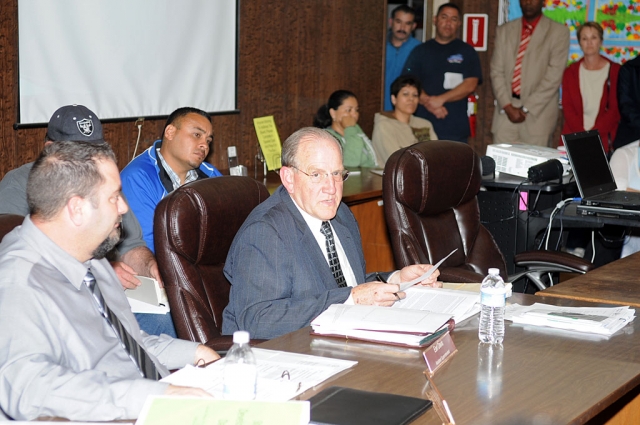 Mr. Davis addresses the concerned parents about F.M.S. repairs at Tuesday night's School Board meeting
Enlarge Photo
By Jean McLeod — Wednesday, March 6th, 2013
The March 5, 2013 Fillmore Unified School District (FUSD) Board Meeting was packed to overflowing capacity with parents wanting answers as to what is being done to fix Fillmore Middle Schools (FMS) mold and leaking roof problems. Every seat was filled leaving many of the parents crowded at the doorways and still more flowing into the hallway.
The leaky roof in the gym and classrooms has plagued the school for over three years and has continually worsened as mold grew creating a serious heath issue along with an unsafe area to teach. The parents of students who attend FMS approached the school back in early December 2012 asking what was being done to remedy the situation. They kept a record of inquiries and felt they were getting the run-around after a number of meetings and phone calls but no answers. Many showed up at the last Board Meeting on February 5th to directly address the Board and others whose responsibility it was to fix the problem. Another meeting was held at FMS on February 7th with Interim Assistant Superintendent Earl Davis present where he informed the parents via a translator, Norma Sanford, that FUSD was aware of the problem. He said as a precaution they would treat the mold in the gym with bleach, and that a FMS teacher had the areas tested. Davis then handed Sanford a camera to take close-up pictures of the parents who attended. Some parents found it disrespectful but didn't back down, according to the written record kept. They came out in force, wanting answers at Tuesday's Board Meeting.
Alyssa Calderon told the Board that she meets weekly with the other parents and no one from FUSD had informed the parents of anything that had been done so far, leaving them in the dark. Calderon told the Board, "I feel if it wasn't for our griping nothing would have been done, or maybe it would have." Then added, "No one told anyone about the tile that fell and hit a student. Make us trust you if you really want to help." Calderon's husband Guillermo Calderon asked the council, "Who's responsible for this, the builder? What action have you taken?" Then Calderon's son Julian, who is in seventh grade and plays baseball, basketball and football at FMS, spoke to the Board about how important having sports is to him.
One parent came CONTINUED »