By Gazette Staff Writer — Wednesday, June 19th, 2013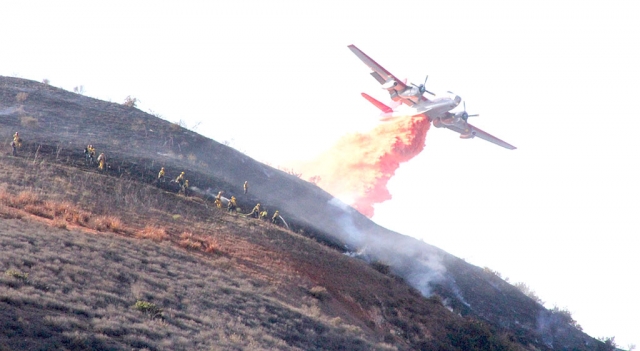 A brush fire broke out on Tuesday, June 18th, east of Fillmore. By Tuesday evening a little over 62 acres had burned and was 60% contained. Fillmore, Santa Paula, Ventura and Los Angeles County Fire Departments, along with four aircraft assisted with the fire. Photos Courtesy Sebastian Ramirez
Enlarge Photo
By Gazette Staff Writer — Wednesday, June 19th, 2013
By Mark Ortega — Wednesday, June 19th, 2013
What a great time we all had at the 100th Alumni dinner on Saturday, June 15th. The afternoon started out with a nice social hour on the Patio, and inside the Memorial Building where everyone was able to visit with old friends, and reminisce of the good old days at Fillmore High. The inside of the building was decked out with Pictures from our High School days that folks have not seen in years. Every single class starting back to 1911 had their pictures hung up along the walls, and Alumni members were picking out parents, grandparents, and Great Grandparents that were Alumni. As the dinner hour approached Alumni members were guided by Alumni Volunteers to the dining area out on the Memorial Buidling lawn, and seated. DJ's California Catering provided a delicious dinner, and once again, it seemed like the Peach and Apple Cobbler with Vanilla Ice Cream was the big hit. After a short program, where the Chancellor from U.C. Merced spoke, (A Fillmore H.S. Grad '66) it was time for the Alma Mater and then many folks stayed to visit for the rest of the evening. Some just relaxed under the Bistro lighting out on the Patio area, and other's danced the night away to the fun music of the 50's, 60's and 70's. The Alumni Association wishes to thank the following. DJ's California Catering, Amigo Party Rental, Otto and Son's, Don Vela outside DJ, Eddie Leighton Inside DJ, Tina Hurtado '94 Floral Design, Quality Ag, and the numerous Volunteers who helped contribute to the success of the 100th. See you all next year!
By Bob Crum — Wednesday, June 19th, 2013
Story and photos by Bob Crum
By Gazette Staff Writer — Wednesday, June 19th, 2013
Over the past tow months there have been numerous reports of identity theft in Fillmore. The suspects are using personal information of the victims to establish credit and open bank accounts. The investigation is ongoing.
Several residents discovered that they were a victim of identity theft by going through their mail and finding letters form credit card companies regarding their application of credit, getting calls from financial institutions and/or receiving packages of merchandise to their residence that they didn't order.
The Fillmore Police Department would like to remind its residents to protect their personal identity information. If you have had the misfortune to have already been a victim of identity theft, and you have not reported it, please contact the Police Department to make a report, and contact each of the credit reporting companies as follows, Equifax, Experian, TransUnion.
For more information, please contact the Fillmore Police Department at 524-2233.
By Jean McLeod — Wednesday, June 19th, 2013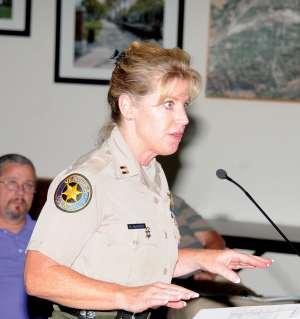 Police Chief Monica McGrath
Last Tuesday, June 18, 2013 the Fillmore City Council held a Special Meeting Budget Workshop where the ups and downs of our City's finances were discussed in detail. Much of the news was positive. Austerity measures the City has taken over the past years has helped to put the City's finances back on track and going in the right direction.
There was a question of having enough in reserve to replace some capital improvements. Financial Advisor Frank Catania warned the Council that there are limited reserves and things that need replacing. While factoring in inflation and capital improvements, the amount in reserve is low. He informed the Council that a City should have at least 120 days in reserve. This amount is to cover the cost of a disaster which Fillmore has experienced more than once. The 120 day requirement is because it usually takes Federal Emergency Management Agency that amount of time to start funding. Another item that will need to be addressed may be to Risk Management/Insurance. Rates may be increasing and the City should be looking for a new insurance pool. There are three major Government/City insurance pools in California, but each requires one year advanced notice to change providers.
There is still the CONTINUED »
By Gazette Staff Writer — Wednesday, June 19th, 2013
The City of Fillmore Fire Department wants to ensure that Fillmore citizens enjoy a safe Fourth of July week. Citizens are reminded that "safe & sane" fireworks sold in Fillmore are legal between June 28 12:00pm – July 5 12:00pm. The use of any type of non-approved fireworks is never legal and will result in criminal charges and the potential for a $1,100 fine. If you witness any illegal activity please report it! An anonymous tip line has been setup to report violators. Please call 805-524-1500 ext. 350 to report illegal activity.
Below are several safety tips to insure you and your family enjoy a safe Independence Day Celebration.
Fire Safety
•If you witness a crime or fire in progress involving illegal fireworks, call your local authorities by dialing 9-1-1.
•Only Safe and Sane fireworks bearing the seal of the State Fire Marshal are legal in California. All other fireworks, including altered Safe and Sane fireworks and those that explode or leave the ground are illegal.
•Kids should not play with fireworks. Fireworks are intended for use by adults in open spaces with plenty of active supervision for every child present.
•Always have a bucket of water on hand to dispose of fireworks and a hose connected to water ready in case of fire.
•Fireworks, including sparklers and flares, can cause serious burns as well as blast injuries that can permanently impair vision and hearing. Teach your children what to do if their clothing catches on fire — "stop, drop and roll" — and how to call 9-1-1 in an emergency.
Pet Safety
•Get your pet CONTINUED »
By Ventura County Sheriff Department — Wednesday, June 12th, 2013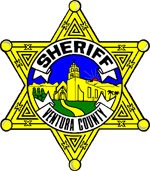 Ventura County Sheriff's Department
Two drowning victims were found in a residential pool in the 3700 Block of Howe Road in Piru. Initial lifesaving efforts were provided to the victims by two citizens. Ventura County Fire Personnel, American Medical Response ambulance personnel and Sheriff's Deputies responded to the residence and took over lifesaving efforts. Ramon Alvarez was later pronounced dead at the scene. Nelson Alvarez (Ramon's son) was transported via helicopter to Los Robles Hospital where he later died. A preliminary investigation indicated that the victims drowned in an unfortunate chain of events while attempting to repair the pool mechanisms. The Ventura County Medical Examiner's Office will be conducting a further investigation to determine the cause of death.
Nature of Incident: Drowning
Report Number: 13-12597
Location: 3700 Block of Howe Road Piru, CA
Date & Time: June 8, 2013 at 1335 hours
Unit(s) Responsible: West County Patrol – Fillmore Police
(S)uspects, (V)ictims, (P)arty, (D)ecedent City of Residence Age
Ramon Alvarez, Piru, CA, 79
Nelson Alvarez, Piru, CA, 37
Prepared by: Sergeant J. Hendren
Media Release Date: 6/08/2013
Follow-Up Contact: Fillmore Police Department – Sergeant A. Aguirre
Approved by: Captain Dave Wareham
Ventura County Crime Stoppers will pay up to $1,000 reward for information, which leads to the arrest and criminal complaint against the person(s) responsible for this crime. The caller may remain anonymous. The call is not recorded. Call Crime Stoppers at 800-222-TIPS (8477).
By Gazette Staff Writer — Wednesday, June 12th, 2013
Like a bee to nectar the CHHF fly's back into Fillmore and brings with it the sweet taste of BBQ.
The festival returns to Central Ave Park, 250 Central Ave Fillmore Ca. on June 15 and 16.
Bennett's Honey Farm returns as the primary sponsor of the Honey, BBQ and good time family event.
Jump on board Fillmore & Western "Honey Express" train for the 7 mile scenic educational ride to Bennett's Honey Farm. Along the route will be demonstrations by Bee Keepers on bee and hive handling. Docents will explain the importance of bees in maintaining balance and production of our valley's agriculture activities. The "Honey Express" will depart Fillmore 10:00 AM, 12:30 PM and 3:00 PM. Riders will be given a "inside the hive" tour of Bennett's Honey Farm processing facility. Tickets for this activity are available for purchase at the event.
In conjunction with the Honey Harvest Festival, BBQ Teams will be competing in a Kansas City BBQ Society (KCBS) BBQ Contest on June 15. KCBS judging will take place Saturday 12:00 and 2:00 PM. Sunday, June 16, Pitmasters will compete in a "People's Choice" BBQ event and will be required to use honey in their BBQ. Tickets will be available for BBQ sampling on both days.
Central Park will be buzzing with musical entertainment, Arts & Craft Vendors, Vendors and Educational Speakers on Bee and also on BBQ technique. The event is open to the public at 9:00 AM. There is no charge for entry to the event. Proceeds go to Autism Speaks. For info contact Roger Campbell 805-857-2785.
By Gazette Staff Writer — Wednesday, June 12th, 2013
When we heard that the Grad Night Live program was short funds we talked about helping out by donating. Juan knowing how I (Teresa) grew up in a small community like Fillmore, we know the importance of what a night like Grad Night Live can have to our graduating seniors. So we thought of a few ideas for fund raisers to help raise some much needed money. When we started, we set a personal goal and hoped to meet it but it never crossed our minds that we would exceed it. So thru word of mouth and the assistance of social media, we got the word out that we were raising funds for the Class of 2013 Grad Night. Within the course of 2 weeks we were able to raise a total amount of $1150. We contacted both Ms. Raelene Chaney and Ms. April Hastings to give them the great news. We want to give a great big "THANK YOU!!" to all of those friends and family members who participated and gave whole heartedly to a wonderful cause. We would love to mention you all but there are way too many. Know that you did a great thing for the future of your community… May your pockets be blessed as much as your hearts are! THANK YOU! Juan & Teresa Rodriguez.
By Jean McLeod — Wednesday, June 12th, 2013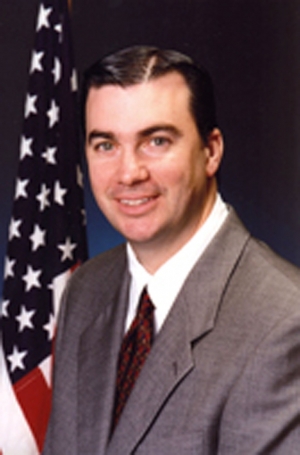 David Wayne Rowlands
There were a number of items on Tuesday's Fillmore City Council Meeting's agenda requiring the meeting to continue late into the evening. The issue that filled the chamber to standing room only was the renewal of the E. J. Harrison/Santa Clara Disposal contract. Other items included the approval of the new City Manager, placing past due utility charges on the property tax roll for collection, accepting the 2013-2014 Budget and requests for a fee waver and temporary use permit.
NEW CITY MANAGER CONTRACT APPROVED
The Council approved the contract for a new City Manager. David Wayne Rowlands will start on August 12, 2013 with an annual salary of $159,000. Rowlands has been the City Manager for Clayton, Ohio, a city of approximately 14,000 residents, for 12 years. He worked with a full-time staff of 32 which included the Police and Fire Departments. Before Clayton, he served as the Deputy City Manager for Novato, California. Rowlands received his Bachelor of Arts degree from California Lutheran University and a Master of Public Administration degree from California State University Stanislaus. Mayor Pro Tem Manuel Minjares stated the Council was looking for someone with technical skills that could communicate with everyone and they believe they have found that in Rowlands. Fillmore Council Members traveled to the City of Clayton to interview their city staff members and ask questions of those who had worked under Rowlands' management. Mayor Rick Neal said the staff spoke of Rowlands' community involvement and was told everyone was saddened to lose him as their City Manager.
E. J. HARRISON CONTRACT RENEWAL
The renewal of E. J. CONTINUED »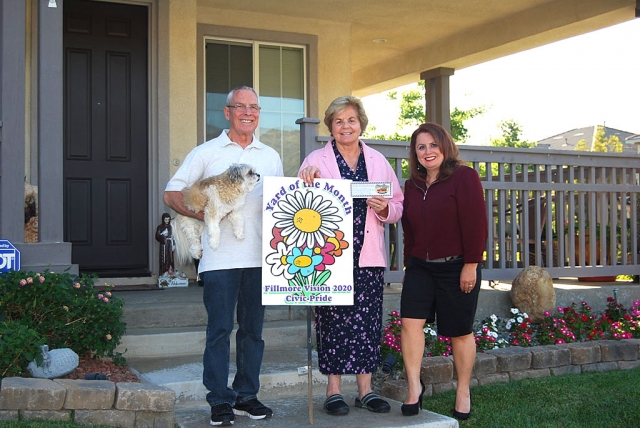 Theresa Robledo presents Fillmore Vision 2020 Civic Pride's Yard of the Month for June to James and Carol Koenig and their lovely spoiled dog, Dixie (shih tzu)! Congratulations!
Enlarge Photo
By Gazette Staff Writer — Wednesday, June 12th, 2013
Their yard is located at the corner of Mountain View and Bridlewood Lane, you will find star jasmine with the aroma of gardenias; vincas; succulents; orchids; bottle noses; Mediterranean roses; cherry trees and very nice decorative statues. James and Carol moved to Fillmore in 2007 to their lovely Iron Horse Estates Home in The Bridges! A Big Thank you to Otto & Sons Nursery for providing a gift certificate to the winners, where they will find more of their gardening and plant needs!
By Gazette Staff Writer — Tuesday, June 11th, 2013
Red Flag Warning Prompts CAL FIRE to Increase Staffing

Cal Fire
Sacramento, CA – Expected triple digit temperatures, low humidity and breezy winds have elevated the fire danger over the next several days, prompting CAL FIRE to increase its staffing across many parts of Northern California. The National Weather Service has issued a Red Flag Warning due to the heightened fire danger starting Friday afternoon and lasting through Saturday evening for parts of Shasta, Tehama, Glenn, Butte, Lake and Colusa Counties. On Sunday in the higher country, dry thunderstorms and lightning are possible in the Northern, Central and Eastern Sierra Nevadas.
With the increased potential for new fires, CAL FIRE has brought on additional firefighters to staff extra equipment during the high risk days. "While we are hoping we can make it through the next couple of days with minimal fire activity, we are prepared to respond if Mother Nature doesn't agree," said Chief Ken Pimlott, CAL FIRE director. "With approximately 94 percent of our wildfires being human caused, we are strongly urging the public to be extra careful and to take the proper steps to prevent wildfires."
Since January 1, CAL FIRE has responded to over 2,100 wildfires across California that have charred over 50,000 acres. Fire activity remains significantly higher than average; typically by this time of year CAL FIRE would have responded to only about 1,100 wildfires with 8,000 acres burned.
During the Red Flag Warning, CAL FIRE urges all Californians to exercise extreme caution outdoors in order to prevent wildfires. A few helpful reminders and fire prevention tips include:
Don't mow or weed eat dry grass on windy days
Ensure campfires are allowed, and if so, be sure to extinguish them completely
Never pull your vehicle over in dry grass
Never burn landscape debris like leaves or branches on NO Burn Days or when it's windy
Make sure all portable gasoline-powered equipment have spark arresters
For more ways to help prevent and prepare for wildfires visit ReadyForWildfire.org or www.fire.ca.gov.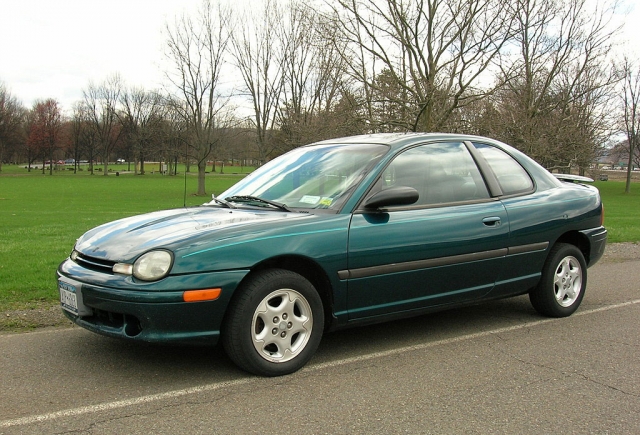 Mr. Briney was expected to drive home in his green 1999 Dodge Neon 2 door sedan (Lic #4HMN849).
Enlarge Photo
By Ventura County Sheriff Department — Monday, June 10th, 2013
Police ask anyone with information to contact them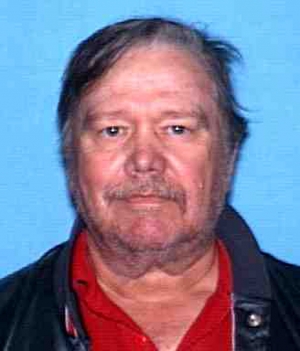 Mr. Briney may have health problems. He is described as a 66-year-old Caucasian male who stands 5'-5" tall, with grey hair, and blue eyes. Mr. Briney was last seen wearing a black baseball style cap, a black leather jacket, blue jeans, and brown moccasin style shoes.
Missing 66-year-old Fillmore Resident. Mr. Briney was last seen on Thursday, June 6, 2013, at approximately 4:30 P.M. at Henry Mayo Hospital in Valencia. Mr. Briney provided transportation for a friend who was admitted to the hospital. Mr. Briney was expected to drive home in his green 1999 Dodge Neon 2 door sedan (Lic #4HMN849).
Mr. Briney may have health problems. He is described as a 66-year-old Caucasian male who stands 5'-5" tall, with grey hair, and blue eyes. Mr. Briney was last seen wearing a black baseball style cap, a black leather jacket, blue jeans, and brown moccasin style shoes.
If you have seen Mr. Briney, or know his whereabouts, please contact Detective John Fox.
Nature of Incident: Missing Person At Risk
Report Number: 13-12565
Location: City of Fillmore
Date & Time: June 6, 2013 / 4:30 PM
Unit(s) Responsible: Fillmore Patrol / Investigations Unit
(S)uspects, (V)ictims, (P)arty, (D)ecedent City of Residence Age
Gary Carl Briney Fillmore 66
Prepared by: Detective John Fox
Media Release Date: June 8, 2013
Follow-Up Contact: Detective John Fox (805) 947-9391. John.fox@ventura.org
Approved by: Captain Dave Wareham
By Gazette Staff Writer — Monday, June 10th, 2013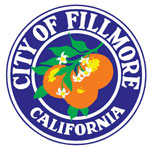 City of Fillmore
At the City Council meeting of Tuesday, June 11, the City Council will consider the appointment of David Rowlands to the position of City Manager. Rowlands, 45, is currently the City Manager in Clayton, Ohio, where he has served for over twelve years, and was a Deputy City Manager in Novato, California prior to that. Clayton is a City of approximately 14,000 residents with a full-time staff of 32, including its own Police and Fire Departments.
The appointment of Rowlands and the recommended approval will be the culmination of an extensive national search for a permanent City Manager to replace Yvonne Quiring who resigned in September of last year to take an Assistant City Manager position in Northern California. Rigo Landeros, Fillmore's Fire Chief was named Acting City Manager when Quiring left while the City Council undertook a national search for her permanent replacement. Over 60 candidates applied for the position and the City Council was involved in an extensive interview and background process for the top candidates. The City Council has been particularly impressed during the interview and background process with Rowlands' proven record of bringing his community together on issues, his fiscal acumen, and his solid commitment to ethics and open government.
If the contract is approved by the City Council, Rowlands will start in Fillmore on August 12 and will earn a salary of $159,000 annually. He will pay the full employee share of his retirement and social security contributions, and will be subject to a new maximum retirement benefit adopted by the State last year.
Attached to this release is the proposed employment agreement.
Rick Neal, Mayor
City of Fillmore
[Employment Agreement Attachment]
CITY MANAGER EMPLOYMENT AGREEMENT
BETWEEN
CITY OF FILLMORE & DAVID WAYNE ROWLANDS
This City Manager Employment Agreement ("Agreement"), is made and entered into the 11th day of June, 2013 by and between the City of Fillmore of California, a municipal corporation ("City"), and David Wayne Rowlands ("City Manager").
A G R E E M E N T
1.0 EMPLOYMENT & DUTIES; AB1344
1.1 General Terms. City hereby CONTINUED »
By Gazette Staff Writer — Wednesday, June 5th, 2013
Re-opened on Saturday
By Gazette Staff Writer — Wednesday, June 5th, 2013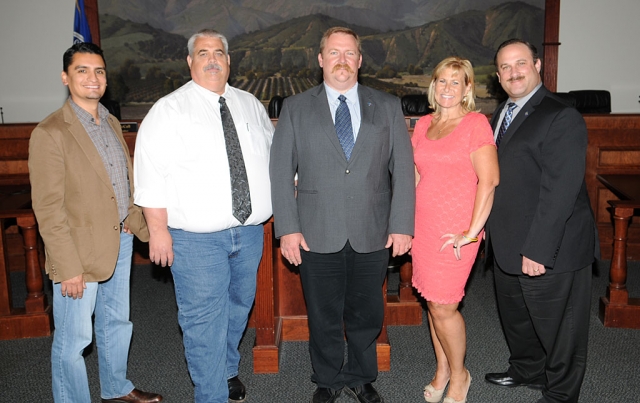 Fillmore's "new" city council: Steve Conaway, second from left, has been appointed to the Fillmore City Council to fill the vacancy created by former Councilman Brian Sipes' resignation. From the left: Mayor Pro-Tem Manuel "Manny" Minjares, Council member Steve Conaway, Mayor Rick Neal, Council members Diane McCall, and Doug Tucker. Since November's election the city council has experienced a remarkable transition, carrying with it truly high expectations of progress.
Enlarge Photo
By Gazette Staff Writer — Wednesday, June 5th, 2013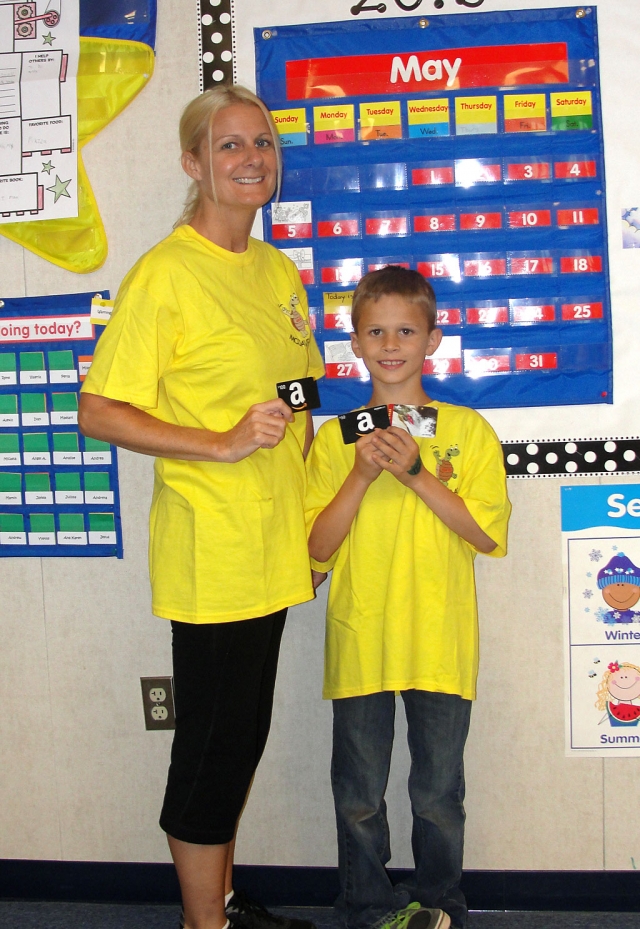 Tyler Gray, a second grade student was of Ventura County winner for guessing when Mojave Maxine would emerge from hibernation. The class received a visit on May 21 from Mojave Maxine and two employees from the Living Desert in Palm Desert. They taught the class about how tortoises are endangered and what we can do to protect them. (above) Ms. Gray received a $100 Amazon.com gift card to purchase school supplies. It was a great day for the class.
Enlarge Photo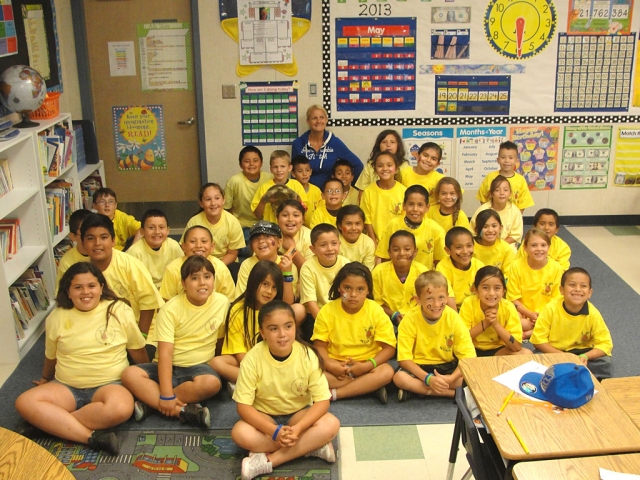 They also brought the entire class a t-shirt, bracelets, bookmarks, pencils, and coloring books.
Enlarge Photo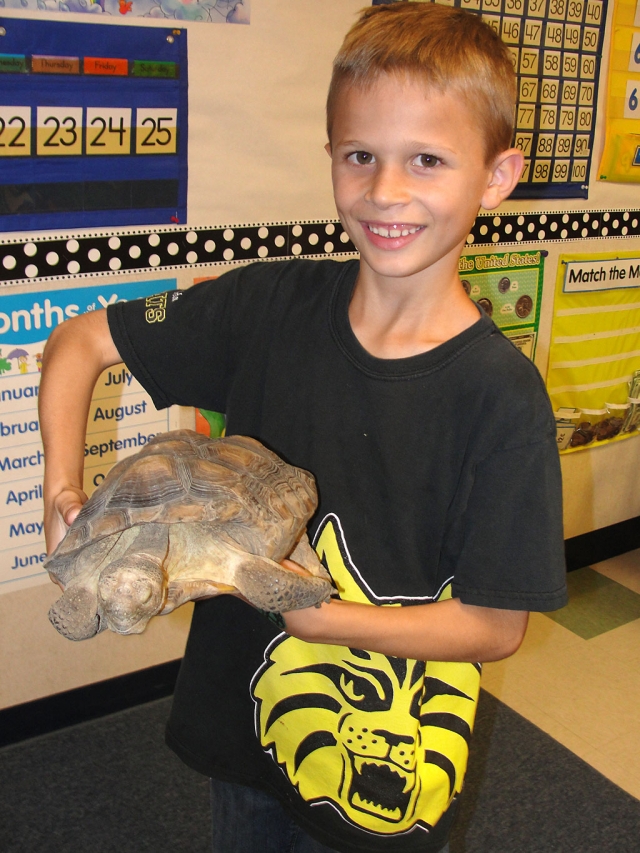 Tyler received a $50 Amazon.com gift card and national parks and federal recreational lands pass for a year.
Enlarge Photo
By Gazette Staff Writer — Wednesday, June 5th, 2013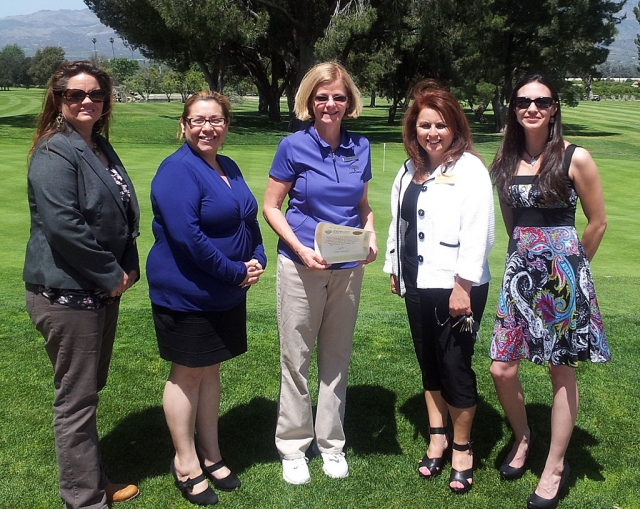 (l-r) President Cindy Jackson, Director Irma Magana, Cheryl Dimitt, Director Theresa Robledo, and Director Renae Stovesand-Martel. Elkins Ranch Golf Course offers a relaxing getaway experience on an 18-hole, PGA championship Ventura County golf course of remarkable beauty and maturity nestled in the picturesque setting of orange groves in Fillmore, California. Even before you arrive at our outstandingly maintained fairways and greens, the historic railroad town of Fillmore hints you are entering a quieter, friendlier style of California hospitality. Golf enthusiasts are attracted to the course for its quiet setting, scenic views, challenging shots, and friendly people. The Elkins family invites you to the Elkins Bar & Grill for a meal or a drink on the patio.
Enlarge Photo
By Gazette Staff Writer — Wednesday, June 5th, 2013
VENTURA COUNTY, CA - As previously reported, the California Department of Public Health (CDPH) has warned consumers not to eat Townsend Farms Organic Antioxidant Blend of frozen berries sold through Costco stores, and possibly other retail outlets, as they have been linked to a multistate outbreak of hepatitis A infections. Ventura County now has its first documented case of hepatitis A associated with the frozen berry blend. The affected individual is a male who used the product in preparing a smoothie. He has been ill at home for about 2 weeks and has not required hospitalization.
He is among over 40 cases that are being investigated nationwide. Three of these individuals have been hospitalized. No deaths have been reported. In California, seven confirmed illnesses in persons who consumed this product have been reported from Humboldt, Orange, Riverside, San Bernardino (2), San Diego, and now, Ventura counties.
People who are CONTINUED »