By Gazette Staff Writer — Wednesday, October 30th, 2013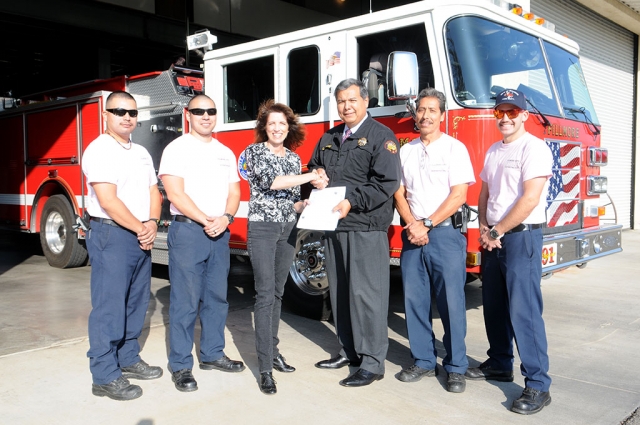 On behalf of the City of Fillmore, the Fillmore Volunteer Firefighters Foundation and its members, we would like to thank Chevron USA for their donation of $3,000. Chevron has been a great supporter for the City of Fillmore and many of the organizations within the City. This donation will be used to fund training, education, and to purchase and replace much needed equipment. We would like to offer a special thank you to Leslie Klinchuch, shown shaking hands with Fillmore Fire Chief Rigo Landeros, for her continued support of the residence of Fillmore.
Enlarge Photo
By Ventura County Sheriff Department — Wednesday, October 30th, 2013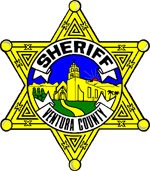 Ventura County Sheriff's Department
A Castaic woman visiting relatives in the city of Fillmore fell victim to a lottery ticket scam perpetrated by a team of suspects.
The incident unfolded after the Castaic woman was walking home after having breakfast at a local restaurant. The male suspect approached her at an intersection and engaged her in conversation. A second female suspect approached the two and joined them pretending to be unrelated to the male suspect. The male suspect sought the women's help in redeeming a winning lottery ticket he told them was worth several hundred thousand dollars. He told them he was unable to cash the ticket because of his illegal immigration status. The male suspect requested several thousand dollars from the victim as good faith money for trusting her with the winning ticket. He promised to double her money for her help. The victim was encouraged by the female suspect and agreed to help the male suspect. The two suspects drove the victim to a local bank where she withdrew $2,500.00 and gave the money to the male suspect. The suspects drove the victim to a residence and used a ruse to convince her to get out of the car and meet with the resident of the home.
Once the victim walked to the front door, the suspects drove away with the victim's money. The residents at the home were not involved in the scam.
The public is being warned about this scam where the lottery ticket is a counterfeit. Suspects usually target elderly Spanish-speaking citizens in shopping center public parking lots, but have also been known to target citizens in neighborhood streets.
Detectives are offering the following tips to protect the public from these scams:
• US citizenship is not a requirement for winning a lottery prize.
• The California lottery does not require money from the winner to redeem a winning ticket.
• Never get in a car with or follow a stranger.
• Never hand over money to a stranger you meet in public.
• Trust your first instinct, if a deal looks too good to be true, it's likely a scam.
• If a person with such an offer approaches you, don't fall prey, call the police.
By Bob Crum — Wednesday, October 30th, 2013
Story and photos by Bob Crum
The stars high in the sky were ready to twinkle as the sun retrieved its dose of daily light. Down below... in the grasp of irrelevant reality... witches – their brooms in the repair shop – cheerfully boarded the Fillmore & Western train. It was either take the Pumpkin Liner to the fabled Ichabog or hope for a flying carpet. Hope gave way to riding the train with the likes of Roman soldiers, Thing 1 and Thing 2 and other surly characters of various sorts.
Arriving at Ichabog, disembarking passengers were bathed in the light of the full moon. Ahead lie the stark eeriness of the corn maze. Upon hearing the screams of one lost in its bowels... no one dared to venture in.
At the ready, marshals on horseback stood guard to protect the tractor-drawn wagons about to take brave souls for the ride beyond the dark recesses of the glen the locals call... the Christmas Tree farm. From within the shadows of the stalwart trees lurk many dastardly goblins and ghouls of all kinds. From the reaches beyond lurked the members of the Boo Hoo gang setting about to snare the head of the horseman in black. With the slightest tinge of imagination... one could visualize ghost bunnies rising in the clouds of dust created by the horses thundering past the wagons. Or were they real... ghosts... spirits rising from their graves.
Out in the boondocks...past the saloon... and the undertaker... a briskly-burning campfire warmed two victims of the enraging battle between the marshals, the Boo Hoo gang and... the mysterious headless horseman clamoring about for his head. Around the next turn screeching zombies pounced from the darkness... as a human escaped their claws and paws and climbed into the wagon. In the nick of time... the wagon pulled away from the clamor.
Then... in the clutches of the lower 40... the sound of thundering horses pounding the earth... approached the wagons. 'Twas the baddies of the Boo Hoo gang. Given the notion there's strength in numbers, the wagon riders huddled. As the horse riders past... the leader held high the head of the black-cloaked horseman yelling... the head... the HEAD!
No sooner had the dust began to settle when the apparition appeared riding his majestic black steed. The headless mysterious figure slowly approached the wagon of riders... searching. The breathless figure reaching out in desperation... hoping. Disappearing as mysteriously as it appeared... riding off into the moonlight... and out of sight.
Before long the marshals finally arrived. Upon hearing of the Boo Hoo's niddering deed... they rode off post haste on the trail of the hoodlums.
The wagons resumed their travels interrupted once again on the trail by ghouls and zombies... recapturing the previous escapee carrying her off into the field kicking and screaming. To no avail of course. Not one wagon rider dared help fearing the zombies' wickedness.
Then... beyond the clutches of the unreal and surreal... again the thundering hooves of the horses as the marshals approached the wagons. One of them holding high the majestic head of the black-cloaked headless horseman rescued from the hoodlums... gently presenting it to one of the wagon riders for safe keeping. Until... that is... the black-cloaked horseman returns. You will not know its presence until you feel the breath of his head... breathing once again... as he snatches it from your grasp. And your endless nightmares begin.
Happy Halloweeeeeeeeen!
By Gazette Staff Writer — Wednesday, October 30th, 2013
Part 2
By Bob Crum — Wednesday, October 30th, 2013
Part 3
By Gazette Staff Writer — Wednesday, October 30th, 2013
From the left: City Manager David Rowlands, Councilmember Diane McCall, Mayor Rick Neal, Mike Sedell, Mayor Pro-tem Manuel Minjares, Councilmembers Douglas Tucker and Steve Conaway, and City Attorney Tiffany Israel. This is a day for the residents of Fillmore to rejoice and remember. The $14 million dollar check presented at Tuesday's regular council meeting represents a strong new start for the City of Fillmore. It's been a long time coming. The team shown in the photo above, and our hard-working city staff, are responsible for this financial victory. Special thanks is also due to Mike Sedell, former City Manager of Simi Valley. He has used his unique, extensive experience with tireless voluntary efforts to get Fillmore back on track at many levels. No one deserves the key to the city more than Mike Sedell. Congratulations to the whole team.
Enlarge Photo
By Jean McLeod — Wednesday, October 23rd, 2013
Mike Sedell receives Key to the City, $14 million check signifies victory
There was an unexpected surprise given out at this week's Fillmore City Council Meeting. A "Key to the City" was awarded to Mike Sedell in recognition of all the time and effort he put forward helping Fillmore stay the course. Sedell was City Manager of Simi Valley for 17 years, retired. Before handing over the Key, Councilmembers held up a large check (approximately size 5'X2') in the amount of $13,936,173.82 written to the City of Fillmore by the Board of Equalization. The check was just a photocopy but it symbolized the efforts of City Management and Council members that had faith in what many criticized as foolish. The Key to the City was then handed to Sedell in recognition for helping guide the town through some very hard times. He always kept faith in the Fillmore's ability to recover and selflessly never asked for anything in return. Sedell responded, "I saw a community in need of a bit of help....It was a team effort." Mayor ProTem Manuel Minjares spoke from the heart saying, "It was really a situation that we needed the right people....it's been a god-send and I can't express how happy I am." Councilmember Steve Conaway added, "I'm so thrilled with where we're at." Councilmember Douglas Tucker then told Sedell, "We looked for guidance....you truly are a leader." Councilmember Diane McCall ended the comments with, "We are so fortunate to have you select us....All of your effort has fulfilled our city."
Other items on the agenda were discussions of building a Bike Park-Pump Track, First Quarter Financial Report, Monthly Investment Report for September 2013, contracting with a collection agency to collect money owed the City, a tree maintenance contract, and a Long-Range Property Management Plan.
An item that may be of interest to the young people in town is the approval of a bike park/pump track, also called a skills track, that may be constructed in a couple of months at Two Rivers Park. This is a track where young people can practice bike jumps and tricks that have become a very popular sport. The size of the bike park is about equal to a basketball court. The exact location has not been completely decided, but discussion suggest the south-west end of the skate park that is currently a parking lot area with tennis courts dividing the skate park and the bike park. Conaway stated, "We believe we can build it with donations." Someone has already volunteered to draw up the design plans and the construction materials needed are compacted clay and soil. When liability concerns were brought up Conaway responded that the liability falls in the same category as a skate park. Tucker questioned the cost of maintenance and upkeep and was told there is very little, mostly hosing it down with water.
There were two contracts approved by the Council. First, with Sequoia Financial, a debt collection agency out of Glendale, to recover at least part of the $116,000 owed in utilities, fireworks citations, parking tickets and other debt uncollected. Fillmore will receive 75% of what ever is collected and where courts are required Fillmore will receive 60-65% of what is awarded.
The Council had considered other means to collect debt owed the town, such as adding it to the property tax bill, but many of the townspeople were not pleased with that direction due to the amount of errors possible.
Second, Council awarded a contract to West Coast Arborists for $30,000. It will allow for trimming of trees that are dead, a safety risk, or in an emergency situation. Normally the city contracts for a four-year cycle of trees to be trimmed and maintained, which runs around $86,000 per year, but that large of an amount has not been budgeted for in the 2013-2014 fiscal year budget.
An item the Council continues to deal with is the State dissolution of the Redevelopment Agency. The State is requiring all cities that chose to keep their Redevelopment Agency properties and become Successor Agencies to sell certain properties considered non-beneficial to the community and give the proceeds of the sale to the State. What Fillmore calls the 2013 Long Range Property Management Plan is the direction the City has taken to address the changes to the Redevelopment Agency since becoming the Successor Agency. Fillmore's Successor Agency consists of 19 properties of which 17 will continue to be owned by the City. The two that must be sold are vacant lots and could not qualify as a direct community benefit. Both are in the Central Business District; a vacant lot west of Central, 510 Santa Clara St. with a lot size of .36 acre. The other is Railroad Property located at Mountain View St./Santa Clara St. with a lot size of 2.11 acres.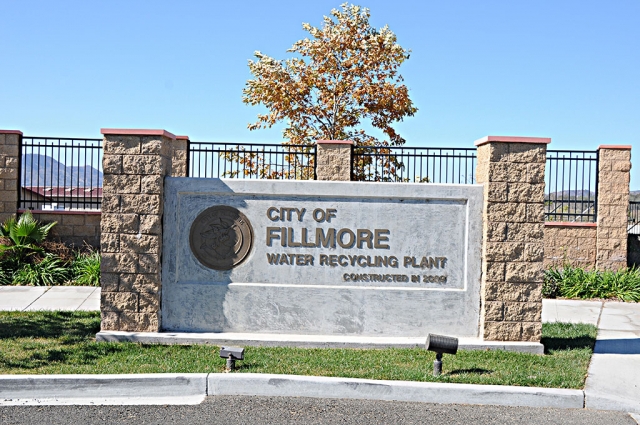 American Water has been awarded a research grant to investigate the impacts of low dissolved oxygen conditions at a full-scare membrane bioreaetor water reuse plant.
Enlarge Photo
By Gazette Staff Writer — Wednesday, October 23rd, 2013
American Water (NYSE: AWK), the nation's largest publicly traded water and wastewater utility company, today announced it has been awarded a research grant from the WateReuse Research Foundation to investigate the impacts of low dissolved oxygen conditions at a full- scale membrane bioreaetor (MBR) water reuse plant.
The project, valued at $365,777, will focus on the operation of advanced MBRs under low dissolved oxygen (DO) conditions to maximize nitrogen removal. Researchers will monitor the process using continuous online analyzers. The study will be conducted at the Fillmore Water Recycling Facility, an award-winning zero-discharge water reuse plant that is designed, built and operated by American Water's Contract Services Group for the city of Fillmore, Calif.
"The goal of this research is to produce high quality reclaimed water through a process that saves energy and reduces chemicals, while improving the treatment of emerging contaminants," said Dr. Helen Littleton, Technical Manager Commercial Wastewater Projects of Innovation and Environmental Stewardship. "In addition, the project will examine whether these conditions will also improve the removal of pharmaceuticals and nitrosamine precursors. These are all issues faced by the reclaimed water industry."
The American Water project team will consist of Dr. Helen Littleton, Technical Manager Commercial Wastewater Projects, as the principal investigator, and Dr. Zia Bukhari, Senior Environmental Scientist, serving as a co-principal investigator. Dr. Mark LeChevallier will be serving as internal advisor.
About the WateReuse Research Foundation
The WateReuse Research Foundation is an educational, non-profit public benefit corporation that serves as a centralized organization for the water and wastewater community to advance the science of water reuse, recycling, reclamation and desalination. The Foundation sponsors applied research which addresses the full range of scientific, technical, policy, and social science issues related to water reuse and desalination, Fore more information, visit www.watereuse.org.
By Gazette Staff Writer — Wednesday, October 23rd, 2013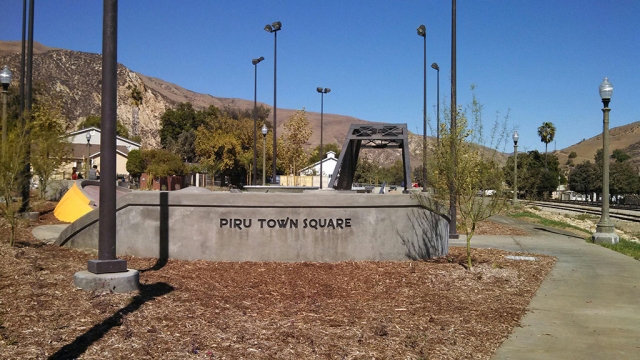 Piru's Skate Park offers the town's youth a place to engage in outdoor recreation. The Ventura County Board of Supervisors approved a total of $450,000 in loans and grants back in 2009 for the project. $200,000 in grant monies was part of an allocation of $1.9 million in federal anti-poverty funds distributed to poor communities and groups. A loan of $250,000 from the county to its redevelopment agency for the Piru area was also approved. It will be paid back over a 15-year period, at a rate of approximately $21,000 per year, from taxes collected in the Piru redevelopment zone.
Enlarge Photo
By Gazette Staff Writer — Wednesday, October 23rd, 2013
10/15/2013 – 10/21/2013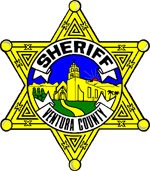 Ventura County Sheriff's Department
10/15/13
Theft
700 Blk. 3rd St.
Narcotics Violation
Blaine / Saratoga
Fight
A St. / Ventura
Prowler
600 Blk. Mnt. St.
10/16/13
Drunk in Public
Central / Main
Threats
200 Blk. Main
Keep the Peace
900 Blk. Blaine
10/17/13
Theft
1st St. / Saratoga CONTINUED »
By Ventura County Sheriff Department — Wednesday, October 16th, 2013
Police asking witnesses or anyone with information to contact them
On Saturday evening, October 12, 2013 at approximately 10:05 p.m., a traffic collision occurred at Ventura Street where it intersects Santa Clara Avenue. Involved parties and witnesses said a blue 1998 Honda Civic was traveling south on Santa Clara Avenue and it entered onto Ventura Street directly into the path of a silver 2005 Chevrolet Malibu that was traveling west on Ventura Street.
The Chevrolet Malibu's front end collided broadside with the driver's side door of the Honda Civic causing major damage to both cars. The Malibu came to rest facing the opposite direction on the roadway while the Civic left the road on the south shoulder of Ventura Street coming to rest against a chain link fence.
The solo occupant in the Honda was 18-year Daniel Cordero from Fillmore and he was pronounced dead at the scene by paramedics. The driver of the Malibu, Gracie Wall of Fresno and her male adult passenger both sustained minor neck / back pain injuries. Both occupants of the Malibu declined being taken by ambulance to the hospital.
Ventura Street was closed in both directions for approximately four hours for the investigation of this collision. Ventura Street traffic was detoured onto Santa Clara Avenue between Ventura Street and Mountain View Street.
The preliminary investigation does not suggest that alcohol was a factor in this accident.
The investigation into this collision is ongoing. The Fillmore Police Department encourages anyone that might have witnessed this collision to contact the station at (805) 524-2233.
Nature of Incident: Fatality Traffic Collision
Report Number: RB# 13-22919
Location: Ventura Street at Santa Clara Avenue, Fillmore
Date & Time: October 12, 2013 10:05 p.m.
Unit Responsible: Fillmore Police Department / Patrol Services
(S)uspects, (V)ictims, (W)itnesses (D)ecedent City of Residence Age
Daniel Cordero, Deceased, Fillmore 18
Gracie Wall Fresno 18
Deputy Preparing Media Release: Craig Smith, Sergeant
Media Release Date: October 13, 2013
Follow-Up Contact: Craig Smith, Sergeant (805) 524-2233
Approved by: Captain Luis Obregon
Ventura County Crime Stoppers will pay up to $1,000 reward for information, which leads to the arrest and criminal complaint against the person(s) responsible for this crime. The caller may remain anonymous. The call is not recorded. Call Crime Stoppers at 800-222-TIPS (8477). For full details
By Gazette Staff Writer — Wednesday, October 16th, 2013
On Wednesday, October 9th at 10am, new military banners were installed. In October 2008, the Fillmore Unified School Board together with the City of Fillmore adopted a program to recognize the family members of Fillmore residents serving in the Military.
The program is supported by our local Veterans of Foreign War and Up for Education 501C. If your family member or you have been discharged from the military, please contact the City Clerk's Office at (805) 524-3701 or by email militarybanners@yahoo.com so that arrangements may be made to have your banner removed and then presented to you or your family. Banners will be removed approximately 3 to 4 times per year and you will be advised as to the dates and time. We continue to receive phone calls and correspondence from residents and neighboring cities regarding the recognition program and hope this has given you a sense of community support and pride. We thank you and please receive our utmost gratitude for your service to our country. City of Fillmore, FUSD, Up for Education – Virginia A. de la Piedra, Local VFW.
By Gazette Staff Writer — Wednesday, October 16th, 2013
A unanimous vote, 4-0, at last week's Oct. 8th City Council meeting awarded a contract for the Fillmore Police Station and City Parking Lot to Asphalt Rubber Hot Mix Overlay Project to J & H Engineering General Contractors Inc. J & H submitted the lowest bid of $113,700 but the city projects the cost of the paving to be closer to $142,000. The Council had budgeted $190,000 for the Project. Councilmember Manuel Minjares missed the vote upon late arrival.
In the vote, the Council authorized City Manger David Rowlands to sign the contract documents and approve change orders, if any, to a combined maximum of $12,000; and to authorize the budget adjustment as set forth in the fiscal impact section. An asphalt overlay of the 524 Sespe Avenue parking lot will expand the police station lot by approximately 45 feet.
By Gazette Staff Writer — Wednesday, October 16th, 2013
Good evening Dr. Nishino, Michael Johnson, Todd Schieferle, and School Board Members,
Tonight we represent dedicated professionals that educate the students of Mountain Vista School under the administration of Mr. John Wilber. As a staff, we are committed to the students we serve. We continue to hold high expectations of ourselves and of our students. We are reminded daily of our task - to educate the future generation; those future adults who will be faced with different opportunities and challenges than we might have faced growing up.
FUSD is in transition. As with any transition, problems become apparent and need to be resolved. First, Common Core curriculum is being written by Fillmore elementary teachers to align the eleven year-old Open Court program. Second, there is no ELD curriculum, yet Lesson Plans are being required. Clearly, these concerns need to be addressed immediately.
Although we do have a professional duty to implement the curriculum, we question whether it is also our responsibility to write the curriculum we deliver. One can ask how is it reasonable to then spend additional hours rewriting our curriculum into lesson plan format. What is the limit to our professional day?
While Mountain Vista teachers move forward with implementing Common Core this year, and continue to prepare our students for their future, there is an urgent need for curriculum support and training for the Mountain Vista Staff now. After all, "the future" sits before us everyday.
Respectfully,
Mountain Vista Teachers
By Gazette Staff Writer — Wednesday, October 16th, 2013
The little town of Piru, population about 1,000, has lost a $672,000 arrangement for a bike path on farmland. The contract was canceled several weeks ago when county officials tried but failed to reach an agreement with critics of the planned path.
Piru Neighborhood Council and several farm interests expressed concern and opposition on public safety issues, possible pesticide exposure and crop contamination.
Supporters of the project said the concerns were without merit.
Contractor R.C. Becker and Son Inc., of Santa Clarita, was awarded the bid, and was on hold while county officials tried to come to an agreement with those opposing the path. The decision to cancel the contract was approved without opposition.
Becker and Son will submit a settlement to compensate the company for expenses. A $1 million federal grant would have paid for the project.
By Gazette Staff Writer — Wednesday, October 16th, 2013
On Thursday October 24th, the Fillmore Chamber of Commerce will host a "get together" at Wm.L. Morris Chevrolet Dealership in the Showroom along with Chevron. Chevron representatives Leslie Klinchuch and Bill Almas will do a presentation updating the community on the "Fillmore Works Project". This is the project east of Pole Creek. For those of you that have any questions or concerns we urge you to attend. This is a free event and will start at 5:30 pm and end at 6:30 pm. A no host bar along with refreshments will be provided.
By Gazette Staff Writer — Wednesday, October 9th, 2013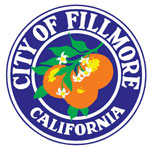 City of Fillmore
The State Board of Equalization has allocated $21.1 million to Fillmore resulting from a resolution of the sales tax revenue dispute between the Cities of Livermore, Lathrop, and Industry.
In dispute was tax revenue sharing generated by Owens & Minor which has a sales office in Fillmore and distribution centers located in other cities.
According to former Simi Valley City Manager Mike Sedell, advisor to the City of Fillmore, the City will keep about $500,000 of this allocation.
According to Fillmore's new City Manager David Rowlands, "The city received all of the BOE (Board of Equalization) funds, but the city will need to repay MTS/Owens & Minor over several years. Per the contract with MTS until approximately 2025 the city keeps 15% of the sales tax generated by O&M, the other 85% is paid to MTS and MTS shares some portion of that with O&M."
Rowlands continued, "We haven't finished our calculations yet. However, Fillmore received $13,936,174 from the BOE on October 4, and expects to retain about $500,000 after payments to other involved local agencies and MTS/Owens & Minor. An additional $5.4 million is due to the city from the BOE in FY 2014-15 (Triple Flip amount)." This money will, according to Rowlands, reestablish Fillmore's normal tax income flow; our cash flow "...will be more consistent. The settlement payments to San Joaquin County and Industry are made from MTS and O&M's share of the proceeds."
Fillmore is expected to receive between $500,000 and $750,000 from O&M per year in sales tax revenue, according to Rowlands. He added, "We will begin to have a healthy budget."
Rowlands emphasized that a top priority is replenishment of the city's reserve funds. New capitol projects are being planned, including street paving which has been long neglected by necessity.
[EDITORIAL COMMENT: The final outcome of this fiercely-debated Owens & Minor sales tax plan is a strong vindication of former City Manager Roy Payne and the many other honest, dedicated council members and city staff who created and defended it. These good people endured years of insult and slander to promote a plan which will greatly benefit our city for decades to come. Congratulations to those who stayed the course!]
By Gazette Staff Writer — Wednesday, October 9th, 2013
District Attorney Gregory I). Totten announced today that Eric Gabriel Suarez (DOB 9/6/84) of Oxuard, Cimitrio Ambris Cervantes (D013 5/5168) of Mission Hills, and Fernando Ambris Cervantes (DOB 6/22/66) of Santa Paula were arrested in a multi-agency crackdown on store owners who pay cash to recipients of government food assistance benefits. Suarez and Cimitrio Cervantes have been charged with felony grand theft and welfare fraud. Suarez is also charged with trafficking more than $150,000 of government benefits and stealing more than $200,000. Fernando Cervantes has been charged with misdemeanor welfare fraud. This case was the result of ajoint investigation by the District Attorney's Bureau of Investigation, the United States Department of Agriculture's Office of the Inspector General, and the United States Secret Service.
CaLFresh and the USDA Supplemental Nutrition Assistance Program (SNAP) provide nutrition assistance benefits to eligible, low-income individuals and families. It is illegal for a store owner to redeem these food assistance benefits for cash. Trafficking in SNAP and CalFresh benefits occurs when a merchant pays a welfare recipient cash for these government benefits. The operation targeted markets in both Ventura and Fillmore. It is alleged that from October 2010 to February 2013, Eric Suarez trafficked in government benefits while working at Avenue Mini Market in Ventura. It is alleged that beginning in early 2012 to May 2013, Cimitrio and Fernando Cervantes trafficked in government funds by exchanging Electronic Benefit Transfer (ERT) benefits for cash while working at Victor's Market in Fillmore.
Eric Suarez and Cimitrio Cervantes were released on $10,000 bail and both will be arraigned on October 8, 2013, in courtroom 12 at 9:00 a.m. Fernando Cervantes was released on $5,000 bail and will be arraigned on January 2, 2014, at 8:15 a.m. in courtroom 10.
Misdemeanor welfare fraud charges have also been flied against 25 additional defendants fbr illegally selling their food assistance benefits for cash, in lieu of arrests, letters have been sent directing those defendants to appear on October 22, 23, and 24, 2013. for arraignment. Additional misdemeanor charges will be filed in near future against other individuals for similar conduct.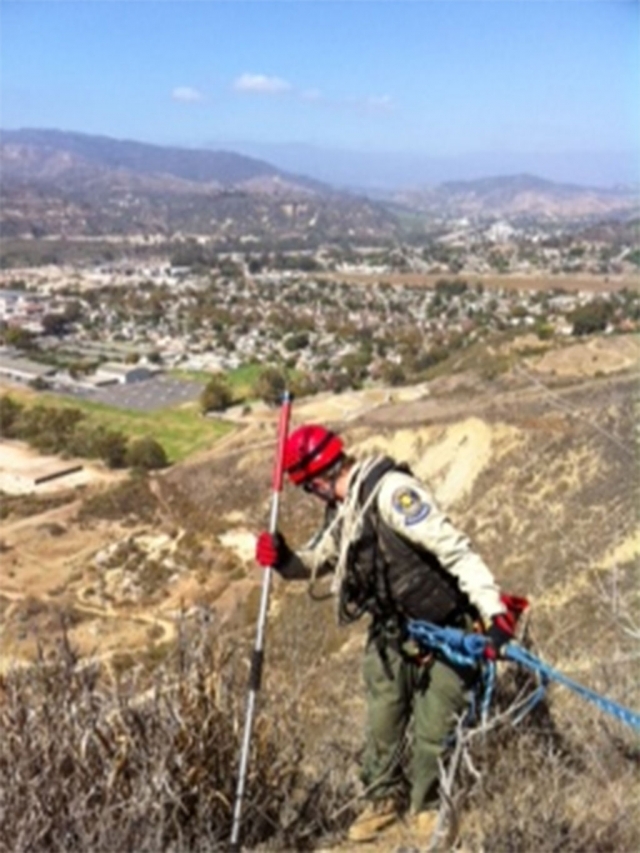 Photo by Keith Macleod
Enlarge Photo
By Gazette Staff Writer — Wednesday, October 9th, 2013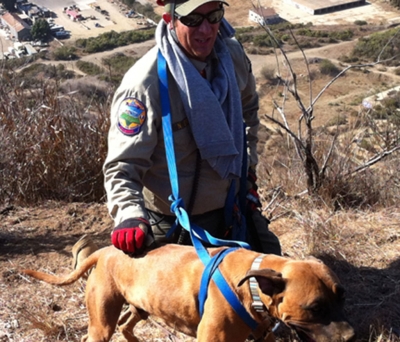 Photo by Keith Macleod
Enlarge Photo
The Ventura County Sheriff's, Fillmore Search and Rescue Team, rescued a dog on Thursday after it became stranded 150ft over the side of a cliff.
City firefighters arrived on scene first and found some good Samaritans attempting to rescue the dog on their own. The firefighters were concerned for the safety of the good Samaritans and decided to notify the Sheriff's Department.
The situation was evaluated by members of the Sheriff's Search and Rescue unit, and a decision was made to activate the Fillmore Search and Rescue Team and have them take the lead in the rescue.
Seven members from the Fillmore Search and Rescue Team responded to the scene. Once on scene team member N. Brown immediately jumped into action and rappelled 150ft over the side of the cliff. After two tries the frightened dog was eventually brought to safety and returned to his worried owner.
The Fillmore Search and Rescue Team is comprised of highly trained volunteers who donate hundreds of hours of their time each year to trainings and call-outs. Additional members are currently in Lake Arrowhead assisting the San Bernardino County Sheriff's Dept in their search for a missing hiker.
By Jean McLeod — Wednesday, October 9th, 2013
At the October 8, 2013 Fillmore Unified School Districts (FUSD) Board Meeting a presentation was given by Art Teacher Doris Nichols and teacher Josh Bricker on the Fillmore Middle School NASA Program conducted after school during the summer break. The 20 day 10 exercise course provided students with a non-traditional classroom environment that reinforced the subjects of science, technology, engineering and mathematics. Students were given questions and problems requiring them to find their own solutions, both individually and in groups of four, through a hands-on empirical process. With real world constraints such as time, weight to power ratios, questions of sustainability/waste management concerns and a finite amount of materials (everything they used was recycled material and had to fit into a small cup by the end of the day) requiring budget restraints, the students were forced to develop creative solutions to the types of problems NASA engineers face daily.
They learned how to use gravity to aid travel, how to insulate with weight considerations and thermo design along with design and use of a solar oven and how to control its temperatures. One exercise required the students to design a propulsion system forcing them to engineer and design a space craft containing a specific list of essential elements; finding the volume of their craft to ensure the essential payload would fit, weighing their space craft, testing the rockets and an understanding of drag and aerodynamics.
From the activities students CONTINUED »