By Gazette Staff Writer — Wednesday, November 25th, 2009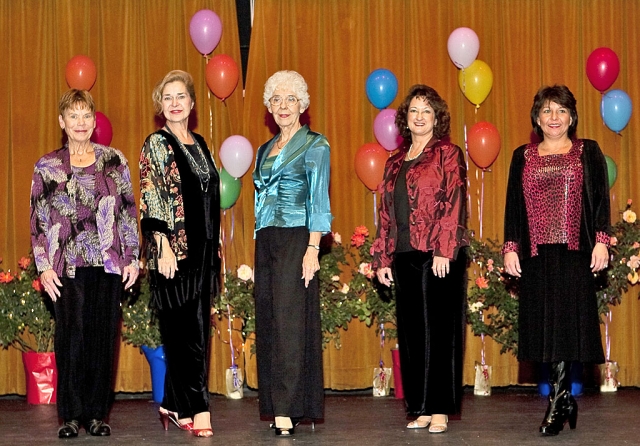 Soroptimist International held its Annual Fashion Show Saturday, Nov. 21st. The theme this year was "Holiday's Galore". Photos courtesy of KSSP Photography Studio.
Enlarge Photo
By Gazette Staff Writer — Wednesday, November 25th, 2009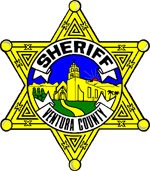 Ventura County Sheriff's Department
22 year old (Victim)Sergio Juarez of Santa Paula said he had been in front of La Unica market on Old Telegraph at about 11pm Saturday, he was alone.
A male suspect approached him and demanded money.
Juarez turned to run off and the suspect attacked him with a knife.
Juarez ran away and the suspect fled.
Juarez went to Santa Paula hospital for knife wounds. He was listed in good condition.
The suspect is a Hispanic male, young looking / late teens to early twenties, short, with a shaved head.
By Gazette Staff Writer — Wednesday, November 25th, 2009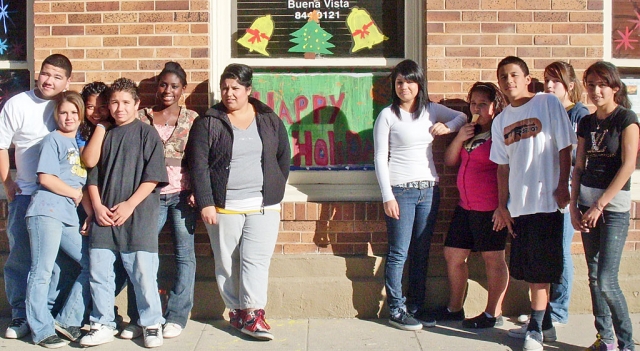 Piru is getting ready for their annual Christmas Parade! Pictured is a group of young ladies from Piru's 'Making A Difference' who painted the windows of local businesses with holiday pictures and messages. Thanks to ChaCha with the Piru Neighborhood Council for providing paint and supplies. The Piru Christmas Parade will be held on Saturday, December 12 and will begin at noon. The parade will start off with Grand Marshal Donna Chessani (Mrs. Cheese) and local Veterans. Immediately following will be the post parade celebration at Piru Depot, including: Live music by Dan Torres and the Piru River Band, DJ Chuck Castro, and Mariachi "Jalisco"; Bingo , Bicycle Rodeo (kids bring your bikes to enter contest), Mechanical Bull contest. Also a Horse Shoe Tournament, 1st, 2nd & 3rd place winners. For more information contact Rusty at (805) 432-6388. Be sure and bring your own chairs. There will be a Jolly Jumper for Kids and lots of food, Arts & Crafts and more. Don't forget our Soldiers! Bring letters, cards or supplies to show our appreciation and best wishes. Happy Holidays to Our Troops! Please contact Chacha at (805)521-0527 for more information.
Enlarge Photo
By Gazette Staff Writer — Wednesday, November 18th, 2009
City must admit guilt, pay attorney fees, & attend two hour training course taught by Schneider & McKee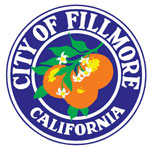 City of Fillmore
Last Wednesday, November 11, 2009, a settlement agreement was signed between the City of Fillmore and Richard McKee, President Californias Aware, ending McKee's lawsuit against the city. The Agreement contains the three items McKee demanded:
1. A public admission of the City Council's "errors;"
2. A 2-hour Brown Act retraining for the City Council offered by the City Attorney and McKee at a special meeting before the end of the year; and
3. Payment of McKee's attorney fees and costs, totaling $6,000.
In return, McKee will dismiss the lawsuit.
McKee brought suit claiming the Fillmore City Council violated the Brown Act. Under the settlement, the city will issue a written statement admitting that Brown Act violations were committed at the August 25 council meeting.
The Ventura District Attorney's office investigated CONTINUED »
By Gazette Staff Writer — Wednesday, November 18th, 2009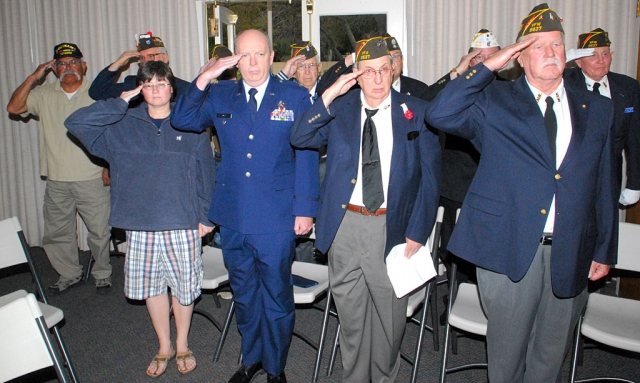 American Veterans salute the flag before the Pledge of Allegiance.
Enlarge Photo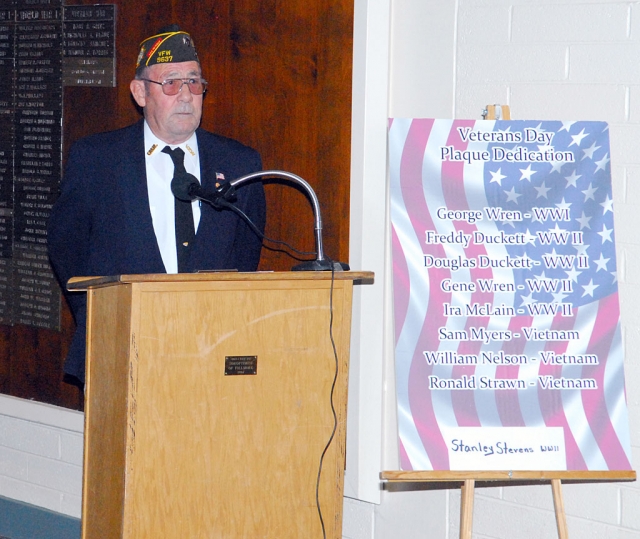 VFW Post 9637 Commander Jim Rogers stands by a display of Veteran's name to be added to a bronze plaque which is display at the Fillmore Veteran's Memorial Building: George Wren, WWI; Gene Wren, WWII; Stanley Stevens, WWII; Ira McLain, WWII; Freddy Duckett, WWII; Douglas Duckett, WWII; Sam Myers, Vietnam; Ronald Strawn, Vietnam; and William Nelson, Vietnam.
Enlarge Photo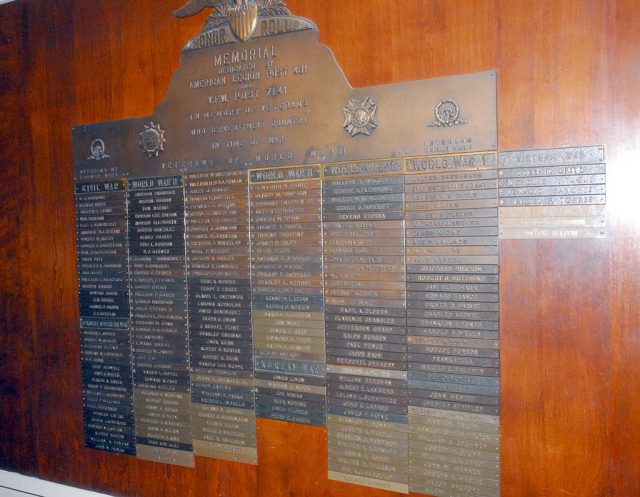 On Nov. 11th a ceremony was held at the Veteran's Memorial Bldg. to honor those who have served their counry in military service. Names were/will be added to the existing bronze plaque shown above: George Wren, WWI; Gene Wren, WWII; Stanley Stevens, WWII; Ira McLain, WWII; Freddy Duckett, WWII; Douglas Duckett, WWII; Sam Myers, Vietnam; Ronald Strawn, Vietnam; and William Nelson, Vietnam.
Enlarge Photo
By Gazette Staff Writer — Wednesday, November 18th, 2009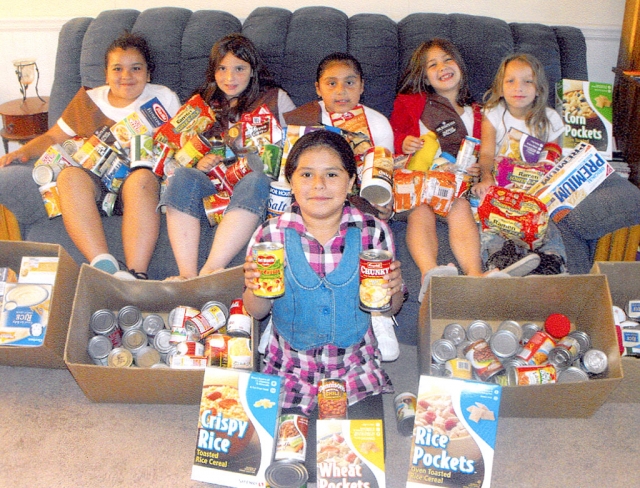 Girl Scout Brownie Troop #60653 of Fillmore are making a difference in the community, to earn their "Make a Difference" patch. The troop stood outside of Vons and collected canned goods for St. Francis Church Food Bank. They collected over 200 canned foods and over $50 with which each girl bought canned goods for the food bank. Pictured (l-r) Victoria Galvan, Jasmine Downey, Esmeralda Ceballos, Kathleen Glanuille, Amy Obermeyer, (middle) Charlize Virto.
Enlarge Photo
By Carol Wilson — Wednesday, November 18th, 2009
Principals of four elementary schools updated the Fillmore Unified School District Board of Trustees on the academic progress of their schools Tuesday evening, November 17, 2009.
Talking about academic achievement, Piru Principal Leticia Ramos reported that their California State testing went up 52 points and they exceeded the statewide target for 2009. She noted that students are using computer lab time and she said there is a migrant homework assistance program, run by a teacher and a staff member which helps 10-to-20 students. She also talked about after school tutoring and professional development for teachers. "I'm putting together some assessments and benchmarks," she added. "It's wonderful to work with such a wonderful staff."
Ramos discussed parent involvement. She said they've had great feedback and participation on the School Site Council and the school farm now has three goats. They are planning a school farm day and a school beautification day. Parents are offering roses and other plants for the campus.
Jan Marholin, principal of San Cayetano School said CONTINUED »
By Gazette Staff Writer — Wednesday, November 18th, 2009
There are many risks associated with storing prescription drugs that are not part of a current drug therapy. The prescriptions may be outdated and not effectively treating the symptoms. In addition, if prescription drugs are being stored and no longer needed, there is possibility that the drugs could be stolen or mistakenly taken by others.
The Fillmore Police Department works in conjunction with the Ventura County Sheriff's Department to dispose of your unwanted medications in a safe manner. The program is free to our residents.
If you have prescription drugs that are outdated, no longer needed or you just do not know how to dispose of, please bring them by the Police Station, Monday through Friday 8:00 A.M to 5:00 P.M.
"The Fillmore Police Department's goal is to make households safer by reducing the likelihood of accidental ingestion of old medications and do our part to help our city maintain a high quality of recycled water."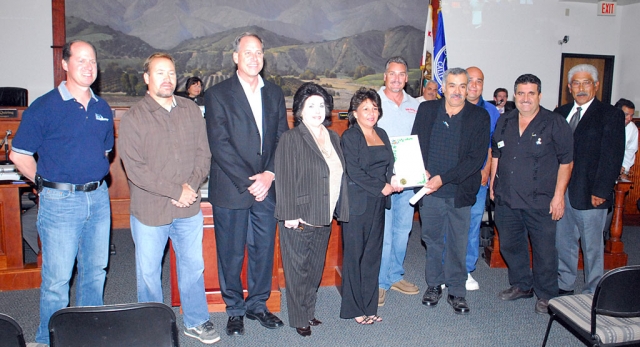 Shown are some of the volunteers who helped make the N. Fillmore Storefront remodel a success.
Enlarge Photo
By Wanda Castel de Oro — Thursday, November 12th, 2009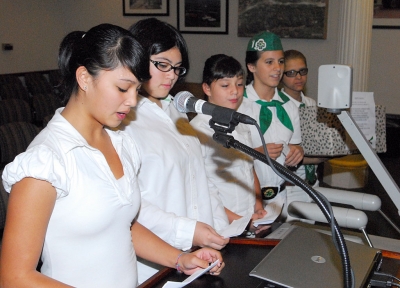 Sespe 4-H announced a Sock-Box collection for homeless, battered and needy women. Boxed will be located around town in different business. Watch for locations to be announed in the Gazette.
Enlarge Photo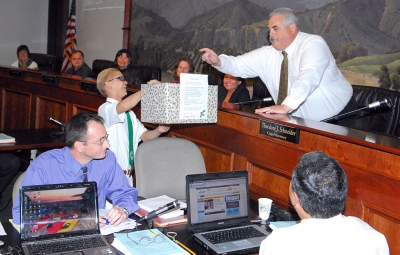 Councilman Steve Conaway makes a cash donation to a Sock-Box, sponsored by Sespe 4-H.
Enlarge Photo
Fillmore City Council and Fillmore Redevelopment Agency met Tuesday night.
Oral Communications began with Fillmore Police Capt. Tim Hagel announcing a prescription drug turn-in program. Unwanted, unused and expired prescriptions can be dropped into a receptacle at the sheriff's station, Monday-Friday, 8AM-5PM. They will be disposed of at the crime lab free of charge. One benefit will be that the drugs will not affect the city's sewage recycling center, said Hagel. He thanked Sgt. Dave Wareham for his work in bringing the program to Fillmore.
Ray Harper and Michele Morgan of RDF Communities gave a brief update on the Business Park. Harper said they are importing dirt to raise level of the park, which will provide1,300 construction jobs, and 2,600 long term jobs, doubling the employment base in Fillmore, according to Harper. Morgan stated that they worked with Caltrans and the Sheriffs Department to mitigate any problems.
Sespe 4-H President Toni Ruiz announced community service, "Sespe Socks" -- a sock collection program to benefit battered and homeless and needy women. The group will provide sock-drop boxes around town for collection of new socks. Box locations will be announced in the Gazette. Councilmember Steve Conaway suggested cash donations also, making a donation along with several others. Sespe 4-H leader Sue Maynard thanked council for the opportunity to announce the program.
Proclamations were presented to several business owners and representatives for their CONTINUED »

F.U.S.D. Superintendent Jeff Sweeney and the School Board denied the Piru School Charter Proposal.
Enlarge Photo
By Gazette Staff Writer — Wednesday, November 11th, 2009
Press the Play button above to watch the board meeting.
On Monday, November 9th, 2009 the Fillmore Unified School District board rejected a petition to convert Piru Elementary School into an independent charter campus. Petitioners said they plan to appeal the decision to the Ventura County Board of Education. Representatives of the Charter initiative said they would release a response to the decision of the Board in the near future.
Following is Superintendent Jeff Sweeney's response to the charter conversion, presented to the audience at Monday's meeting.
Board Resolution No. 09/10/09 Denying the Petition for Piru Charter School
BACKGROUND
On or about September 16, 2009, petitioners for the Piru Charter School submitted to the Fillmore Unified School District ("District") a charter school petition for the Piru Charter School.
Pursuant to Education Code 47605, the Governing Board CONTINUED »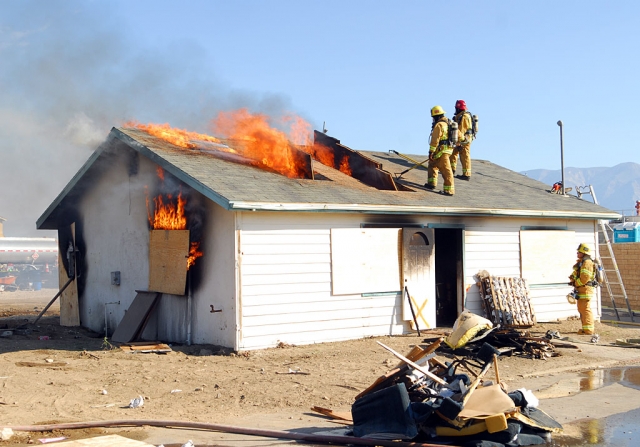 The City of Fillmore Fire Department in conjunction with the Oxnard Fire Department conducted a live fire training exercise on Wednesday, November 4th, at 46 C Street, by the old sewer plant. The abandoned 900-sq/ ft. garage went up in flames as part of a training exercise for the Fillmore Fire Department. The burn provided fire personnel the rare opportunity to obtain hands-on experience with live fire in a controlled non-emergent environment. The process was supervised by experienced personnel and followed strict safety guidelines set by the California State Fire Marshal and the National Fire Protection Agency. The process provided invaluable training experience for fire personnel while simultaneously reducing the cost to demolish the structure.
Enlarge Photo
By Gazette Staff Writer — Wednesday, November 11th, 2009
Press the Play button above to watch highlights from "The Burn"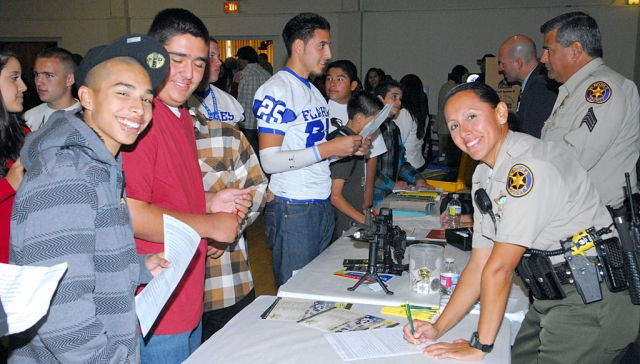 The Ventura County Sheriff Dept. was just one of many organizations to attend Career Day 2009 at Fillmore High School.
Enlarge Photo
By Gazette Staff Writer — Wednesday, November 11th, 2009
Fillmore High School would like to thank our sponsors Fillmore Sunrise Rotary, and Fillmore Noon-time Rotary for their generous donations and support of our Career Day. Also, we'd like to thank all the following representatives who took time out of their busy day to speak with our students at the 2009-2010 Career Day.
U.S. Army
Wells Fargo Bank
Cal Lutheran University – Upward Bound
A.I.A. Lauterbach & Associates
The C.R.E.W.
NAWIC
Coalition Against Domestic & Sexual Violence
County of Ventura Personnel Department
FIDM
City of Fillmore Fire Department *
Lu Ross Academy
Marines
Moorpark College
Real Estate-Century 21- Mrs. Robledo
Regional Occupational Program
Santa Clara Valley Job & Career Center
Santa Barbara Business College *
UCSB-Early Academic Outreach
Ventura College
Child Development Center
Ventura County Probation
School Psychologist- Barbara Peterson
East County Children & Family Service Office
Massage Therapist- Amey Bradford *
CSUCI
Wm L. Morris Chevrolet
Navy
Skillin Carroll Mortuary
Vons Market
UCLA *
Nurse- Mrs. Dewey
The Art Institute
U.S. Army Corps of Engineers
Fugro West, Inc.
Teacher- Mr. Bedau
Ventura C.H.P.
Doctor- Christine Johnston
Nurse- Charlene Nunez *
Ventura County Sheriff's Department
U.S. Forest Service *
Ventura County Fire Department *
Arete Associates- Mr. Ashim
NASA
Medical Billing Specialist- Cathy Frias
Private Investigator- Mr. Curnett
Artist- Jesus Rangel *
Air Force
Six Flags Magic Mountain
FBI
John Robert Powers- Acting/Modeling
Ventura County Sheriff's Department Crime Lab
FUSD Speech Pathologists- Ms. McClamroch, Ms. Garcia *
Make-up Designory
Veterinarian- Dr. Lidikay
CSUN
*Fillmore High School Graduates
By Gazette Staff Writer — Wednesday, November 11th, 2009
The Fillmore Police Department is now hosting a FREE Start Smart Driver Safety Education Class for teenagers and their parents/guardians.
Classes are designed to:
-Help newly and future licensed teenage drivers understand the responsibilities associated with driving a motor vehicle.
-Show how a poor choice behind the wheel can change the lives of everyone involved.
-Reduce the number of teen-related injuries and deaths due to motor vehicle collisions.
November 18, 2009
6:00 PM – 8:00 PM
Fillmore City Fire Station
711 Sespe Place
For more information or to sign up for the Start Smart Class with your teenage driver contact the
Fillmore Police Department
524 Sespe Ave.
Fillmore, Ca 93015
805-524-2233

The above photographs show the victim, Michael Rudolph, and his 2000 Ford Contour that investigators believe he was driving around the time he was murdered. Michael Rudolph, 2000 Ford Contour, California License Plate 4JVD648.
Enlarge Photo
By Ventura County Sheriff Department — Wednesday, November 11th, 2009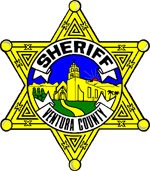 Ventura County Sheriff's Department
Location: Pacific Coast Highway at Mugu Rock
Date & Time: June 22, 2006, at approximately 08:00 AM
Unit Responsible: Ventura County Sheriff's Department/Major Crimes
(S)uspects, (V)ictims, (W)itnessess City of Residence Age
(V) Michael Alexander Rudolph Camarillo 49
On Thursday, June 22, 2006, Ventura County Sheriff's Department patrol deputies responded to a missing person call at the Camarillo home of Michael Alexander Rudolph. During the initial investigation, deputies learned that Rudolph's friends and family had not seen him since Tuesday, June 20, 2006.
Deputies continued their investigation into the whereabouts of Rudolph and during the early morning hours of June 23, 2006 they discovered Rudolph's four-door maroon 2000 Ford Contour parked at the south end of the beach parking lot just north of Mugu Rock. A search of the vehicle and subsequent investigation yielded few clues as to the whereabouts of Rudolph. Neither Rudolph nor his remains have surfaced since he was reported missing.
In the late summer of 2009, the Ventura County Sheriff's Department's Major Crimes Unit received new information into the disappearance of Rudolph. This information has led the Major Crimes Unit to classify the disappearance of Rudolph as a homicide.
Investigators now believe Rudolph's car was driven to the Mugu Rock and staged as a ploy to mislead investigators into believing Rudolph disappeared in the ocean. Based on the new information received, Major Crimes investigators are now pursuing new leads, which they believe will assist them in identifying those responsible for killing Rudolph.
The Sheriff's Department asks anyone with information regarding the murder of Michael Alexander Rudolph to contact the Sheriff's Major Crimes Unit at (805) 477-7000.
By Dick Diaz — Wednesday, November 4th, 2009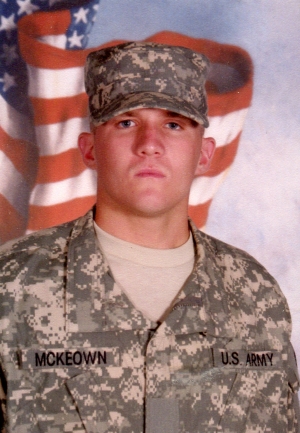 Ian Gaven Patrick McKeown. (Color photo coming soon)
Imagine, or can you remember, being seventeen years old and in your senior year at Fillmore High School (FHS). Your Senior year at FHS means being busy with studies, school activities and stressful long hours trying to figure out what your future will be like! One FHS senior has already decided his immediate future by setting a goal and has taken steps to get to that goal. FHS Senior Ian Gaven Patrick McKeown, 17 years, finds himself in just that position. Although Ian still has nearly seven months until graduation with the class of 2010 he has already enlisted in the United States Army Reserves and this past summer attended United States Army Basic Training at Fort Sill, Oklahoma . Ian, now United States Army Reserve Private Ian Gaven Patrick McKeown, attended Piru Elementary School, Fillmore Middle School and was active in the Future Farmers of America.
Ian is the son of Stephen McKeown and Lori Schnieder of Fillmore. His siblings are Erica Stout 37 years of Germany whose husband Shannon is a Sergeant First Class stationed in Germany with the United States Army and currently deployed, Michael McKeown 31 years of Fillmore, Aimee McKeown 28 years of Fillmore, Patrick Wing 28 years of Arizona, Morgan McKeown 24 years of Arizona, Erin McKeown 22 years of Fillmore, Caitlin McKeown 20 years and stationed at Fort Meade in Maryland with the United States Air Force, Brian McKeown 18 years of Fillmore, Sean McKeown 16 years of Fillmore, and Paige McKeown 7 years of Fillmore. Ian's paternal grandmother is the late Joan McKeown and his maternal grandparents are Leori Schnieder and Alvin Schnieder of Oklahoma.
Private Ian McKeown has followed into military service brothers Michael McKeown United States Air Force, Patrick Wing United States Marine Corps and sister Caitlin McKeown United States Air Force. Ian's brother-in-law Curtis Kniffen is a Senior Airman with the United States Air Force stationed in Arizona.
Private Ian McKeown is participating in the CONTINUED »
By Gazette Staff Writer — Wednesday, November 4th, 2009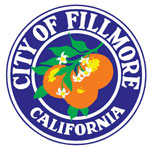 City of Fillmore
The Ventura County District Attorney's office announced on October 23rd in a letter to Fillmore City Manager Yvonne Quiring its decision not to bring criminal charges or a civil action against the Fillmore City Council for allegedly violating California's Brown Act. The letter was made available October 30, 2009.
Special Assistant District Attorney Michael Schwartz wrote in the letter, "I appreciate that the Brown Act can be complex and that members of public bodies must maintain constant vigilance to insure compliance with its terms. In this case, the City Council and the city Attorney took the alleged violations seriously and took prompt action to remedy any violation s that might have occurred."
Fillmore City Attorney Ted Schneider said the city is pleased with the District Attorney's opinion, after conducting a thorough investigation.
"The DA's decision not to pursue a civil action against the City demonstrates the inherent weaknesses in Mr. McKee's case," stated Schneider, referring to the civil suit brought by Richard McKee, Director of Californians Aware, a California political watchdog group.
"The DA has expressed that, CONTINUED »

FUSD School Board
Enlarge Photo
By Carol Wilson — Wednesday, November 4th, 2009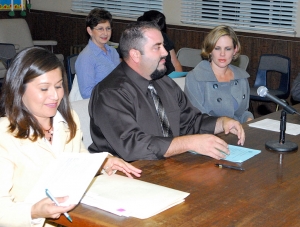 From the left, Dean of Sierra High School, Cynthia Frutos, Fillmore Middle School Principal Todd Schieferle, and FMS Assistant Principal, Tricia Godfrey, address the Fillmore School District Board at Tuesday's regular meeting.
Fillmore Unified School District Superintendent Jeff Sweeney introduced administrators of Fillmore Middle School, Fillmore High School and Sierra High School to district trustees Tuesday, November 3, 2009.
The focus was on student learning for the 2009-2010 school year. Todd Schieferle, Principal of FMS said the focus of the middle school this year is Safety, Learning and Love. He said safety is the highest priority; a zero tolerance for violence and a firm discipline policy is in place.
Focus on learning, according to Schieferle, is based on what we want students to learn; how we know each student has learned; and how we respond when a student experiences difficulty in learning. He went to to say we use assessments for the state guidelines. He said we use a support system to cover those concepts still needing to be learned. "A 25 minute period for refining skills is available four times a week." Student-teacher pacing guides help students to master assigned state standards, also.
Tricia Godfrey, Assistant Principal said that CONTINUED »
By Gazette Staff Writer — Wednesday, November 4th, 2009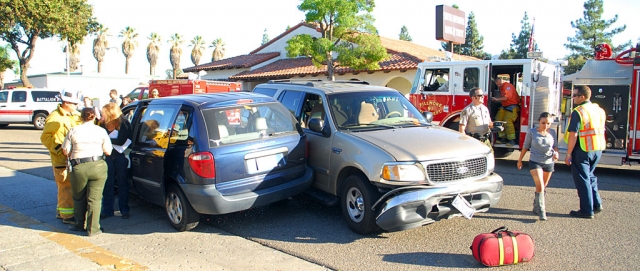 A two car collision occurred at the intersection of Sespe Avenue and Orchard Street Monday about 2 p.m. The Dodge Caravan suffered significant damage while the other vehicle sustained front-end damage.
Enlarge Photo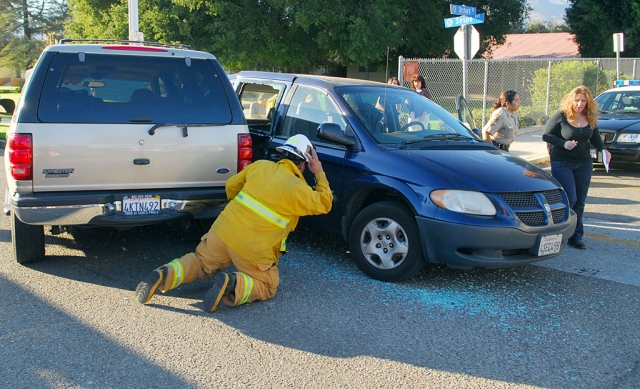 No persons were reported injured and the cause of the accident was undetermined at press time.
Enlarge Photo
By Gazette Staff Writer — Wednesday, November 4th, 2009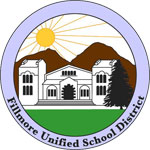 Fillmore Unified School District
The Fillmore Unified School District received a petition for the conversion of Piru Elementary School to a charter school to be known as the Piru Charter School. The District Governing Board held a public hearing on the provisions of the charter on Wednesday, October 21, at which time the Board considered the level of support for the petition by teachers employed by the District, other District employees, and parents. Over 200 attended that meeting.
Based on the District's review and analysis of the charter petition and the information gathered at the public hearing, the District Board will either grant or deny the charter. That meeting will occur at Piru Elementary School in their auditorium on Monday, November 9, at 6:00 p.m. Translators will be present at the meeting. Transportation to and from Rancho Sespe will be done by car pooling. Also, child care for elementary age students will be provided.
A copy of the petition can be viewed at the Superintendent's Office, 627 Sespe Avenue, Fillmore, CA.
By Gazette Staff Writer — Wednesday, November 4th, 2009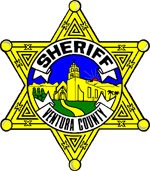 Ventura County Sheriff's Department
On 10-30-09, at approximately 12:40 P.M, Deputy Biter, the Fillmore Police Department motorcycle officer, observed Jesus Hernandez 23, Fillmore, riding his bicycle north on B Street, at First Street, in the City of Fillmore. Deputy Biter observed Hernandez fail to stop at the posted stop sign. Deputy Biter attempted to stop Hernandez for the violation by using his voice and his police lights and siren. Hernandez fled from Deputy Biter and was ultimately stopped in the 800 block of Second Street.
During the investigation, Deputy Biter discovered 13 individual"baggies" of narcotics packaged for sale (about 13.9 grams) and narcotics paraphernalia. Hernandez was booked at the Ventura County Pre-Trial Detention Facility for possession of narcotics for sale, transportation of methamphetamine, possession of narcotics paraphernalia, and resisting or delaying a police officer.
Courtesy of Fillmore Police Department.