By Gazette Staff Writer — Thursday, September 1st, 2011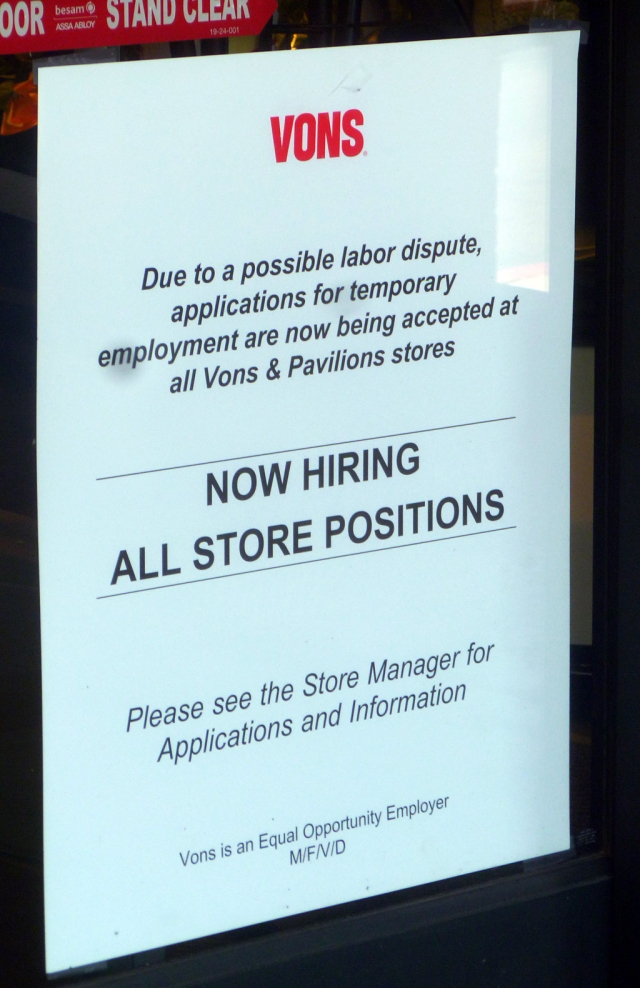 Pictured is an announcement displayed on the door at the entrance of Vons. The supermarket chain is preparing for a possible strike. For now, the strike approved by 90 percent of grocery workers has been put on hold after federal mediators ordered "intensive negotiations" between parties. A Southern California grocery workers union representing 62,000 members whose contracts with the three major supermarket chains, Vons, Albertsons and Ralphs, expired six months ago, voted two weeks ago to authorize a strike if necessary. Soon after the vote, a federal mediator ordered the unions and the three major supermarket chains resume "intensive negotiations" by Monday, Aug. 29. Union representatives say the negotiations have been drawn out over the past eight months, and they have yet to discuss wage and labor condition rules with the chains. According to officials for Ralphs, Albertsons and Vons, employees will be required to pay $9 a week for single coverage, while the cost of family coverage under the proposal would be $23. The healthcare proposal would maintain the current prescription drug co-payments and the annual deductible and outofpocket maximums in the PPO plan, according to the grocery chains. Under an HMO option, there would be no change to medication co-payments.
Enlarge Photo
By Gazette Staff Writer — Thursday, September 1st, 2011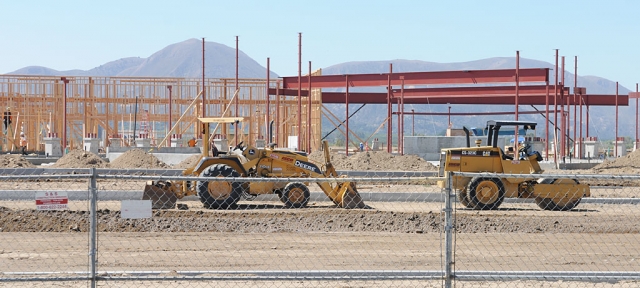 Construction has begun on Rio Vista Elementary School, which will soon accommodate 600 students from families who will call "The Bridges at Heritage Valley Park" home. The 10-acre campus will include 50,000-sf of space housing special science, music and performance classrooms, as well as standard teaching classrooms, resource areas, library, kitchen/cafeteria and staff lounge.
Enlarge Photo
By Gazette Staff Writer — Thursday, September 1st, 2011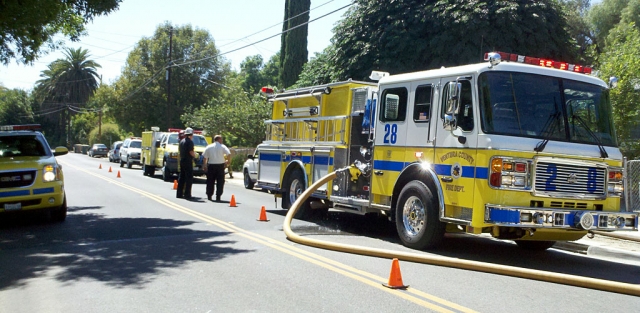 At approximately 2:00 p.m. Tuesday, August 30th, firefighters responded to a residential fire in the 700 block of N. Main Street, Piru.
Enlarge Photo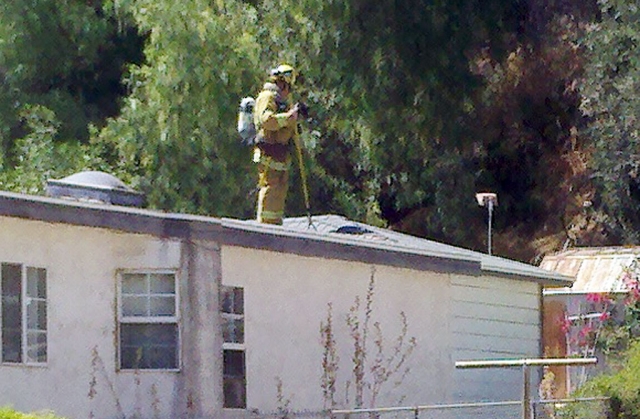 The fire was quickly extinguished. No injuries were reported.
Enlarge Photo
By Gazette Staff Writer — Thursday, September 1st, 2011
On 8-28-11, deputies with the Fillmore Police Department responded with personnel from the Fillmore Fire Department and American Medical Response to an injury traffic collision in the 800 block of 4th Street. When they arrived, they found that a five-year-old boy had ridden his bicycle out of a driveway and into the path of male adult driving a 2001 Dodge Grand Caravan, which was westbound on 4th Street traveling approximately 15 mph. The boy, who was wearing a helmet, collided with the van and fell. Suffering minor injuries to his ankle and arm, the boy was transported to the Ventura County Medical Center for treatment.
The Fillmore Police Department reminds the public that bicyclists must be observant of traffic when riding on the road. Bicyclists under 18 years of age are required to wear a helmet while riding a bicycle. Because the boy wore his helmet, he likely avoided additional injury. Courtesy of Fillmore Police Dept.
By Gazette Staff Writer — Thursday, September 1st, 2011
As a result of VISTA's annual schedule adjustment process, area bus riders will have additional travel choices as well as revised travel times. Additions to VISTA service include two additional trips on the popular Coastal Express service linking Ventura and Santa Barbara counties, as well as additional Dial-A-Ride service in the Heritage Valley communities of Fillmore and Piru.
"Thanks to a slight rebound in local sales tax revenue, VCTC is able to introduce additional service in response to growing bus ridership. We are proud ridership on VISTA is increasing and are continuing our efforts to serve that growth," observed Darren Kettle, VCTC Executive Director.
The new weekday Coastal Express trips depart the Ventura County Government Center at 8:00 a.m. and Goleta at 6:25 p.m. There will be as many as four Dial-A-Ride vehicles available for service within the Heritage Valley on weekday evenings. "While the number of actual vehicles in service will vary based on customer demand, this is an important development given the service cuts imposed last spring," noted Kettle. "As the county's regional transportation planning agency, VCTC recently embarked on a planning study to identify the most effective ways of providing public transit service in Santa Paula, Fillmore, and Piru. We encourage Heritage Valley residents to participate in the project though surveys, community workshops, and local focus groups."
While service to CSUCI will remain unchanged during the school year, the CSUCI route will undergo slight reductions during school breaks. During CSUCI's winter and summer breaks, the last bus will leave the Camarillo Metrolink station at 5:30 p.m., while the last bus will depart C Street in Oxnard at 5:00 p.m.
Additional information regarding VCTC and its programs and services is available either online at goventura.org or via phone at (800) 642-4860.
By Gazette Staff Writer — Thursday, August 25th, 2011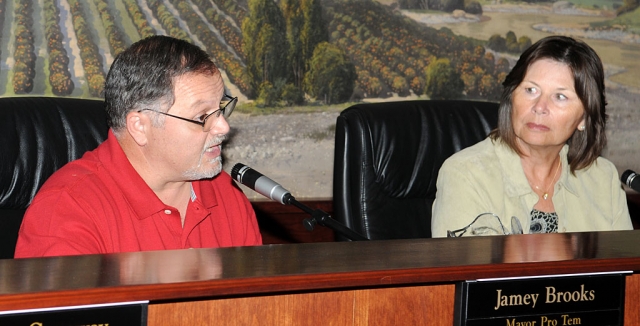 (l-r) Councilmembers Brooks and Washburn
Enlarge Photo
By Gazette Staff Writer — Wednesday, August 24th, 2011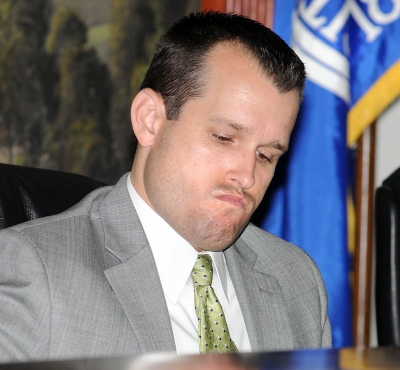 Councilmember Sipes
Enlarge Photo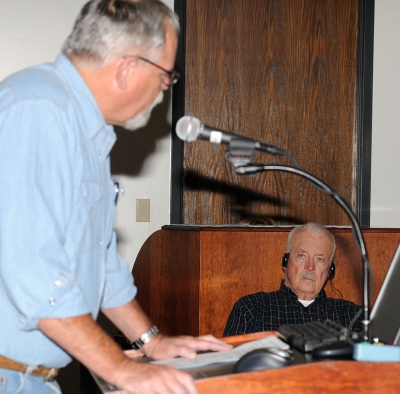 (l-r) Vance Johnson, City Clerk Clay Westling
Enlarge Photo
Publisher's note: Due to the absence of our city hall correspondent this week we regret that we have no story
covering last night's council meeting. A few highlights are covered in the Realities editorial and Channel 10 will broadcast full coverage. The Gazette's video highlights of the meeting will be posted here Thursday afternoon. We apologize for this inconvenience and thank you for your patience. Councilman Sipes and Brooks argued for council action to seek new legal counsel for the city. The distinguished law firm of Myers, Widders, Gibson, Jones and Schneider has handled the city's legal matters for nearly 20 years. Until the election of Sipes and Brooks to the council there have been no complaints about the quality of work. Councilman Conaway praised Schneider's work, and cautioned against such a move. Neither Brooks nor Sipes could articulate a reason, other than personal reasons, for launching their attempt to replace the Myers firm, which failed 3-2. Great concern was expressed by resident Vance Johnson for delinquent minutes of council meetings. City Clerk Clay Westling did not respond to the criticism. Mayor Washburn and City Manager Quiring attempted excuses which Johnson and others found insufficient.
By Kimberly Rivers — Wednesday, August 24th, 2011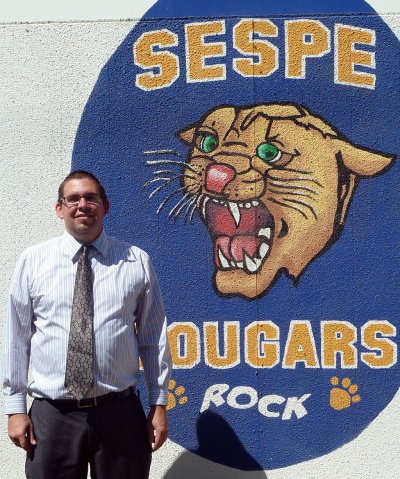 Pictured above is the new principal at Sespe School, Scott Carroll. Carrroll was previously the assistant principal at Fillmore Middle School. A picture of Piru's new principal Diana Vides was unavailable.
Enlarge Photo
When school starts on Tuesday, August 16, 2011 students at Piru and Sespe Elementary Schools will be meeting new principals. Scott Carroll, previously the assistant principal at Fillmore Middle School will be taking the top administrative position at Sespe, and Diana Vides, new to Fillmore Unified School District (FUSD) will be principal at Piru. FUSD Director of Human Resources Todd Schieferle commented that in filling these positions the District was "looking for experience in working with diverse populations, administrative experience, and a clear understanding of the process for improving achievement for all students."
The vacancy filled by Carroll was created when the District noticed Rosemarie Hibler near the end of last year that she would no longer have a position within FUSD. When asked why Hibler received a notice, the only principal to receive one, Schieferle responded "Other than budget reductions, I am unable to discuss personnel issues." During Board meetings late last school year several parents spoke in support of Hibler asking the Board to reconsider letting her go. In explaining why Carroll is a good fit for Sespe, Schieferle reported that Carroll has served as a sixth grade teacher, sixth grade department chair, AVID coordinator and Response to Intervention (RTI) Coordinator in addition to an "administrator" in the District. "Scott Carroll has a strong background in teaching… he is very familiar with the student population and community of Fillmore. Scott has a great reputation with students he encounters and has been highly respected by parents and staff."
Responding to questions about why there was a vacancy at Piru, Schieferle replied "[Mrs. Godfrey] requested a reassignment." Godfrey replaced Leticia Ramos, both of whom served as principal for just one year at Piru. Prior to being Principal at Piru, Godfrey was Assistant Principal at Fillmore Middle School. Schieferle confirmed that Godfrey will be working in the Independent Studies program at Sierra High School.
Vides will be the fourth principal in as many years at Piru and comes to FUSD from Los Angeles Unified School District. Her most recent position was as Coordinator for Categorical Programs at Alta California Elementary School (previously called Valley Region Elementary School #6) in Panorama City, a new school that opened last year (2010-11) serving 734 students, grade K – 5, with 95% of the student population of Hispanic/Latino descent. Generally a Coordinator of Categorical Programs oversees and administers programs for English learners, students from migrant families and special education. FUSD Interim Superintendent Dr. Alan Nishino reported that Vides herself comes from a migrant farm-worker background bringing a unique and important perspective to her job. Piru parent and a member of last years School Site Council Fred Galan commented that "[we are looking forward] to working with the new principal [to benefit the students]."
By Gazette Staff Writer — Wednesday, August 24th, 2011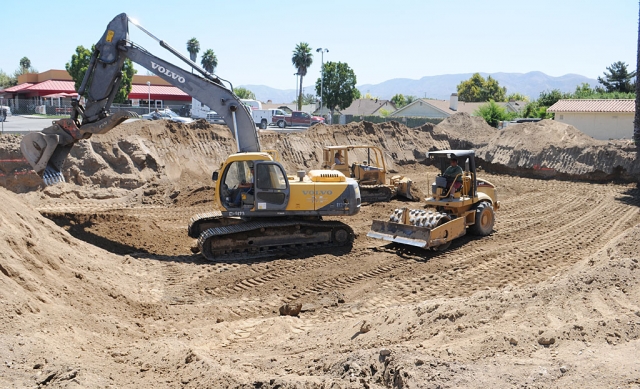 Sam Bennett Sr., owner of SRB Construction in Fillmore is finishing ground compaction work for the soon-to-be Taco Bell and Pizza Hut on Highway 126. It is hoped that the facility will be open for business by November.
Enlarge Photo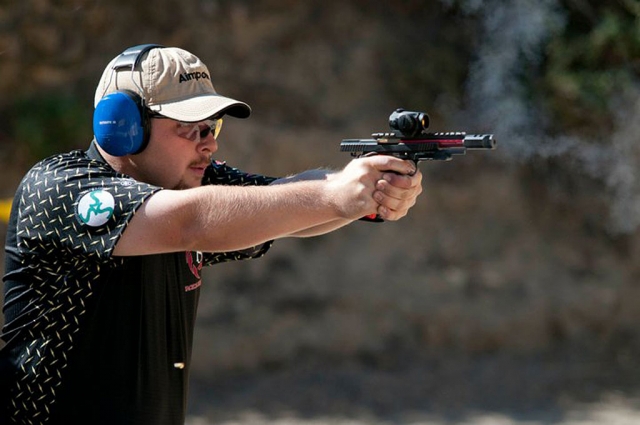 BJ Norris, new world champion, Steel Challenge 2011
Enlarge Photo
By Gazette Staff Writer — Wednesday, August 24th, 2011
BJ Norris is the new Steel Challenge World Speed Shooting Champ, held August 18-21 in Piru. The competition has grown to one of the largest professional pistol competitions in America.
The Steel Challenge is a speed shooting championship and governed by the Steel Challenge Shooting Association (SCSA). The competition was founded by Mike Dalton and Mike Fichman. The targets, made of steel, range in size from 10" round plates to 18"x24" square plates. The match is held every year in Piru, California and draws shooters from around the world.
Competitors are scored based solely on the time it takes them to shoot each stage. The last target that is shot is known as the "stop plate", which stops the timer. All primary target hits made after the stop plate has been struck, will be scored with a 3 second penalty each. The maximum time permitted for a run is 30 seconds and a competitor will be stopped and asked to reload if they reach the 30 second limit. Each competitor shoots each stage five times, with their slowest run dropped, excluding the stage Outer Limits where only four runs are shot and the top three counted. The competitor's best four out of five runs are totaled for their stage score and the eight stage scores are added together to establish the competitor's match score. The winner is the competitor with the lowest overall time.
Seventy shooters competed in the first Steel Challenge in 1981. John Shaw claimed the first 'World's Fastest Shooter' title along with his share of the $20,000 in cash and prizes.
In the winter of 2007, Dalton and Fichman sold the Steel Challenge to the United States Practical Shooting Association (USPSA) which is the US sanctioning body of IPSC.
By Martin Farrell — Thursday, August 18th, 2011
I wish to express my profound apologies to the Fillmore Chapter of the Veterans of Foreign Wars for the wrongly identified photo of Eagle Scout Sean Chandler receiving an award plaque for constructing his Walk of Honor at Bardsdale Cemetery. The caption reads "Chandler receives Lions Club honor". This was an award issued by the Veterans of Foreign Wars. Again, my apologies to our VFW for this inexplicable mistake.
Maybe it's time for me to retire – it is, after all, the Gazette's twenty second anniversary.
Also...
The Gazette has learned, by an irate citizen, that an Aztec-like picture was recently placed on the rear alley (east) wall of the old bank building (Main Street near Central Ave.). We later learned that this was allegedly approved by the owner of the building. We don't know if the city was aware of it. It is, therefore, not a gang related picture. The police department has verified that it was painted with permission, and has no gang connection. It is difficult to understand what relevance such a public display has in the middle of Fillmore's tourist center. This picture can be seen from two blocks away. A reasonable person, especially a tourist, would question the meaning of this work at this location. No matter how well done, a talented work in the wrong place (next to the Fillmore Tourism Bureau), giving a mistaken impression of criminal activity, unrelated to our downtown tourist efforts, is in my opinion, a mistake. It should be removed.
THIS JUST IN: We have learned that this was a paid commercial. It was painted on Ventura County Historical Landmark No. 47 with permission as stated. No one bothered to tell the citizens of Fillmore. It is ironic that it was painted directly across from a newly sprayed bicycle storage container on Main Street, which is a criminal offense.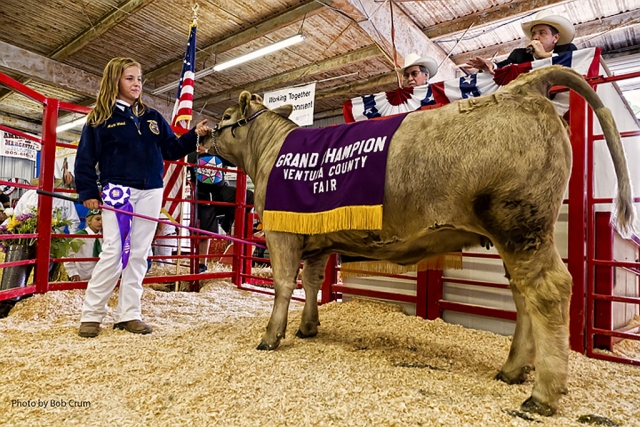 Macie Wokal 14, Fillmore FFA, stands with her replacement Heifer "Little Bo Peep". Wokal's And Macie's heifer was awarded FFA Grand Champion Replacement Heifer.
Enlarge Photo
By Bob Crum — Wednesday, August 17th, 2011
Story and photos by Bob Crum
Little Bo Peep, Zeus and Kevin, outstanding specimens all, were bestowed top honors at the Ventura County Fair. Accordingly, their caretakers – Macie, Micah and Marc – relished reaping the rewards for their time and efforts.
With dozens of excited people in attendance... Talula was also rewarded with baby Kaliapi. To just see Kaliapi is to instantly love her! But I digress.
Macie Wokal, 14, Fillmore FFA, raised a replacement heifer named Little Bo Peep. However, weighing in at a hefty 1,082 pounds, there's very little that's little about Little Bo Peep. Her status is even bigger than life. Little Bo Peep was awarded the FFA Grand Champion Replacement Heifer award. Sweet!
Macie is no stranger to the award circle. Though her entry last year didn't win an award, her entry in 2009 was awarded Grand Champion Replacement Heifer. Not an easy achievement considering that the odds might not be much better than winning the lottery every other year.
What was it like raising Little Bo Peep? "When I first saw her", said Macie, "she was crazy and later, when I would walk her, she made dinosaur noises as if she was making fun of a cow. That was pretty funny", Macie said. Proof that one can never predict what a cow will say.
What was the biggest problem raising Little Bo Peep? "Trying to get her halter on" Macie immediately replied. "She was stubborn and wouldn't cooperate very often so it was a lot of work." OK... but once the halter was in place, how was she to take for a walk? "Crazy", Macie said. Why? "Because", said Macie, "she was barely halter trained when I got her so she was on the wild side... I guess you can say." Somehow Macie tamed wild and crazy Little Bo Peep because the heifer appeared to be on her best behavior at the Fair.
Based on Little Bo Peep's enormous size, what did her diet consist of I asked. "She eats a bag a day of grains and alfalfa and a bag costs about $14.00." Oh my! Perhaps taking Little Bo Peep to a Chick-fil-A restaurant would be cheaper?
At the auction, the high bidder won Little Bo Peep for $3,400. Plans for the heifer include munching scrumptious Piru pasture grass and motherhood.
And Macie's money? "It goes into my savings account for college", said Macie. Upon graduating high school, Macie is planning to attend California Polytechnic State University, San Luis Obispo. Having been raised in a farming/ranching lifestyle... Macie's aspirations are to become an agriculture teacher. No doubt Macie will excel!
Micah Chumley, 16, Fillmore FFA, also raised a superb replacement heifer. So superb is Micah's heifer, Kevin, she won FFA Reserve Grand Champion. Umm... Kevin... a boys name? "I named her Kevin because of the movie Up", explained Micah... adding... "the flightless bird was named Kevin who was thought to be a boy but turned out to be a girl... oh Kevin's a girl!... so that kind of stuck for my heifer." Makes perfect sense.
Kevin is not Micah's first heifer. He raised a heifer four years ago. Last year he entered a steer that was not bestowed an award. So... this year he went back to raising a heifer and was rewarded with a championship.
Was it fun raising Kevin? "The most CONTINUED »
By Bob Crum — Wednesday, August 17th, 2011
by Bob Crum
By Jean McLeod — Wednesday, August 17th, 2011
There were some new faces at the first 2011-2012 Fillmore Unified School District Board Meeting (FUSD). Dr. Alan Nishino was introduced as the Interim Fillmore Superintendent along with Michael Johnson as a new Assistant Superintendent. Also introduced was Scott Carroll new position as Principal of Sespe Elementary School and Sammy Martinez the new Associated Student Board (ASB) representative.
Nishino brings years of experience having worked at Morgan Hill, Castaic, Alameda, and Hueneme High Schools. When discussing his goals Nishino highlighted students' need to be productive citizens "driven to be the best" going forward.
Johnson discussed the many years he has worked under Nishino and spoke of his confidence in Nishino's leadership as the reason he came to work at FUSD. He addressed the needs of Fillmore's large migrant population with over five hundred migrant students in school and a goal of speaking to every family. Johnson is also planning a newsletter to be sent to the students' families to keep them informed of meetings and events associated with their children.
Martinez, who grew up in Fillmore, is a junior at Fillmore High School and was an ASB member while attending Fillmore Middle School. Martinez is known as 'Speaker of the House' made his first official presentation to the School Board Martinez presenting the students' new campaign "Make Every Minute Count-63,197 Minutes in a School Year."
By Gazette Staff Writer — Wednesday, August 17th, 2011
Piru August 18-21
The Steel Challenge Shooting Association (SCSA), the national governing body for the sport of speed shooting, announced that Smith & Wesson, the 159-year-old iconic firearms maker, is expanding its support for the organization with its platinum level sponsorship of the Steel Challenge World Speed Shooting Championships.
Smith & Wesson is joining the National Shooting Sports Foundation and Safariland as a platinum sponsor of the Steel Challenge which marks its 30th anniversary this year when the match gets underway in Piru, Calif. August 18-21.
"For well over a century Smith & Wesson has played an active roll in promoting the shooting sports in America and around the world. Not only are they a platinum sponsor for this year's Steel Challenge World Speed Shooting Championships, but they continue to work closely with SCSA to grow speed shooting through the Scholastic Steel Challenge program for youth and collegiate shooters," said Scott Moore, Steel Challenge sponsor relations.
Since the first Steel Challenge in 1981 Smith & Wesson has been a proud sponsor, helping the World Speed Shooting Championships grow into what is today the world's premier exhibition of speed shooting. Year after year the match routinely draws the fastest shooters from around the globe, including several from Team Smith & Wesson.
In 2010 members of the Smith & Wesson factory team collected nine titles at the Steel Challenge – more than any other industry team – and many of those shooters are expected to return this year to defend their titles.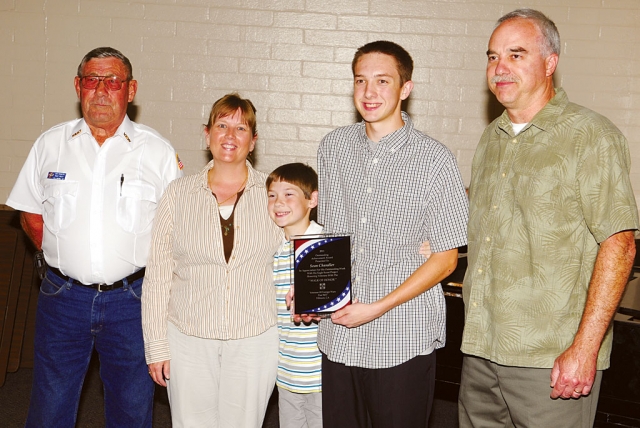 Eagle Scout Sean Chandler, Troop 406, is pictured at the VFW meeting Tuesday night. Sean received a plaque for his Eagle Scout project: to build a Walk of Honor at Bardsdale Cemetery. Sean and the other Scouts removed aging asphalt walkway near the flagpole and replaced it with bricks, many engraved with the names of veterans from our community. The primary goal of Sean's project was to give Fillmore area residents the opportunity to honor those who have served our nation. A plaque was installed at the base of the flagpole honoring all veterans.
Enlarge Photo
By Gazette Staff Writer — Wednesday, August 17th, 2011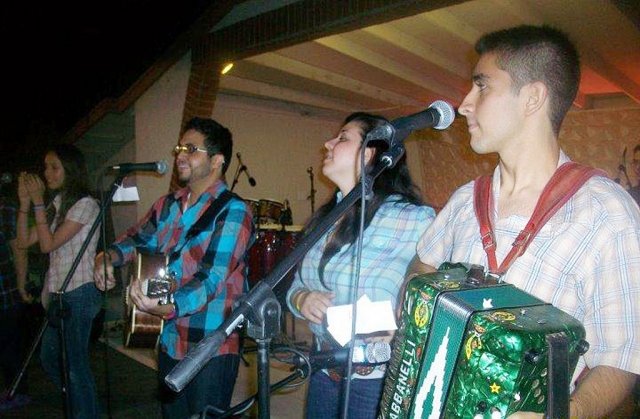 Many bands performed at San Salvador Church.
Enlarge Photo
By Gazette Staff Writer — Wednesday, August 10th, 2011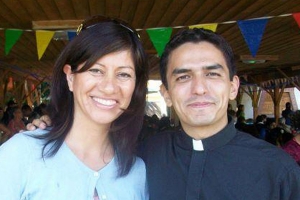 Toni Galvez along with Eli, one of the Semineries that visited during the festivites.
Story courtesy of Galvez Family
On Saturday July 23rd, the famous phrase by St. Augustine came true: "He who sings, prays twice"; that was very evident at San Salvador Mission in Piru at the church choir festival "Animate, Let your Faith Shine".
This is the third year they have celebrated such a festival. What really stood out this year was great Christian music, friendship, prayer, happiness, good food and families coming together to praise the Lord. Bishop Thomas Curry added to the festive atmosphere of the day by celebrating an outdoor Mass to about 800 people. Alongside Bishop Curry was Father Barney Gatlin, Pastor of San Salvador Mission and St. Francis of Assisi Church in Fillmore. The Fillmore/Piru Church community felt blessed by having such a beautiful religious experience.
For almost nine hours this religious event brought church choirs that ministered through Christian music, which made the crowds dance, jump, yell, sing and pray to their contagious beats and songs. The presence of choirs from Fillmore, Saticoy, Oxnard, Fullerton and of course Piru, came together as one Catholic Community. As a special guest the young people of Verbum Dei, a music ministry from Monterrey Mexico, came specifically for this occasion. Finally, the highlight of the day was Yesenia Flores, a professional recording artist who has given her life to Jesus Christ. Her energy, enthusiasm and love for the Lord and musical talent was an example for all those who attended.
Besides all the great music, there was time to pray in front of the Blessed Sacrament, which was orchestrated by the religious sister, Consuelo Contreras from "La Casita de Oracion" in Oxnard. Our local seminarian, Luis Fernando Mejia Zaragoza, who studies at the seminary in Monterrey Mexico, led a discussion regarding "Faith" and the relationship to music. The discussion was very appropriate considering the day's event.
This event would not have been possible without the many people who helped make it a great success; especially Juan Arredondo who received a well deserved acknowledgement from Father Barney during the Mass. Juan's excitement almost brought him to tears, when he stated: "It makes me very happy to see so many people gathered here today, all the work was well worth it."
"We want to thank all those who helped with the preparing and selling of the food, the sound engineering and all those who cleaned up after the event. Moreover, we want to thank Ray Galvez and his family for their hospitality in housing all 15 choir members from Monterrey and hosting a party for all the participants the next day at their home. Thank you to all of you who helped and may God bless you!"
There are not enough words to express and describe the emotions that were felt during this special day. Maybe you will run into someone who attended the event so they can tell you about their experience and invite you to next year's event. Get ready, it will be a memorable one, do not miss it! Meanwhile, "Animate" and let your faith shine!
By Gazette Staff Writer — Wednesday, August 10th, 2011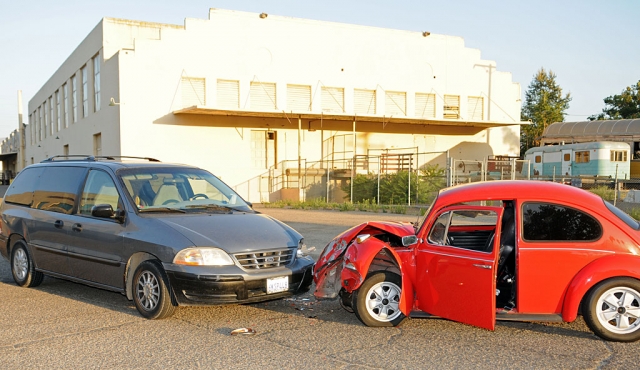 A vintage VW Beetle took the worst of it on Tuesday around 7pm in front of the Fillmore Fire Station, when it collided with a van. No injuries were reported.
Enlarge Photo
By Ventura County Sheriff Department — Wednesday, August 10th, 2011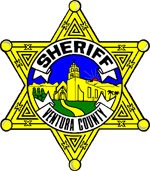 Ventura County Sheriff's Department
In an effort to provide the community with easier access to information and to assist in the often confusing and emotional aspects of civil processes, the Sheriff's Office has added a Civil Processes link to their public website. The link can be accessed by going to www.VCSD.org and scrolling to the Public Resources tab at the bottom of the page, then clicking on the Civil Processes tab.
The Civil Unit of the Sheriff's Office receives, serves, and executes over 15,000 civil documents annually. The law requires that any civil process brought to the Sheriff for service must be valid on its face, issued by a competent authority, and accompanied by adequate legal instructions.
The new link is designed to help assist the public with information on Civil Process Services offered by the Sheriff's Office. The site contains general information on the types of services offered, the forms needed, applicable fees, links to other self-help resources and frequently asked questions (FAQ) associated with civil processes. Some of the types of processes include evictions, restraining orders and levies.
The public is encouraged to use the Sheriff's website and the Civil Processes link as a resource to assist them with information related to the service and requirements for civil processes. The information contained in the Civil Processes link should not be construed as legal advice. If you have a legal question, please contact an attorney.
By Gazette Staff Writer — Wednesday, August 10th, 2011
The Steel Challenge World Speed Shooting Championships celebrate their 30th anniversary this year and once again the fastest pistoleros from around the world will converge on Piru, Calif. on August 18-20 to determine which of them is truly the fastest of the fast.
Among those gunning for speed shooting glory will be local top guns Terry Olson of Fillmore, Chuck Richards of Ojai, Taran Butler and Scott Druyun of Simi Valley and Brad Simpson of Thousand Oaks.¬ More than 150 speed shooting experts from across America, Australia, Canada, Japan and the Philippines will compete in the three-day match.
Since the first Steel Challenge in 1981, the World Speed Shooting Championships have determined who within the shooting sports community is the fastest in the world by utilizing an eight stage course of fire featuring five steel targets per stage. Shooters are required to draw on the sound of a buzzer and shoot the five targets in the fastest possible time.
The shooter's best four of five runs on seven stages, and three of four on one, are combined for their overall match time, with the difference between champion and runner-up often measured by just a few hundredths of a second.
The fastest recorded winning time was set in 2008 by K.C. Eusebio, three-time World Speed Shooting Champion, who finished in an amazing 79.16 seconds. That's 155 shots fired, including 31 draws from the holster, in less than a minute and 20 seconds.
The Steel Challenge Shooting Association (SCSA), the national governing body for the sport of Speed Shooting and organizer of the Steel Challenge, estimates that upwards of 50,000 rounds will be put down range during competition, and well in excess of three times that fired in practice leading up to the championships.
For more information on the Steel Challenge Shooting Association visit www.SteelChallenge.com. To stay on top of this year's match news follow @SteelChallenge on Twitter, find the ¬Steel Challenge on Facebook or visit the Steel Challenge blog.