By Ventura County Sheriff Department — Wednesday, February 5th, 2014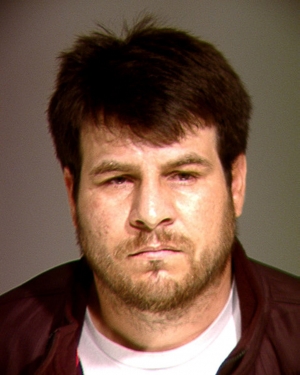 Carlos Beltran, Fillmore, 36 of Fillmore, was arrested for possession of methamphetamine for sale.
Sheriff's narcotics detectives completed a 7 month narcotics investigation with the arrest of Carlos Beltran of Fillmore for possession of methamphetamine for sale.
In June, 2013, Sheriff's narcotics detectives received information of a large scale methamphetamine dealer operating in the City of Fillmore. In association with the local office of the United States Drug Enforcement Administration, detectives identified Carlos Beltran as a person involved in the methamphetamine sales. During the investigation, it was discovered Beltran was bringing methamphetamine directly from Mexico to sell in Ventura County.
On January 30,2014, investigators from the Ventura County Sheriff's Office, Oxnard Police Department and the DEA, served a signed search warrant at Beltran's residence in the 1100 block of Ventura St, Fillmore. At that time, detectives located 3 pounds of methamphetamine. Beltran was taken into custody for possession of methamphetamine for sale and booked into the Sheriff's Main Jail.
The methamphetamine had an estimated street value of approximately $81,720.00.
Nature of Incident: Narcotics Arrest
Report Number: 14-3399
Location: 1100 block Ventura St., Fillmore
Date & Time: January 30, 2014 1130 hours
Unit(s) Responsible: Sheriff's Narcotics Bureau
(S)uspects, (V)ictims, (P)arty, (D)ecedent City of Residence Age
Carlos Beltran Fillmore 36
Prepared by: Sergeant M. Horne
Media Release Date: 1/31/2014
Follow-Up Contact: Captain Don Aguilar
805-797-7349
Approved by:
By Jean McLeod — Wednesday, February 5th, 2014
Last Tuesday the Fillmore Unified School District (FUSD) Board Meeting started with a packed room of over 70 teachers who came with a message for the Board; salary raises. The main agenda item was once again the implementation of Common Core State Standards (CCSS) and its enormous cost.
The State Budget is providing for a one time funding amount of $766,070.00 that can only be spent on the initial implementation of professional development, instructional material and technology equipment. When asked if that amount will cover all cost associated with CCSS implementation, Superintendent Dr. Alan Nishino and Assistant Superintendent Michael Johnson both responded that if they are lucky the monies provided in this one time funding will cover about 50% of what is needed.
This huge cost of implementation of the CCSS is becoming a problem for many school districts throughout the country. Forty-five states plus the District of Columbia have signed on to CCSS; many without doing any cost assessment. With the deadline of a January 1, 2014 for implementation having passed, many states are experiencing buyer's remorse. According to a report on Foxnews.com California is "...estimated to spend approximately $35 million per year, or about $30 per student in testing costs alone."
FUSD's proposed expenditures regarding the one time State funding are: Infrastructure $27,008.60; Site Specific Technology $389,230.91; Staff Development $200,000.00; Instructional Materials $149,830.49. A total of $292,000 which is a little less than half, has been spent so far: $3,000 on Infrastructure, $248,000 on Site Specific Technology, $20,000 Staff Development, $21,000 on Instructional Material.
Throughout the country there CONTINUED »
By Ventura County Sheriff Department — Wednesday, February 5th, 2014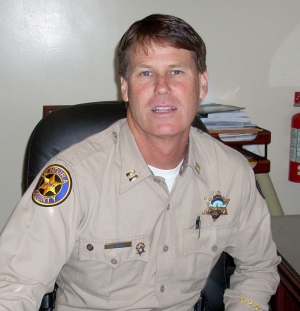 Tim Hagel
Today, Tim Hagel was named the City's next Police Chief. Hagel succeeds current Chief Randy Pentis, who is set to retire later this month.
Hagel, a 29-year veteran of the Ventura County Sheriff's Department, emerged as the top pick from a slate of three exceptionally talented candidates. As Chief, Hagel will bring extensive law enforcement experience, a community policing perspective, and a strong background in youth outreach. Hagel currently directs the Sheriff Department's West County Operations and previously served as the Fillmore Police Chief from 2008 to 2011.
A native of Thousand Oaks, Hagel graduated from Thousand Oaks High School, earned a Bachelor Degree from CSU Northridge, and a Master in Public Administration Degree from CSU Dominguez Hills. "With his distinguished policing background, broad knowledge of Thousand Oaks, and long track record of community engagement, Tim will be a natural fit for our organization," said City Manager Scott Mitnick. "This selection will ensure continued high caliber public safety leadership for one of California's safest cities."
Hagel is credited with developing the Sherriff's Department's Literacy Program, which helps fight crime by educating at-risk elementary school students. He also created the State's first "Adopt-a-Cop" Program, increasing collaboration between Police and area schools.
In commenting on his appointment Hagel said, "It's a blessing to work for the City I grew up in and I truly look forward to serving the City of Thousand Oaks and maintaining our standing as one of America's safest cities".
He will assume his new post beginning Monday, February 24.
By Gazette Staff Writer — Wednesday, February 5th, 2014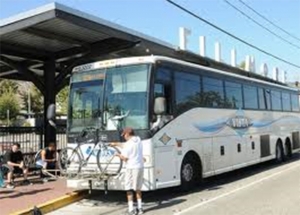 The VISTA 126 bus line just got a little more convenient for local riders. Starting Monday, February 3, the line is offering eight more trips between Piru and Fillmore.
Riders can now choose between five routs in the morning, two in the late afternoon, and two evening routs.
The added service is being funded by a temporary agreement between the County Board of Supervisors and the Ventura County Transportation Commission.
The VISTA 126 also travels to Santa Paula and is a popular means of transportation to Ventura College, the Pacific View Mall, and The VC Government Center.
For schedules call 1-800-438-1112 or visit www.goventura.org.
By Gazette Staff Writer — Wednesday, February 5th, 2014
01/28/14 - 02/03/14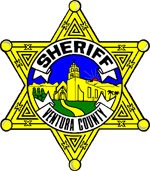 Ventura County Sheriff's Department
01/28/14
Narcotics Violation
300 Blk. Fillmore St.
Theft
600 Blk. Ventura St.
Search Warrant
700 Blk. Edison Lane
01/29/14
Surveillance
300 Blk. Mountain View St.
Cruelty to Animals
800 Blk. 5th St.
Fight
1st St./Old Telegraph Rd.
Keep the Peace
900 Blk. 2nd St.
Battery
400 Blk. Clay St.
Theft
1100 Blk. Sespe Ave. CONTINUED »
By Gazette Staff Writer — Wednesday, January 29th, 2014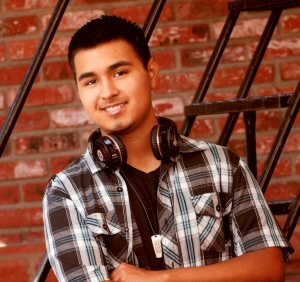 Pictured is Adrian Moreno. A "Spiritual Retreat" will be held in loving memory of Adrian on Saturday, February 1 from 8 a.m. to 1 p.m. at St. Francis Church. Anyone interested in attending should contact Maggie at 524-1306 no later than Thursday for food purposes.
On the night of January 11, 2014, Deputies from the Ventura County Sheriff's Department responded to a gunshot victim on the roadway of Grand Avenue. The gunshot victim, later identified as 18 year old Adrian Moreno, was pronounced dead at the scene. Just prior to the shooting, Adrian was there with friends on a private property ranch.
Adrian Moreno was born in Ventura and raised in Santa Paula until completing 1st grade. He attended St. Sebastian School and Glen City School. After moving to Fillmore, Adrian attended the Fillmore Unified School District until he graduated in 2013. He had started Ventura College in the fall of 2013. Adrian was taking general education classes and wanted to pursue music production. He had various programs on music production that he spent hours on creating music and experimenting.
Adrian was known as "Chubby" to his friends because when he was about 8-years old he gained a lot of weight. His parents put him in soccer to see if all the running would help him lose some of it but he loved to eat so that did not help much. He made many friends through playing soccer and played until his freshmen year in high school. While in soccer he was also enrolled at Perce's Kenpo Karate studio where he attended for 5-years and gained more friends. There he learned about integrity, respect, self-confidence, and earned a 3rd degree Brown Belt.
Adrian also played the drums all through elementary, middle school, and up to his freshmen year of high school. He was also a student of Camilla Conaway for over a year where he took piano lessons and enjoyed it very much.
When Adrian was a sophomore he joined the football team and again made more new friends.
During his junior and senior year he was more involved in AVID and looking at colleges to attend. He would always go to Sespe School and do his community service hours in his mom's classroom. Just this past December Adrian and his family went to help El Pescador Restaurant in Santa Paula for their yearly community Christmas event, and he went so gracefully to help.
For his graduation he went on the Senior Trip to Long Beach and had an amazing time with his close friends. Adrian also was a candidate in the Confirmation Class of 2013 at Saint Francis Church in Fillmore. He attended 2 years and last year when the students were taken to "The Mountain" (a spiritual retreat) he came back more so than ever with the Holy Spirit.
Adrian also loved to snowboard where the family would go every time there was snow nearby. He loved to play X-Box Live with his friends until late night hours.
Over the last year he had started attending concerts of his favorite bands like Linkin Park, and Kaskade. He loved to go bowling and to the movies with his friends and family. Adrian loved exotic cars and enjoyed going to car shows. He knew a lot about them and could name them on the street. He enjoyed cooking breakfast, staying up late, and Skyping. He also loved to drink a lot of water and Rock Stars. Adrian hated taking out the trash, getting up early, and a messy house.
Adrian had a way with friends, cousins, family, teachers, and people he barely knew that was caring, generous, and giving. His smile would light up a room and had the power of saying few words with the most meaningful message. He would listen to friend's problems and somehow made them be not so bad.
Adrian always asked his mom how her day was and would actually listen and give input. He would give her a hug and a kiss upon arrival and although he did lag at things he would always follow through. He loved his family, always shared funny videos with them, and was always so helpful. He knew he was loved and we knew he loved us. He believed in God, happiness, and in living everyday as if it were the last. We will miss his smile, laughter, and great heart. May the Lord have you in the kingdom of glory and give us strength to endure this pain and this emptiness. May you watch over us to protect us from the evil that took you without cause. May the soul that did this find God and speak out because whether one believes in God or not only the truth will set you free.
The community needs to come together and understand that your son, daughter, sister, brother, or family member could be next. As long as there are young kids with guns this will not stop and who will be next at the next gathering? Are your kids really safe?
Adrian's family is requesting the community to assist in finding out what led to Adrian's death. There were several individuals at the social gathering who Sheriff Investigators believe have the answers. Anyone with information regarding the incident is encouraged to contact Sergeant Todd Inglis with the Ventura County Sheriff's Office Major Crimes Bureau at (805)384-4730.
Ventura County Crime Stoppers will pay up to $1000 reward for information, which leads to the arrest and criminal complaint against the person(s) responsible for this crime. The caller may remain anonymous. The call is not recorded. Call CRIME STOPPERS at (800)222-TIPS (8477).
By Gazette Staff Writer — Wednesday, January 29th, 2014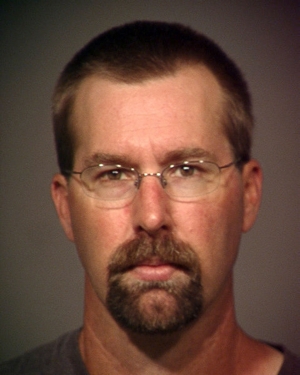 Pete Egedi
The Gazette has just acquired the complete record of Judge Montoya's decision in the Peter Egedi termination as Fillmore's fire chief. It was released weeks ago but only recently available to this paper.
Administrative Law Judge Joseph D. Montoya has upheld the termination of Peter Egedi as Chief of the Fillmore Volunteer Fire Department.
The Judge's order followed a lengthy and intensive investigation by both the Ventura County Sheriff's Department and District Attorney's Office.
The case began in March of 2008 when Patrick Maynard, a volunteer firefighter and City-paid Disaster Coordinator, confided to former Fire Chief Pat Askren that "he (Maynard) believed Respondent (Egedi) had acted improperly in the use of funds in the Department account." This issue was then taken to the City Finance Director, who referred it to the city attorney, who then brought it to the attention of the Ventura County Sheriff's Department.
The Sheriff's department investigated the issue and brought in the District Attorney of Ventura County who filed a criminal proceeding against Egedi. Following a nearly 3-year investigation, the District Attorney eventually dismissed the case on grounds that he believed that "...there were a number of problems of proof, and that the District Attorney did not believe the charges against Respondent (Egedi) could be proved beyond a reasonable doubt."
The subsequent civil case filed by Egedi against the city of Fillmore for his termination was submitted to the office of the Administrative Law Judge, Office of Administrative Hearings to challenge the legality of Egedi's termination by the city. After approximately 6 years (about 3 years following dismissal of the criminal case, a final order by Judge Montoya upheld Egedi's termination from his position as fire chief.
What follows is a portion of the complete, 59-page, record of findings of fact leading to Judge Montoya's order upholding the city's decision to terminate Egedi for cause.
This case has roiled the City of Fillmore for more than 6 years, creating a hostile atmosphere. It has cost the city many thousands of dollars, and the county hundreds of thousands. Many of those who were acquainted with the facts and allegations in this case were stunned to hear that the District Attorney's office decided to drop all charges, and elected not to refer the case to the Grand Jury. In light of Administrative Judge Montoya's findings of fact, their reaction was justified. According to the Judge, many thousands of dollars were misappropriated by the Egedis though it is not possible to determine the exact, total amount.
Among the Judge's findings of fact and legal conclusions are the following:
"It is clear the Respondent engaged in self dealing..."
His testimony was "...at once brazen and disingenuous..."
"Respondent has told contradictory stories..."
Much of Egedi's testimony was "...disproven..."
"...the money was given to her (Mrs. Egedi) by Respondent for her use in Las Vegas.
"The failure to account for a FEMA reimbursement in excess of $51,000."
"When the City closed the Department account, after Respondent was removed from his position, there was not enough money in the account to cover all of the allowances due to firefighters for the rest of the fiscal year. Just what happened to the $13,100 cannot be determined from the record."
"Respondent has not shown one iota of remorse during the hearing..."
This is only a small part of Judge Montoya's findings of fact. The entire record follows:
By Gazette Staff Writer — Wednesday, January 29th, 2014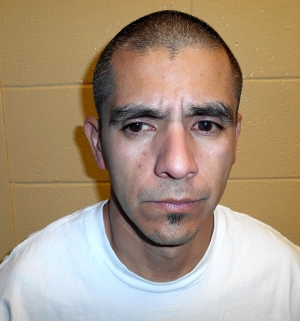 On January 25, 2014 at approximately 12:26pm, Santa Paula Police Officers conducted a traffic stop in the 900 block of E. Santa Barbara Street. During the traffic investigation, the passenger in the vehicle was found to be on probation. A search of the vehicle was conducted and a suspicious object resembling an improvised explosive device was located. The Ventura County Sheriff's Department Bomb Squad was called to assist. The immediate area was evacuated as a precautionary measure. Upon the arrival fof the VCSO Bomb Squad, they conducted an investigation and rendered the device safe by disruption. The driver, Albert Morales, 34 years of Fillmore, was arrested for possession of an explosive device. The area was then declared safe.
By Jean McLeod — Wednesday, January 29th, 2014
The Fillmore Unified School District (FUSD) held a special meeting last Tuesday to discuss what requirements the School Board is seeking in their new superintendent. The Costa Group, a company out of Fairfield California, has been hired to search for applicants that meet the needs of the District. Dr. George Bloch and Ken Noonan, representing The Costa Group, began meeting with parents, teacher and stakeholders last Wednesday asking what they were looking for in the next superintendent. The meeting was attended by approximately 60 throughout the approximately three hours of discussion.
A compiled prioritized list with three categories; Strengths of the District, Needs of the District, and the Desired characteristics of the new superintendent was handed out.
According to those Bloch and Noonan spoke with, the highest strengths of FUSD are: Sense of family (teachers, staff and parents) and they remain professional; Natural Habitat Grant-Program (River Basin Program); well-behaved kids; dedicated teaching staff-supportive of each other and the kids and many willing to go above and beyond what is expected; employees grew up together/tight community/ many went to FUSD and live in the community; staff looks out for best interest of students; parent volunteers are very strong.
Other priorities discussed CONTINUED »
By Gazette Staff Writer — Wednesday, January 29th, 2014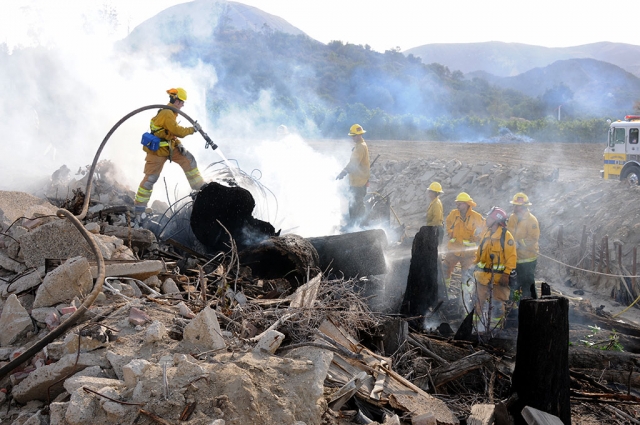 On Monday, January 27, 2014 a controlled burn took a turn for the worse. During an orchard tree burning on Bardsdale Avenue, the wind kicked up and carried sparks to a nearby Eucalyptus tree which ignited. Fillmore Fire Department was quickly on scene, keeping the fire from spreading.
Enlarge Photo
By Gazette Staff Writer — Wednesday, January 29th, 2014
01/21/14 to 01/27/14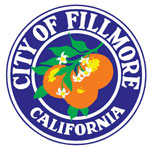 City of Fillmore
01/21/14
Theft
700 Blk. Del Valle Dr.
Search Warrant
200 Blk. Olive St.
Vandalism
Blue Jay St./D St.
Shiells Park
500 Blk. Fillmore St.
600 Blk. Ventura St.
Narcotics Violation
300 Santa Clara St.
01/22/14
Keep the Peace
100 Blk. Surrey Way
300 Blk. Saratoga St.
300 Blk. McNab Ct.
Search Warrant
900 Blk. 4th St. CONTINUED »
By Gazette Staff Writer — Wednesday, January 22nd, 2014
Elkins Ranch Golf Course is family-owned and operated by descendants of C.C. Elkins, who arrived in Fillmore in 1877. They have enjoyed 52 years of providing a great place to play golf as well as their famous cheeseburgers for those who come out for lunch. General Manager Cheryl Dimitt, member of the Fillmore Chamber of Commerce, Head Pro Luis Beltran, member of Heritage Valley BNI, Course Superintendent Jeff Naas and Office Manager Mary Collins support various projects in the Fillmore Community. In 2013, Elkins Ranch was a proud sponsor of the 1st Annual Fillmore Community Children's Festival and provided basic SNAG golf lessons at the event as well as a 6 week SNAG course for the Santa Clara Valley Boys & Girls Club in Fillmore & Santa Paula. They support FHS sports and community organizations by donating to local raffles. Elkins Ranch Golf Course truly appreciates being named2013 Business of the Year. They know that the hard work of their employees have made it possible for them to receive this award.
By Gazette Staff Writer — Wednesday, January 22nd, 2014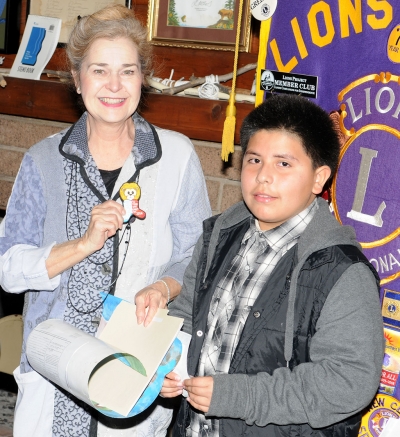 Doris Nichols & Daniel
Enlarge Photo
Daniel Mendoza, a student at Fillmore Middle School, has taken the first step to becoming an internationally recognized artist by winning the local competition sponsored by the Fillmore Lions Club.
Daniel's poster was among more than 170 entries in Fillmore. There are over 375,000 entries submitted world wide in the 26th annual Lions International Peace Poster Contest. Lions Clubs International is sponsoring the contest to emphasize the importance of world peace to young people everywhere.
Daniel's poster was selected for its originality, artistic merit, and portrayal of the contest theme, "Our World, Our Future". The judging was held November 6 at the Fillmore Middle School.
The judges were again impressed by the expression and creativity of the students' art. It is obvious that these young people have strong ideas about what peace means to them. Fillmore Lions Club is proud that we were able to provide them with the opportunity to share their visions with other students and our city.
Mr. Daniel Mendoza's poster has advanced to face stiff competition through the district, multiple districts and international rounds of competition.
One grand prize winner and 23 merit award winners will be selected. The grand prize includes a cash award of US $5,000, plus a trip for the winner and two family members to the awards ceremony at Lions Day with the United Nations. The 23 merit award winners will each receive a certificate and a cash award of US $500.
Runner-up students were Cody Balderas and Ana Manzo. All participants are students in Mrs. Doris Nichols' art class at Fillmore Middle School. Mrs. Nichols is commended for her assistance in this annual event.
By Jean McLeod — Wednesday, January 22nd, 2014
The new rules out of Sacramento for school funding were discussed at Tuesday's Fillmore Unified School Board Meeting. The Local Control Funding Formula (LCFF) replaces the previous K-12 finance system and uses a base grant to start, and added supplemental and concentration grants to those schools that qualify. The base grant varies depending on grade span but the average is $7,643 and provides and adjustment of 10.4% (of the base) additional funds for grades K-3rd (if the class enrollment is 24 pupils or less). There is also a 2.6% added funds for grades 9-12th and 20% additional funds for targeted disadvantaged students which includes English learners (EL), students eligible to receive a free or reduced-price meal and foster youth. A concentration grant equal to 50% of the adjusted base grant is given to schools/districts where the targeted students exceed 55% enrollment.
According to the California Department of Education website; "Until full implementation local education agencies will receive roughly the same amount of funding they received in 2012-2013 plus an additional amount each year to bridge the gap between current funding levels and the new LCFF target levels. The budget projects the time frame for full implementation of the LCFF to be eight years."
K-3rd grants are projected to range from $6,845 to $10,769; 4-6th $6,947 to $9,899; 7-8th $7,154 to $10,194; and 9-12th $8,289 to $12,119. California spent $57,923,591,137 on education during the 2011-2012 school year and in 2013, $50,584,391,000 went to k-12 and higher education, which is over 53% of the state's general fund.
All schools receiving state funding are required to develop and adopt a three-year Local Control Accountability Plan (LCAP) beginning on July 1, 2014. The process starts next month and administrators must determine where the students' needs are greatest using guidelines adopted by the California State Board of Education. The plan must be drafted by March 31, 2014. From May thru June 30th public input will be solicited and a proposed plan presented to a parents advisory committee for review and comment. Because English learners make up more than 15% of FUSD enrollment there will also be a District English Learner Advisory Committee which must include parents. The process requires administrators consult with school employees, parents and students for advice, and also have an open discussion at a public meeting, solicit written comments from the public, respond to comments from the parent advisory committee and adopt the plan during a public hearing.
LCAP requires established CONTINUED »
By Gazette Staff Writer — Wednesday, January 22nd, 2014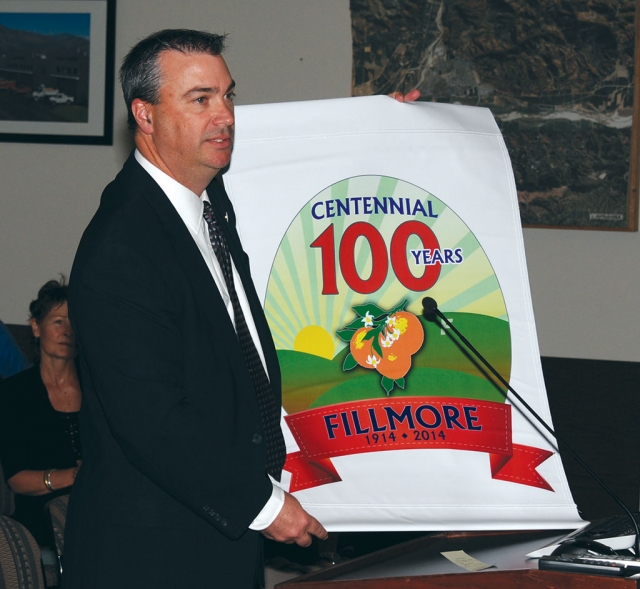 Fillmore's City Manager David Rowlands displayed the 100 Year Centennial Celebration Banner at last week's City Council meeting.
Enlarge Photo
By Gazette Staff Writer — Wednesday, January 22nd, 2014
January 14-20, 2014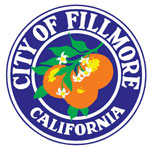 City of Fillmore
01/14/14
Shots Fired
500 Blk. Mountain View St.
Keep the Peace
200 Blk. Olive St.
01/15/14
Vandalism
500 Blk. Via Rodeo
Narcotics violation
600 Blk. Shiells Drive
Search Warrant
200 Blk Palm St.
Keep the Peace
1000 Blk. Tudor Lane
Violation Restraining Order
300 Blk. 4th St.
Theft Residential
100 Blk. 3rd St.
01/16/14 CONTINUED »
By Gazette Staff Writer — Monday, January 20th, 2014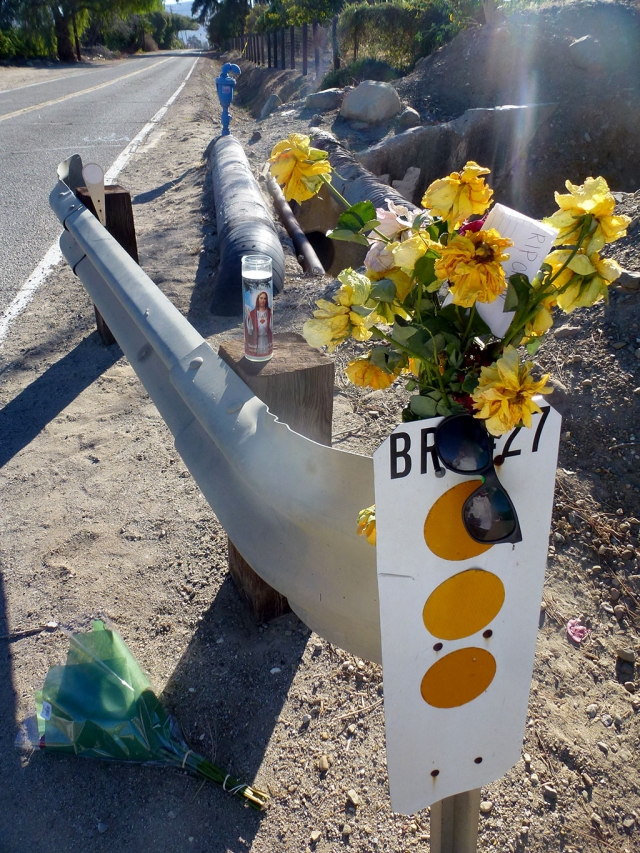 A memorial marks the sight of Saturday night's shooting.
Enlarge Photo
By Gazette Staff Writer — Wednesday, January 15th, 2014
Party-goers questioned about evening's events - Suspect being sought
On Saturday, January 11 at 1:59pm, Sheriff's deputies responded to a report of a gunshot victim laying on the road in the 1600 block of Grand Ave. Upon arrival, the deputies discovered two victims were shot near a party at a residence on Grand Ave. A male adult, Adrian Moreno, 18 of Fillmore, sustained fatal injuries.
A second gunshot victim was taken to a local hospital with non-life threatening injuries. The investigation is continuing. A party of approximately 50 was taking place at the time.
Morena sustained a gunshot wound to the chest. There are no suspects in custody.
Investigators are seeking the public's help. Anyone with information is urged to call Sheriff's Major Crimes at (805) 384-4730. Information by Captain Don Aguilar Ventura County Crime Stoppers will pay up to $1,000 reward for information, which leads to the arrest and criminal complaint against the person(s) responsible for this crime. The caller may remain anonymous. The call is not recorded. Call Crime Stoppers at 800-222-TIPS (8477).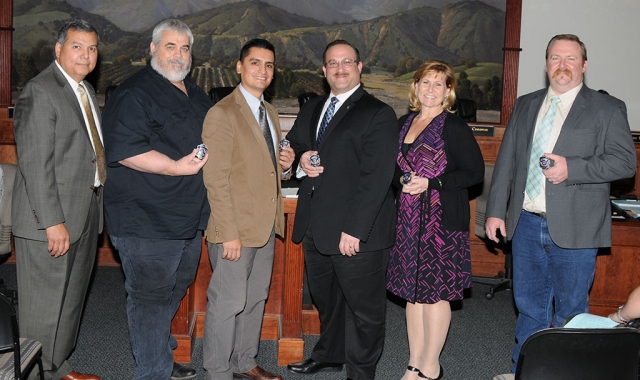 (l-r) Fillmore Fire Chief Rigo Landeros presented the Centennial Fire Badge to City Councilmember Steve Conaway, Mayor Manuel Minjares, Mayor Pro-tem Douglas Tucker, Councilmembers Diane McCall and Rick Neal.
Enlarge Photo
By Jean McLeod — Wednesday, January 15th, 2014
There were a number of agenda items on the first Fillmore City Council meeting of 2014. It began with a presentation by Fire Chief Rigo Landeros regarding the Centennial Celebration. Other items included Facility Use Policy, an ordinance for landlords to evict criminals from rental properties, and an introduction of some new additions to City Staff and Police.
Fire Chief Rigo Landeros representing the Fire Foundation, presenting all Council Members, the City Manager and the Fillmore Firemen, with an embossed Fire Badge honoring Fillmore's Centennial Celebration. The badges will be worn by Fillmore's Fire Department throughout the year and then retired in a Lucite sleeve to be displayed at their homes or offices.
Patrick Maynard, was also recognized for, among many other things, helping establish the Fire Foundation and obtaining grants adding up to $225,000 that went towards equipment such as breathing apparatus and radios. Maynard, who was not in attendance, also designed the Fillmore Centennial Logo. He will also be given a bottle of wine with the City Logo.
Landeros also thanked all the organizations and individuals for the success of the Toy Giveaway in December, with thanks to the Sheriffs Department and a special thank-you to Maynard who did much of the organizing. This year's giveaway saw the largest crowd of families since the program began 16 years ago. There were 362 toys given to boys, 373 to girls and 373 to adults in the community.
Fillmore seems to CONTINUED »
By Gazette Staff Writer — Wednesday, January 15th, 2014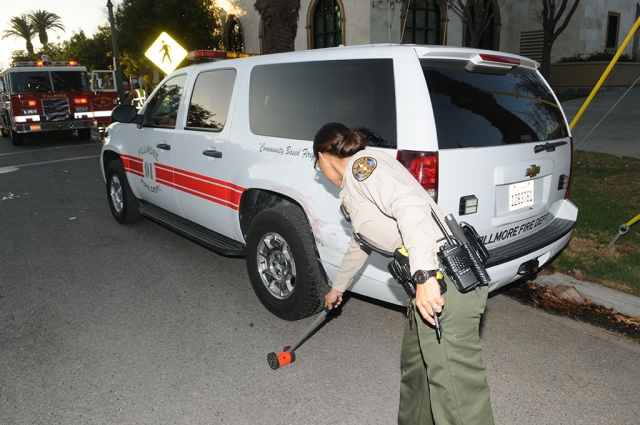 A Ventura County Sheriff marks off the location of a hit & run, which occurred on Wednesday, January 3, at approximately 4p.m. Fillmore Fire Chief Rigo Landeros' city truck was parked at the curb on Santa Clara Avenue, just south of City Hall. A citizen witnessed the collision, telling Landeros it was a red truck, heading west-bound. Red paint was found on the city vehicle at the site of impact. Ventura County Sheriff Deputies located the red truck just east of Palm Street. No further details were available.
Enlarge Photo