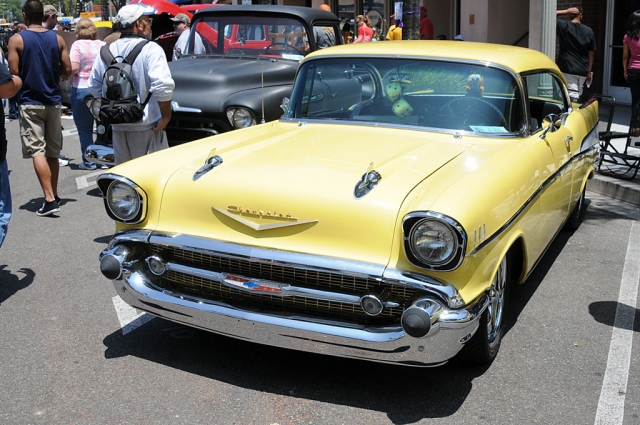 On July 4th the Fillmore Chamber of Commerce held its annual Sespe Creek Car Show, and this year they added the Chili Cook-off. It was estimated over 50,000 people attended this event. Over 200 cars were judged in various categories, along with 40 vendors, 14 Chili cooks, and music by House Arrest. The Car show winners are: T-buckets-Mike Seeley, Hollywood Street Rods-Greg Connole, Northridge, Mustangs-Mike Devorak, Ventura, Chevy-Mike Duran, Fillmore, Rat rod-Ted Silver, Castaic, Ranchero-Everett Diaz, Fillmore, Corvette-Ray Luna, Santa Paula, Thunderbird - Bob Kaplin, Lancaster, Camaro-Adam Flores, Saticoy, El Camino-Jerry Jordan, Apple Valley, Modified Car - RJ McDonald, Newhall, Stock Car-Anthony Albanez, Fillmore, Modified Truck-Nick Guzman, Oxnard, Stock Truck - Doug Wilhem Fillmore. Chili winners were: Red Chili-3rd Gene Bellar Bakersfield, 2nd Charlie Blosfield Mira Loma, 1st Charlie Ward Rosamond. Chili Verde-3rd Maud Swick Bakersfield, 2nd Barbara Ward Rosamond, 1st Mike Ford La Mirada. Salsa-3rd Troy Leach Ventura, 2nd Charlie Blosfield Mira Loma, 1st Sylvia Rasey Santa Paula. People's Choice-Troy Leach Ventura.
Enlarge Photo
By Gazette Staff Writer — Wednesday, July 11th, 2012
Part 1
By Gazette Staff Writer — Wednesday, July 11th, 2012
Part 2
By Gazette Staff Writer — Wednesday, July 11th, 2012
Part 3
By Gazette Staff Writer — Wednesday, July 11th, 2012
By Santa Paula Police Department — Tuesday, July 10th, 2012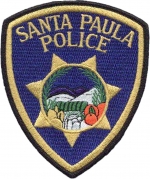 Santa Paula Police Department
On Monday, July 09, 2012, at approximately 4:22 p.m. Santa Paula Police Officers responded to a reported shooting in the 700 blk. of W. Harvard Blvd. Upon arrival, officers located evidence that a residence in the area had been struck by gunfire. No injuries were reported to officers. There is no suspect information. Santa Paula Police Detectives responded to the scene and are actively investigating the incident. Anyone with information regarding this incident is asked to contact Detective Paul Spencer at (805) 525-4474 Ext. 221.
Ryan Smith # 1021
Police Sergeant
By Ventura County Sheriff Department — Tuesday, July 3rd, 2012
Illegal Fireworks Hotline (805) 524-1500 ext. 350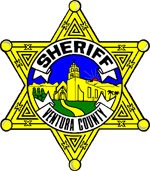 Ventura County Sheriff's Department
The Fillmore Police and Fire Departments want to ensure the citizens of Fillmore enjoy a safe Fourth of July week. Citizens are reminded that "Safe & Sane" fireworks sold in Fillmore are legal between June 28th, 12:00pm – July 5th , 12:00pm. The use of any non-approved "Safe and Sane" fireworks that explode or launch into the air are Illegal and will result in criminal charges and/or a $1,100 fine. If you witness any illegal activity please report it. An anonymous tip line has been setup to report violators. Please call 805-524-1500 ext. 350 to report illegal activity.
Below are several safety tips to insure you and your family enjoy a safe Independence Day Celebration.
• If you witness a crime or fire in progress involving illegal fireworks, call your local authorities by dialing 9-1-1.
• Only Safe and Sane fireworks bearing the seal of the State Fire Marshal are legal in the city of Fillmore. All other fireworks, including altered Safe and Sane fireworks and those that explode or leave the ground are illegal.
• Kids should not play with fireworks. Fireworks are intended for use by adults in open spaces with plenty of active supervision for every child present.
• Always have a bucket of water on hand to dispose of fireworks and a hose connected to water ready in case of fire.
• Fireworks, including sparklers and flares, can cause serious burns as well as blast injuries that can permanently impair vision and hearing. Teach your children what to do if their clothing catches on fire — "stop, drop and roll" — and how to call 9-1-1 in an emergency.
Nature of Incident: 4th of July Illegal Fireworks Enforcement and Safety
Report Number: N/A
Location: City of Fillmore
Date & Time: June 28, 2012 – July 5, 2012
Unit Responsible: Fillmore Police and Fire Departments
Deputy Preparing Media Release: Sgt. Anthony Aguirre
Media Release Date: June 27, 2012
Follow-Up Contact: Sgt. Anthony Aguirre (805) 524-2235
Anthony.Aguirre@ventura.org
Approved by: Captain Monica McGrath
Ventura County Crime Stoppers will pay up to $1,000 reward for information, which leads to the arrest and criminal complaint against the person(s) responsible for this crime. The caller may remain anonymous. The call is not recorded. Call Crime Stoppers at 800-222-TIPS (8477).
By Gazette Staff Writer — Tuesday, July 3rd, 2012
Freedom Pancake Breakfast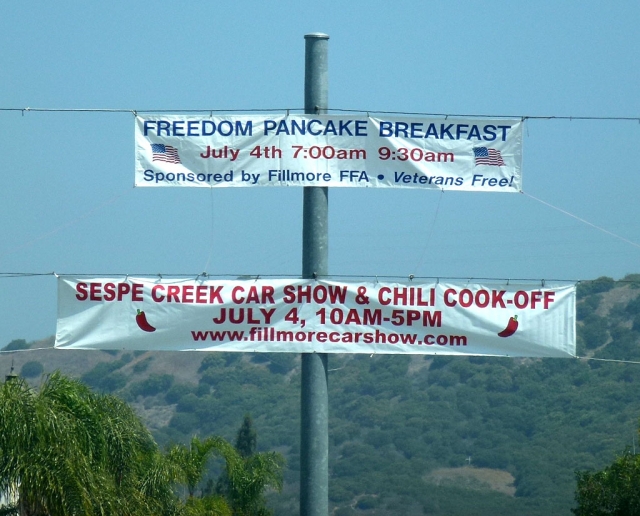 As you turn on to Central you will notice two big banners. For the 4th of July holiday you can enjoy the Freedom Pancake Breakfast and the Sespe Creek Car Show and Chili Cook-off.
Enlarge Photo
By Gazette Staff Writer — Tuesday, July 3rd, 2012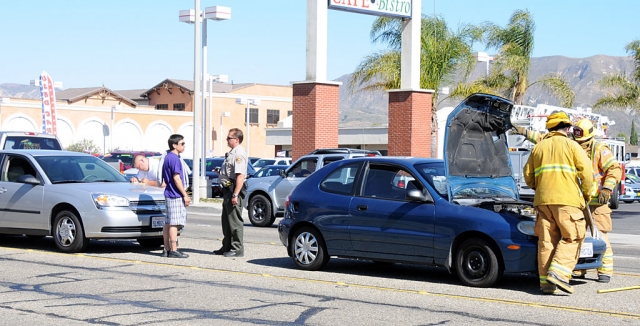 Over the weekend an accident occurred on Highway 126 across from Morris Chevrolet. During the past 30 days a rash of traffic accidents have taken place on Highway 126 between Central Avenue and C Street. No report on any injuries for this accident was available at press time.
Enlarge Photo
By Gazette Staff Writer — Tuesday, July 3rd, 2012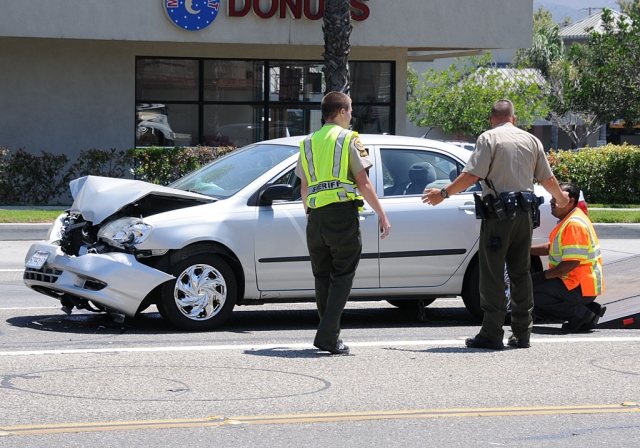 A traffic accident occurred Monday at approximately 2 p.m. on Ventura Street across from Starbucks. The second vehicle was removed from the scene prior to this photo.
Enlarge Photo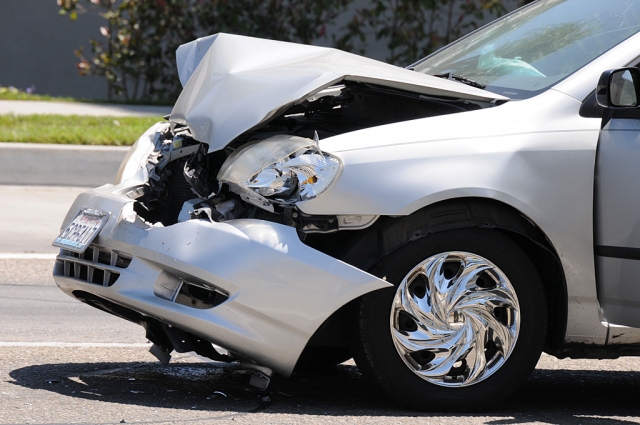 No record of any injuries was available.
Enlarge Photo
By Gazette Staff Writer — Monday, July 2nd, 2012
By Santa Paula Police Department — Monday, July 2nd, 2012
Police seek information from public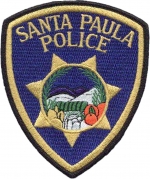 Santa Paula Police Department
On June 29th 2012, at approximately 2345 hours, Santa Paula Police Officers while on patrol in a marked black and white police vehicle in the area of Harvard Blvd and Olive St. attempted to contact a subject who was crossing the intersection S/B against a red light and impeding traffic. The Officers had pulled over into the entrance of the shopping center to contact the suspect when suddenly for no apparent reason and disregard for public safety, the suspect turned to face the officers holding a handgun in his hand. The suspect then proceeded to fire an unknown amount of rounds at the officers. The passenger officer immediately took cover while the driver officer returned fire striking the suspect once in his left hand. The injury was not life threatening. Additionally, one of the rounds fired by the suspect struck the rear quarter panel of the Police unit.
After the shooting, the suspect fled the area and a perimeter was set up to search for the suspect. With the assistance of Ventura Police Department, Ventura Sheriff's Department, California Fish & Game, California Highway Patrol and the Ventura County Sheriff's Helicopter, the suspect was located hiding in an apartment unit entrance alcove.
Once the suspect was identified, it was found out that the suspect is currently on probation with active outstanding warrants for weapon violations. He is classified and documented as a gang member out of Santa Paula.
The officers involved were not injured. The investigation is continuing at this time. Anyone who may have witnessed this incident are urged to call Santa Paula Police. 525-4474
By Gazette Staff Writer — Wednesday, June 27th, 2012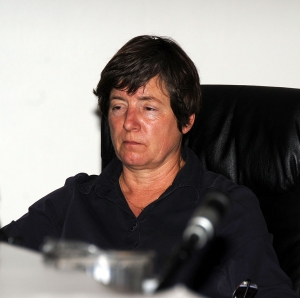 Fillmore's City Manager is determined by the council majority to be a hard worker.
[The Gazette's city reporter is absent]
MEETING SUMMARY
Last night's city council should be remembered more for its public comment than for approval the city budget items.
Fillmore resident Joan Archer addressed the council, saying that her questions from the previous week's special meeting were not answered. She reiterated her questions regarding the need for specific information to determine whether the releasing of city employees and hiring of temporary and contract replacements was economically feasible. The council majority had quickly come to the defense of City Manager Yvonne Quiring, stating that she was a very hard-working person. Archer reminded council that she certainly believed Ms. Quiring worked very hard at her job, but that was not the question she had asked.
Former resident and mayor Patti Walker read a prepared statement which condemned the Fillmore Gazette, Councilman Steve Conaway, former mayor Evaristo Barajas, former city manager Roy Payne, former city engineer Bert Rapp, and all former council members who had anything to do with city projects and budgets for the past 10 years or so. Mismanagement was the theme of her remarks. Mismanagement, according to Walker, is what has brought Fillmore to the brink of bankruptcy.
Central to Ms. Walker's comments was the question "Where did all the city money go?" According to Walker it went largely into a water treatment plant that was too expensive, and other public projects which the city could not afford. Coupled with a housing market collapse, the loss of Redevelopment money, and dwindling tax receipts (particularly the Owens & Minor tax lawsuit expense) she claimed previous councils had overspent. She also accused the Gazette of inaccurate reporting.
Councilman Conaway, who was away on vacation, could not respond. The other four council members side with Walker.
Highlights Video

By Gazette Staff Writer — Wednesday, June 27th, 2012
C Street and Highway 126
By Gazette Staff Writer — Wednesday, June 27th, 2012
3rd Street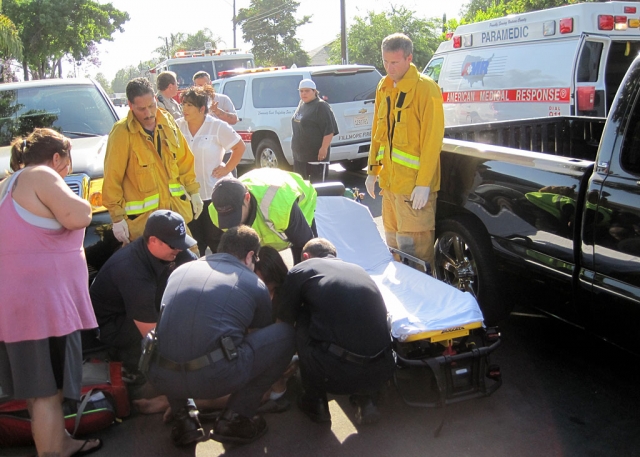 Fillmore Fire Department, Ventura County Sherriff Department and AMR Ambulance responded to a Traffic Collision on the 700 block of 3rd Street. Fillmore Fire and AMR personnel treated and transported a teenage girl who was struck by a pickup truck traveling east bound on 3rd Street.
Enlarge Photo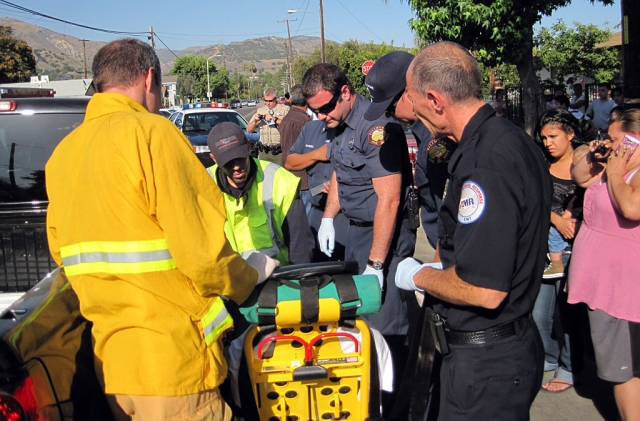 Patient was transported to Ventura County Medical Center with a fractured leg. Unknown of any other injuries. Photos courtesy Rigo Landeros, Fire Chief.
Enlarge Photo
By Gazette Staff Writer — Tuesday, June 26th, 2012
Police seek information from public
On Sunday June 24th, 2012, at approximately 5:03am officers responded to the Texaco Gas Station located at 206 E. Harvard Blvd. for the report of an armed robbery. The suspect entered the business brandishing a knife and demanded money. An unknown amount of money was taken and the suspect fled east through the parking lot. The suspect was described as a male subject, thin build, approximate 5-11, wearing unknown clothing. The area was checked by officers from the Santa Paula Police Department as well as K-9 deputies from the Ventura County Sheriffs Department. However they did not located the suspect. At this time the investigation is ongoing.
If you have any information regarding this incident, please contact Detective Paul Spencer at 805-525-4474 Ext 221.
Cody Madison
Sergeant
By Gazette Staff Writer — Tuesday, June 26th, 2012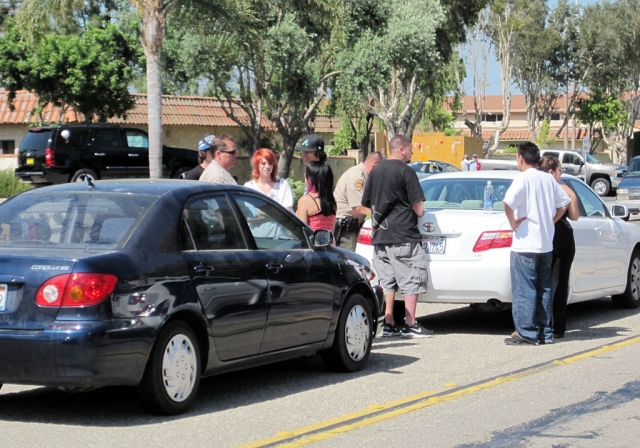 On Saturday June 23rd Fillmore Fire Department and Ventura County Sheriff's Department responded to a traffic collision on the 900 block of Ventura St. This was a two vehicle accident with minor injuries.
Enlarge Photo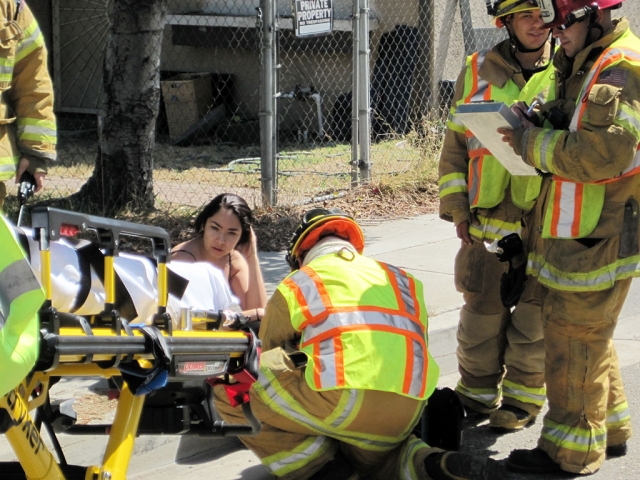 One pregnant female was transported to Santa Paula to be check out for any complications. No other injuries were reported. Photo's courtesy Rigo Landeros, Fire Chief, City of Fillmore Fire Dept.
Enlarge Photo

Photos (l-r) Former Mayor Evaristo Barajas told the council that city finances were healthy when they took over. Councilman Jamey Brooks has a habit of blaming past councils for this council's inept decisions.; City Manager Yvonne Quiring tries to explain the city deficit by using a pennies-in-a-jar demonstration.; Mayor Gayle Washburn had little reaction to Citizen Steve Conaway's rebuke for her action in telling the city attorney he could no longer attend meetings.
Enlarge Photo
By Gazette Staff Writer — Wednesday, June 20th, 2012
Unprecedented Action Sparks Condemnation from Conaway
Meeting Highlights Video

Complete meeting video

What began as a normal city council meeting, Tuesday, quickly exploded into verbal fireworks from Steve Conaway, a seven-plus year councilman, as he condemned Mayor Washburn for her unprecedented conduct.
Last Monday Washburn called the city attorney's office, informing a member of that firm that Fillmore's City Attorney, Ted Schneider, was no longer to attend any city meetings. It is alleged that her justification for banning Schneider was based on accusations that he has had a relationship with a former city employee.
Conaway expressed outrage with this action, stating that neither the Mayor nor the City Manager, Yvonne Quiring, had any business taking such action, implying a lack of authority to do so. Conaway said it was nothing less than "a personal vendetta being executed" against Schneider, and that "an individual's personal life is none of your business."
Quiring was silent. Washburn CONTINUED »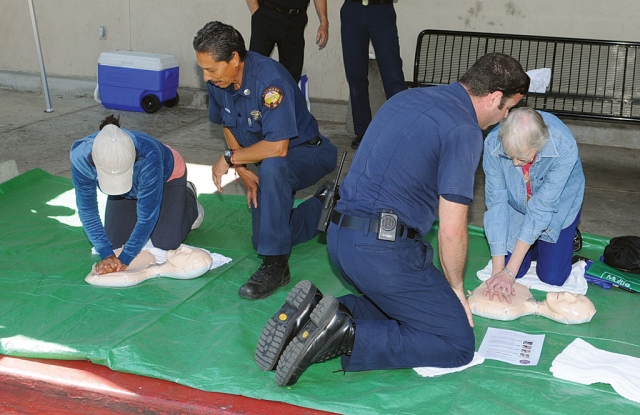 Outside of Vons Supermarket Captain Al Huerta, along with a team member, shows citizens how to perform the new "Hands-Only" CPR.
Enlarge Photo
By Gazette Staff Writer — Wednesday, June 20th, 2012
On Thursday, June 7th, the Ventura County Emergency Medical Services Agency partnered with the American Heart Association to coordinate a county-wide CPR program. This service was free to the public and was held in various locations across Southern California, Including Fillmore, with the goal of increasing the number of lifesavers in the community. Emergency healthcare providers, such as fire departments, ambulance companies, hospitals - Ventura County Medical Center, Santa Paula Hospital, Los Robles Hospital, Community Memorial Hospital and St. John's Hospital — and education programs went out into the community to teach residents how to save a life with "Hands-Only" CPR.
CPR instructors were on hand to demonstrate the basics and proper techniques of "Hands-Only" CPR, and participants had the opportunity to practice on mannequins. The training did not result in CPR certification.
Cardiac arrests are more common than you think, and can happen to anyone at any time. Nearly 300,000 out-of-hospital sudden cardiac arrests occur annually and only 32 percent of cardiac arrest victims get CPR from a lay person. Failure to act in a cardiac emergency can lead to unnecessary deaths. In fact, less than eight percent of people who suffer cardiac arrest outside the hospital survive. On the other hand, effective bystander CPR provided immediately after sudden cardiac arrest can double or triple a victim's chance of survival. In 2011, Ventura County responded to 440 cardiac arrests; only 30% had bystander CPR in progress. Of those, only 14% went home neurologically intact.
Sadly, 70 percent CONTINUED »
By Gazette Staff Writer — Wednesday, June 20th, 2012
Story Courtesy goventura.org
VISTA bus riders may soon encounter some service disruption arising from recent bankruptcy proceedings associated with service contractor CUSA. "Within the past two days, representatives from CUSA which operates our popular VISTA inter-community bus service informed the Commission that it intends to halt operations on or about June 30, 2012 due to bankruptcy sale of assets. We clearly understand the negative impact which this action may have on our valued VISTA customers, and VCTC staff is working actively to identify a safe and quality solution", noted Darren Kettle, VCTC Executive Director.
Any possible disruption in CUSA operations would not have an impact on VISTA dial-a-ride services in the Heritage Valley (Santa Paula, Fillmore, and Piru); nor on any of Ventura County's other public transit providers: Ojai Trolley, Moorpark City Transit, Gold Coast Transit, Thousand Oaks Transit, Camarillo Area Transit, and Simi Valley Transit. About 1,500 passengers are served daily through VISTA.
VCTC will continue to honor all Go Ventura bus pass cards on the VISTA inter-community bus service through June 30, 2012. Go Ventura bus pass products will continue to be honored on other participating public transit providers throughout Ventura County, including VISTA dial-a-ride services in the Heritage Valley (Santa Paula, Fillmore and Piru).
New sale and CONTINUED »
By Gazette Staff Writer — Wednesday, June 20th, 2012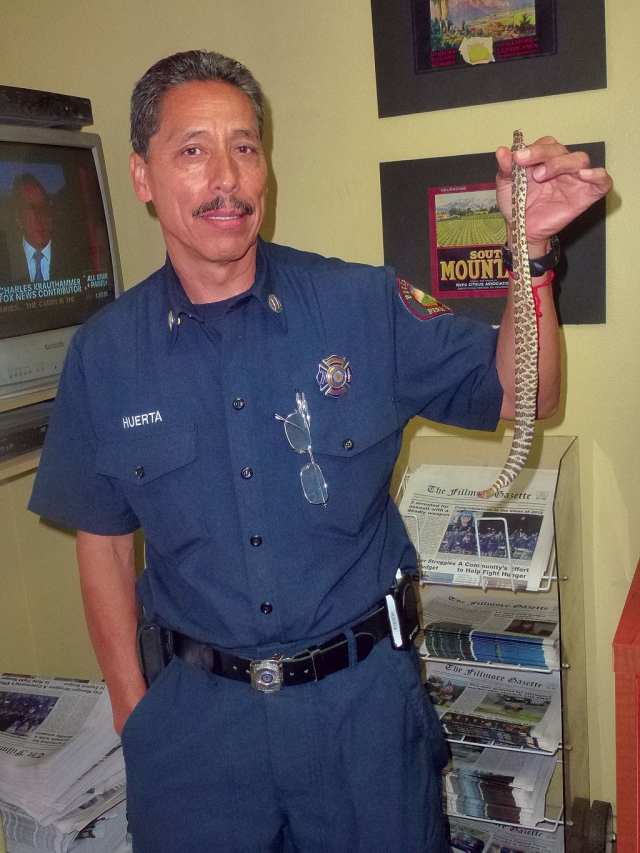 Captain Al Huerta brought a 3-year old Rattlesnake into the Gazette on Monday. The snake was found by a gardener off of Goodenough Road. This is a good reminder to be careful when you are doing yardwork.
Enlarge Photo