By Gazette Staff Writer — Wednesday, September 2nd, 2009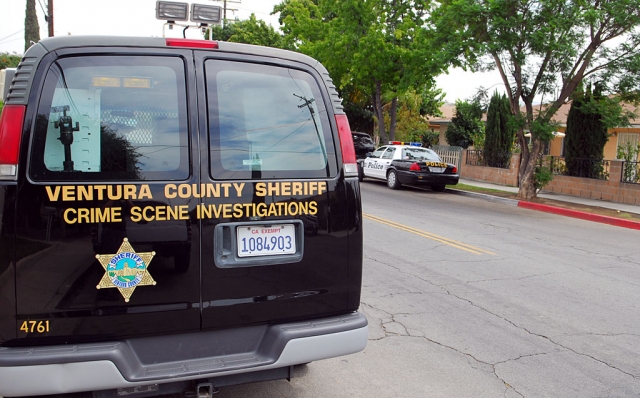 Fillmore Police are investigating the circumstances that lead to a Fillmore man being stabbed on Friday August 28th at about 10:15 a.m. The victim, Jose Murillo, 20 years, suffered a punctured lung and was taken to Santa Paula Hospital. He was listed in serious condition. The case is under investigation and appears to be an incident of domestic violence. A female juvenile suspect has been identified as the suspect and is in custody for the crime.
Enlarge Photo
By Gazette Staff Writer — Wednesday, September 2nd, 2009
On Wednesday, September 9, United Water Conservation District will begin its annual fall release of water held behind Santa Felicia Dam in Lake Piru.
The release is expected to last 50 days through about October 29, but the period may be adjusted depending upon weather. During this 50-day period 21,000 acre-feet will flow down Piru Creek to the Santa Clara River -an acre-foot represents the amount of water sufficient to cover an acre of land to a depth of one foot and is the amount generally used by two average households in one year--. Approximately half of the water will recharge the Piru, Fillmore and Santa Paula Groundwater Basins as the water moves down the river to the Freeman Diversion at Saticoy.
The other half of the water will be delivered directly to agriculture on the Oxnard Plain and will help to prevent groundwater pumping from overdrafted coastal aquifers. This irrigation water will be provided during a period of high demand, since it is during October that a large share of strawberry seedlings are planted.
As a result of the release the amount of water stored in Lake Piru will drop from 41,000 acrefeet down to minimum pool at CONTINUED »
By Gazette Staff Writer — Wednesday, September 2nd, 2009
08/19/09-09/26/09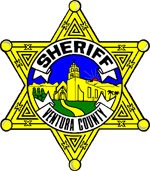 Ventura County Sheriff's Department
VANDALISM
08/19/09
646 Block Lemon Way
08/22/09
700 Block Edison Lane
08/23/09
Fillmore St. / Main St.
08/23/09
500 Block Mt. View St.
THREATS-VERBAL/WRITTEN
08/19/09
900 Block Ventura St.
08/20/09
700 Block 3rd Street
HIT & RUN/NON-INJURY
08/20/09
900 Block Ventura St.
08/20/09
A St. / Ventura St. CONTINUED »
By Gazette Staff Writer — Wednesday, September 2nd, 2009
By Gazette Staff Writer — Wednesday, September 2nd, 2009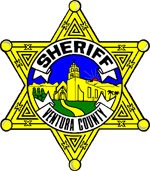 Ventura County Sheriff's Department
211 P.C. Armed Robbery
Location: ARCO Station 3907 E. Telegraph Road, Piru
Date & Time: August 30, 2009, 11:55 p.m.
Unit Responsible: Santa Clara Valley Patrol Station
Shortly before midnight, on August 30, 2009, what witnesses described as a male, Hispanic, bald, thick mustache; wearing a gray hooded sweatshirt, dark pants, white tennis shoes and blue motorcycle gloves, entered the ARCO station in Piru.
The suspect selected a couple of beverages from a refrigerator and walked up to the cash register. At this time, all of the other customers that were in the store had left and no one was in the store but the suspect and an employee. The suspect brandished a pistol and told the employee to put the money from the cash register into a bag.
The employee did as the suspect ordered and the suspect left the area of the station on foot.
Ventura County Crime Stoppers will pay up to a $1,000.00 reward for information, which leads to the arrest and criminal complaint against the person(s) responsible for this crime. The caller may remain anonymous. The call is not recorded. Call Crime Stoppers at (800) 222-TIPS (8477).
By Gazette Staff Writer — Monday, August 31st, 2009
By Gazette Staff Writer — Thursday, August 27th, 2009
Tuesday evening, August 25, in Executive Session, Fillmore City Council voted 5-0 to offer the position of Fillmore City Manager to Yvonne Quiring, of Lathrop, CA. An agenda notice was posted on the city's website Wednesday morning announcing an open forum meeting, according to Councilmember Laurie Hernandez. Hernandez stated that the position was offered to Quiring, and she accepted, pending salary and benefit discussion at the Friday meeting. Quiring will be offered a standard International City Managers Association contract "revised to fit our city government," stated Hernandez.
Quiring has 22 years experience in municipal government, including 17 years in Fresno, two years in Stockton, and three years in Lathrop, as Assistant City Manager from April 2005 to January 2007, and City Manager from June 2007 to October 31, 2008, when council accepted her offer of resignation, with a 3-2 vote. Quiring's run as Lathrop City Manager was not always a smooth one. In February 2008, the Service Employees International Union, Local 1021, sent a letter to the city voicing displeasure with Quiring and the management staff of the Community Development Department.
The public is welcome to attend the public meeting at Fillmore City Hall chambers, 2 p.m., Friday, August 28th.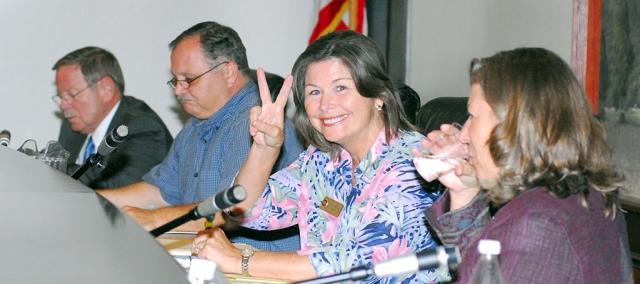 V for Victory. Mayor Pro-tem Gayle Washburn shows her satisfaction at the city budget's passing, 3-2, Tuesday night. Councilmember's Steve Conaway and Laurie Hernandez voted to postpone adopting the budget until next meeting, to give the public more than one day to review it. It was posted online Monday, August 24. Interim City Manager Larry Pennell appeared upset at Conaway and Hernandez' comments to delay the budget approval.
Enlarge Photo
By Mariandrea Mueller — Wednesday, August 26th, 2009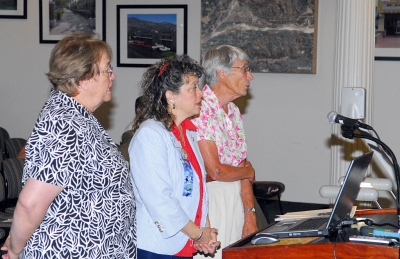 Soroptimist International of Fillmore (represented by Sarah Hansen, Lynn Edmonds, and President Oralia Herrera) requested permission to install a Peace Pole in Central Park.
Enlarge Photo
The Fillmore City Council Meeting on Tuesday, August 25th was long and controversial. The City budget, the RDA budget, and a raise for one City employee were all approved by votes of three against two. Public awareness of and input into Council actions was discussed extensively. The Council held a closed executive session regarding an alleged violation of the Brown Act due to "spoke and hub" meetings. Council Member Steve Conaway urged the Council to postpone adopting the budget because the latest version had been drafted on Monday, and he believed the Council and public needed more time to absorb the changes. More changes to the budget were requested during the Council meeting. The Council also approved some less controversial matters, including the Heritage Valley Tourism Bureau lease, Pole Creek bike path development, appointments to the Parks Commission, and a Peace Pole.
The Council narrowly approved the Budget. Financial Consultant John Wooner, who developed the Budget in cooperation with Pennell and City Staff, used all of his contracted hours, and graciously donated his time at the end of the process. The latest updates were made on Monday afternoon, August 24th, and the Budget is available online at www.fillmoreca.com
Transitional City Manager Larry Pennell summarized the allocations. The City's budget is $56.8 million, which includes $23 million in CONTINUED »
By Gazette Staff Writer — Wednesday, August 26th, 2009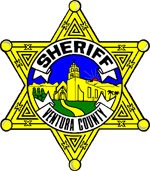 Ventura County Sheriff's Department
08/10/09 – 08/18/09
Thursday – 08/13/09 - Fillmore -S092250795- Elder Abuse- 400 Block Blaine: Frank Lozano 21 yrs, had battered his Grandparents. Lozano was arrested for 368 and 591.
Saturday – 08/22/09 - 0935 am - Saratoga Street and Main Street. Senior Deputy Hendren and Deputy Brown contacted four subjects in the park and arrested 52 year old Bobby Buckman for fugitive parole violation PC 3056 / 242 PC.
Saturday – 08/22/09 - 618pm hrs: Fillmore, call slip S092340532, suspicious subject Stop, 827 Ventura (Best Western): Officer Rodriguez observed a 17 year old female, walking away from a parked vehicle that did not have plates. Deputy Rodriguez became suspicious and contacted the female. The car was stolen and she was arrested. When Deputies went to retrieve property from her motel room a suspect named Joseph Cook 22yrs, fled by breaking and jumping out a second story window. He was chased by our fast running Fillmore Deputies, caught and determined to be wanted as a fugitive for State parole violations.
Friday - 08/21/09 - 418pm : FILLMORE - Arrest / CONTINUED »
By Gazette Staff Writer — Wednesday, August 26th, 2009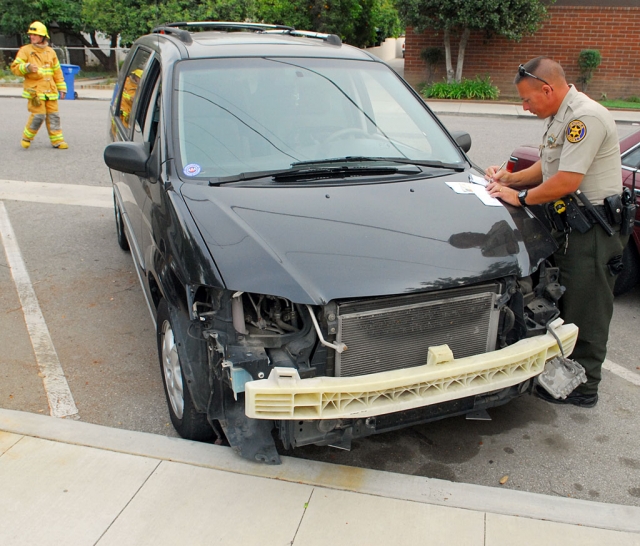 A collision occured between a 2004 Mazda MPV driven by Louise Garcia, 66 of Fillmore, and a Dodge Ram pickup driven by a juvenile, 17, also of Fillmore.
Enlarge Photo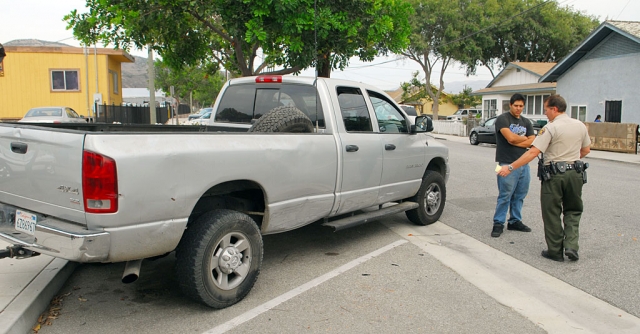 Both vehicles were westbound on Santa Clara Street near Clay Street, Friday at approximately 4:30 p.m. Reports allege that Garcia attempted a U-turn to park her car and struck the pickup broadside. No serious injuries were reported.
Enlarge Photo
By Gazette Staff Writer — Wednesday, August 26th, 2009
Recently the County of Ventura Fire Department joined with the "For The Troops Program" to send care packages overseas to United States Armed Forces serving in Iraq and Afghanistan. For the Troops is an organization based in Simi Valley that accepts donations and assembles care packages for our troops serving in Iraq and Afghanistan. The care packages are sent year round to our front line troops in Iraq and Afghanistan. These care packages contain much requested items such as snack items, batteries, DVDs, CDs, magazines, personal care items and letters of appreciation from children and adults.
For The Troops have placed collection boxes at all the County of Ventura Fire Department stations and are asking the public to participate in the program by stopping by a local County of Ventura Fire Station in their community and donating items that are needed for the care packages. If any family member has someone serving in Iraq or Afghanistan, For The Troops will send a special package to them upon request. The family member can write, e-mail, or call For The Troops with the address of their serving military family member: For The Troops, P. O. Box 630103, Simi Valley, CA 93063. E-mail: USA@ForTheTroops.us, or visit their Website: www.ForTheTroops.us. For The Troops can also be reached by contacting: Paula Cornell (805) 306-0830, or Janie Josephson (818) 640-3846.
Items needed are: Baby Wipes, AA and AAA Batteries, CONTINUED »
Parents and families are welcome to visit the FMS Parent Center, to visit classrooms, or to stop by with lunch.
Enlarge Photo
By Tricia Godfrey — Wednesday, August 26th, 2009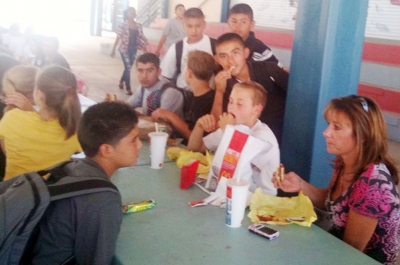 FMS students eating and enjoying lunch together after a long summer!
Enlarge Photo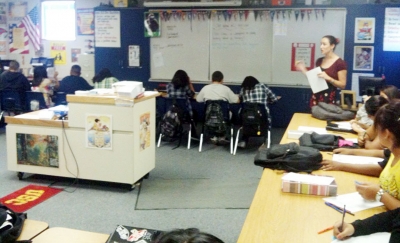 Ms. Lindemann guides her new FMS students through the 8th Grade American History curriculum.
Enlarge Photo
Fillmore Middle School reported an "amazing, smooth start" from the first day of school and through the rest of the week. All staff gave warm welcomes to new and returning students and 6th graders learned what they needed to know to be "Bulldogs" for the next three years. Teachers and staff brought all students to grade-level assemblies to learn and be reminded of the school's top three priorities: a primary focus on safety; learning that meets the needs of each student, and love for our school..which means always taking care of each other.
FMS staff is pleased and proud to be implementing a strategic, three-tiered plan to continually improve efforts to meet all students' needs. Due to a combination of after school visitations by teams of staff members, in-service trainings, collaboration among staff, District Office support, Ventura County Office of Education support, and teachers volunteering their time last year and this summer, every adult on the FMS campus will now be a part of the daily effort to implement a much-refined version "Advisory Period." This effort to tailor interventions and enrichments to the needs of each student has been researched and built as a true Response to Intervention (RtI) Model. As a solution to the lack of funding that challenges all schools, this FMS Advisory period is built right into the school day. Students will be asked to schedule appointments and mid-day pick-ups around this valuable time, in an effort to get the greatest results for everyone.
Family and community members are encouraged to come visit FMS and see what's new. Karaoke Fridays, Assemblies, Back to School Night on September 10th, lunch with your student, or a walk through of FMS classrooms with an administrator, counselor, or teacher are all ways to get to know your school better.All are welcome to come by and see how many ways FMS students are winning this year.
By Gazette Staff Writer — Wednesday, August 26th, 2009
VFW POST 9637 wants you!
Call Commander Jim Rogers at 524-0202 for more information.
Let's remember those who stand guard on the front lines for this country. If you know of someone who is serving in the military, contact Dick Diaz at dickdiaz@roadrunner.com or call him at 524-5315. He will be glad to take your information and picture, and submit them to the Gazette.
Thank You for Your Service
US AIR FORCE
Airman Kailey Andrews
Airman First Class Bryana Casas
Senior Airman Michael Chavez
Airman First Class Jacob Collins
Second Lieutenant Chris Gurrola
Airman First Class Ryan Hackney
Senior Master Sergeant Michelle Hart
Staff Sergeant Pedro Rivera-Aparicio
US MARINE CORPS
Private Andrew Lochelt
1st Lieutenant Marcos A. Ruvalcaba
Corporal Steven Zanotti
Private Tabetha Solorio
Corporal Ray Alvarado-Ponce
US NAVY
MA3 Matthew R. Cobos
IT2 Phillip Diaz
EM1 William Foster
Petty Officer Second Class Branden D. Hadley
Chief Petty Officer Garrett Kendrick
Petty Officer First Class Joshua A. Mendez
STG2 Richard Schnitz
Yeoman Petty Officer 2nd Class Claudia Toledo, USN Active Reserves
US ARMY - RESERVE
Staff Sergeant Rudy Alcantar, US Army Active Reserve
PFC Juanita Altamirano, US Army Reserve
Sergeant Christopher Telly, US Army Active Reserve
US ARMY
Private First Class Josh Campos
Private First Class Nick Casas
Major William R. Edmonds
Sergeant Kevin Edwards
Specialist Michael Edwards
Private Joanathan "Jon" Gerlach
Staff Sgt. Alfredo Hurtado Jr.
Corporal Jesus T. Lomeli
Private First Class Eleazar Lopez
(WO1) David Warnock-Ortiz
Private First Class George T. Poppic
Private First Class Joseph Ponce
Lieutenant Colonel Gordon Richardson
Sergeant JT Stone
Private Jeremy Taylor
Specialist Mark Thompson
Staff Sergeant Kevin Vest
Sergeant First Class Gilbert Zavala
Sergeant Christopher Telli, US Army Active Reserve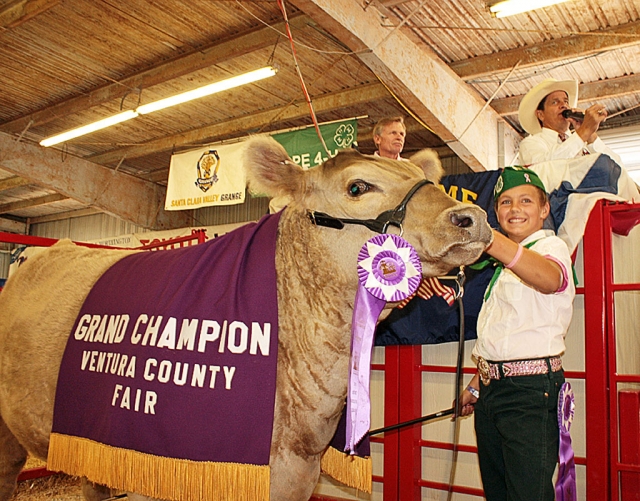 Macie Wokal with Grand Champion Replacement Heifer "Juliette".
Enlarge Photo
By Bob Crum — Wednesday, August 19th, 2009
Story and Photos by Bob Crum
Though the tasks may on first blush seem daunting... not one youngster expressed any regrets or complained one iota. Refreshing!
The chores... those persistent chores. Yet their optimism is as bright as the rising sun in the morning with which the youngsters also rise... to attend to the animal of choice they decided to raise from infancy.
As anyone who happens to be the provider of the family dog knows... the animal's existence is dependent of daily feedings. And then there are the morning... and/or evening walks... and sometimes frequent baths depending on any given animal's activities.
The family poodle may be the perfect excuse to get some valuable exercise (a lively stroll) that may not be obtained otherwise. However, the 4-H'ers and FFA'ers (Future Farmers of America) don't raise farm animals for exercise. Nosireebob... most of their motivation is the Junior Livestock Auction held annually at the Ventura County Fair. Oh... and of course... there's that one little extra thing that puts a sparkle in their eyes and a big smile on their face and that's the... ahem... auction proceeds.
But first... there's the judging... which is a phenomenon beyond comprehension. Look at the many steers tethered in their respective stalls and from this perspective... they all look magnificent. Same for over 200 swine, many goats, etc. all spiffy and dapper. What is that one quality that determines a Grand Champion, or Reserve Grand Champion? What experience or training enables an animal judge to discern that special quality? Perhaps might as well ask why we can't see gravity.
However the judging happens... there's no mistaking that ribbon winners command auction proceeds that often defy understanding. But it's not about bidding 'fair market' value for any particular animal. Most often... many companies... and family's... budget financial resources all year expressly for the purpose of bidding far, far more than mere 'market value' at the junior livestock auction. All are fully aware that those monies are not just buying meat for the freezer... for the most part... they are enhancing a youngster's college fund. (Many animals bought at auction are gifted to Food Share or the charity of the buyer's choice.)
As you discover what amount of money some of the youngsters received for their respective animals... it must be remembered... as with any business... there are expenses that accompany the project. First, the purchase of the animal to raise. And depending on the animal, feed costs can be substantial. And if needed, veterinary services. It's only the "net" proceeds that can be applied to the college fund... or savings account or considered spendable money.
And now... the 2009 Fillmore/Piru "ribbon" winners at the Ventura County Fair are: Rachel Lucio, Sespe 4-H, Fillmore, 4-H Reserve Champion swine, Gabriel Cueva, Santa Clara Valley Grange, Grange Champion/Bred & Fed Swine; Macie Wokal, Sespe 4-H, Fillmore; Grand Champion Replacement Heifer; Aaron Largen, Fillmore FFA, FFA Grand Champion Market Steer, Reserve Grand Champion market steer; Autumn Inglis, Santa Clara Valley Grange, Piru; Grand Champion Turkey, Reserve Grand Champion Market Goat.
Rachel Lucio, 13 years of age, accomplished something of a rarity. The 4-H Reserve Champion pig that she raised was her first entry at the Fair. It's not often that first timers win such an award. Rachel's surprise is an understatement.
Why raise a pig in the first place? "Because I don't relate to other animals... I like barn animals better." Regarding her experience, Rachel said "she (the pig) was a lot of fun... easier to raise than I expected." However, before anyone thinks raising a pig is a cake walk... rethink. For instance... as Rachel explained... her pig was often very stubborn... only doing what it wanted to do. Furthermore... pigs can get a little... um... piggy. As in eat too much. Weigh-ins were every Monday Rachel said. Her pig weighed in at 256 pounds. That's a good weight. Over 280 pounds - which is easy for a 'piggy' pig to attain - is overweight, and less desirable in the auction ring Rachel explained. Thus, at a certain weight, nutrition has to be carefully calculated and administered. And what do you suppose that her pig likes very much? Cake mix! Perhaps Rachel was right... raising her pig was easy... a cake walk... so to speak. And as might be expected... Rachel plans to raise another pig next year.
At the auction, Rachel's pig fetched $5.75 a pound. Her plans for the money? First, payback mom for money advanced and... save the rest for culinary school. Rachel aspires to be a pastry chef.
Gabriel Cueva's Grange Champion/Bred & Fed 236 pound pig winning bid was $5.00 per pound. And now... from the looks of things... winning the first time entering is less of a rarity. In his own words, "I was thinking that I'd probably get, like, one of the last places being my first year but winning champion was a big surprise."
Why raise a pig? "Because", Gabriel explained, I thought it'd be a good experience and that it'd be fun and it was." Why not a steer? "Because I know people that raised pigs and that it'd be easier because they could walk me through it... help me. I don't know anybody that raises other animals."
In the early stages... Gabriel's little pig – named Pork Butt – needed to gain weight so he simply free-fed it... allowed it to eat as much as it wanted. And as the poundage increased... he then had to introduce oats into the diet. As Gabriel explained, "the oats fill them up so they don't eat as much. It appears that the weight issue is bigger then the pigs themselves.
What surprised Gabriel about his project? "Well," said Gabriel, "they don't really make that 'oink' noise... they scream. (Note: reason #1 best not to live next to a pig farm!) And they don't really run from from people... but like dogs... they come to you and like to be petted." And the only other surprise Gabriel mentioned was a stinky back yard. (Reason #2.) Next year... yep... Gabriel is planning to raise another pig and stink up the back yard again. With the intention of winning Grand Champion next. Nothing less... of course! As for this year's auction proceeds... Gabriel would only say that he's working on what to do with it.
Aaron Largen is on a roll. Last year his first entry in the Fair won him Grand Champion Market Steer. This year he wins FFA Grand Champion and overall Reserve Grand Champion. Who wouldn't like to know his secret? Any surprises for Aaron? "Yes," said Aaron, winning Reserve Grand Champion because I didn't think I could do it again." So much for rarities. However, it is nonetheless a remarkable feat considering... as Aaron commented... there are a lot of nice market steers this year. As for that particular quality that makes a particular steer a champion, Aaron agrees with this writer, saying, "I can't really tell them apart."
Perhaps the one trait of Jack – the steer – that set him apart from the herd... so to speak... is that he frequently acted like a dog... following Aaron around in the pasture. That's it! To get the judge's attention, Jack barked – instead of mooed – at the judge. What a nifty ploy! Well, so much for secrets.
The winning bid for Aaron's 1,297 pound Reserve Grand Champion market steer was $7.50 per pound (you do the math)... less expenses. And his intentions for the proceeds? College fund. Aaron also aspires to become a veterinarian. Wonder how many veterinarians come from the 4-H and FFA programs? Seems like a lot.
With her third entry in the Fair... Macie Wokal's 1,343 pound Replacement Heifer won Grand Champion. Last year her Replacement Heifer won 4-H Reserve Grand Champion Replacement Heifer. There isn't room here to discuss it but it appears a sure bet that there's an underlying theme to these amazing feats of back-to-back winners. Could it be that these kids have discovered how to teach these pasture behemoths to bark like a dog?
Macie's heifer is named Julliette. Ask why. Because the steer her sister raised is named... guess what? Right... Romeo. Surprise! What about next year? "May not raise one next year," said Macie. So... you're going to retire, I said. "No," Macie quickly said adding... "my mom wants to take a year off." (Later, Macie's mother, Aileen, said we were thinking about taking a year off because not only have we been doing this for fifteen years with Macie's older siblings but also waiting to see what the auction brings. Asked if it was expensive to raise such an animal her reply: very expensive! After hearing of the winning bid, $4,200, she's more optimistic that Macie might get to raise another heifer.)
As for the not-too-far-into-the-future plans, Macie's intention is to put profits into her college fund. Though she initially thought of becoming a veterinarian (surprise) from a very early age – like about eight – but now she's leaning towards becoming an ag (agriculture) teacher.
And big congratulations to petite, 9-year-old Autumn Inglis who won two ribbons – one for a Grand Champion Turkey and a ribbon for a Reserve Grand Champion Market goat. Sorry Butterball... but Autumn's turkey has your goat and her champion goat is no turkey!
While most young folks feel that they have enough to deal with raising one animal, the mighty Autumn takes on two. Naturally, one wonders how raising two animals went. "It was easy," quipped Autumn. How easy pray tell. "Very easy" was the immediate response. Obviously some have talents that are not readily apparent. But... later she did admit that it was easier to raise the goat than the turkey... the turkey frequently hid... the goat didn't. A new factoid.
And what about next year? "Raise another goat," said Autumn. And a turkey? "At first she said maybe... later said NO! OK... why not a turkey, a goat and a heifer everyone would like to know? "Talk to my mom about that", said Autumn. In the auction, her Grand Champion turkey brought $600 and her 109 pound goat $10 per pound for a total of $1,690. And the money? For now... stash it in a savings account said Autumn.
As in all competitions... there are the select few that win ribbons for whatever factors the judges deem significant. However, it must be said that every boy and girl that raises a farm animal is deserving of an award. If for nothing else... their dedication and commitment to raising and caring for the animal of their choice.
Lastly, kudos and three cheers to all the parents, teachers and 4H leaders. Without them... there simply is no learning experience for the youngsters. However, through their efforts and dedication they get the pleasure of witnessing the maturing of young people who subsequently become responsible, outstanding citizens of their community.
The Fillmore Gazette staff applauds every boy and girl who undertook raising a farm animal for market. You all do your community very proud.
By Wanda Castel de Oro — Wednesday, August 19th, 2009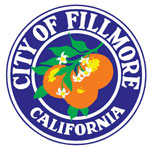 City of Fillmore
The lawsuit brought against the City of Fillmore over sales tax revenue has been dismissed. The cities of Livermore and Industry filed suit against Fillmore after a contract was signed with Owens & Minor, one of the nation's largest distributors of medical and hospital equipment.
The agreement allowed for a sales office to be established in Fillmore, with all California sales originating from that office. Fillmore agreed to give 85 percent of the tax money it collects under the agreement to an Illinois broker who arranged the deal, and the broker must give at least half of that portion back to Owens & Minor. Fillmore collects a 15 percent share of the local portion of the state sales taxes. The arrangement brings approximately $800,000 a year to the city in sales tax revenue. The 20-year contract was signed in 2007 and will be honored.
In June 2009, Gov. Arnold Schwarzenegger signed a law whereas no other city can make such a contract in California.
Livermore and City of Industry brought twelve causes of action against Fillmore charging fraud, RICO violations, Unjust Enrichment, Conversion, Business and Professions Code Violation, Conspiracy/Aiding and Abetting Conspiracy, and Federal civil rights violation, to name a few. CONTINUED »

Fillmore Unified School Board Meeting.
Enlarge Photo
By Gazette Staff Writer — Wednesday, August 19th, 2009
School Board Greets New Year
Tuesday night's Fillmore Unified School District Board Meeting was shorter than planned because there was no electricity to the District Office. A transformer, which had been damaged by fire earlier in the day, was being replaced during the meeting. Four agenda items were postponed because the staff was unable to prepare handouts or presentations due to the electrical outage: Resolution 09-10-01 for Approval Regarding Classified Lay Offs and Reductions, the Technology Update, a report on Sierra High School Modernization, and a report on STAR test results. Those items will be covered at the next Board Meeting on September 1, 2009. The Board discussed Monday's welcome back orientation for staff, and the upcoming year.
Katy Hadley, Assistant Superintendent of Educational Services, said that overall STAR test results were up at the schools. She noted that results at Piru, Sespe, and Fillmore High School (FHS) were good, and said Piru spiked in both Math and English. She said her upcoming report would provide more information.
The Board approved the 2009-2010 Salary Schedules, including an additional salary schedule for ROP teachers. Sweeney noted that the County reimburses the District for ROP salaries. The Board's discussion of the ROP salaries implied an increase.
The Board discussed the upcoming joint meeting with the City Council on September 29, 2009, at the FHS cafeteria. Upon being asked, Assistant Superintendent Mike Bush said that the City's running club, which will have access to the FHS all-weather track, starts September 1st. According to Bush, the City is still working out some minor coordination issues, but club runners will have access to the track on three weekdays, Saturday, and Sunday. Bush noted that club runners will be supervised by City employees and covered by City insurance.
The Board noted that the property containing the bus garage, near the corner of Fillmore Middle School (FMS), might be sold. One Step A La Vez, a community organization for youth, is interested in procuring grants to buy and maintain the property. Meetings are being held between the City, the District, and community leaders. CONTINUED »
By Gazette Staff Writer — Wednesday, August 19th, 2009
On August 25th, the City Council will consider adoption of its 2009-2010 budget. The State has indicated its intention to take Property Tax, Redevelopment Agency Funds and other revenues from the City. The City Council, the Interim City Manager, staff and financial consultant have spent many hours of effort in budget revisions and project deferments to try and balance the budget and still maintain services.
You can view the draft budget at www.fillmoreca.com/budget.htm or request a copy from the City Clerk's office.
The budget will guide the city in the next fiscal year. You may have comments or suggestions on the financing of the parks, theatre, library, streets and other infrastructure.
Community input and feedback are important—you are urged to contact your council members for more information. Also, the community is urged to attend the August 25th Council meeting if you would like to provide input.
By Gazette Staff Writer — Wednesday, August 19th, 2009
Frank Mutz surveys the fire damage to the kitchen of his building, formerly Diamond Dave's Café. On Monday, August 3, Frank and his wife Stacy were at Diamond Dave's Cafe in Fillmore, taking interior and exterior photos of the property at 454 Santa Clara Street that they lease to Dave Burns for his popular restaurant. They finished photographing the property and left, but returned 45 minutes later. And it's a good thing they did. A kitchen fire had ignited and the Mutz's were met with billows of smoke pouring out of the east kitchen windows. Frank ran inside, while Stacy called 911. He grabbed a fire extinguisher hanging in the kitchen, one of two on the premises. But the flames were already lapping up to the kitchen ceiling and pressured cans were starting to explode, forcing Frank out of the area. Fillmore Fire Department, and Ventura County and City Fire arrived within 15 minutes of the 911 call. It took two hours to extinguish the fire. "I want to thank the fire departments for treating it with such urgency," stated Frank. "They got it out pretty quickly, considering," added Stacy. The fire caused over $250,000 in damages, but that figure is not final until the insurance company makes its final determination, stated the couple. The fire was caused by large appliances plugged into an electrical outlet behind the stove. The overload caused an outlet arc fault which sparked the fire, according to Stacy and Frank.
The Mutz's have owned the building since 2004 and ran a restaurant out of it from 2004 to 2006, when the leased it to Burns. Frank and Stacy plan on reopening the business themselves. "We can't wait to get it reopened again for all our customers, and see all their friendly faces," said Stacy. "I miss them all and think about them often."
By Gazette Staff Writer — Wednesday, August 19th, 2009
A 25-year old woman was raped at a Lake Piru campground between 12 a.m. and 1:00 a.m. Sunday, August 16th. She was attacked near a restroom, and did not know her attacker before that night. The woman had been partying and drinking. The man fled after the attack. Major Crimes detectives are actively working the case, stated Captain Tim Hagel, Fillmore's Police Chief.
By Gazette Staff Writer — Wednesday, August 19th, 2009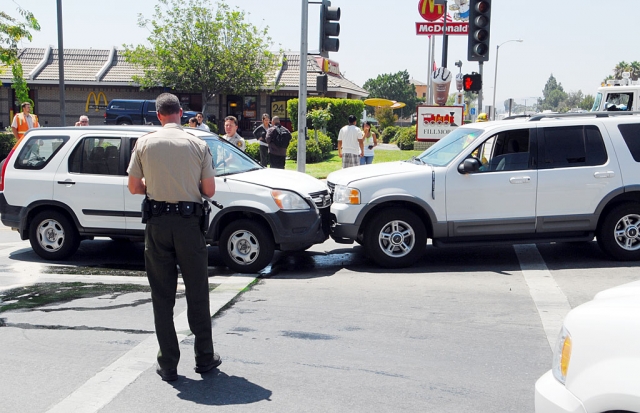 A three-vehicle collision happened Tuesday afternoon at the intersection of Highway 126 and B Street. No injuries were reported. Two vehicles received relatively minor damage.
Enlarge Photo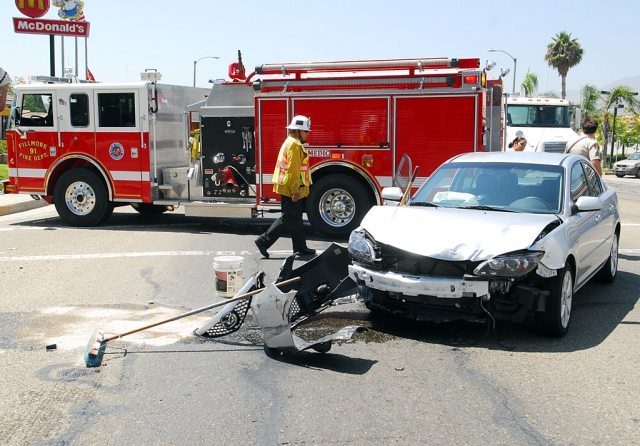 One of the cars suffered significant damage.
Enlarge Photo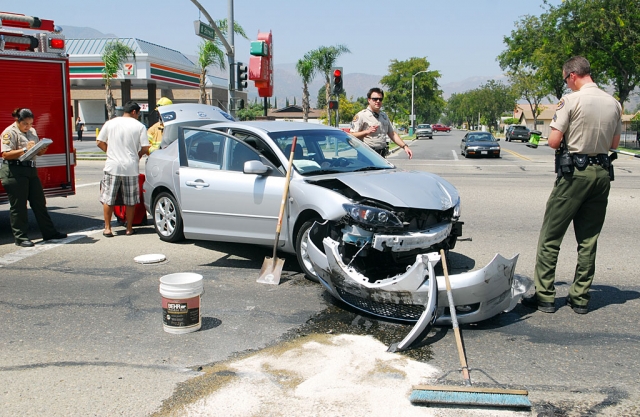 Traffic was constricted for about one hour.
Enlarge Photo