By Wanda Castel de Oro — Wednesday, October 28th, 2009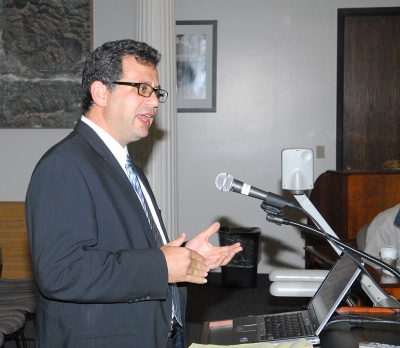 HK&C partner Mark Alpert.
Enlarge Photo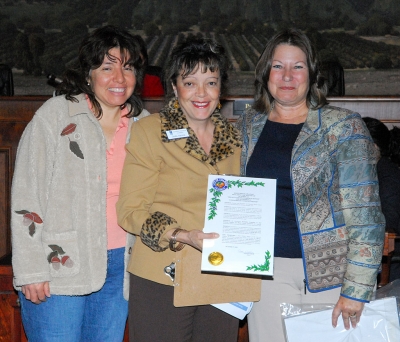 Pictured (l-r) Soroptimists Nora Toledo and Oralia Herrera, with Mayor Patti Walker presenting them with two proclamations.
Enlarge Photo
Fillmore City Council began with Closed Session conference with legal counsel regarding existing litigation, El Dorado Estates v. City of Fillmore. The representative for El Dorado Mobile Home Park Estates is Mike Cirillo of Star Management. Cirillo filed an application on March 5, 2009 for a Vesting Tentative Tract Map. The application proposes to convert the existing 302-space park from a rental park into a resident-ownership park where park residents would be able to purchase the lot(s) their coach sits on. City staff has been working with Cirillo and the park's legal counsel, Hart, King & Coldren (HK&C), in reviewing and processing the application in accordance with the Fillmore Municipal Code, the State Permit Streamlining Act, the State Subdivision Map Act, and the State's Mobilehome Parks Act.
A Letter of Incompleteness, dated April 1, 2009, was sent to Star Management. Application was re-submitted on June 10, 2009, deemed incomplete on July 10, re-submitted July 23, deemed incomplete on August 19th. An Appeal of Incompleteness to Planning Commission was filed on September 2, decision was made to uphold City Staff's "incomplete" determination on October 21, 2009. A request on behalf of Star Management was filed on October 22 to appeal the Planning Commission's decision to city council. An Appeal of Determination of Incompleteness, presented Tuesday night by HK&C partner Mark Alpert, covered five "incomplete items": Offer to purchase, with estimated price and estimated space rent; 60 day required Notice; Demand for 43 new parking spaces under Fillmore Code; Property Right "Peer Reviewed" by certified inspector; and FEMA map and flood calculations.
Alpert, representing El Dorado Mobile Park (owner Nancy Watkins), refuted each "incomplete item" citing case law (Sequoia case), lack of city authority, and pre-empting of local ordinance. According to Alpert, the April 1st Letter of Incompleteness did not expressly state Star Management's application was "incomplete". He also stressed that El Dorado residents were advised about the option-to-buy, and that a tenant impact report will be served on residents at least 15-days before hearing. Alpert stated that since his client is not an apartment building, etc., they are not subject to several of the city's demands. And that the city has no authority to require an inspection of any kind regarding the "so called Peer Review Inspection Report," but added that the inspector was licensed, a statement that was refuted by city staff, who said they spoke with the inspector directly. He said that although he retains several certifications, he is not a licensed building inspector. The point may be lessoned by the fact that only one permanent common structure is involved in the inspection, the park's clubhouse.
Alpert continued to build his case for reversal of the CONTINUED »
By Gazette Staff Writer — Wednesday, October 28th, 2009
The City of Fillmore Fire Department in conjunction with the Oxnard Fire Department will be conducting a live fire training exercise. The training will commence November 4, 2009 between the hours of 8:00AM – 5:00PM. The location slated for training is located at 46 C Street, just south of C Street & River Street in Fillmore.
Training is planned to include the burning of a 900 square foot abandoned residential structure. Smoke and flames will be visible throughout the area however should have a minimal impact on both traffic and routine activities.
The purpose of this exercise is to provide fire personnel the rare opportunity to obtain hands-on experience with live fire in a controlled non-emergent environment. The process will be supervised by experienced personnel and will follow strict safety guidelines set by the California State Fire Marshal and the National Fire Protection Agency. This process provides invaluable training experience for fire personnel while simultaneously reducing the cost to demolish such structures.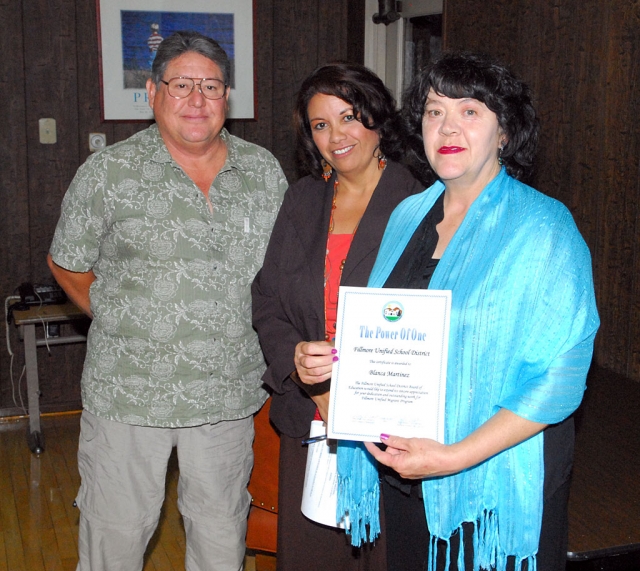 Pictured above (l-r) Tony Prado, Tricia Gradias, and Blanca Martinez.
Enlarge Photo
By Carol Wilson — Thursday, October 22nd, 2009
At the opening of the Fillmore Unified School District board meeting on Tuesday, October 20, Blanca Martinez was recognized as the Power of One recipient for 35 years of service to the district.
As a migrant support teacher Martinez served students in the homework center since its' beginning. She was an instructional assistant in reading. "It was a pleasure to serve the students of Fillmore for all these years," Martinez said. She was presented a certificate honor by board member Tony Prado.
Student board representative Garrett Riley told the board that Joe Ricards, Fillmore alumni and science and agriculture teacher at the school was voted to be Grand Marshal of the homecoming parade. Riley will be leaving as board representative in the next few weeks. He'll be participating in the Civil Air Patrol at Camarillo Airport.
Katy Hadley, Assistant Superintendent of Educational Services presented the board with a detailed CONTINUED »
By Jeff Sweeney — Thursday, October 22nd, 2009
On October 15, 2009, The Fillmore Gazette's article [Questions & Answers] regarding the petition to convert Piru Elementary to a charter school did not accurately present both sides of the issues. As Superintendant of Fillmore Unified School District, I felt it was appropriate to submit this letter to clarify and explain the District's position relative to the charter.
At a meeting on October 21, 2009 (after the writing of this letter), the FUSD Governing Board will be conducting a public hearing on the proposal submitted by a small group of teachers, a former principal, and a few community members to remove Piru School from the District, and make it a separate charter school run independently of the District.
Because the decision on the charter affects the entire community, the District is anxious to hear from the public, particularly current Piru Elementary parents and District employees, regarding their feelings about the proposal to convert Piru to a separate school. If the charter is granted, Piru Elementary will no longer be one of FUSD's schools, but will operate separately under the authority of a corporation. We hope that many community members will attend the public hearing and speak to the Board, whether they are in favor of or opposed to the request to convert Piru. FUSD is concerned by reports it has received that local families whose children attend Piru and are directly affected by the charter proposal were not included in the development of the charter.
Apparently the County Office of Education's Migrant Program Office is concerned that the migrant population, many of whom have children at Piru, have an opportunity to voice their position on this request. That Office has chosen to provide a bus to transport people from Rancho Sespe to the meeting. The lead petitioner's allegation that the District was improperly diverting Migrant Education funds to bus parents to the public hearing is quite simply wrong. The bus is being provided and paid for by the County Office, and was not done at the District's request nor paid for with any monies within the District's control.
The petitioners and the nine teachers who signed the petition CONTINUED »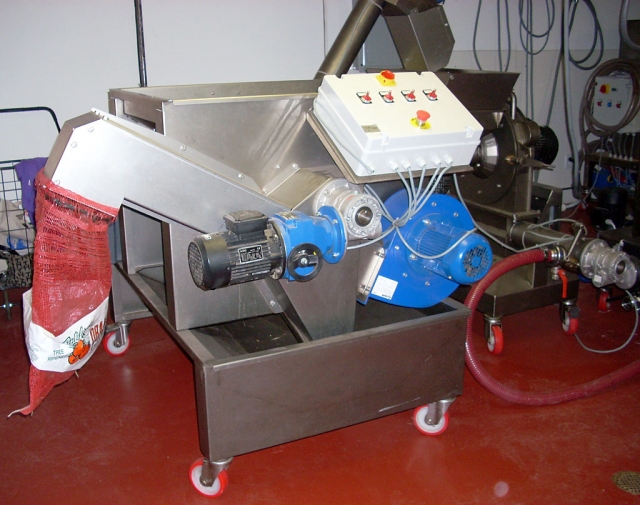 Stainless steel olive press.
Enlarge Photo
By Margie Bartels — Thursday, October 22nd, 2009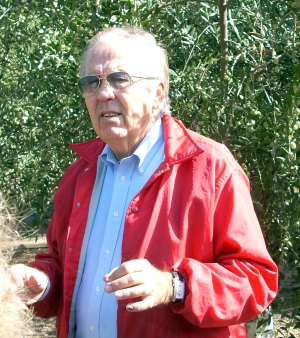 Owner Ron Asquith, standing in part of the 17 acres of olive trees he owns.
Several members and friends of the Ventura County Chapter of California Women for Agriculture enjoyed a tour of the Ojai Olive Oil farm and processing facility on Saturday, October 10. Owner Ron Asquith, standing in part of the 17 acres of olive trees he owns, explained the particulars of farming olives. The taste of the oil produced from the fruit varies with the variety of tree, and Ron has French, Italian, Spanish, and Greek varieties on his ranch. The trees need heat in the summer to ripen the fruit (making Ojai an ideal location), and are much more resistant to cold than avocados or oranges. It takes 4-5 years from planting for trees to reach production, and they tend to be alternate bearing (produce a heavy crop one year and a lighter one the next), though this depends on the variety. The primary pest problem is the Olive Fruit Fly. Ron treats for this with an organically-approved chemical, which is spot-sprayed with a backpack sprayer from about mid-June through October. The trees are drip irrigated and are regularly pruned, and can have productive lives for hundreds of years.
Harvest lasts from November to the end of December. While on the tree the exterior color of the fruit changes from light green to bluish to black, but more important is the color of the fruit inside; Ron says you know the olive is ripe and ready to release oil if there is some pink color inside. Ron uses a Farm Labor Contractor from Santa Paula to pick the olives. Pickers grasp a section of a branch and, with their other hand, strip the fruit into a bucket. Full buckets are dumped into a 40-pound box, which will ultimately produce one gallon of the finished product of extra virgin olive oil. Ojai Olive Oil processes olives for themselves as well as for five neighbors with smaller acreages.
The group moved to a nearby building which houses the processing equipment and a small retail store. The key to producing a high-quality olive oil is to process the olives within a few hours of harvest. Ron's $100,000 stainless steel olive press was imported from Italy, as this type of equipment is not manufactured in the United States. Boxes of harvested fruit are emptied into a hamper, where leaves are blown out and olives are washed. Olives then travel up a tube into a hopper, then on to the crusher. A paste consisting of oil, water, and solids (with a consistency of thick oatmeal) emerges into a tank, where it is mixed and begins to separate. Each tank holds 400 pounds of olives, and after thirty minutes of mixing the separated olive oil is pumped out into a small tank where it can be tasted, tested for clarity, and filtered if necessary. Samples are sent to a lab in Paso Robles to verify that the oil is extra virgin, which is the highest quality.
Ron sells a peppery, a mild and an organic as well as flavored (lemon, mandarin, garlic, and rosemary) extra-virgin olive oils; imported balsamic vinegars; soaps and face creams; and olive trees in one- and two-gallon containers. Visitors are welcome on Saturdays from 10:00 – 3:00, and group tours can be arranged. Ron's website is www.ojaioliveoil.com, or he can be reached at (805) 701-3825. CWA thanks Ron for sharing his farm and facility and for educating us about this little-known segment of Ventura County agriculture.
By Gazette Staff Writer — Thursday, October 22nd, 2009
A 20-year old man was killed Tuesday in a head-on collision at the intersection of E. Telegraph Road and North Main Street on Highway 126, Piru, west of Center Street. The man was headed west-bound at 5:45 p.m. when his car drifted into oncoming traffic, colliding with a car driven by Adrian Powell, 53, of Valencia. Powell was transported to Henry Mayo Hospital and treated for a broken pelvis and injuries to his ankle and knee.
The 20-year old was flown to Ventura County Medical Center where he was pronounced dead at 8:35 p.m.
Both men were extricated from their vehicles, according to Ventura County Fireline reports. Both men were wearing seatbelts.
By Gazette Staff Writer — Thursday, October 22nd, 2009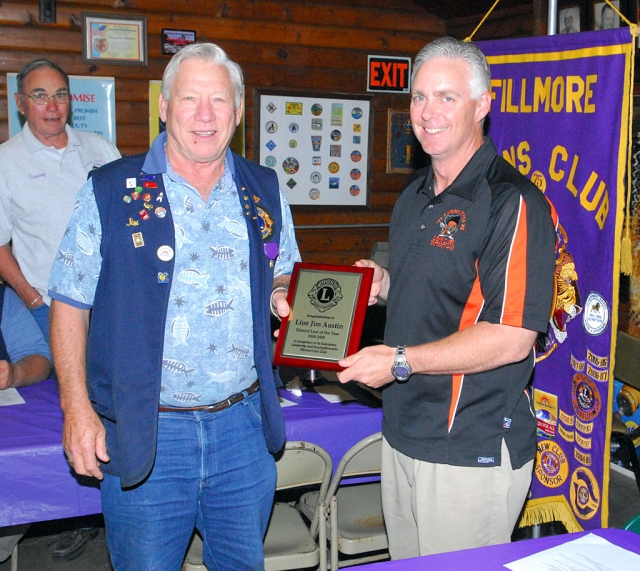 Lions Club member Jim Austin, left, receives the Lion of the Year Award (District 4A-3) from Lions Governor Dan Lyon, Monday night. The District covers Ventura, Santa Barbara, and San Luis Obispo counties. Over 40 members attended the awards dinner.
Enlarge Photo
By Gazette Staff Writer — Thursday, October 22nd, 2009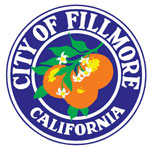 City of Fillmore
10/08/09-10/13/09
VANDALISM
10/08/09
600 Block River St.
10/08/09
200 Block B Street
10/09/09
500 Block Central Ave.
10/09/09
300 Block B Street
10/09/09
2nd St. / B Street
10/10/09
500 Block Kensington Drive
10/11/09
900 Block Sespe Ave.
10/11/09
500 Block Kensington Dr.
10/12/09
600 Block Eagle Ct.
THEFT OTHER CONTINUED »
By Gazette Staff Writer — Wednesday, October 21st, 2009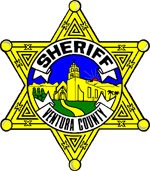 Ventura County Sheriff's Department
*** UPDATED INFORMATION***
Date & Time/ RB#: Oct. 21, 2009 @ 10:30 a.m. / 09-25778
Unit Responsible: Thousand Oaks Police Department Investigations Bureau
A 15-year-old Westlake High School student missing since Monday morning was found Wednesday morning at a youth services center in Los Angeles.
Investigators received a tip from a source in Los Angeles who was in contact with Alexandria "Allie" Phipps Wednesday morning. The source had seen Allie's image in news footage about her disappearance and notified investigators.
Allie has been returned to Thousand Oaks to be reunited with her family. Investigators are interviewing Allie to determine the reasons for her disappearance.
The cooperation of local and federal law enforcement agencies, as well as news media organizations led to the safe return of this young woman, who was listed as an at risk-missing person.
By Gazette Staff Writer — Wednesday, October 21st, 2009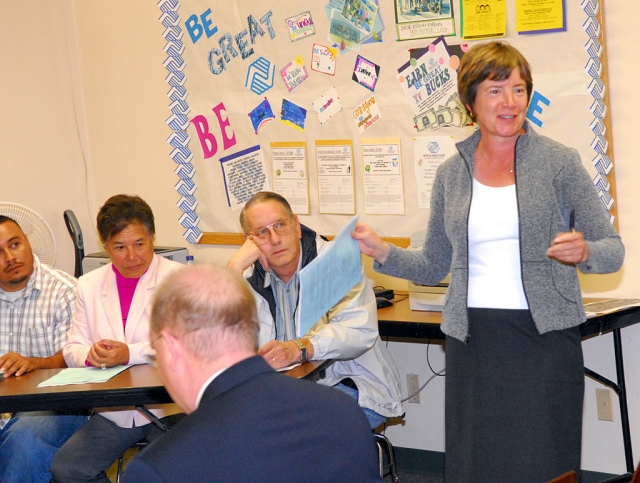 Quiring began one of her first public appearances with an apology for the failure regarding the Request For Proposals (RFP) that were not sent out in the city's search for a new auditing firm to meet State deadlines.
Enlarge Photo
By Wanda Castel de Oro — Wednesday, October 14th, 2009
B Street extension, N. Fillmore Storefront project also discussed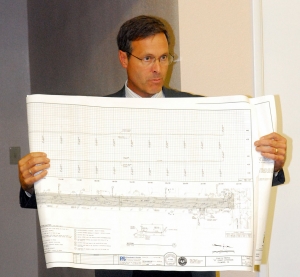 Bert Rapp, Director of Public Works, shows FEMA's flood map to council, Wednesday night.
Mayor Patti Walker welcomed everyone to the Joint Fillmore City Council/North Fillmore Neighborhood Committee meeting, Wednesday, October 7, 2009.
Oral communications were first on the agenda. New city manager Yvonne Quiring spoke, saying she was pleased to be part of the "Fillmore family". She thanked the community for the warm welcome and said she could see why no one ever leaves Fillmore, which drew a laugh.
Quiring began one of her first public appearances with an apology for the failure regarding the Request For Proposals (RFP) that were not sent out in the city's search for a new auditing firm to meet State deadlines.
"I would like to apologize to the city council and to the community. There seems to be some sort of miscommunication. We have not done a good job as staff at explaining what has gone on with the RFP for audit services so I want to let everybody know that it's going out for bid at some point in the future, probably in the next several weeks."
Quiring began her post as city manager on October 1, 2009, before the RFPs were purported to have been sent out as stated by Mayor Walker at the September 22 council meeting and in an October 1st Letter to the Editor to the Gazette. Larry Pennell was city manager at the time.
Quiring went on to say, "I am looking into what exactly CONTINUED »
By Gazette Staff Writer — Wednesday, October 14th, 2009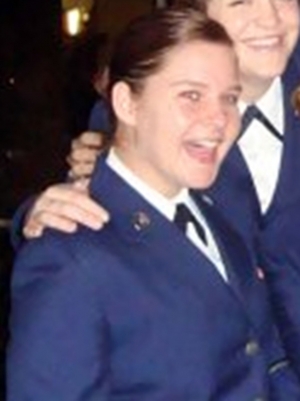 Caitlin Elizabeth Ann O'Neil-McKeown
2007 Fillmore High School Graduate Caitlin Elizabeth Ann O'Neil-McKeown, 20 years old, is now serving in the United States Air Force. Caitlin also attended Piru Elementary and Fillmore Middle school. While growing up she was active in 4-H, FFA, Art Club and the Mentor Program. She enlisted in the United States Air Force on February 10, 2009 for a 4 year enlistment.
Caitlin is the daughter of Stephen McKeown and Lori Schnieder of Fillmore. Her siblings are; Erica Stout (37) of Germany whose husband Shannon is a Sergeant First Class stationed there with the Army, Michael McKeown (31) of Fillmore, Aimee McKeown (28) of Fillmore, Patrick Wing (28) of Arizona, Morgan McKeown (24) of Arizona, Erin McKeown (22) of Fillmore, Brian McKeown (18) of Fillmore, Ian McKeown (17) of Fillmore, Sean McKeown (16) of Fillmore and Paige McKeown (7) of Fillmore. Caitlin's paternal grandmother is the late Joan McKeown and her maternal grandparents Leori Schnieder and Alvin Schnieder of Oklahoma. Brothers Micheal McKeown served in the United States Air Force and Patrick Wing in the United States Marines. Caitlin's brother-in-law Curtis Kniffen is a Senior Airman with the Air Force stationed in Arizona.
Caitlin is an Airman station at Fort George G. Meade, located near CONTINUED »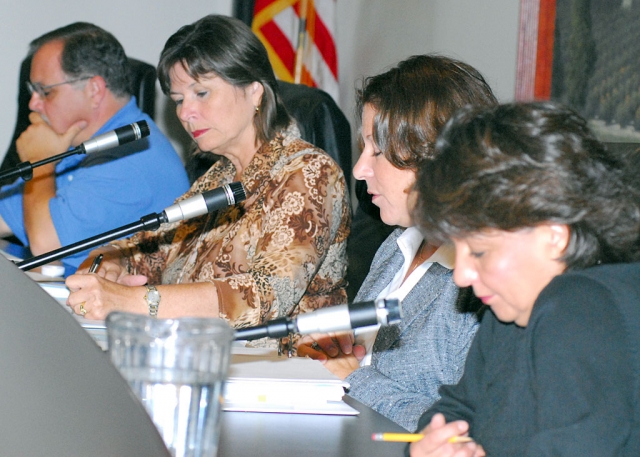 Council discussed business as usual at Tuesday's meeting. Councilman Steve Conaway was absent.
Enlarge Photo
By Wanda Castel de Oro — Wednesday, October 14th, 2009
Tuesday night's city council meeting began with Approval of the consent calendar, 4-0.
Public Works Director Bert Rapp asked for authority to proceed with demolition of the garage at 50 C Street. Rapp sought an expenditure of up to $20,000 of Water Recycling Program monies to burn/demolish the old garage building at the closed Waste Water Treatment plant site.
He explained to council that the building stands at the entrance of the plant on C Street, where three acres of grass will eventually be added. The garage was converted into an office and storage building in 1998. The sewer service to the building was terminated when the sewer main to the old plant was abandoned on July 4, 2009. To reactivate the sewer a new sewer main would need to be installed from the garage building to River Street about 500 feet north at a cost of about $150,000.
The building is built low and is subject to frequent flooding. It has not been rented for about 18 months and was last used for storage of bicycle merchandise.
The City of Fillmore would have to obtain a burn permit for the Ventura County APCD and a demolition permit from Fillmore Building and Safety. After the building is burned, the city will process a change order with American Water to complete the demolition with the rest of the WWTP facilities.
Councilmember Jamey Brooks asked about the procedure in burning CONTINUED »
By Gazette Staff Writer — Wednesday, October 14th, 2009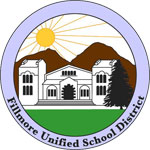 Fillmore Unified School District
Since the filing of a petition on September 16th with the Fillmore Unified School District to convert Piru Elementary into an independent charter school, there have been a series of incidents in which certain FUSD employees and other individuals have distributed information about the proposed charter school which is either misleading or false, according to Richard Durborow and Chris Pavik, two of the charter petitioners.
In what is apparently an escalation by those opposed to the charter, this past Friday, says Chris Pavik, two of the teachers at Piru School who signed the petition were approached separately by another teacher with close personal ties to the District Office. They were both told by this well-connected teacher that the School Board will not rehire any person who goes to work at the charter school and later decides to return to the District. In addition, one signer was told that the County Office of Education has the list of the signers' names, and that no other school district in the county will hire them because they signed the charter petition, and the other was told that the Superintendent had said that any teacher who signed the petition, but now withdrew their name, would suffer no repercussions from the District. Says Chris Pavik, "these seem like not-so-veiled threats of intimidation, and they cross the line. As far as the School Board telling Piru staff that there will be no 'right of return', I have heard from several sources that such a statement was made at a District administrator's meeting on last Thursday, that principals were directed by one of the Assistant Superintendents to verbally give this warning to their staffs. Such a statement is tantamount to bargaining away from the table, because that issue is bargainable, and it is illegal for the District to go around the unions and try to negotiate with individual members. I have informed the FUTA President and a CTA organizer of what I heard, and discussed the fact that this is an unfair labor practice, and that the District must stop doing this." At this time, the petitioners plan to turn over the name of the teacher involved, and the names of those whom the teacher implicated, to legal counsel for possible litigation.
The petitioners first became aware of this apparent misinformation campaign when CONTINUED »
By Gazette Staff Writer — Wednesday, October 7th, 2009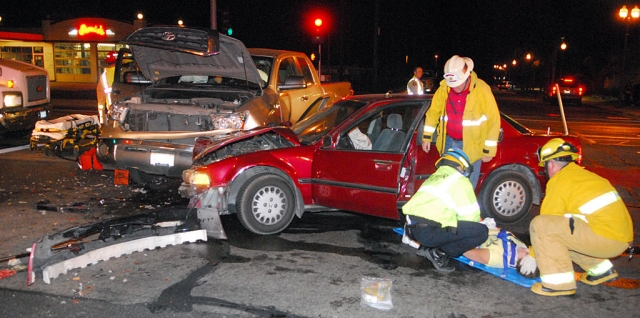 Sunday, at approximately 7:24 p.m., a collision occurred at the intersection of Highway 126 and Central Avenue. A Toyota Tundra, northbound on Central, driven by Joseph Golson, 31, of Fillmore struck a Honda Accord driven by Maria Lopez, 49, of Camarillo, which apparently attempted a left turn in the intersection.
Enlarge Photo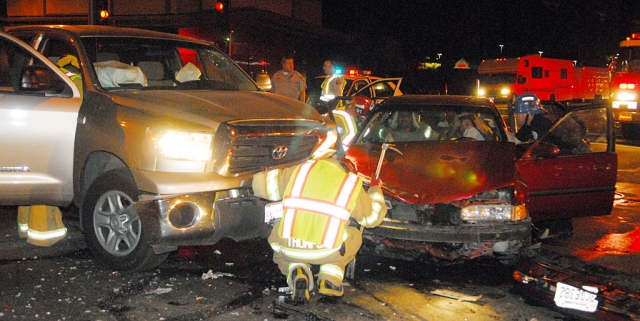 Both vehicles sustained major damage and both drivers were transported to Santa Paula Hospital.
Enlarge Photo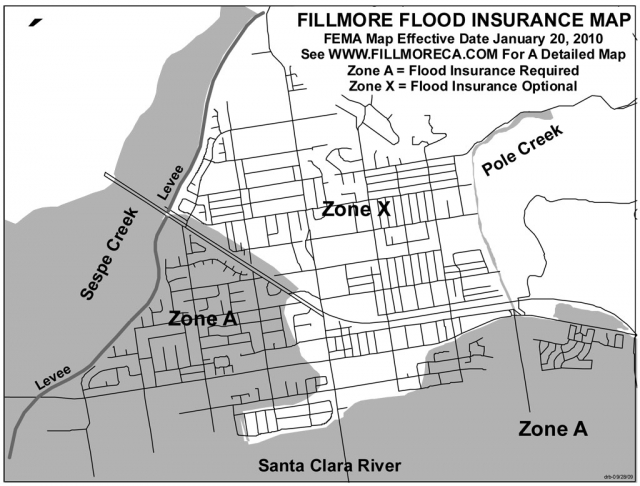 FEMA flood map zones
Enlarge Photo
By Bert Rapp — Wednesday, October 7th, 2009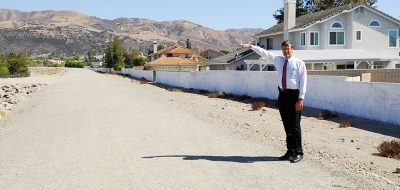 Pictured above Bert Rapp shows how high the levee should be when it is finished.
Enlarge Photo
On Thursday October 22nd FEMA and Ventura County Watershed Protection District representatives will update Fillmore residents on the status of the FEMA Flood Insurance update for Fillmore. The meeting will be held at 6:30 P.M. at the Memorial Building at 511 Second Street.
With the new update approximately 1,500 homes and businesses will have to purchase flood insurance by January 20, 2010. The insurance will cost about $50 to $100 per month. See the attached map for the affected properties. You can see more detailed maps on the City of Fillmore web site at www.fillmoreca.com
FEMA is updating the Flood Insurance Rate Maps (FIRM) for Fillmore and other communities in Ventura County. All properties that will be in a Flood Zone A on the new maps will have to purchase flood insurance when the maps become effective on January 20, 2010. If you purchase your flood insurance before the map becomes effective you can be grandfathered in at a lower rate saving about 50% on your flood insurance. FEMA will have their insurance specialists at the October 22nd meeting to fully explain the insurance options.
The new flood insurance requirements are result of the FEMA policy to CONTINUED »
By Carol Wilson — Wednesday, October 7th, 2009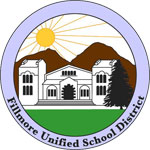 Fillmore Unified School District
An overflow crowd filled the Fillmore School Board meeting Tuesday night October 5, 2009. Before the regular session began at 6:oo pm, more chairs were set up to accommodate all waiting community members as they streamed into the room. Fillmore Middle School Principal Todd Schieferle introduced his team of staff members responsible for the new Response to Intervention Model program for student success to board members David Dollar, Virginia De La Piedra, Liz Wilde, and meeting leader Tony Prado. Board President John Garnica was absent. Schieferle stated that he explored advisory programs at De Anza Middle School in Ventura, and Pioneer Middle School in Orange County. Assistant Principal Tricia Godfrey, Anna Morielli, and Scott Carroll and he attended a Response to Intervention workshop.
As a team, each member discussed the strategies for student success by implementing the three level-tiered program structure.
Ms. Morielli explained that Level 3 is the Intensive Core. The focus is directed in grades 6-8 history and Language Arts. For students with math deficiencies, An Intense Math Program is provided. This program also includes ELD level newcomers. Intensive Reading Instruction involves comprehension and decoding. There are also classes for Intense Responsibility Support. Evaluation of student progress with common assessment is every three weeks.
Morielli went on to say that homework is tied to the California State CONTINUED »
By Gazette Staff Writer — Wednesday, October 7th, 2009
On November 28, 2008 Lucia Cardoza, 25 of Fillmore, was driving east on Highway 126, west of 10th Street at 2:36 a.m. when she swerved from the left lane to the right shoulder. Her car hit the metal guardrail and spun back into traffic lanes, where it was struck by an eastbound van. In the car were Cardoza's two sons, ages 4-years and 1-year. Ricardo Nuno Jr., 4, was thrown from the car and pronounced dead at the scene. Cardoza was intoxicated.
She was sentenced on September 30th in Superior Court by Judge Edward Brodie to a year in jail and five years probation. Cardoza is nine months pregnant. She will begin her sentence in December.
The driver of the van, Maria Rangel, 46 of Ventura, and her three adult passengers suffered minor injuries and were treated at Santa Paula Hospital.
By Gazette Staff Writer — Wednesday, October 7th, 2009

Fillmore Lions Club held their monthly meeting Monday night. The Lions donated $1500 to local organizations: Fillmore High School Art Program $200, Santa Clara Valley Hospice $750, Sespe Players $200, Fillmore High School Soccer Program $350, and Fillmore Friends of the Library $200.
Enlarge Photo
By Gazette Staff Writer — Wednesday, October 7th, 2009
At its regularly scheduled board meeting on Wednesday, October 14, the United Water Conservation District will consider banning alcohol at Lake Piru. Over the past several years, a large number of boating and camping incidents have occurred in which alcohol was involved. In an effort to ensure that the public has a safe and enjoyable time at the lake, District's Board asked its staff to prepare a policy banning alcohol throughout the park, including the campgrounds, day use areas, and on the lake. The Board also requested that an exemption to the alcohol ban be developed that would allow special events, such as wedding receptions, festivals, and fishing tournaments to apply for and receive an alcohol permit provided they agree to follow certain procedures.
Lake Piru Reservoir was created in 1955 when the Santa Felicia Dam was CONTINUED »