By Gazette Staff Writer — Wednesday, March 21st, 2012
Fillmore Rotary Sun Risers are pleased to announce that the necessary funds for the much awaited access gate to the High School track have been raised thanks to many members of our community.
Grateful thanks go to the following individuals. Service Clubs and corporate members of our community who made this possible: Joan Anne Archer, Cindy Blatt, Tim Hagel, Mary Joanne Arnold, Marge LeBard, Shirley Spitler Don and Ruth Gunderson, Steve Conaway, John Scoles, Eduardo Gonzales, Fillmore Soroptimist Club, Fillmore Lions Club, Fillmore Rotary Sun Risers, Cops Running for Charity, Fillmore Riverview, LLC, and Ladera Fruit Co..
The combined contributions of this group match the latest invoice price of the gate, $7810.
These funds will be presented to the City Council in the very near future.
Story Courtesy Don Gunderson, Treasurer, Fillmore Rotary Sun Risers
By Bob Crum — Monday, March 19th, 2012
Story & Photos by Bob Crum
It might as well have been 1888. In those days, guns were the law in wild Fillmore. People out of work due to the lack of gold in Sespe Creek or cattle to rustle... held up the Fillmore & Western railroad and robbed passengers. That is... until Judge "Hang 'EM High Hagel and Judge "Bloodbath" McGrath moseyed into town.
But the cantankerous robbers struck first. Holding up passengers on board... the ruthless thugs confiscated everything of value. Easy pickin's... it could be said. But passengers were warned before boarding... rumors portrayed outlaws thick as thieves roamed the Sespe Creek Valley so be prepared to be robbed. Rumor quickly became reality.
As the snarly bandits attempted to flee with their bounty... they were met by lawmen... guns drawn and firing a barrage of lead bullets at the fleeing robbers. Colt against Smith & Wesson. Shiny badges against sweat-stained Stetsons. Justice was swift. When the thick cloud of gun smoke cleared... not a thief or his accomplice was left standing. As the posse's deputies collected the stolen loot... the town's undertaker collected the bodies. Coffin and burial costs cheerfully paid by passing a collection hat among the hoodlum's victims.
Back aboard the train now rambling down the tracks through the bucolic Santa Clara Valley (yes, even at night it's bucolic) passengers relaxed and enjoyed a scrumptious round of chow... BBQ chicken, roast beef, baked beans, garden salad and a grand array of fabulous desserts. For the long of thirst... beverages galore. You should have been there!
Tranquility soon turned to chaos, bedlam... even pandemonium! Besides the departed train robbers... there were scoundrels and scofflaws of all varieties on board the Santa Paula Express. Scofflaws indeed. People were being arrested hither and yon on charges of urinating in public, bigamy, public buffoonery (gasp!), grave robbing, bribery, wife stealing, horse stealing and cattle rustling. It was wild. But of course... to get out of jail... one could always... ahem... bribe a judge. Or even quicker... bribe a lawman. Everyone wearing a badge was on the take. Seems that such shenanigans was commonplace on this Fillmore & Western train rambling down the rustless rails.
When dastardly folks weren't being tossed in jail... the judges were besieged with "shotgun" weddings. Lots of fellers were hornswaggled, handcuffed and hitched which they concluded was a lot better than a load of buckshot in the buttocks. For only $20 a lady could apply for a marriage license and have a ball-and-chain attached to a hapless dude.
While Judge "Bloodbath" McGrath was busy performing matrimonial services... the other judge... "Hang "Em High" Hagel was busy performing "quickie" divorces... which some dudes declared was akin to a "get out of jail" card. For the paltry sum of $30 you could be officially declared "single and available". But for only as long as you could outrun Bloodbath McGrath's shotgun-toting matrimonial enforcers who were fleet of foot and worked for whiskey.
If you can't trust a law-biding judge... then who? Beware the black robe with thirsty pockets.
Both judge McGrath and Hagel ended up behind bars on charges of "bribery". Gasp! Furthermore, I was accused and arrested for... ahem... cattle rustling. Rumor has it that for a bottle of bootleg hooch a sleazy Bardsdale rancher falsely accused me! Nevertheless, I become a cell mate with the unscrupulous judge "Bloodbath" McGrath... along with bandit Carlos Juarez and another bad-arse fella. Under such dire circumstances one quickly embraces conspiracy theories. I was framed... I tell ya.
This mayhem parlayed into an evening of incredible fun punctuated with huge amounts of laughter. But all for a good reason. Proceeds from ticket sales, bribes, bail, fines, marriage licenses, divorces and extortions were for the benefit of the Boys & Girls Club of Santa Clara Valley. The event was hosted by the Fillmore & Western Railway Company and sponsors included Ventura County Deputy Sheriff's Association, Ventura County Sheriff's Posse and Fillmore Piru Citrus Association.
Space prohibits thanking all the individuals who dedicated their time, work and talent to make the Great Train Robbery such an fabulously successful and jovial event. A job incredibly well done by all involved... all for a great cause. And for those who read this... and didn't ride the train... well... see on board next year. Just think... we might even end up cell mates. Hmmm.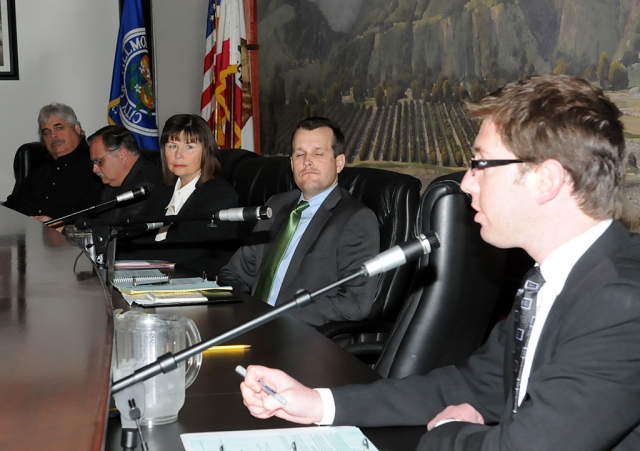 City Attorney Ted Schnieder announces the dismissal of the El Dorado Mobile Home Park lawsuit.
Enlarge Photo
By Jean McLeod — Wednesday, March 14th, 2012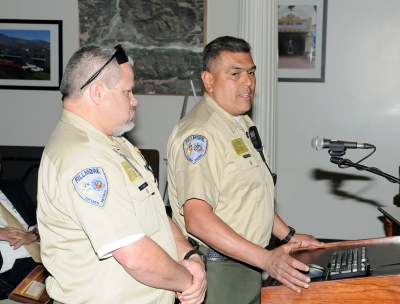 Ray Medrano with the Citizens Patrol spoke to the Council on the need for citizens to be involved and proactive in protecting the City.
Enlarge Photo
The March 13, 2012 Fillmore City Council meeting was the shortest in recent years. With only two items on the agenda the meeting was over in exactly one hour. One item was whether the City should submit an appeal to Southern California Association of Governments (SCAG) in order to reduce Regional Housing Needs Assessment (RHNA) for the period of 2014 through 2012. The other item was the adoption of an ordinance to repeal a Fillmore Municipal Code due to the City taking over the Redevelopment Agency, which was voted on and adopted.
At the February 28th council meeting Kevin McSweeney, Community Development Director, introduce the SCAG drafted RHNA allocating 694 residential units to Fillmore and requested the Council review the details of the report to determine if the City should ask for an appeal, which is called a Revision Request, to reduce those numbers.
The SCAG was formed on October 28, 1965, with the purpose of conducting growth forecasts and regional planning. RHNA is mandated by State Housing Law as part of the periodic process to address the need for housing within each city or county jurisdiction during specified planning periods. The RHNA is not a construction number where the City is given a quota to construct units. Rather it is a planning number of residential units that the City of Fillmore should plan, anticipate and prepare to accommodate growth to the year 2021. The City has planned and prepared for those residential units in its General Plan Buildout.
The General Plan CONTINUED »
Last Friday, March 9, close to 230 people came together at the Piru Petroleum Club's "Celebration of Life" BBQ honoring Malcolm Jackson. Malcolm passed away in January at 94 active years of age, after a fall at home. Malcolm was one of the original founders of the Piru Petroleum Club many years ago. One of his last joys in life was attending their bi-weekly Friday BBQ's. A raffle was held to raise scholarship money in Malcolm's honor and to help pay for a new water well at the club. Mementos from Malcolm's life were raffled off as well as a guided fishing trip to Bridgeport in the Sierras, one of Malcolm's favorite spots. The winner of that trip, sponsored by "Stay Bent Guide Service" (Mundo Robles) was Manuel and Trish Pillado. Over $7,500 was raised in Malcolm's honor. Above a tree was planted in Malcolm Jackson's honor.
Enlarge Photo
By Gazette Staff Writer — Wednesday, March 14th, 2012
By Gazette Staff Writer — Wednesday, March 14th, 2012
The Fillmore Chamber of Commerce is excited about the upcoming Community Awards Dinner on Thursday, March 22, 2012 at the Veterans Memorial Building. Social hour will be from 5pm-6pm with dinner and the program starting at 6pm. Dinner will be provided by the Fillmore Fire Dept. Attire: Western.
Businesses will have a few opportunities to spotlight their business including:
Business card ad to be included in the program $25. Centerpiece Sponsorship: for $25. Bring a centerpiece having to do with your business and place your business cards on the table.
Purchase eight tickets (one table) at $25 each (total $200) and you get the centerpiece sponsorship for free. This year we will be honoring the following: Lifetime Achievement-Citizen Marie Wren, Lifetime Achievement-Business Wm. L. Morris, Citizen of the Year: Buddy Escoto, Teacher of the Year: Raina Arellano, Student of the Year: Vanessa Villa, Officer of the Year: Gabriel Gonzales, Fireman of the Year: Rob Rolf, Non Profit of the Year: Fillmore Lions Club, Explorer of the Year: Briana Vazquez
Business of the Year: Attractions Spa.
Thank you for your support. Please contact me to purchase: a business card ad, centerpiece sponsorship or tickets for the event. Please help promote the awards dinner at your place of business by placing a flier available at the chamber office on your window or call me & I will bring one to you. We appreciate all you do and look forward to having a very successful event!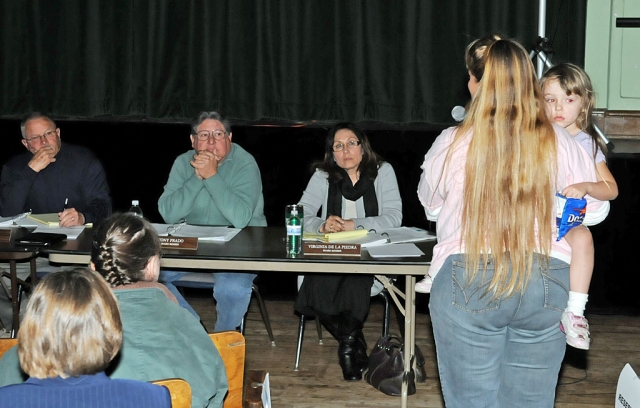 Tammy Ferguson, a Teacher at San Cayetano, addressed the School Board.
Enlarge Photo
By Jean McLeod — Wednesday, March 7th, 2012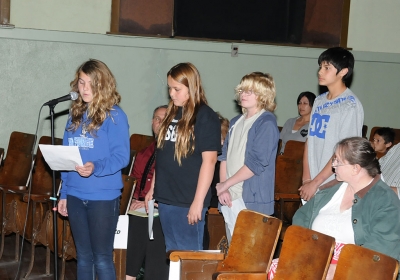 A group of Middle School Students addressed the School Board about positive changes happening at their campus.
Enlarge Photo
The March 1st Fillmore Unified School District (FUSD) Board Meeting was long and ended after 11pm as many of the approximately 80 in attendance gave their opinions on the upcoming changes to the school district. There was a wide breadth of comments ranging from thanking the Board for the gate to the school track field, wanting tests taken during school hours, low teacher moral and requiring too much extra work from teachers to the meeting's main issues of layoffs and curriculum changes.
Fillmore schools will be hit hard by the cuts Governor Jerry Brown is proposing leaving no other choice but to cut expenditures. Assistant Superintendent Business Services Dr. Michael Bush explained that a total of $5.5 million over the past four years has already been cut, but more cuts may have to be made. Bush remarked that at best a 6-10% cut will happen if the tax initiatives in the November elections do not pass, losing the district another $600,000. Teachers lose pay when days are eliminated, he added and went on to say "The teachers took five furlough days last year and 10 this year." Boardmember John Garnica responded, "This is an absolutely awful situation." Superintendent Dr. Alan Nashino told those in attendance "We've been kicking the can down the road for years….if we'd addressed this problem three years ago it would have been better."
FUSD may be laying off over 10% of its 200 certified teachers with about 14 of the 22 possible layoffs in grades k-6. Preliminary notices will be sent out by March 15th and final notice by May 15th. Assistant Superintendent Michael Johnson said the number of teachers to be let go "…is not set in stone, but the money is what dictates it." Some of the layoffs are expected to come from the music department and others from health. Teacher Debra Galarza said she was very excited about the changes but added, "I know music is on the chopping block…I think that is a huge mistake." She suggested there are other ways of saving money such as investing in solar panels as a school in Oxnard has installed. Christy Neal, owner of Central Music, told the Board, "Schools with music programs have higher standards." Prado responded, "I know how much the music is good for the school and students…I want to do some investigating about the music and counselors."
Another of the expected changes is the high school graduation requirements which will focus on providing classes for both college and work force bound students. Requirements such as Health Education will be met by integrating health in other classes like physical education, history and biology. The administration explained that the State requirements allow an invited guest speaker to discuss the HIV/AIDs requirement if a qualified teacher is not available. An example of integrating health into other subjects might be; while discussing the Black Plague during a history class, teachers would go into greater detail as to the reasons the plague occurred and the advances made in prevention. Other changes to the curriculum include the English department working on a speech class, ninth grade biology class will have a lab and earth science will be eliminated since it is not a college bound course.
There will also be a graduated increase in community service to 60 hours as a graduation requirement. Starting in 2013 the community service hours required will be 15 with an additional 15 hours added each year until 2016 when the full 60 hours must be met.
It was announced that higher mathematics will be introduced at the middle school level allowing those students with the ability to grasp the knowledge a head start to go onto higher levels in high school. Assistant Superintendent Michael Johnson spoke with conviction as he addressed the situation stating, "We're coming at this with high expectations for our students." He went on to say that middle school students can be successful at algebra and geometry and their studies and grading will be the same as those offered to students at Fillmore High School. Classes taken at the middle school will count as one year of math if completed successfully. Mathematical reasoning is a natural phenomenon with a wide range of normal variation with many children having math skill abilities at a very early age and able to comprehend higher levels than was being offered in the past. Compared with their peers in Europe and Asia, U.S. students are two to 2½ years behind in math. California students are 1½ years behind, with many students not reaching the level they are capable of.
The new changes do not reduced the amount of math required, but instead the classes are offered in middle school which allows those students who want to continue on to higher math the option of doing so in high school and all students the ability meet their math requirements sooner leaving room for electives. To be competitive in a global society graduating students will need to keep up with India, Singapore and Europe in mathematics. Johnson ended the presentation with "Let our children compete."
Board Member Virginia de la Piedra said she was pleased with the changes in math and believes the changes will have a positive impact. She added, "Health is important, but there has to be changes. I wish we didn't have to make the cuts." Prado said he felt the changes should have been done sooner, adding "Asian countries have been teaching Algebra in the 7th grade for 15 years." He continued with, "Moorpark graduates are ready to enter the work force. Health is integrated into the other subjects like history. There are many other disciplines that can teach health. Now we have a plan…the students will learn health." Boardmember David Wilde responded, "Changes are tough…there was a feeling of apathy, sometimes there's a time for change. I'm never one to be afraid of change." Garnica added, "We care enough about our kids to spend the time."
FUSD has been in academic decline for a number of years now. This decline is described by the State of California as needing Program Improvement (PI) which is part of the State's integrated accountability system that reports both the state Academic Performance Index (API), and the federal Adequate Yearly Progress (AYP) of schools in the state. The State gives each school a number that ranges from 200 to 1000 which is calculated from the results for each school's students on statewide tests (California Standards Tests CSTs) to arrive at the API. The adequate yearly progress (AYP) report is a federal reporting requirement. AYP indicates if schools and district are performing at or above the proficient level on the CST's. Each year the targets increase until 2013-2014 when all schools must have 100% of their student's proficient. In the 2011-2012 school year all FUSD schools fell into PI with every school failing to meet the State's requirements.
Fillmore Middle School has been in PI since 2003; Piru, San Cayetano and Sespe since 2006; Mountain Vista since 2008; Fillmore High School, the most recent to become PI, starting in 2010. Fillmore Middle School had made intermittent adequate yearly progress in 2007-2008 and 2009-2010, and Mountain View in 2010-2011.
Schools that have been in PI can met the criteria for what is called 'safe harbor" which is an alternate method of meeting the Annual Measurable Objectives (AMOs) if a school shows progress in moving students from scoring at the below proficient level to the proficient level and a waver to the testing standards may be given to students with special needs and learning disabilities.
A problem that the administration said needed to be addressed is the percentage of students graduating from FUSD with the required courses to enter a UC/CSU is far lower than the county or state regardless of ethnicity and no ethnic group has met the State criteria in English-Language Arts or Math except when given a waver. FUSD is at 20.2% while the county is at 34.8% and state at 36.3%.
Nashino told those in attendance "From kindergarten to third grade children learn to read and from forth grade on they read to learn." Understanding both math and English are needed to be successful in the work force and why the two are important subjects to master. The California English Language Arts (ELA) Standards Test is administered to students in grades two through eleven and students in grades two through six are administered the appropriate grade-level California Mathematics Standards Test. Students in grade seven can take either the grade seven math test or the Algebra I test. The State's percentage considered proficient AMOs in ELA is 67% and Mathematics is 67.3% which FUSD is not meeting.
By Jean McLeod — Wednesday, March 7th, 2012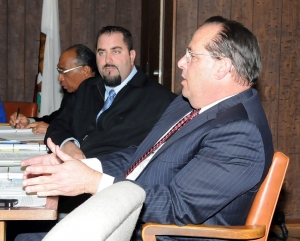 Mike Bush addresses the FUSD School board meeting, Tuesday night.
[Video of the meeting coming soon...]
At the March 6, 2012 Fillmore Unified School Board (FUSD) Meeting Financial Director Dr. Michael Bush gave a presentation on the district's financial outlook for the next three years due to state budget cuts and asked the Board for approval of a loan to pay expenditures. Also there was a presentation on improving the transfer process of student at Heritage Valley Independent Studies and Sierra High School, and comments on proposed cuts to the music program.
To close the $9.2 billion shortfall, Governor Jerry Brown is proposing $4.2 billion in cuts primarily to education and health and human services, increasing revenues and making other funding shifts. Those proposed cuts and the loss of revenue to the district over the past years have put FUSD in a position where there are few choices. Superintendent Dr. Alan Nishino told those in attendance, "We cannot keep deficit spending…they (Sacramento politicians) expect us to make predictions…we're being forced to make decisions that may not come true…the politicians are killing us."
Bush gave a brief talk on what California's Legislators have been up to; he found something both democrat and republican politicians could agree upon, Proposition 98 may be illegal. Proposition 98, the Classroom Instructional Improvement and Accountability Act, which is part of our State Constitution, requires a minimum percentage of the state budget be spent on K-12 schools and community colleges. This funding constitutes over 70 percent of total K-12 funding and about two-thirds of total community college funding. The legislature could potentially suspend the Proposition 98 guarantee to achieve savings, which would take a two-thirds legislative vote.
Another change to education and part of Brown's budget proposal is a new 'weighted student' funding model that would be phased in over five years. It starts with each student generating a base grant amount, expected to be $4,900 per student, then additional funding is given to districts with high concentrations (60% or more) of disadvantaged students such as large numbers of English-learning students and those from families with low incomes. FUSD certainly falls into the additional funding category, but whether or not these changes happen will depend on what the voters decide in November.
Brown's plan for increasing revenue to pay for the changes he's proposed calls for an increase in personal income tax on the state's wealthiest taxpayers and boosting sales taxes by one-half percent for five years. This, if approved, is said to generate up to $31 billion over the next five years; half of which, supposedly, would be set aside for public education. Californians already pay some of the highest taxes in the country and tax increase ballot measures have failed in the past, so there is no guarantee any of Brown's plans will come about.
Bush gave a spreadsheet presentation on where the District is headed over the next three years. He explained the District is down about $100,000 but expenditures are up $195,000 and that given the best scenario the District may barely come out of the hole it has dug itself into through years of deficit spending. Nishino reminded everyone that 12 to 13 of about 600 school districts throughout the state are bankrupt. It was then asked what happens when a district is bankrupt. Bush explained that the state takes over and all contracts and collective bargaining become null and void with a state trustee approving all future decisions.
An item up for Board approval was a loan of $9.5m for fiscal year 2012-2013 needed to pay expenditures. It was explained that the State is giving the District only $.79 on every $1.00 owed with Sacramento expecting school districts to borrow the difference because schools can get a better interest rate than the State. The Board had little choice but to approve.
Cynthia Frutos and John Wilber on the new independent study transfer committee gave a presentation on the new procedures for students at Heritage Valley Independent Studies and Sierra High School. It was explained that for some students transferring from one school to another is not always a smooth process and that not all students in the process are troubled. Some may have had an injury such as a broken leg and others are excellent students but simply bored. The committee has worked on new guidelines for transfer and explained the decision to transfer a student is a collaborative effort.
Kathy Pace, whose four children have received music/band instruction at a FUSD school, addressed the Board with her concerns over the elimination of the Elementary Band Program. She reminded the Board of the benefits that music education has on students and that most who participate in the music program are Gate, Honor and AP students. "I understand that you need to cut spending to have money for the schools, but I have noticed that the cuts have come to the certificated and no-certificated, but I have not seen any come from the district office itself …if you're going to have to do cuts then you need to do them all around, district office included," Pace told the administration. She went on to say the Board Member Virginia de la Piedra had mentioned the middle school band program would be next and it was her (Pace) belief that the next cuts should be to athletics since it is such a big expense on the District.
By Gazette Staff Writer — Wednesday, March 7th, 2012
Seneca Resources, an oil company who conducts operations in the Sespe mountains north of the city of Fillmore, is generously donating $7,000 to the Ventura County Sheriff's Office Volunteer Search and Rescue Team (SAR). Seneca, whose employees live and work in the area, have recognized the benefits the SAR volunteers bring to the community and have graciously donated the funds to support these efforts.
It's this type of private company and government partnerships that ensure when an emergency occurs, proper equipment and people will be able to respond with the training and expertise to handle the incident.
The Fillmore Search and Rescue Team is comprised of 30 volunteers, who respond to lost or overdue hikers and hunters in the back country at a moments notice, often times during inclement weather and at night when these types of calls have a tendency to happen.
The team is also trained in Urban Search and Rescue so that in the event of a catastrophic event such as flooding, fires or earthquakes, they can respond and supplement the Fire Department's personnel and Sheriff Deputies.
Each year the Fillmore SAR team donates thousands of hours of their time in training and actual searches for missing persons in the backcountry, and during mutual aid requests to other counties throughout the state.
Seneca's donation will greatly assist in the purchasing of an off-road capable vehicle that will enable the SAR members to search more effectively and transport critical rescue gear and personnel to remote rescue sites.
The Fillmore Search and Rescue Team and the Ventura County Sheriff's Office are extremely grateful to the Seneca Corporation and its employees for this donation.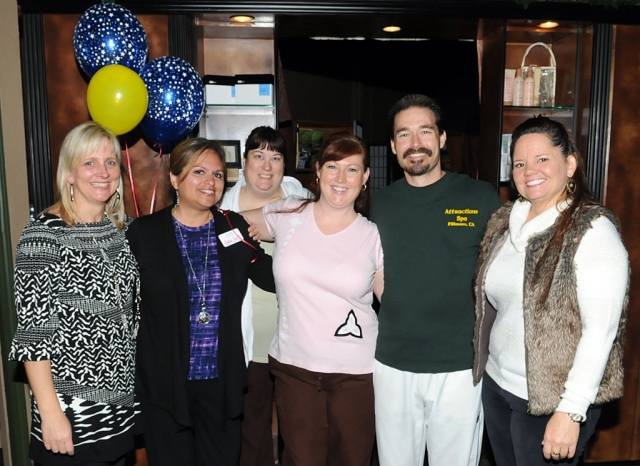 (l-r) Tammy Hobson, Ari Larson, Brenda Bush, owners of Attractions Spa April and Sean Hastings, and Cindy Jackson.
Enlarge Photo
By Gazette Staff Writer — Wednesday, March 7th, 2012
Attractions Spa has been named the Business of the Year! They will be celebrating their second year in business on April 1, 2012! The husband and wife team, Sean & April Hastings are the owners. Their main focus for their clients is complete relaxation when they come in to the establishment. Their motto/slogan is "Leave your stress with us." They are very active in the community as VPs of Grad Nite Live and members of the Fillmore Lions Club. They have also donated many hours of time to local 5K walks and health related events here in Fillmore and have given many donations in the way of gift certificates to any nonprofit, local kid/teen sporting events and fundraising activities.
They offer the following services: Swedish Massage, Deep Swedish, Deep Therapeutic, Hot Stone Massage, Pregnancy Massage, Foot Reflexology Massage, Custom Facials, Facial Waxing and brand new, just added, Custom Body Sugar Scrubs. They are also getting ready to launch Facial Peels this April 2012.
Attractions Spa is currently a Team of 3; Sean Hastings, Owner, Certified Massage Therapist, April Hastings, Owner, Licensed Esthetician, Certified Massage Therapist and Brenda Bush, Certified Massage Therapist.
Sean and April Hastings invite you to their 2nd Annual Open House Customer Appreciation Night on April 12th 5-7pm and the Grad Nite Live annual Yard Sale on April 21st at the school district office. More information coming soon on the Grad Nite Live Horseshoe Tournament at the May Festival!
Attractions Spa will be recognized at the Fillmore Community Awards Dinner on Thursday, March 22, 2012 by the Fillmore Chamber of Commerce. From 5pm-6pm will be social hour with dinner and program starting at 6pm. The dinner will be held at the Veterans Memorial Building. Attire: Western Tickets are $25 and can be purchased at the Fillmore Chamber of Commerce 805.524.0351, the Fillmore Police Dept. and the Fillmore Fire Dept.
Attraction Spa is located at 287 Central Ave. in Fillmore. Phone: 805.524.SPA2 (7722). AttractionsSpa.com AttractionsSpa2010@yahoo.com.
By Gazette Staff Writer — Wednesday, March 7th, 2012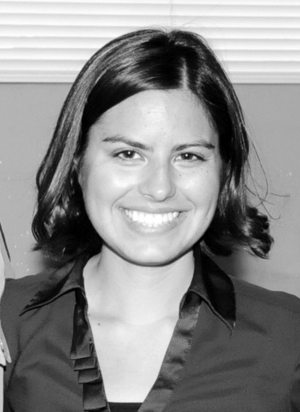 On February 28, 2012, Fillmore resident Briana Vazquez received the official word that she had been chosen by her peers as the 2011 Explorer of the Year. Briana is deserving of this award, and has made quite an impression at the Fillmore Police Station.
Briana is the daughter of Leo and Barbara Vazquez. Danny Vazquez is her younger brother. She was born at Travis Air Force Base, CA, and moved to Fillmore when her father became a Ventura County Sheriff's Deputy. Briana graduated from Fillmore High School in 2011 and is currently attending Ventura Community College. She is planning to transfer to UC Santa Barbara and be an Art/History major.
In 2010, Briana became a member of the Santa Clara Valley Explorer Post 2958. She attended a four week academy, where Briana and her peers attended law enforcement classes and performed physical education exercises similar to those in training at our the Ventura County Regional Training Center. Briana was seen as a leader in the post and rose in rank and is currently a Sergeant with the explorer post.
Braina's Accomplishments:
• As of December 2011, she had performed 438 hours of community service.
• Assisted the Fillmore and Ojai Deputies with DUI checkpoints.
• She was an actor in the "Every 15 minutes" DUI presentation at Fillmore High School.
• She and her peers participated in the "Relay for Life" in 2010 and 2011.
• Briana volunteers for traffic control for the May Festival and Christmas Parades.
• She volunteered for the North Fillmore Storefront Toy Giveaway for the past five years.
These are just a few of the details that Briana and her peers in Explorer Post 2958 perform with no hesitation and with enthusiasm.
Currently, Briana works at the Fillmore Police Station as a Student Aid. She works at the station aiding the front desk operation with subpoena distribution, vehicle mileage reports, filing, shredding, answering telephones, and customer service.
Due to her hard work, dedication, and leadership skills she is a deserving recipient of the 2011 Explorer of the Year.
By Gazette Staff Writer — Wednesday, March 7th, 2012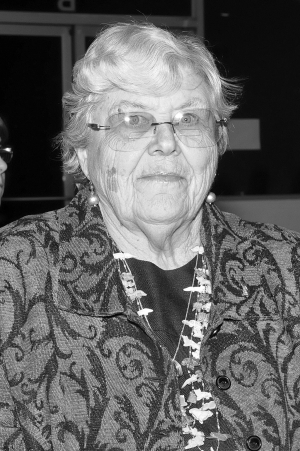 Marie Wren
Marie Wren has been selected as this year's Lifetime Achievement Award for a citizen. Marie cares for the community and has and continues to be very active. She has had an outdoor cooking class and has been president of the Senior Center. Marie is still a very active member of the Senior Center and was instrumental in keeping the group viable. She is Fillmore's volunteer historian and has been saving treasured memories of life in Fillmore by recording the citizens' recollections. On that same vein, Marie was a docent at Rancho Camulos Museum. She was involved in the restoration of the family buggy (at the Rancho Camulos Museum) built approximately in 1853. She has written many articles on the bygone days of Fillmore and wrote a book about one of the citizens in town. She is also past president of Soroptimist International of Fillmore from 1982-1983 and again from 1992-1994. During her second round of being president of SI of Fillmore she started the bike path clean-up project for the group. Marie Wren was also president of the PTA and helped start the very popular Halloween Carnival. Each August she finds the best deals on school supplies and donates them to our local school thus helping out families that do not have the resources to purchase them for their students. She is active in helping out with the Boy Scouts program. Last year's Citizen of the Year Sarah Hansen shares many fond memories of helping at the Fillmore Lions Club dinner with Marie not surprising as Marie is a friend to all.
By Gazette Staff Writer — Tuesday, March 6th, 2012
This year's Teacher of the Year is Raina Arellano. Mrs. Arellano teaches 4th grade at Mountain Vista Elementary School. She has worked for the Fillmore Unified School District for 6 years. Mrs. Arellano is known and respected by all students and staff at Mountain Vista School. She has high expectations for all of her students and is known for her outstanding teaching strategies and expertise in her grade level curriculum. Mrs. Arellano will be recognized at the Fillmore Community Awards Dinner on Thursday, March 22, 2012 by the Fillmore Chamber of Commerce. From 5pm-6pm will be social hour with dinner and program starting at 6pm. The dinner will be held at the Veterans Memorial Building. Attire: Western Tickets are $25 and can be purchased at the Fillmore Chamber of Commerce 805.524.0351, the Fillmore Police Dept. and the Fillmore Fire Dept.
By Gazette Staff Writer — Wednesday, February 29th, 2012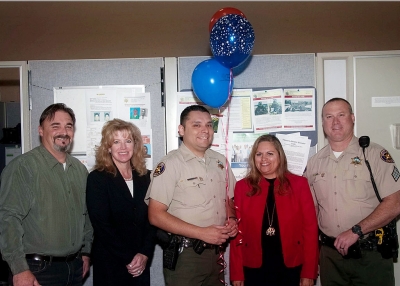 (l-r) Eric Vigal, Captain Monica McGrath, Police Officer of the Year Gabe Gonzales, Ari Larson, and Sgt. Smith.
Enlarge Photo
This year's recipient of the Police Officer of the Year is Deputy Gabe Gonzales. All though he has worked patrol just shy of three years Gabe has become one of the most productive and diligent deputies in the station. He has been a Deputy Sheriff for six years and began his career as a provisional deputy.
Gabe was born in Ventura and is married to his lovely wife Lori. Gabe is the ultimate professional, conscientious, and enthusiastic. He graduated from the Police and Sheriff's Training Academy in May 2006 and his first assignment was at the Pre-Trial Detention Facility. Gabe worked in the classification unit, gaining valuable knowledge about gang culture and narcotics abuse. He assisted many officers with special operations while working in jail. Gabe's evaluations include commendations where he went above and beyond the call of duty during his normal workday. He transferred to his current patrol assignment in March 2009, where he completed field training. Gabe was instrumental in revitalizing and encouraging other deputies at the station to get involved in the Sheriff's Explorer Post. He is currently a lead Advisor for the Post and he enjoys teaching and mentoring the explorers. Gabe has trained and been vital in curbing gang activity and narcotic use. Gabe will be recognized at the Fillmore Community Awards Dinner on Thursday, March 22, 2012 by the Fillmore Chamber of Commerce at the Veterans Memorial Building (511 Second Street Fillmore). Social Hour will be from 5pm-6pm with dinner and program starting at 6pm. Attire: Western. Tickets are $25. Call 805.524.0351.
By Gazette Staff Writer — Wednesday, February 29th, 2012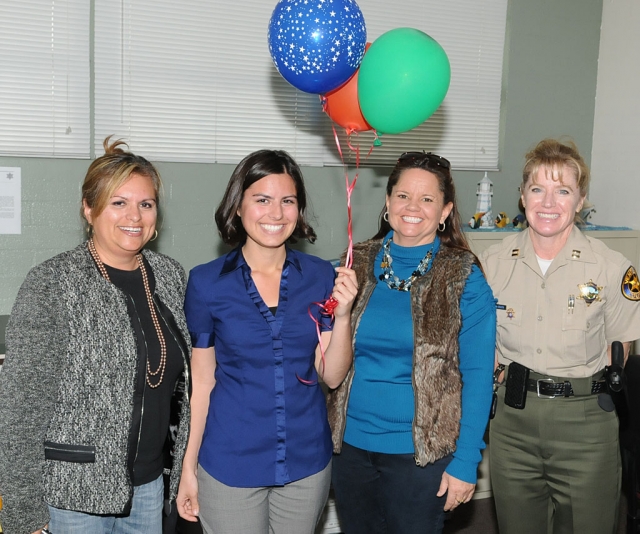 (l-r) Ari Larson, Explorer of the Year Briana Vazquez, Cindy Jackson, and Captain Monica McGrath.
Enlarge Photo
By Jean McLeod — Wednesday, February 29th, 2012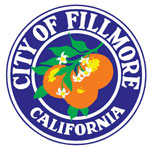 City of Fillmore
Tuesday's Fillmore City Council meeting revealed how bad the shape of the City "may" be in as City Attorney Theodore Schneider gave a presentation, with as much detail as was legally possible, on the status of Fillmore's sales tax litigation. Also discussed was the progress, or lack of progress, on the Two Rivers Park project, the Regional Housing Needs Assessment and public comments on various topics.
Schneider laid out the status of a lawsuit filed in 2009 by both the cities of Livermore and Industry against the City of Fillmore, Owens & Minor, MTS Consulting and Inspired Development. Those cities challenged the validity of what was called an Economic Development Agreement between MTS Consulting, Inspired Development and Fillmore. The agreement was that MTS and Inspired would attract large national retailers to locate a legitimate sales office in Fillmore; in exchange, Fillmore offered an incentive rebate of 85% of the sales tax received by Fillmore on account of new retailers, and retained 15%. The sharing of sales tax would continue for 20 years for each retailer. There were more retailers and other cities involved, but the only ones that filed a lawsuit were Livermore and Industry. The names of the retailers and taxpayers involved are confidential information under the State Board of Equalization (SBE).
In 2009 the California Legislature adopted SB27 making sales tax sharing agreements illegal, but grandfathered those prior to 2009, which leaves Fillmore's still legal.
Fillmore, MTS, and Inspired won on motion at trial court, but Livermore and Industry appealed and the appellate court overturned the trial court ruling, and the case now returns to the trial court for further proceedings.
In 2008 SBE started an escrow and to date (estimate) the amount being held pending the appeal is $12,401,979. But, in the event that Fillmore loses all the (seven other retailers) pending cases, the amounts previously paid to Fillmore that could potentially be reallocated to other jurisdictions and must be repaid is $6,947,284.
The payments made (the 85%) to MTS was $4,368,284 and to Inspired was $2,218,924 with Fillmore receiving (15%) $1,000,000. Some of this money paid out by Fillmore may need to be repaid to Fillmore if the SBE reallocates sales tax away from Fillmore. Fillmore is currently repaying funds in one case and several more may be decided in the next several months. The potential future revenue to Fillmore from a single largest retailer is estimated to be $700,000 or more per year.
When Councilmembers asked why this agreement was allowed to happen the response by a member of Schneider's law firm was, "The Council knew there was a possible down side, but the money involved was worth the risk."
Also discussed, Community Development Director Kevin McSweeney presented the Southern California Association of Governments (SCAG) 2012 Regional Housing Needs Assessment (RHNA) that will be used in the next Housing Element period 2014 to 2021. It is expected that the State will be requiring 275 more units for 2014-2021 than the City's General Plan Build Out. The General Plan identifies that 5,816 residential units are planned for which will result in a population of 22,693 by the year 2020. There are currently 4,408 residential units in the City. But even though the City's plan would construct what RHNA is asking, the units may not be constructed in the time frame allotted.
RHNA residential units are based on income levels and their proposed plan for Fillmore is 160 very low income units (23.1%) along with 112 low income (16.1%), 128 moderate income (18.4%) and 294 above moderate income (42.4%). McSweeney will report back to Council on March 13th if an appeal should be made to lower the numbers.
During the discussion Ventura's amnesty on non-conforming units was brought up; these are granny flats that were not permitted. Ventura has counted those units to meet its housing requirements. The question of doing the same in Fillmore was presented and the issue will be on a future meeting's agenda, possibly in May after it is clearer where the City stands on RHNA's requirements.
City Manager Yvonne Quiring discussed the $320,621 Community Development Block Grant (CDBG) funds available to construct a tot lot at Two Rivers Park. In 2008, under Proposition 12 the City submitted a competitive grant application for Two Rivers Park and received a grant for $500,000 of which $100,000 remains. The City has constructed the skate park, rest rooms and concession area, installed grass and a softball diamond. State Park staff notified the City in late January of the upcoming deadlines of June 30, 2012 for work to be completed. An extension request by the City to revise the scope of the project must be made by March 31, 2012. The State staff indicated that because it was a competitive grant, getting an extension for completion may be a challenge but that to the extent possible they would work with the City.
Fillmore Unified School District (FUSD) has partnered with the City on the project and prepared a budget and a proposed landscaping/layout plan and would serve as the project manager in trade for some surplus City vehicles which are the result of the 30% reduction in force this summer. Discussions with the County staff have resulted in the requirement that the City hire a consultant to handle monitoring part of the project.
During the public comments Mark Olson from Citrus Pest and Disease Prevention spoke to the Council on the Asian Citrus Psyllid an invasive pest that causes serious damage to citrus plants and a serious threat to the U.S. citrus industry. The Asian Citrus Psyllid is an aphid-like insect that feeds on the leaves and stems of citrus trees and other citrus-like plants – but the real danger lies in that it can be a carrier of a deadly, bacterial tree disease called Huanglongbing, also known as Citrus Greening Disease.
The Asian Citrus Psyllid has been intercepted coming into California in packages of fruit and plants, including citrus, ornamentals, herbs and bouquets of cut flowers, shipped from other states and countries. Floral bouquets containing psyllid-infested orange jasmine have been intercepted coming into California from Mexico.
Olson said the biggest problem where the bug is spreading is residential backyard citrus trees and that residents with them in their yards need to be on the lookout for the pest that is the size of a grain of rice.
Cindy Blatt with the Rotary Club of Fillmore Sun Risers announced the Rotary's commitment of $2,000 toward the electronic gate at Fillmore High Schools running track. In addition Rotary would like local service clubs, businesses and individuals to contribute to the project. Rotary will provide another $2,000 in the form of a challenge; a dollar-for-dollar match for the other donations not to exceed the additional $2,000. If met the total would be $6,000. Those that want to contribute with a donation are encouraged to make a check payable to Fillmore Rotary Sun Risers PO Box 882, Fillmore, CA 93015 or contact Don Gunderson at 805 524-1308.
Daniel Gonzalez, youth advocate with One Step Center, announced their members are doing a controlled study of the Superfund Site and will be doing surveys and questioners in the area. One Step Center, which is now under the umbrella of Big Brothers Big Sisters of Ventura County, also received $15,000 each year for the next two years to work with the youth in Fillmore.
Councilmember Brian Sipes announce the Fillmore Chamber of Commerce in conjunction with the Santa Paula Chamber of Commerce and the Heritage Valley Tourism Bureau are trying to put together a master community calendar. A meeting is scheduled for Tuesday, March 13, 2012 between 11am and 12pm at La Fondita. All non-profits, community groups, school groups are invited to come prepared with the dates of their events to be included on the master calendar. This will be a no host lunch. For more information contact Community Calendar Chair Ari Larson at 805 794-7590.
It was also announced that it was decided to have the May Festival at City Park and not at Two Rivers Park.
By Ventura County Sheriff Department — Wednesday, February 29th, 2012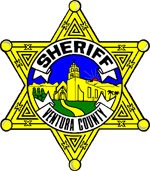 Ventura County Sheriff's Department
On February 27, 2012, the Camarillo Police Department, Ventura County Fire Department, and American Medical Response (AMR) responded to the area of Las Posas Rd. and Carmen Dr. to an injury traffic accident. Initial reports were that two vehicles were involved in the traffic collision and one vehicle had rolled over.
Upon investigation, it was determined by deputies that Richena Curphey was driving a 2009 Honda FIT westbound on Las Posas Rd., approaching the intersection of Carmen Dr. Christy Dungey was driving a 2001 Ford F-250 eastbound on Las Posas Rd. approaching the intersection of Carmen Dr. Curphey made a left turn onto Carmen Dr., from Las Posas Rd. and collided with Dungey.
An adult female passenger in Curphey's vehicle died at the scene as a result of injuries sustained in the accident. The victim's name is not being released at this time pending family notification. The relationship between Curphey and the decedent is not known at this time.
The traffic accident is under investigation at this time. Anyone who might have witnessed the accident is asked to contact the Camarillo Police Department/Traffic Bureau at 388-5100. It is unknown if alcohol or drugs were a factor in the accident.
Nature of Incident: Fatal Traffic Collision
Report Number: 12-4625
Location: Las Posas Road at Carmen Drive
Date & Time: February 27, 2012, at approximately 6:35 PM
Unit Responsible: Camarillo Traffic Bureau
(S)uspects, (V)ictims, (W)itnesses (D)ecedent City of Residence Age
Decedent-Adult Female, Unknown, 68
Party-Richena Curphey, Fillmore, 31
Party-Christy Dungey, Ventura, 51
Deputy Preparing Media Release: Sergeant Renee Ferguson
Media Release Date: February 27, 2012
Follow-Up Contact: Sergeant Renee Ferguson 805 388-5132/Ventura County Coroner's Office 805 641-4400
Approved by: Captain Higgason
Ventura County Crime Stoppers will pay up to $1,000 reward for information, which leads to the arrest and criminal complaint against the person(s) responsible for this crime. The caller may remain anonymous. The call is not recorded. Call Crime Stoppers at 800-222-TIPS (8477).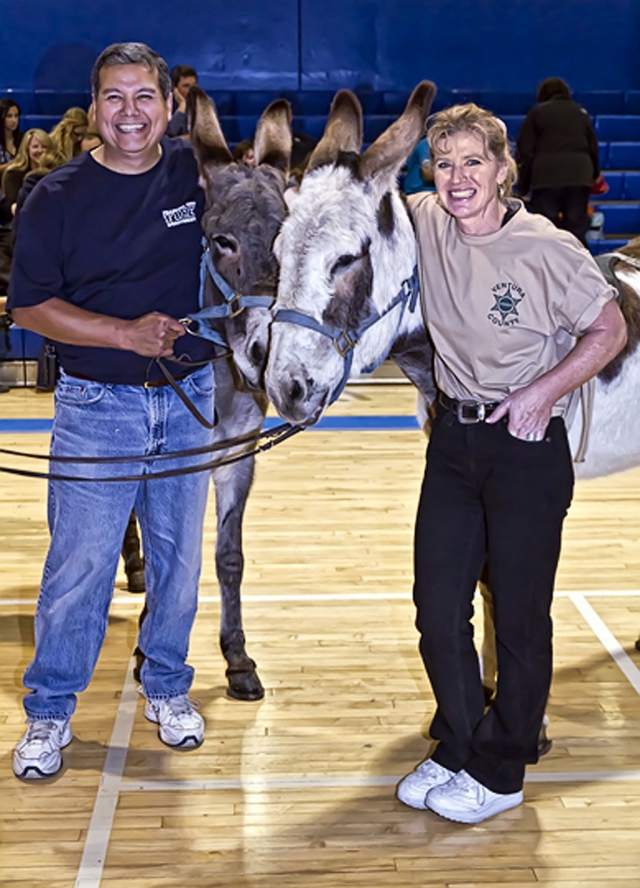 Donkey Ball basketball is back! Saturday, February 25, the Fillmore Fire Department played a fundraiser game against the Ventura County Sheriffs Department. The game was well attended and it ended in a tie, 28-28. The FFA will be scheduling this event for next year. Above, Fire Captain Rigo Landeros and Chief of Police Monica McGrath. Photos courtesy of Bob Crum
Enlarge Photo
By Gazette Staff Writer — Wednesday, February 29th, 2012
By Gazette Staff Writer — Tuesday, February 28th, 2012
SANTA BARBARA, CA - After sewing up the Golden State Athletic Conference women's basketball regular season championship last week, Westmont Women's Basketball has received numerous awards from the conference.
Junior Tugce Canitez of Izmir, Turkey has been named the GSAC Player of the Year while head coach Kirsten Moore has received GSAC Coach of the Year honors. Joining Canitez on the All-GSAC team are senior captains Katie Kittle of Colusa, California and Lisa Peterson of Citrus Heights, California. Junior Jillian Wilber of Fillmore was named a GSAC Scholar-Athlete.
"I've always said that individual awards are representations of a team's success," said Westmont head coach Kirsten Moore. "All of these awards are indications of the success we have had as a group. Every person has added to what we are doing for those honors to be given."
Canitez led the GSAC in scoring, tallying 560 points (19.3 points per game). She was second in rebounding - averaging 10.3 per game - and fourth in field goal percentage at 50.4 (192 of 381). Canitez also ranked seventh in free throw percentage in the conference at 75.5 (163 of 216).
"Tugce possess so many different skills, which enables her to have the success she does on the floor," said Moore. "She is not just a scorer; she is also an incredible rebounder and passer. She makes those around her better, she's a good defender and she has a high basketball IQ and understanding of what is going on with the game. I believe the completeness of her game is why she was honored as the Player of the Year."
In the Westmont record book, Canitez' point total and scoring average ranks first in the Warriors' season records. She also ranks first in free throws made (163), total rebounds (299) and rebounding average (10.3). She is currently second in field goals made, but needs just four more to tie Ali Mooty's record of 196 set in 2006-07.
Canitez is the first Warrior from women's basketball to receive Player of the Year honors.
Moore, who is in her seventh season at the helm of the women's basketball program, led the fifth-ranked Warriors to a 26-3 record so far this season and a 16-2 mark in conference play. Her current career and Westmont coaching record is 138-73 (65.4%). This is the fourth time Moore has recorded at least 20 wins in a season and marks the fifth time she will lead the Warriors to the NAIA National Tournament.
"The coach of the year award is a tribute to our entire team of coaches," said Moore." I had such great help this year from Selena Ho who has been an Xs and Ox guru. Meghan Gnekow and Dani Russell have been such a great support for the athletes as well as supporting me in the things I need as a coach. I have been really blessed to have had an incredible staff this year."
Moore is the second Westmont coach to receive the GSAC honor. Gregg Afman was named the GSAC Coach of the year for the 2000-2001 season.
Lisa Peterson was the second most accurate shooter in the GSAC, making 53.2 percent of her shots (125 of 235) from the floor and 83.8% of her shots from the free throw line. The post player was also fourteenth in scoring (11.7 points per game) and twelfth in rebounding (6.3 boards per game).
Peterson holds the Westmont record for career field goal percentage at 53.2 percent (248 of 466) and career free throw percentage at 83.6% (168 of 201).
"I couldn't be more thrilled for our seniors to both be recognized," said Moore of Peterson's and Kittle's honors. "They have put in an incredible amount of hard work beginning with the offseason in preparation for this year. They have performed on the court and have been incredible leaders both on and off the court. They have represented the best of who we are at Westmont and what we want to be about - their attitudes, sportsmanship, work ethic and unselfishness for the sake of the team. I am so happy they are being recognized as leader by being named to the All-GSAC team."
Kittle ranks twenty-fourth in the GSAC in scoring at 8.7 points per game and eleventh in steals at 1.59 per game. The guard, who appears in the top-10 in 18 of 24 career record categories, joined the 1,000 point club on February 5 against San Diego Christian and has a current tally of 1,064 points - ninth best in Westmont history.
Jillian Wilber, a history major, was named a GSAC Scholar-Athlete. The honor requires a 3.5 GPA and is awarded only to those who are juniors or above in academic standing. Wilber holds a GPA of 3.56.
"I think one of the hardest awards to win at Westmont is to be named a GSAC Scholar-Athlete," said Moore. "To have above a 3.5 GPA at Westmont while you are a student-athlete is an incredible challenge. Jill, who is our third captain, has been leading us both on and off the court. She is most deserving of that honor."
The Warriors open GSAC Tournament play on Wednesday evening when they host the Mustangs of The Master's College (12-18, 5-13 GSAC). Tip-off is scheduled for 7:30 p.m.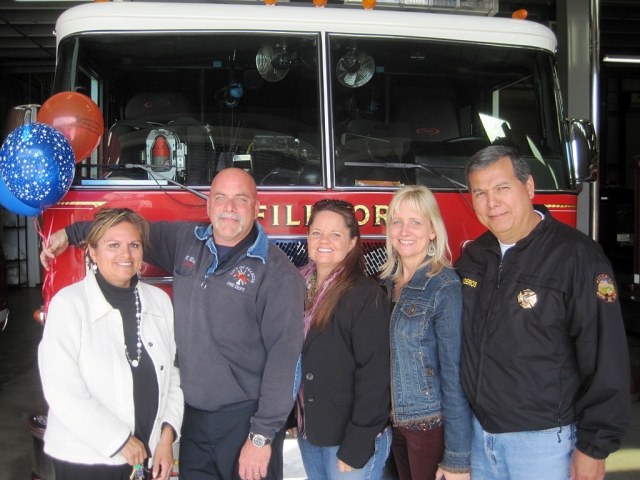 (l-r) Ari Larson, FireFighter of the Year Rob Rolf, Cindy Jackson, Tammy Hobson, and Fillmore Fire Chief Rigo Landeros.
Enlarge Photo
By Gazette Staff Writer — Wednesday, February 22nd, 2012
As Fire Chief of the Fillmore Fire Department I am proud to announce that Robert Rob Rolf has been chosen by his peers as the 2011 Firefighter of the Year.
Rob Grew up in Burbank Ca, Moved to Fillmore in 1999 and joined the Fillmore Fire Department in March of 1999. Rob is married to his lovely wife Tami Rolfe. They have 5 children, Kayli 23, Tyler 19, Evan 13, Jayni and Jordyn 10. Without their love and support Rob could not have achieved his goals. Rob started his EMS carrier with Pruner Ambulance in Thousand Oaks in 1986 as an EMT. Rob Graduated from Daniel Freeman Hospital Paramedic School in 1987 and has been working as a Paramedic for the past 25 years. Rob is currently employed by AMR, American Medical Response Ambulance Company as a field supervisor and is currently a Paramedic/Engineer for the Fillmore Fire Department. Rob also worked with the Ventura County search and rescue Medical Team as a Flight Medic for over 3 years.
Rob was one of a handful Paramedics that dedicated their time and help retired Fire Chief Pat Askren start Fillmore Fire Departments Volunteer paramedic program when Santa Paula Hospital closed its doors in 2004. Sense then, Rob and all the men and women of the Fillmore Fire Department having been proving excellent EMS service to the citizens of Fillmore. Rob's love and dedication for EMS and Firefighting for the City of Fillmore made it easy for his peers to elect him as our 2011 Fillmore Firefighter of the Year.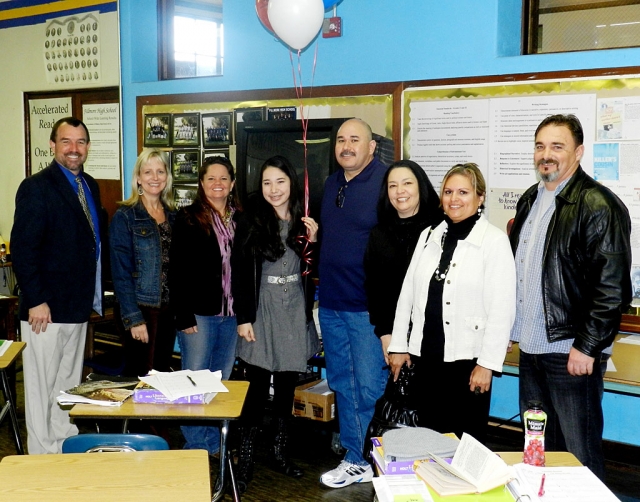 (l-r) Principal John Wilber, Tammy Hobson, Cindy Jackson, Student of the Year Vanessa Villa, Noe and Norma Villa, Ari Larson, and Eric Vigil.
Enlarge Photo
By Gazette Staff Writer — Wednesday, February 22nd, 2012
Vanessa Villa, a senior at Fillmore High School was surprised in her class on Friday, February 17th by the Fillmore Chamber of Commerce board members including new chamber president Cindy Jackson, 1st vice president Ari Larson, 2nd vice president Tammy Hobson and board member Eric Vigil who presented Vanessa with some balloons and the news that she had been selected as Student of the Year. Also there to celebrate were her proud parents Noe and Norma Villa and Fillmore High School principal John Wilbur.
Vanessa is the Student of the Year because of her commitment to doing her best in all she does. She has tutored students in many subjects including math. Vanessa not only held the secretary position in the M.E.Ch.A Club, which celebrates Hispanic Heritage and Culture she was also president (at the same time) of the Fillmore High School S Club (the high school division of the Soroptimist International of Fillmore group). The S Club serves the community and provides services and educational experiences for young women. Vanessa attended conferences, participated in Relay for Life of Fillmore/Piru, Arthritis Walk, Cleaned the Fillmore Bike Path and helped with the Peace Pole project which included teaching and making hundreds of origami cranes for peace. She was also instrumental in helping with the annual Soroptimist Fashion Show, Luncheon and Silent Auction event. Vanessa is very organized and professional in all she does. She is a good leader. Vanessa always has a smile on her face and is willing to lend a hand wherever she can. She is also a wonderful older sister to her younger sister Valeria Villa. Vanessa along with the other community winners will be honored at the Fillmore Community Award Dinner on Thursday, March 22nd at the Memorial Building.