Obituary
Stacey R. Richey (1984-2021)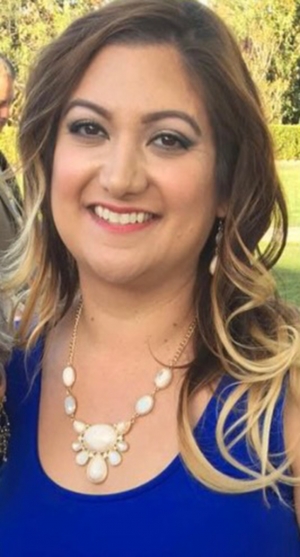 Stacey R. Richey (1984-2021)
With heavy hearts we share the passing of Stacey Raquel Richey, beloved wife, mother, daughter, sister, Tia, niece, cousin and friend to many. Surrounded by her loving family, Stacey succumbed 5 years after her cancer diagnosis, having fought a long, hard and very courageous battle against the disease.
Stacey was a life-long Fillmore resident, the youngest daughter born to Jose Luis (Louie) and Pauline Villaseñor. She went to Fillmore schools and graduated from Fillmore High in 2002. Growing up, Stacey was fun-loving, chatty andloved hanging out with her siblings, who always kept an eye on her. She always found someone to be her partner-in-crime - oftentimes it was her dad.She received her pharmacy technician certification and worked as a Pharmacy TechatRite Aid in Fillmore for 19 years. She was always a friendly face to people in town, taking the time to ask how they were and have a conversation. She was a life-long, devout member of Kingdom Hall of Jehovah's Witnesses in Fillmore, and through the local congregation met and married Ivan, her husband of nearly 17 years. Together they had two children, Sophiaand Eric, who were the loves of her life.
Stacey always put her family first. Family commitments and togetherness were her top priority. Whether it was a backyard barbeque, celebrating a wedding, anniversary, or baby shower, going shopping, camping, skiing or to Disneyland (her happy place), it was with family and her closest friends. She was a loving Tia to her nephews and niecesand she was a great mama. She took such joy in raising her kids and proudly shared photos of their life together. She once told her uncle that her kids were always "Instagram ready." She loved everyday mom life and the special moments, dance and music recitals for Sophia, fun, goofy times with Eric and school award ceremonies for both of them, her little smarties. As she became less able to participate in their daily lives, she always understood what they, too, were going through, and was so proud of how they bravely dealt with her illness. Stacey was alwaysthere for her family as much as she could be and fought hard to experience life with them to the fullest.
Stacey's faith was of utmost importance to her. It strengthened her resolve to stay strong and keep fighting her battle all these years. She always looked forward to the annual convention of Jehovah's Witnesses in Long Beach and before and after the Pandemic hit, she listened to inspirational sermons on her phone, fortifying her faith in Jehovah to face herchallenges and uncertainties head on.
Stacey loved looking her best – getting made up with some new make-up, fresh outfit and cute hairstyle made her day. If it was the fall and winter, she was cheering on her Rams, if it was spring and summer, she was cheering on the SF Giants with her dad, while they teased Eric, who cheers for the Dodgers. Everyone who knew Stacey knew how much she loved to tease and poke fun, but she always did it in her sweetway that just made you feel loved. She had a special way of being a peacemaker, of mending breaks or tears in relationships, and of seeing and bringing out the absolute best in everyone.
She is preceded in death by her father Louie, who now rests with his sweet "Raquel", her paternal grandparents Herky and Rica Villaseñor, her maternal grandmother Julia Ramirez, her cousins Alex Villaseñor and Adam Hurtado, and her uncle Ralph Villalobos. She is survived by her beloved husband Ivan, daughter Sophia, and son Eric, her mother Pauline Villaseñor, sister Samantha Villaseñor and nephew Daniel Fernandez, brother Louie Villaseñor and sister-in-law Ines Villaseñor, brother Patrick Villaseñor, sister-in-law Amy Villaseñor, niece Mia Villaseñor and nephew Patrick Villaseñor Jr., father-in-law and mother-in-law Steve and Mary Richey, sister- and brother-in-law Erica and Daniel Lawless and nephews Conner and LoganLawless, along with an extended family of many aunts, uncles, cousins, friends and members of her congregation, all who will miss her.
While her illness took away many of her choices, Stacey called her own shots as much as she could these last 5 years up to the very end, having let her family know that she wrote her own obituary, which she hid quite well, and we are still trying to locate. In the meantime, we'll share a few of Stacey's own words about her family, as this was her wish. To Ivan, her "Papa": "There will never be enough words to describe my love for you. You have given me and the kid's unconditional love and a beautiful life. Thank you for loving me almost as much as you love what's in your garage. (laughing emoji)" To Sophia: "You are the kindest, sweetest, most-caring, most loving, brilliant doesn't-care-what-anyone-thinks little lady. I love you for being so strong. I love you sister-bear". To Eric, her "Dad": "He puts others before himself and is always the first to help or give up his place so someone else has a chance. The loss of my Dad Louie had a huge impact on him, but he still has a heart of gold.Love you forever Dad". To her brothers, Louie, or Bebothe "best Tio in the world" and Pat, "her first best friend": "My Rocks - love you guys. I am so proud to call you my brothers". To her mom Pauline: "I truly don't know what I would do without her or how I could have gotten through treatments without her. What you don't know and don't see is all this amazing woman does for me and my family…there's not enough words to express my love and gratitude momma". To her sister Sam: "I love you today, tomorrow and forever. She's been there for me through the good, the bad and the ugly and she never complains or asks for anything in return. She loves like no other."
Welove you and miss you Stacey Raquel. Now we can say "We've got this". This is not good-bye, it's see you later.
Funeral services will be on Sunday, October 3, 2021 at 12:30pm at Perez Family Mortuary, 600 Central Ave. in Fillmore. Reception to follow at Two Rivers Park – 404 Edgewood Drive in Fillmore. If you would like to attend the services via zoom, please contact Samantha @ 805-625-3431 or Ines at 805-625-1204.