Valdovinos and Hope Lead Runners at Seaside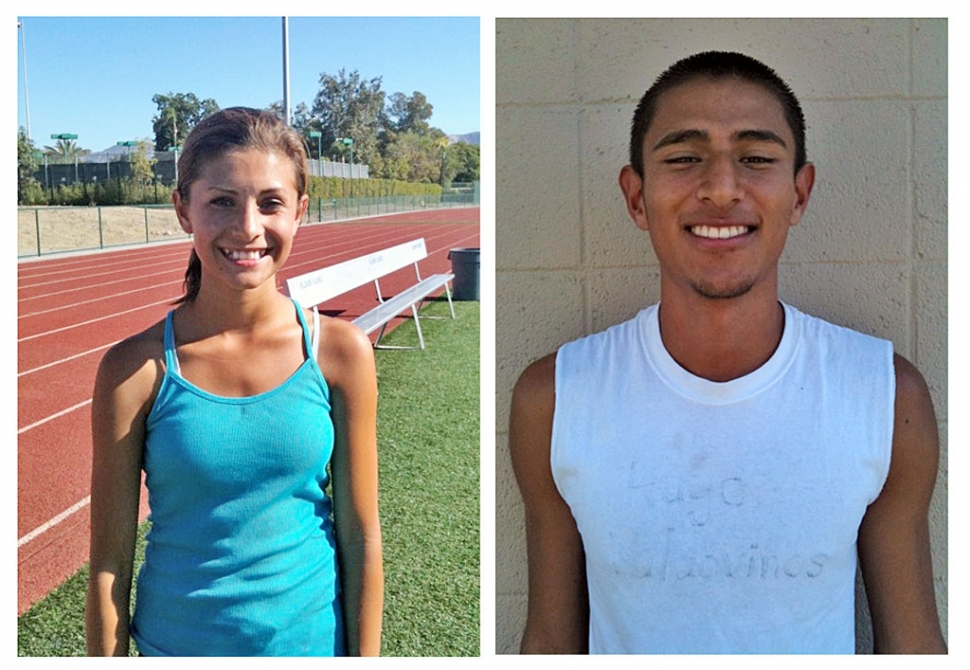 Kiana Hope and Hugo Valdovinos
By Epi Torres — Wednesday, September 22nd, 2010
The Fillmore boys and girls cross country teams competed Friday September 11th at their annual first test of the season the 21st Annual Kiwanis Seaside Cross Country Invitational. This meet was held at San Buena Ventura State beach and was well attended by many of the top teams in the state, thus allowing the Fillmore Harriers to test their summer training and see how well it had prepared them for the early season meets.
This meet is one of the few meets during the season that is run on relatively flat bike trails along the beach, it allows athletes to compete against others in the same grade level regardless of ability and school size. Ventura and its cool, scenic ocean offered a beautiful sunny day on a Friday afternoon with no hint of a breeze in the air, perfect for running.
The first set of races featured the girls' teams with competition beginning at the freshman level and concluding with the girls' senior level. In the freshman race Kiana Hope set the tone for the day by leading all Fillmore competitors with a 4th place finish in this race. Kiana looked easy throughout the race as she glided through the 3 mile course posting an excellent early season time of 19:24. This was the best finish for all Fillmore girls' athletes on this day. Her teammate Vanessa Perez also finished well in a time of 28:03.
In the sophomore race, second year competitor Laura Garnica led a large group of harriers by placing 36th in a time of 21:13. She was followed by a group of 7 other competitors including Lucila Diaz who finished in 60th place in a time of 21:47. Newcomer Amber Wilmot looked easy as she worked her way through the pack and finished in 80th place in a time of 22:23. Others in this race were Dalila Ortiz who finished 24:44, Jazmine Sandoval in 25:51, Amanda Vassaur in 25:55, and Isabel Cardenas in 27:06.
The junior race feature lone competitor Anissa Magdaleno who after a late start on the season finished in a time of 25:40.
Not to be outdone the senior girls were led by Corina Silva who finished in 80th place in a time of 22:43, followed by teammate Iruma Trujillo in 81st place in a time of 22:44.
The girls' races were followed by the freshman boys, this race featured 9 novice competitors. Leading the assault for the Flashes was Frank Chavez one of two brothers on the team. Frank placed 15th, posted an 18:01, and medaled. Teammate Joseph Orozco followed in a time of 19:47.45, Justin Beach in 20:07, Adael Mejia 22:25, Khristian Felix in 22:43, Ricardo Gutierrez 23:01, Jaime Valdovinos in 23:29, Nico Frias 23:43, and Luis Rodriguez 24:41.
The fastest competitor of the day for the Flashes was sophomore newcomer Hugo Valdovinos. Hugo worked his way up through the 349 competitors and finished 10th in an excellent early season time of 16:36. Many other outstanding times were turned in in this division as the Flashes collected a total of 8 medals in this race alone. Other runners included Adrian Mejia who finished in 17:18, newcomer Anthony Rivas in an excellent 17:29, Alex Frias in 17:33, Jovani Oregon in 17:40, Jose Almaguer in 17:47, Isaac Gomez 18:05, Sammy Martinez in 18:05, Vincent Chavez in 19:07, Jonathan Minero in 19:17, Anthony Meraz in 19:44, Javier Rodriguez in 20:02, Tyler Hackworth in 20:05, Lucio Trinidad in 21:41, and Armando Vidal in 23:03.
Top finisher for the boys in the junior division was Alex Gonzalez who ran his best time on this course of 17:09, followed by Christian Rodriguez in 17:59, Jordan Mendoza in 18:07, Eddie Baez in 19:43, Adrian Gutierrez in 20:38, and Robbie Munoz 21:11.
Senior boys were led by Ruben Cruz in 18:40, Esteban Guerrero in 19:07, Jovanni Rubio in 19:50, and Eddie Vazquez in 20:45.
In total the cross country teams brought home 14 individual medals with the sophomore boys running to a second place finish in the team competition. The Flashes will next travel to the Blue Lagoon Invitational competing on a semi hilly course along Lagoon at UCSB. They will compete in two single races a boys small school division and a girls small school division starting at 9:00 a.m.