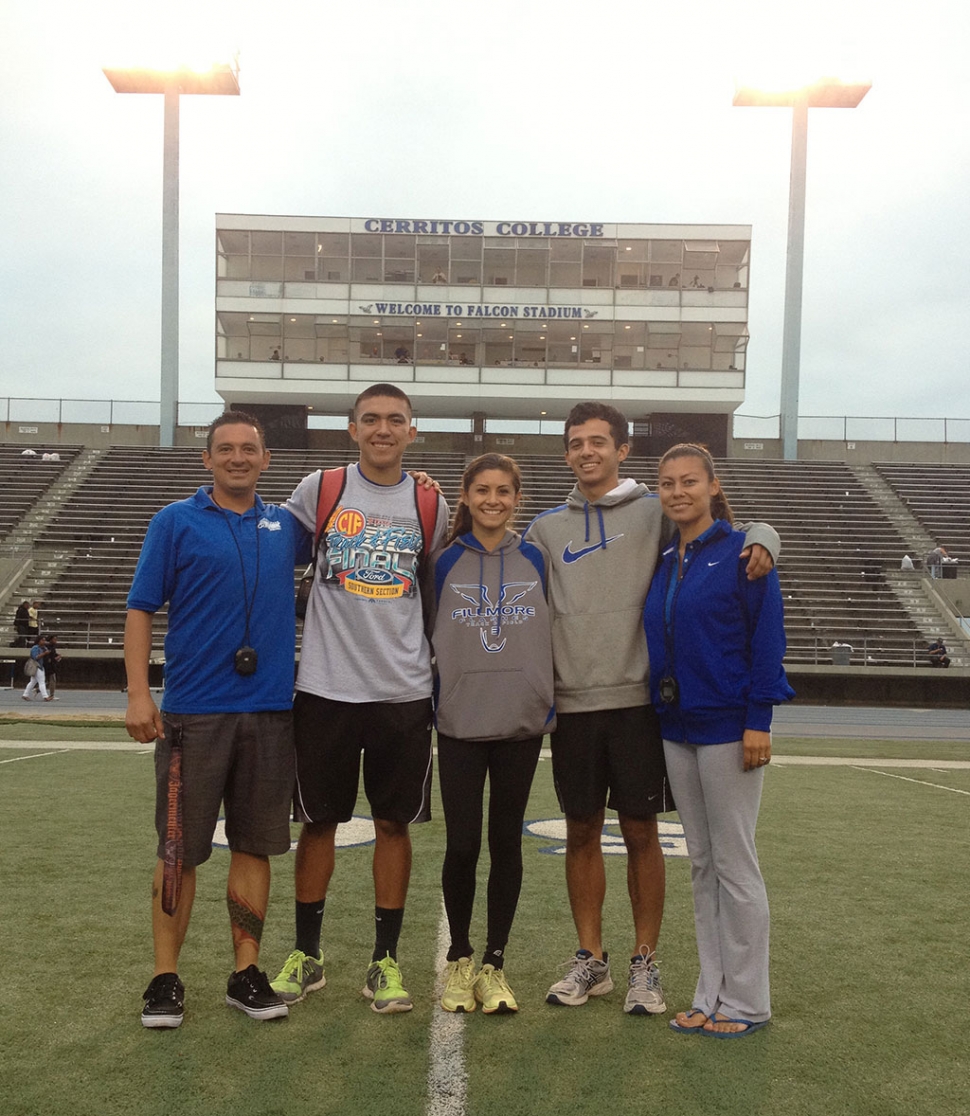 (r-l) Coach Juan Viramontes, Carlos Briceno, Kiana Hope, Jesus Mendoza and Coach Erika Arana. Not pictured Coach Tonya Tafoya and Kayla Grove.
By Gazette Staff Writer — Wednesday, May 28th, 2014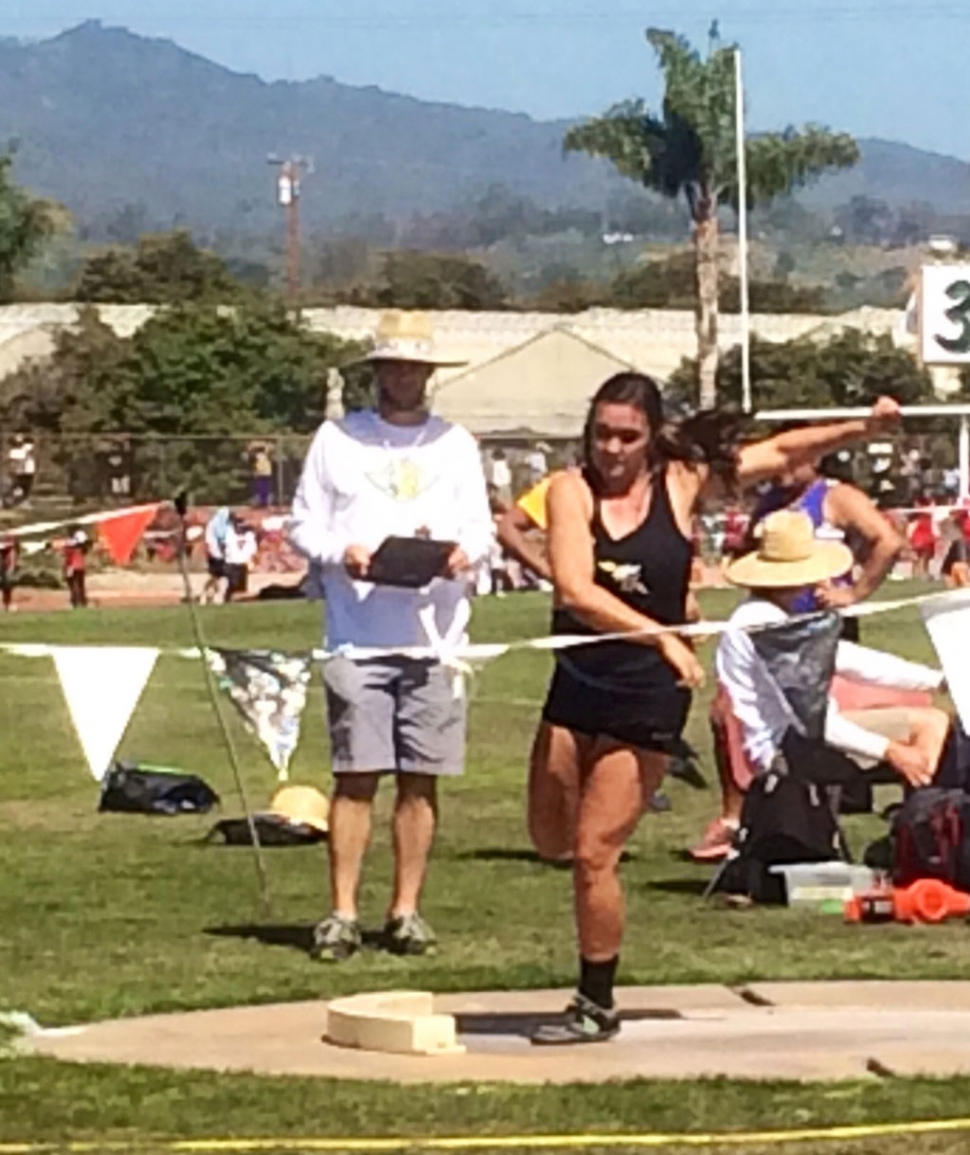 Kayla Grove throwing shot put, placing 7th in D4
Kiana Hope and Jesus Mendoza medal at CIF Finals; Carlos Briceno and Kayla Grove perform strong as all Fillmore Flashes complete a successful post season campaign.
Kiana Hope and Jesus Mendoza place 3rd and 4th over all at the division 4 CIF Championships in the Girls 3200 meters and Boys 1600 meters respectively. Carlos Briceno, Boys 110 meter high hurdles and Kayla Grove, girls shot put wrap up a successful Track and Field 2014 Campaign.
Hope saved the best for last, producing life time best after life time best, from the county championships to CIF prelims than CIF finals. Her 3200 meter clocking of 11:14.96 was 5 seconds faster than her previous best posted at prelims the week before and solid enough to earn her the 3rd over all place medal. "Coaching Kiana has been an amazing experience this season, having her in a race is like having a coach in a race, except much faster. You can always depend on her to deliver and come through at precisely the time and effort that she needs to come in at. She understands the race dynamics to a whole new level, she's able to see the natural breaks, and she can always anticipate any substantial and race changing move, enabling her to react to them as they happen and thus becoming a strong presence in every race". After graduation this June, the recently crowned Miss Fillmore 2014 will head off to the University of Tennessee at Martin where she will lend her running talent and knowledge to the team!
Mendoza, came in to his senior season with no prior experience of running whatsoever but he transformed into a sponge and absorbed every single training session and race tip, learning and understanding race strategy quickly enough to scorch and set the track on fire day in day out and grab attention from his opponents over night. Climbing on to the podium became a necessity as he managed to do it every single meet, no mater the caliber or the competition. Just like Hope, Mendoza ran his best times when it mattered most, earning two medals at the county meet, wining the Tri Valley league championships 1600 meter race and using one final kick to grab the 4th place medal for that event in the finals with a personal best 4:22.04 just missing the all time high school record by a slim 2 seconds. Mendoza will be taking advantage of the local surroundings and familiar faces as he will attend Ventura College next season where he will also compete in Cross Country and Track.
Briceno used a season best in the 110 meter hurdles to finish 7th in the event with a time of 16.13, two spots higher that he was seeded entering the meet. "When the season first started and we began conditioning, Carlos expressed his desire to qualify and compete in the CIF divisional finals. Even though it was very early in the season, when I saw the look of determination in his face and heard the strength and belief in his voice, I knew that very moment I would be coaching a season that would extend all the way into the finals" Briceno is currently a Junior, he will have the opportunity to compete one more year as a Flash, with all the hard work and the foundation that has been built, next season should be one to look out for.
Grove, riding the confidence and momentum of her individual Tri Valley league title, used a strong performance in the prelims with her Life time best of 35'6" in the Girls shot put to advance in to the finals where she posted a solid throw of 34'9.75" and earned the 7th place in the Division Finals. Grove was as reliable as an athlete can be throughout the season, the team knew they could always depend on her to deliver and score the consistent points. Kayla is a Senior and will be attending Humboldt State university where she will continue her successful throwing career.
Peaking at the right time and posting life time best performances when it matters most can be the challenge and it becomes both and art and a science, this group of athletes figured out a way to make that their masterpiece. Once you get into the county meet and CIF meets, you find out that the competition is tough and you've gotta be tougher to survive. At that point the level of competition is always relatively the same, it is than the ability to reach and sustain that level of competition that becomes the difference maker, these athletes all mastered it well and used it to their advantage. GO FLASHES!!!