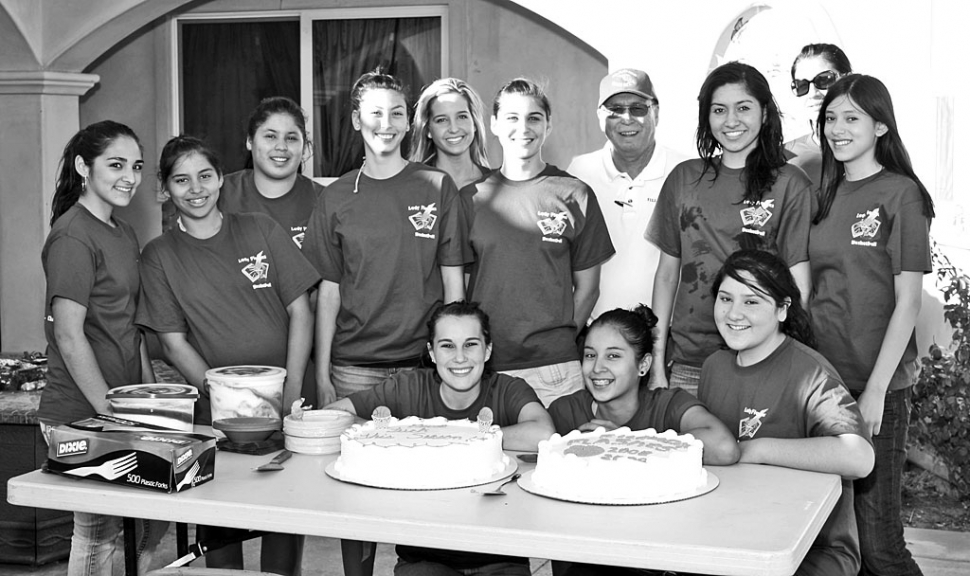 Pictured above but not in order: Coach Burns, Jazzmin Galvez, Conchita Meza, Yesenia Avila, Amparo Magana, Victoria Ayala, Mariah Rivas, Aimee Orozco, Jillian Wilber, Kyla Hernandez, Cristina Baena, Assistant Coach Amelia Aparicio. Not pictured are Rebecca Herrera, Nadia Lomeli, and D. Villa Gomez.
By Anonymous — Wednesday, November 19th, 2008
On Saturday November 15th the Lady Flashes Varsity Basketball Team had a BBQ at the residence of Ray and Antonia Galvez. The purpose of the BBQ was to build team unity for the 08-09 basketball season. Also, a new Lady Flash logo was introduced on royal blue t-shirts. The logo was designed by assistant varsity coach, Amelia Aparicio. It is a picture of a lightning bolt with an outline of Aimee Orozco, co-captain, of this year's team. Three senior starters spoke to the parents, team captain Aimee Orozco said the following "I'm glad we had a good turnout. Thank you for your support and hopefully we'll have it throughout the season." Senior leader Jill Wilber spoke to the parents and stated "The team and I are really excited about the season! We have high expectations and many goals. Our first goal is to win our tournament. Our second goal is to win our league as outright champs. Our ultimate goal is to win a CIF title. We have been working hard in practice so that we can achieve these goals. Another senior leader Kyla Hernandez asks the fathers to volunteer on a Saturday, to help paint their remodeled team room. The lady Flashes Varsity Team would like to thank El Pescador for donating the salad, rice, and beans for the team BBQ. Also, Vons of Fillmore for donating the water and Gatorade. The tri-tip and chicken was from an anonymous donor. All the girls want to express their heartfelt THANKS to Dr. Mike Bush of FUSD for being the chef at the BBO. Finally, Coach Burns thanked the Galvez Family for hosting the team BBQ.
The Herrera family announced that they will hold a concert at the School District Auditorium, around the first of the year to help raise funds for the girls J.V. and Varsity Basketball program. The athletes will be encouraged to sell 20 tickets each. Story Courtesy of Jasmin Galvez and Tory Ayala.