Taylor Brown Places Second At National Finals In Aquafina Major League Baseball Pitch, Hit & Run Competition
By Anonymous — Wednesday, July 23rd, 2008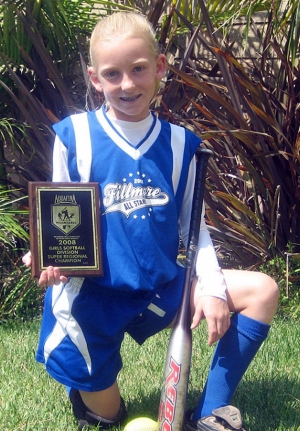 Taylor Brown, 10, of Fillmore, CA placed 2nd in her respective age group at the Aquafina Major League Baseball Pitch, Hit & Run National Finals at Yankee Stadium. The competition took place on Monday, July 14, as part of Gatorade All-Star Workout Day.
Brown, representing the Los Angeles Dodgers, was the Fillmore Girls Softball Local Competition Champion before prevailing at the Southern California Super Regional in Bellflower. A 4'3" second basemen for the Fillmore All-Stars, Taylor used her base running ability to post the fastest 9/10 year old Super Regional time of the 2008 season.
All 24 National Finalist participants attended the Major League Baseball Brunch at the historic Waldorf Astoria hotel as well as attended DHL All-Star Fan Fest. Participants also took part in shagging fly balls in the outfield during the State Farm Home Run Derby on Monday night.
Pitch, Hit & Run is the official skills competition of Major League Baseball. This grassroots program is in its 12th consecutive year of existence and is designed to provide youth across North America with an integrated competition that recognizes individual excellence in core baseball skills. Children compete in four age groups: 7/8, 9/10, 11/12, 13/14, and have the chance to advance through multiple levels of competition.
The PHR program has produced multiple 1st round draft picks, most recently, Eric Hosmer of Plantation, FL. Hosmer was drafted third overall, by the Kansas City Royals in the 2008 First-Year Player Draft. Christopher Parmalee, of Chino Hills, Calif., was drafted by the Minnesota Twins in the first round of the 2006 MLB Player Draft, and in 2003, the Chicago Cubs drafted Ryan Harvey, of Dunedin, Fla., as the sixth overall pick.