Local youth track stars among So. Cal. Elite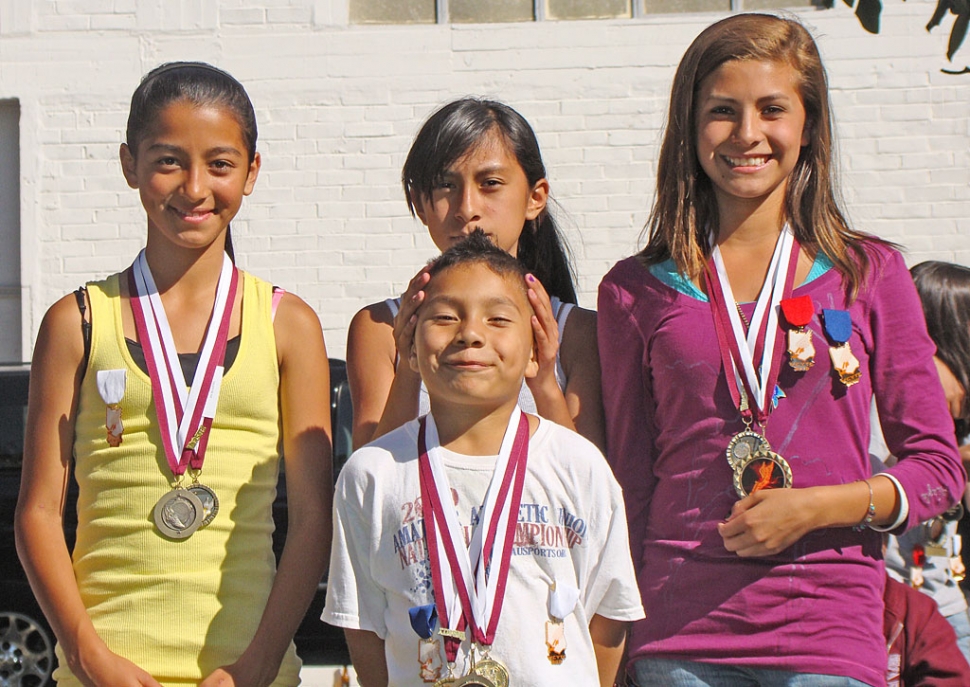 Pictured (l-r) Nayeli Beaz (3rd 3200 girls 13-14); Irma Torres (1st 3200 girls 11-12); Kiana Hope (1st 3200 girls 13-14), Juan Carlos Laureano (1st 1600; 3rd 800 boys 7-8).
By Gazette Staff Writer — Wednesday, July 7th, 2010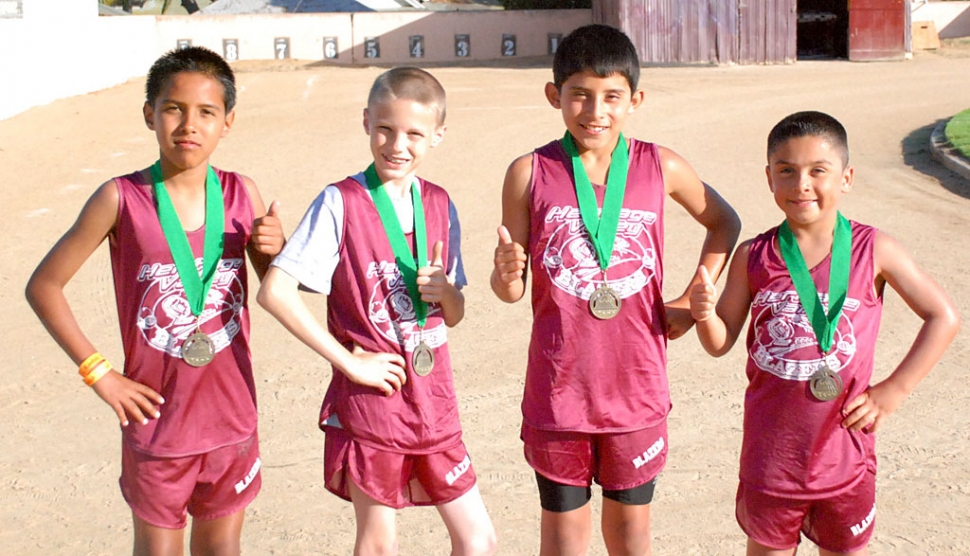 Boys 9-10 4x400 relay: Fernando Gonzalez, Garrett Medley, Eric Gonzalez, Gabriel Gonzalez.
Javier Barajas (13-14 boys): 6th in 3200.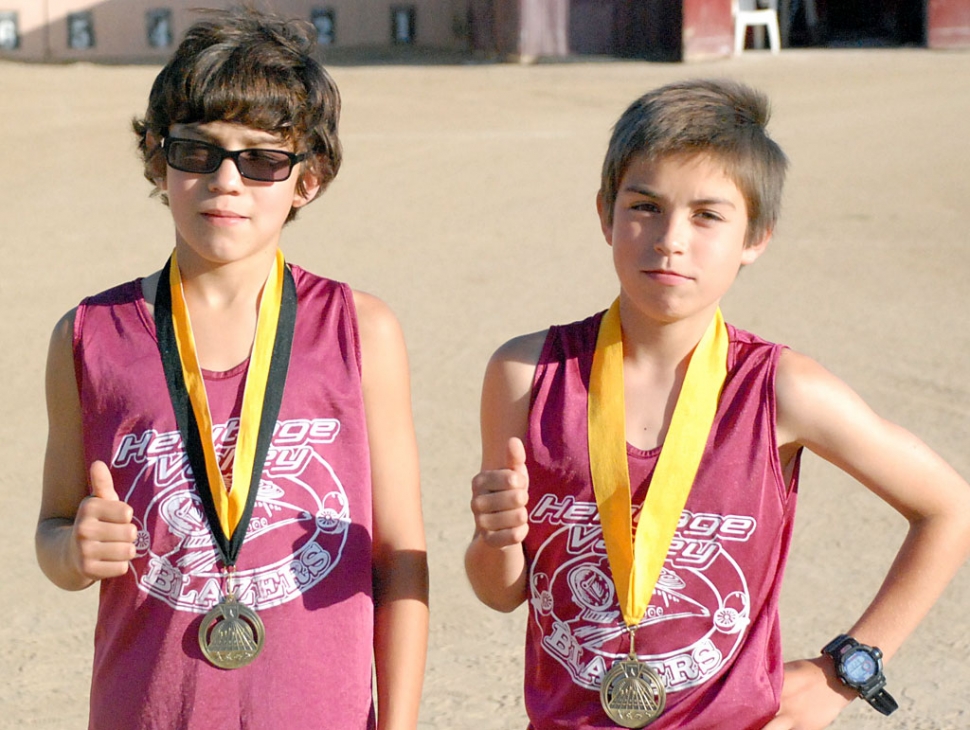 Pictured (l-r) Daniel Barajas and Thorin Rosten – 4th and 5th in boys 3200.
Local youth track and field athletes from the Heritage Valley Blazers count among the best in Ventura County. Thirteen athletes advanced from the County Championships in May at Moorpark High School to a Co-Conference Championship meet at Carpenteria High School on June 6, where they competed against winners from across Southern California.
Among the notable achievements at the County Championships included first place finishes by Kiana Hope in the girls (age 13-14) 3200m, Irma Torres in the girls (age 11-12) 3200m, Fernando Gonzales, a double winner in the boys (age 9-10) 400m and 800m, and Juan-Carlos Laureano in the boys (age 7-8) 1600. Hope also took second in the 1600, Laureano placed third in the 800m, and Gonzalez took fourth in the 100m. All are Fillmore athletes.
Other top performers were Nicki Mayes, who placed second in both the girls 80m hurdles and the 400m, and third in the high jump; John Shaneyfelt, who placed second in the boys (age 13-14) 100m hurdles, and Paloma Mora, who took third in the girls (age 9-10) shot put.
All of these athletes qualified to participate in the Conference Championships in Carpenteria, and seven of them placed well-enough to advance to the next level of regional championships for the U.S. Track and Field Championships in July: Paloma Mora (shot put); Nicki Mayes (80m hurdles and 400m), Sarah Schilbrack (1500m), Nayeli Baez (3000m), Kiana Hope (3000m), Juan-Carlos Laurea (800m, 1500m), Fernando Gonzalez (400m, 800m).
Julian Morral, president of the Blazers, said he was thrilled with the success of these athletes this season. "Our track club keeps getting better and better. We have 108 kids on our team and a great group of volunteer parents and coaches. We expect even more top performances next year, too."
Top Performances at County Championships:
Boys 7-8
Juan-Carlos Laureano: 1st 1600m (6:30.70); 3rd 800m (3:09.13)
Justin McElroy: 5th 800m (3:17.88); 7th 1600m (6:59.95)
Odin Rosten: 6th 800m (3:17.90)
Paul Gomez: 5th 1600m (6:56.66); 7th 800m (3:18.23)
Vince Robles: 9th 1600m (8:01.02)
Boys 9-10
Fernando Gonzalez: 1st 400m (67.57); 1st 800m (2:36.37); 4th 100m (14.73)
Eric Gonzalez: 4th 400 (71.93); 4th 800m (2:50.63)
Gabriel Gonzalez: 12th 800m (3:12.84)
George Tarango: 9th 800m (3:05.04)
4th place 4x400m Relay: Fernando Gonzalez, Eric Gonzalez, Gabriel Gonzalez, and Garrett Medley
Girls 9-10
Nicki Mayes: 2nd 400m (66.63), 2nd 80m hurdles (14.42), 3rd high jump (4-01.00)
Paloma Mora: 3rd shot put (19-06.00)
Sarah Schilbrack: 4th 1600m (6:04.57)
Boys 11-12
Daniel Barajas: 4th 3200m (13:03.50)
Thorin Rosten: 5th 3200m (13:39.28)
Girls 11-12
Irma Torres: 1st 3200m (13:34.28); 7th 1600m (6:35.94)
Boys 13-14
John Shaneyfelt: 2nd 100m hurdles (17.41)
Javier Barajas, Jr.: 6th 3200m (12:00.09)
Elijah Lee: 7th 100m hurdles (19.36)
Girls 13-14
Kiana Hope: 1st 3200m (12:32.10); 2nd 1600m (5:53.52)
Nayeli Baez: 3rd 3200m (12:41.66)
Boys 15-16
Daniel Perez: 5th high jump (4-10.00)
Conor Kruse: 5th long jump (14-01.50); 6th 100m (13.27)