Lady Flashes Basketball Tournament Champions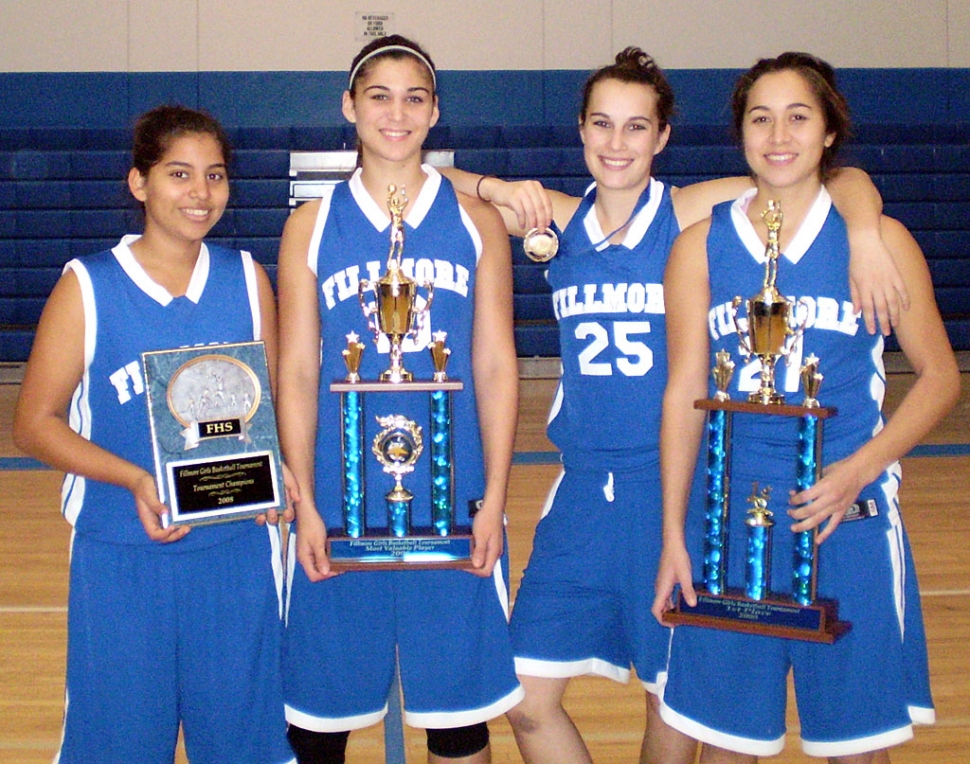 Pictured L-R: Mariah Rivas, Aimee Orozco, Jillian Wilber, and Rebeca Herrera.
By Taylor Atkins — Wednesday, December 10th, 2008
The Lady Flashes Basketball Team won the Jolene Stethem Tournament for the fourth straight year. Led by tournament MVP Aimee Orozco, All-Tournament Selection Jillian Wilber, and All-Tournament Mariah Rivas filling in for injured Rebeca Herrera, the Lady Flashes completely dominated every team they faced. In the first game, they defeated Thacher School of Ojai 79-33, and then followed up by crushing Paraclete of Lancaster 78-8. The Flashes then defeated arch rival Santa Paula Cardinals 75-32 to move into the championship game against LA Baptist. In the championship game, the Lady Flashes and the LA Baptist Knights went at each other tenaciously for the first two minutes until the Fillmore five established their man-to-man dominance. The score at the end of the first quarter was 17-4 in favor of the Flashes. With Aimee Orozco, Jillian Wilber, Kyla Hernandez, Jazzmin Galvez, and Rebeca Herrera along with Mariah Rivas, the Lady Flashes preceded to blow the Knights off the hardwood. The Fillmore girls completely dominated the LA Baptist Knights in all aspects of the game, wrapping up their fourth straight tournament championship with a score of 54-30. Aimee Orozco, Jillian Wilber, and Rebeca Herrera, who made the varsity as freshman, will go down in Fillmore basketball history as the only players to win four straight tournament championships. The championship game was rescheduled from 2:30 pm to 1:00 pm so the Lady Flashes could attend the CIF football game in Twentynine Palms. The Lady Flashes will now play away against large schools in Los Angeles until January 6th to prepare themselves for league and the CIF playoffs.