By Kim Tafoya — Wednesday, November 27th, 2013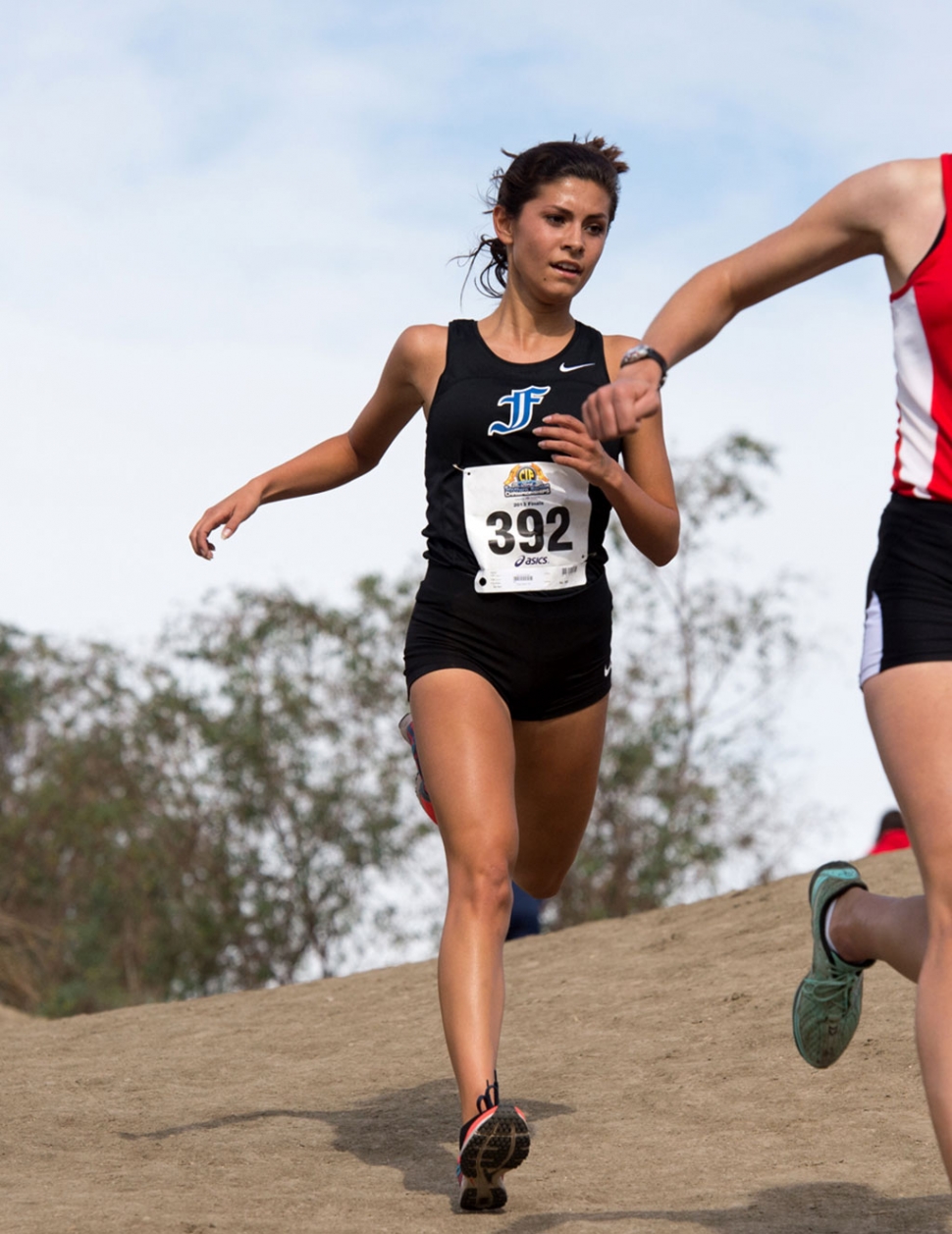 Kiana Hope. She qualified to the State Championship Meet at Woodward Park as an individual.
This past Saturday, the Fillmore boys and girls Cross Country Team travelled to compete at Mt. San Antonio College at the CIF Southern Sectional Finals. Both teams were fierce in competition. The boys finished 11th overall with front runner Jesus Mendoza, a senior and first year runner with an incredible performance of 16:35. Juniors Jorge Hurtado, Dominick Gonzalez and Francisco Erazo were close behind with times of 16:41, 16:47 and 16:55. These runners have made huge gains throughout the season and will be runners to watch next years as seniors. Seniors Justin Beach ran a 16:51, along with senior Mario Gaspar with a time of 17:49. Once again, the boys had an amazing season. Congratulations to all.
The girls program showed many gains throughout the season. The girls finished 13th at CIF finals, gaining 3 spots from last year. The lady flashes were led by senior Kiana Hope with a time of 18:26, she placed 4th overall in her race with an individual qualification to the 2013 Division IV State Cross Country Championship meet. Teammates Alexis Tafoya, a junior, was the 2nd for the lady flashes with a time of 20:25. Running together at the end, senior Jordyn Vassaur and sophomore Briana Segoviano were 3rd and 4th for the lady flashes with times of 20:50 and 20:51. Rounding out the lady flashes were junior Sofia Gallardo and freshman Marisol Martinez with times of 22:31 and 23:43.
Kiana will continue on to the 2013 State Championships this Saturday, Nov 30th at Woodward Park in Fresno California. As a sophomore, in 2011 Kiana advanced to the CIF Prelims, as a junior in 2012 she competed at the CIF Finals. Now as a senior, she will go on to compete at the State Championship meet. We are truly proud of her accomplishments and want to wish Kiana the best. Way to go Kiana!