Heritage Valley Blazers End Their Track Season at CCC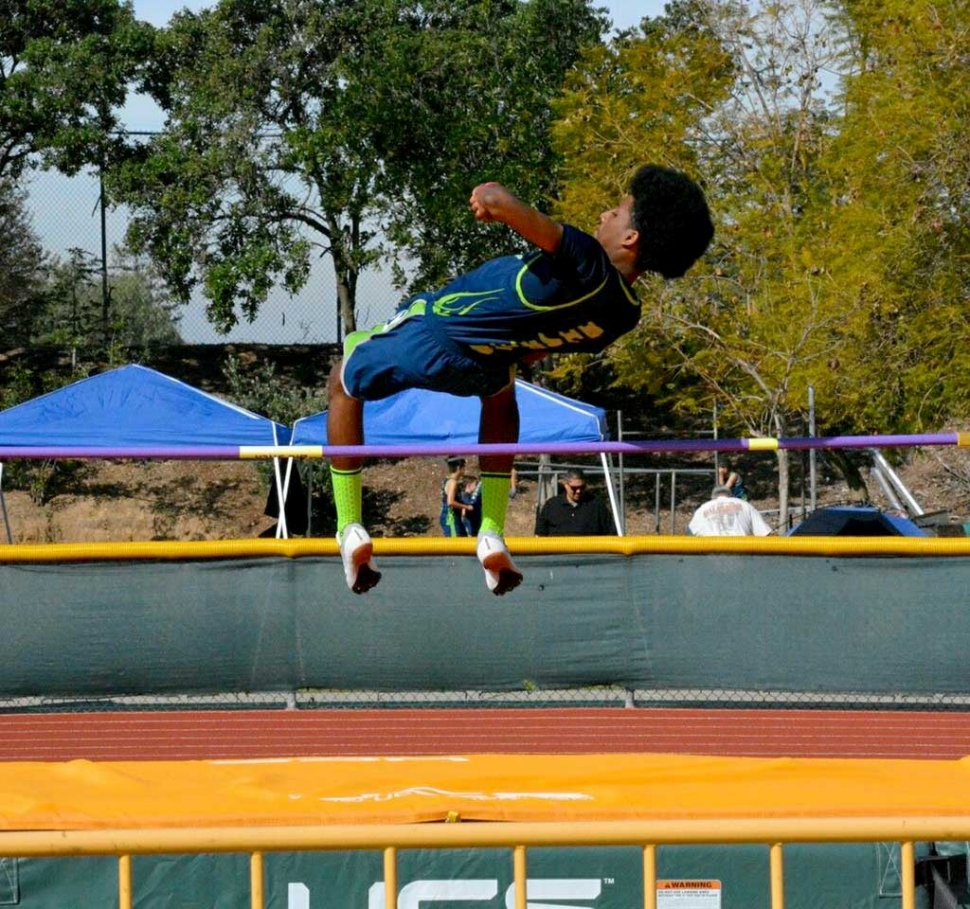 Heritage Valley Blazer Dante Mata breaking a 2012 record in High Jump by 4, leaping 6'-0. Photo and Story Courtesy of Erika Arana
By Gazette Staff Writer — Wednesday, May 24th, 2017
Southern California Track & Field Co-Conference Championships were held on Saturday, May 13th at Ventura High School. A total of 14 teams participated with only the conference top athletes who qualified. Heritage Valley Blazers represented well, with 50 athletes.
In Distance, Lindsey Ramirez ran away with two 1st place medals. She ran a 10:51.39 in the Girls 11-12 3000m race, and a 5:02.79 in the 1500m. Carolina Garcia placed 10th in the Girls 11-12 3000m. In the Girls 13-14 3000m race, Emalee Perez took 7th and Michael-Camilo Torres, placed 6th in the Boys 13-14 3000m. Our young 8U distance runners dominated in the 1500m. Paola Estrada placed 1st with a time of 5:53.57. Teammates, Kaylani Perez placed 2nd, Emily Arriaga placed 6th, Genevieve "GiGi" Abbitt placed 8th and Sarah Perez placed 11th. In the Boys 8U 1500m, Abel Arana placed 11th. Niza Laureano, placed 1st in the Girls 9-10 1500m race, with a time of 5:28.30. In the Girls 13-14 1500m race, Vanessa Cabral placed 8th and Jordyn Walla was 9th. In the Boys 13-14 1500m race, placing 4th, was Rey Laureano. Yvette Sanchez, placed 3rd in the Girls 15-16 1500m race.
In Mid-Distance, Girls 8U 800m, Blazers took 1st and 2nd again. Paola Estrada ran 2:57.94, with Kaylani Perez right behind her. Emily Arriaga placed 8th and Sarah Perez was 9th. Boys 8U 800, Timothy Pillado II took 1st, with a time of 2:55.46 and Jesus "Chuy" Santa Rosa in 4th. Girls 9-10 800m, Niza Laureano took 1st, with Julissa Mendoza in 4th. Girls 13-14 800m, Jordyn Walla took 8th and Vanessa Cabral was 9th. Boys 13-14 800, Emilio Magana was 4th, with Rey Laureano in 7th. Girls 15-16 800m, Yvette Sanchez took 4th.
In the 100m hurdles, Ashlan Larson took 4th and Amani Hooker was 8th. Boys 15-16, Isaac Ortiz finished in 2nd place.
In the relays, our Girls 8U 4x100m, placed 6th and Boys 8U, was 8th. Boys 13-14 4x100m, placed 4th. Girls 9-10 4x400m placed 2nd, and Girls 13-14 4x400m, placed 7th. The Boys 4x400m placed 1st, running 3:59.88. Boys 15-16 4x400m, placed 2nd.
In the Sprints, Timothy Pillado II took 1st in Boys 8U 400m with a time of 75.44, and 2nd in the 100m. Isaiah Morales was 7th in the 400m and 8th in the 200m, with Jacob Martinez 9th in the 400m. The Girls 9-10 division, Julissa Mendoza placed 4th in the 400m and 2nd in the 200m. Leah Barragan placed 5th in the 400m and 4th in the 100m. Emilio Magaña placed 4th in Boys 13-14 400m, and Dante Mata was 4th in the 200m.
In Jumps, Isaiah Morales placed 7th for the Boys 8U Long Jump. Ashlan Larson, placed 7th in Girls 13-14 Long Jump and 5th in High Jump. Dante Mata placed 1st, jumping 6'-0" and breaking a previous record of 5'-8", set back in 2012. This is Dante's second record this 2017 season. He also broke the Southern California Youth Invitational high jump record back in April, leaping a 6'-1", a PR for the season.
In Throws, shot putters Danika Rico Girls 9-10 in 3rd, and Uzziah Avila Boys 9-10 placing 2nd. Boys 11-12, Nicolas Andrade placed 4th. Boys 13-14, Alexander Ladosky placed 2nd and Aydin Henderson placed 5th. Girls 15-16, Yvette Sanchez, placed 3rd.
Heritage Valley Blazers is a nonprofit organization, providing each athlete the opportunity to reach their full potential by developing endurance, strength, self-esteem, discipline, personal accountability and goal achievement while encouraging positive attitudes, good sportsmanship and respect. With the help of our coaching staff, these young athletes have grown to love the sport. Until next Track & Field Season... GO BLAZERS!