Heritage Valley Blazers compete at VCYTC Championships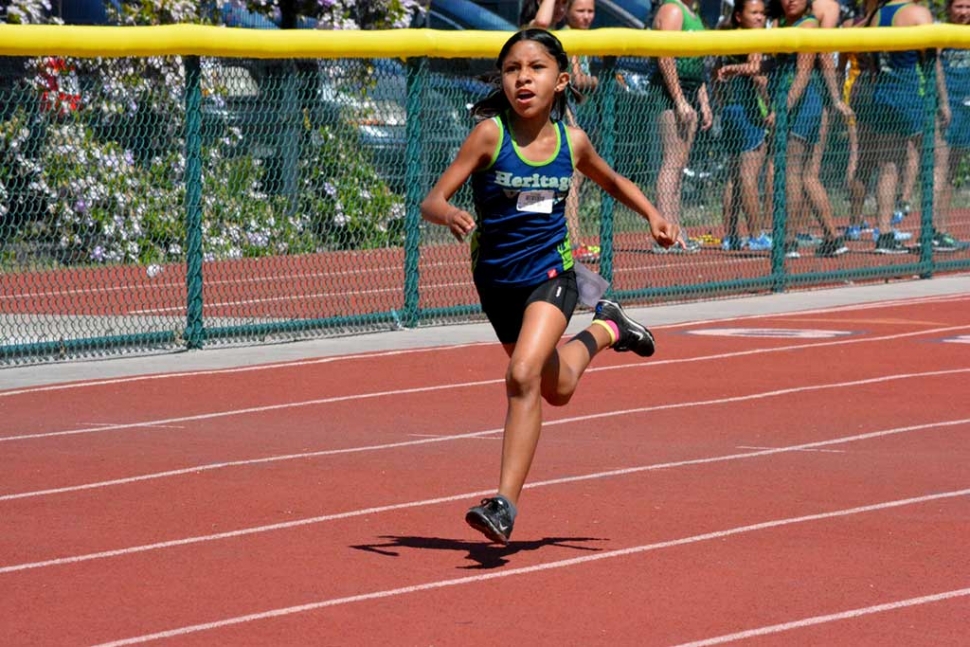 Niza Laureano breaking the Girls 9-10 1600m record running 5:42.17
By Gazette Staff Writer — Thursday, May 11th, 2017
Ventura County Youth Track and Field Championships were held at Moorpark High School last Saturday May 6th, Heritage Valley Blazers had a strong showing and was well represented.
The morning was drizzly, a perfect setting for our distance runners. Paola Estrada finished 1st in the Girls 8U 1600m, with Kaylani Perez finishing 2nd. Ayden Barajas finished 1st in the Boys 8U 1600m. Lindsey Ramirez Girls 11-12 finished 1st in the 3200m race, and the 1600m race. Also bringing in 1st was Emmalee Perez Girls 13-14 in the 3200m race. Jordyn Walla Girls 13-14, placed 3rd in the 1600m. But the highlight of our distance runners was our very own, Niza Laureano breaking the Girls 9-10 1600m record, with a time of 5:42.17. Record was previously 5:48.7, set back in 2011. Niza is one of our strongest distance runners, who also currently holds the Girls 8U 1600m record time of 6:12.17. Her future looks promising.
In the 100m hurdles Ashlan Larson and Isaac Ortiz finished in 2nd place in their divisions.
In the relays we had 3 strong 4x100m teams that will continue to the next round of championships. Our Boys 8U A team, Girls 8U A team, and the 13-14 Boys A team. We will also have 9-10 girls, 11-12 boys, 13-14 boys and girls, and 15-16 boys qualifying for next round in the 4x400m relays.
In the Sprints, Timothy Pillado II took 1st in Boys 8U 400m with a time of 74.65, he also took 1st in the 200m and 2nd in the 100m. Julissa Mendoza took 2nd in Girls 9-10 400m and 200m. Emilio Magaña took 2nd in Boys 13-14 400m, Leah Barragan took 3rd in Girls 9-10 100m.
In Mid-Distance, Paola Estrada took 1st in Girls 8U 800m with Kaylani Perez in 2nd. Boys 8U dominated with Timothy Pillado II taking 1st, Ayden Barajas in 2nd and Jesus "Chuy" Santa Rosa in 3rd. Niza Laureano, again taking 1st in Girls 9-10 800m, with Julissa Mendoza in 2nd.
In Jumps, we had Ashlan Larson come in 2nd in Girls 13-14 High Jump, Dante Mata 1st in Boys 13-14 High Jump with a jump of 5'-10".
In Throws, we had Danika Rico Girls 9-10 in 2nd, Uzziah Avila Boys 9-10 coming in 1st with a throw of 26-06.25', and also coming in 1st was Yvette Sanchez Girls 15-16 throwing 21-01.00'. Nicolas Andrade Boys 11-12 took 3rd. Alexander Ladosky finished 2nd in Boys 13-14, with Aydin Henderson coming in 3rd.
Overall, Heritage Valley Blazers are extremely proud of all our athletes. They will continue training one more week for VCYTC and SCYTFC Co Conference Championships coming up this weekend, May 13th at Ventura High School. Best of luck; GO BLAZERS!