Harriers Run Well at Flashes 2022 Season Opener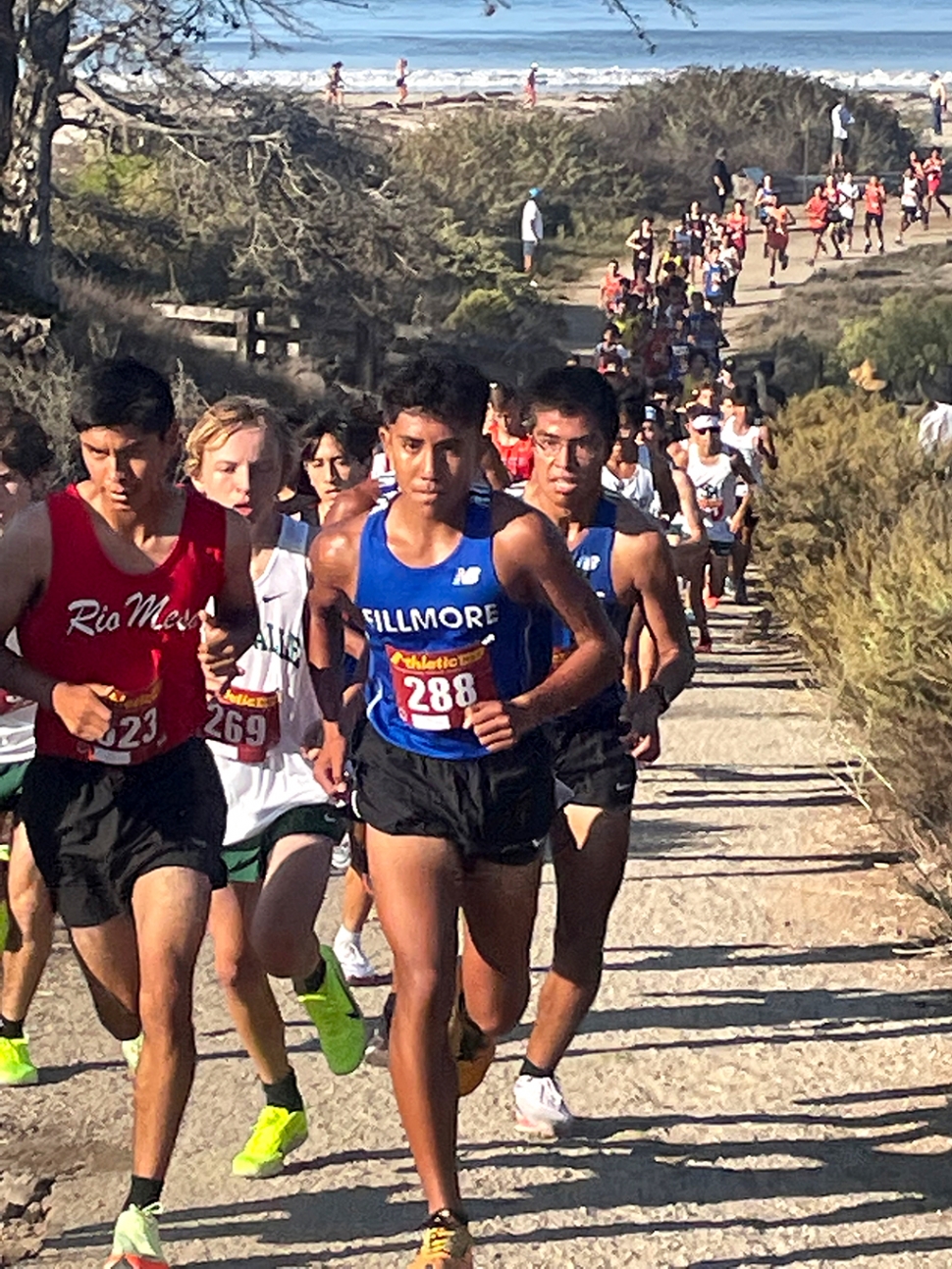 The FHS Cross Country Team had their season opener Saturday, September 3rd at the University of Santa Barbara. Pictured is Flashes Senior Nicholas Hurtado followed by teammate Junior Diego Ramirez running full steam ahead in Saturdays meet. Photo credit FHS Cross Country Coach Kim Tafoya.
By Epi Torres — Wednesday, September 7th, 2022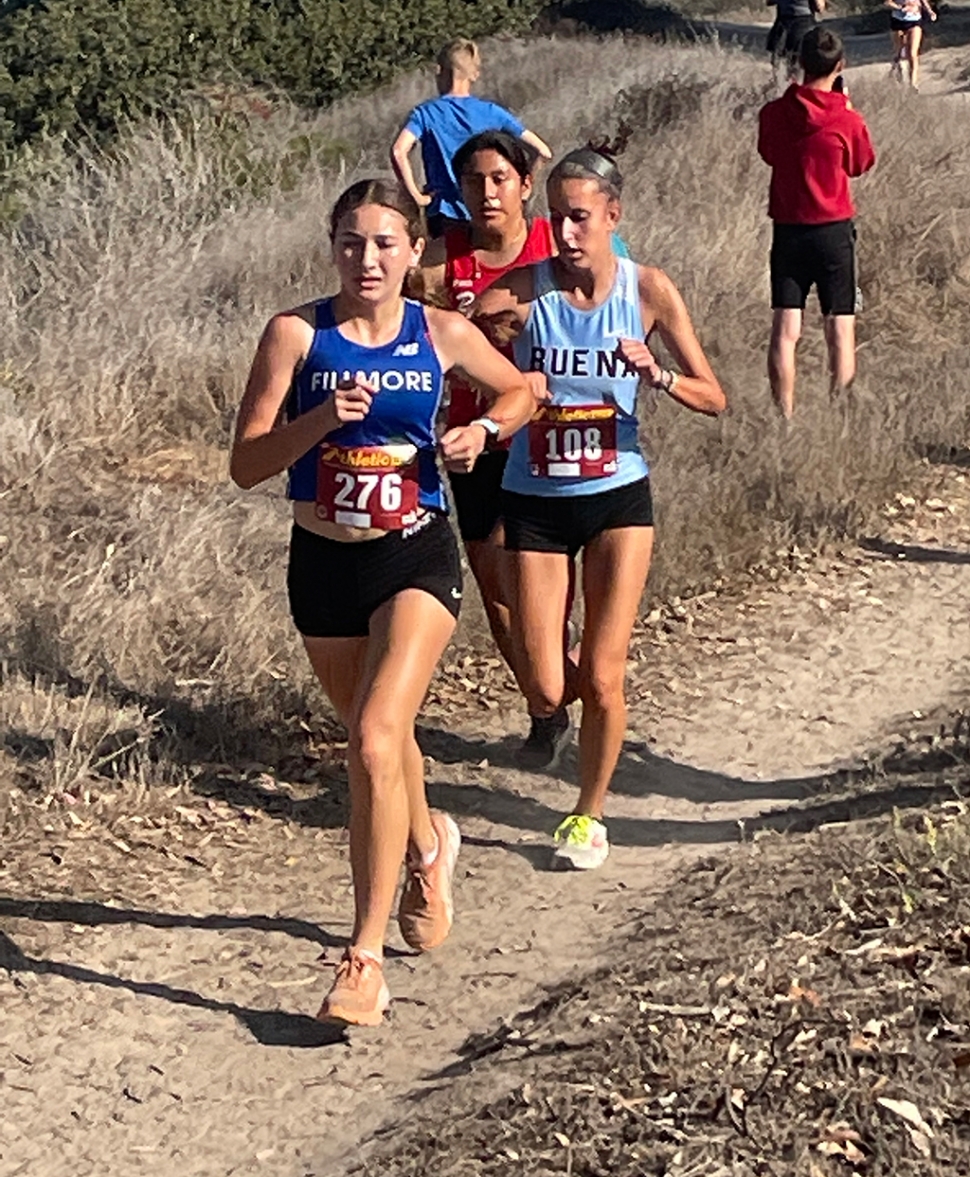 Freshman Leah Barragan.
By FHS Cross Country Coach Epi Torres
On Saturday, September 3 several members of the Fillmore High School Cross County team traveled to the University of Santa Barbara to compete in the Gaucho Invitational. They competed in 4 races, the boys and the girls 3 mile followed by the girls and boys 1.43 mile.
Races began at 8 a.m. at half hour intervals on the relatively flat, sandy, single track course. XC teams representing multiple divisions raced this early season meet on the UCSB campus.
The first race, the girls 3 mile set off at 8 a.m. 18 teams lined the start line with several highly ranked teams in their respective division racing well and establishing fast early season times.
Four Fillmore athletes competed in a field of 91 racers. Leading the team, and looking strong throughout the entire run was second year runner, Nataly Vigil. Nataly finished in 10" place, in an excellent effort of 20:21.2, she also captured the top Varsity place for the Flashes on the day.
She was followed by sophomore Niza Laureano 18" in 21:02.56. Both Nataly and Niza were medal winners. Alexandra Martinez was Fillmore's third finisher in 35" place in 22:25.63, followed by Monique Hurtado 42™ in 22:53.62. The girls did not factor in the team scoring as a team of at least 5 competitors is required to score.
The Varsity boys followed, they were led by senior Nick Hurtado. Nick finished in 22" place in 17:16.27, a very good time on this course. He was followed by sophomore Eddie Vigil 26" in 17:22.19. Both Nick and Eddie were medal winners. Diego Rodriguez followed in 34" in 17:42.71, Kobi Lizarraga 36th in 17:51.6, Angel Garcia 45" in 18:18.15, and Joshua Estrada 62nd in 18:50.44.
In the team competition, Fillmore finished in 5th place. In the girls short race of 1.43 miles, teammates Leah Barragan and Sophia Rodriguez were the lone competitors for the Flashes. Leah and Sophia finish in a near tie capturing 9" and 10" place. Leah out leaned her teammate in 9:54.08, Sophia followed closely in 9:54.27. Both the girls were medal winners. There were 103 competitors in this race.
In the boys short race Angel Laureano ran to a 17" place finish in 8:36.61. Angel was a medal winner in this race. He was followed by Juan Cumatz 54" in 9:29.62, and Juan Castro 100" in 11:41.97. There were 110 competitors in this race.
The Flashes will next compete in the first of three Citrus Coast League Meets that will determine C.|.F. SS Division 4 post season representatives. This meet will be on September 13" at College Park in Oxnard commencing at 3:30 p.m. Hope to see you there.