Freshman Carissa Rodriguez Qualifies for State Meet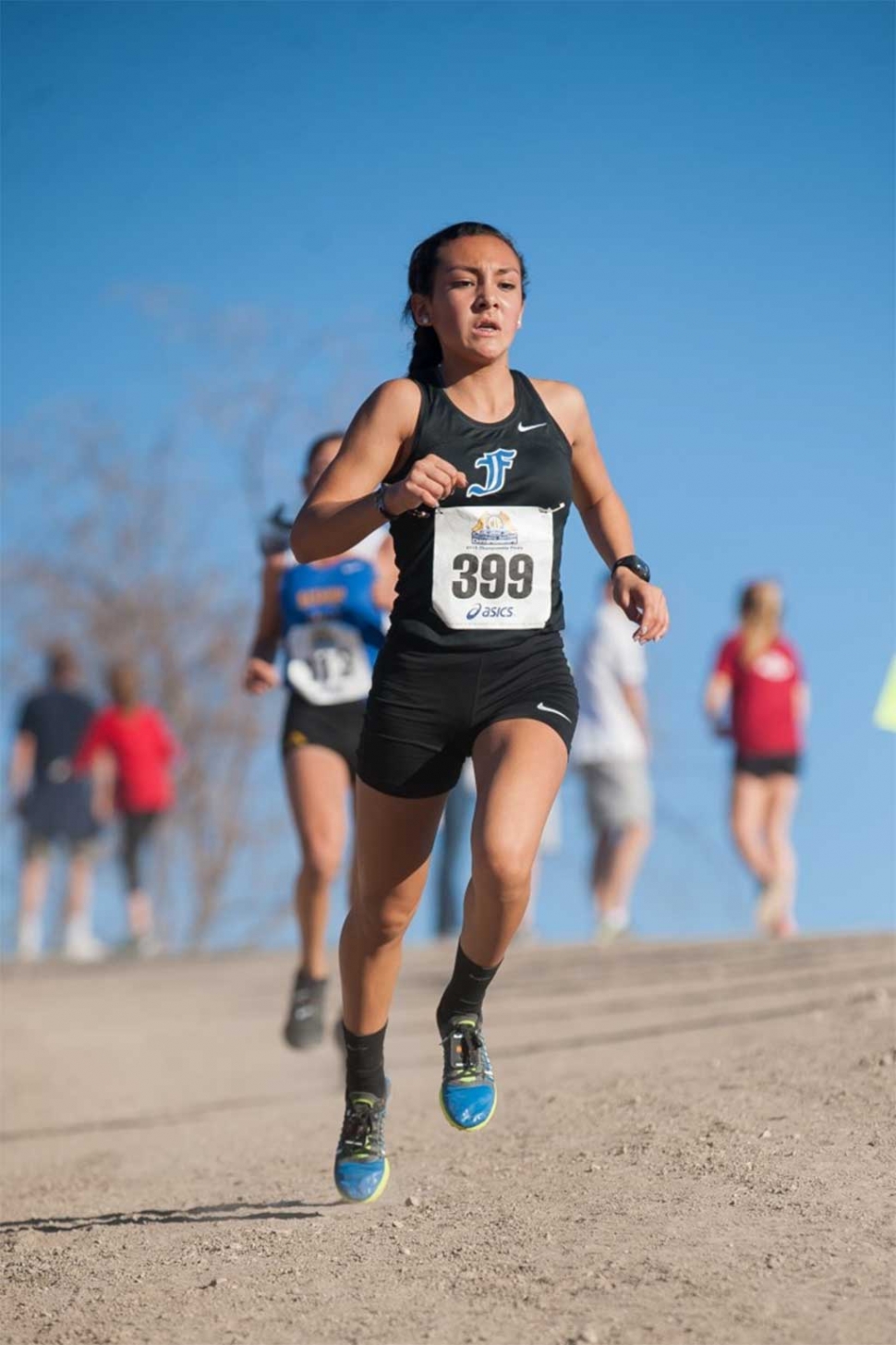 Carissa Rodriguez
By Gazette Staff Writer — Wednesday, November 25th, 2015
On November 24th both boys and girls cross-country teams traveled to Walnut, California to compete against some of the best Division 4 teams in the State. Their goal was to finish among the top 7 teams in Southern Section and thereby advance to the State Finals.
The girls ran at 8:05 and lined up against 16 other outstanding teams. Many of the teams were ranked among the top 10 teams in the Southern Section during the season. The highest ranking the Fillmore girls achieved this season was 13th. For the 8th time this season , the Flashes were led by front running freshman Carissa Rodriguez in a time of 18:36.1. Carissa was the lone State qualifier for the Flashes and was awarded a top finisher medal. Carissa placed 12th, followed by teammate Lupita Perez 23rd in 19:06.4, Andrea Marruffo 74th in 20:27.5, Jacqueline Chavez 96th in 21:26.1, Kimberly Vazquez 101st in 21:30.6, Erika Ruiz 106th in 21:59.5, and Irma Torres 111th in 22:25.1. Five out of seven of our girls ran a faster time than when they ran the same course at the Mt. SAC Invitational. Also, three of the top runners for Fillmore are freshman which bodes well for the future. The girls finished in 15th place.
The boys ran at 8:45. They qualified for CIF Finals even though they were not ranked during the season. This race would prove to be a formidable challenge for our boys who needed to run their best race of the season on the challenging Mt. SAC course. Top finisher for the Flashes was Jose Rodriguez who finished 62nd in 17:15.2. This is the 9th time Jose has led the boys this season. Jose was followed by Johnny Martinez 74th in 17:28.7, Adrian Orozco 92nd in 17:54.4, Michael Sanchez 108th in 18:30.8, Jonathan Ordaz 113th in 18:42.7, Christian Andrade 114th in 18:46,7, and Curtis Ponce 117th in 19:11.1. Four of the seven boys had personal best times on this course. The boys team finished in 16th place.
The State Meet will be held at Woodward Park on November 28th. Carissa will run in the Division 4 race at 9:05 a.m. We are all looking forward to supporting her.
It certainly has been a wonderful season of hard work and personal best performances for the rest of our boys and girls teams. They have grown in so many ways, and have formed a bond that will last a lifetime. As coaches and staff we are proud of their accomplishments, and it has been a privilege to get to know them and to work with them. You are our Champions and have represented your community well.