Flashes Win 13 out 16 Medals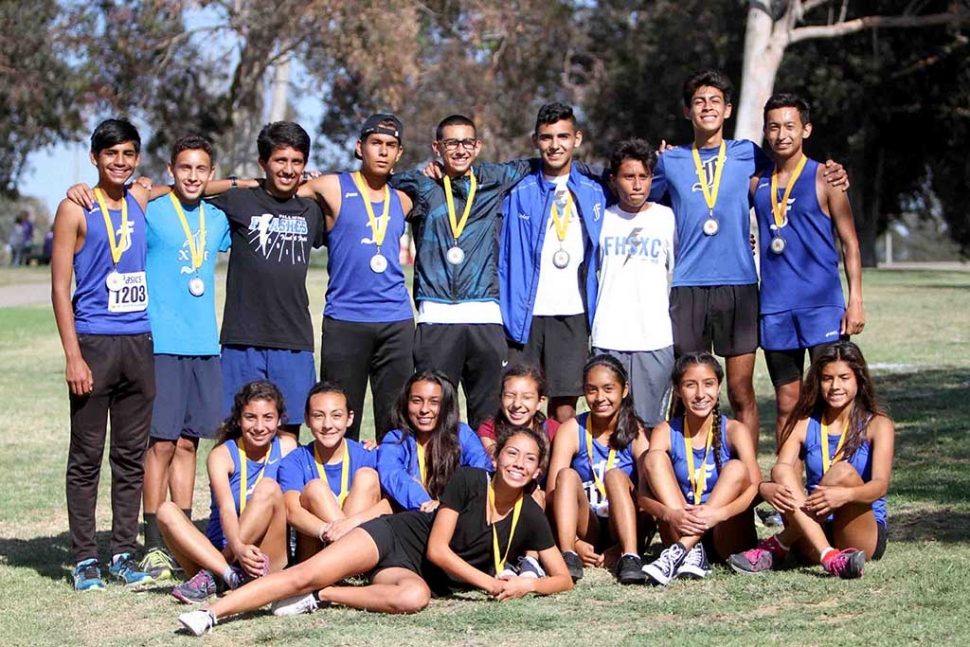 Flashes Cross Country 37th Annual Mt. Carmel /Movin Shoes Invitational. (l-r) Boys: Nick Villela, Everardo Garcia Magana, John Chavez, Sergio Perez, Michael Sanchez, Jonathan Ordaz, Juan Ramirez, Johnny Martinez and Adrian Orozco. Girls: Lauren Magdaleno, Carissa Rodriguez, Jackie Chavez, Arielle Estrada, Anahi Pascual, Nicole Gonzalez, Vanessa Avila and in front Diana Perez.
By Gazette Staff Writer — Thursday, September 22nd, 2016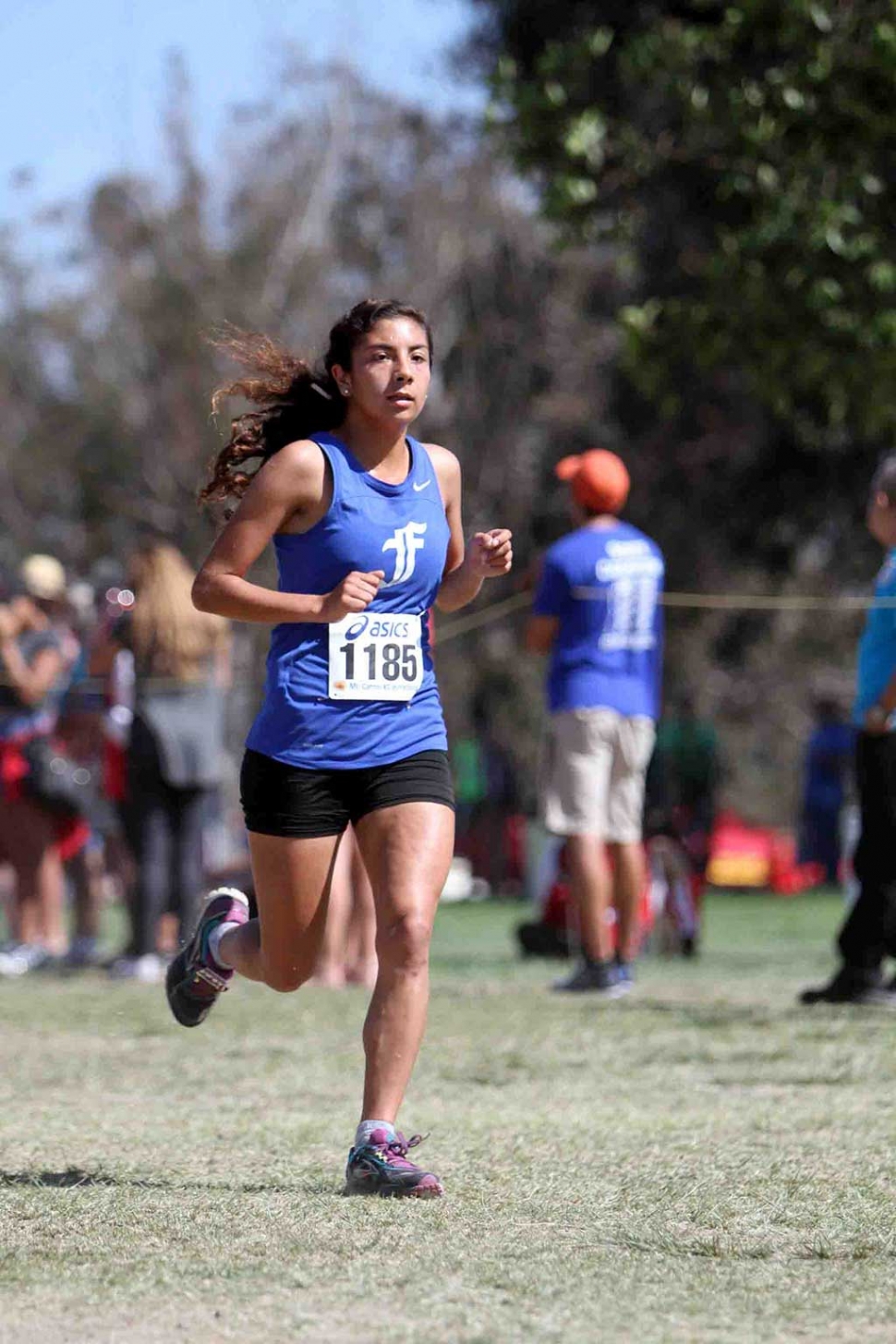 Senior Lauren Magdaleno at this past Saturday's 37th Annual Mt. Carmel/Movin Shoes Cross Country Invitational.
On Saturday, September 17th the Fillmore High School cross country teams travelled to San Diego to compete in the 37th Annual Mt. Carmel/Movin Shoes Cross Country Invitational held at Morley Field in Balboa Park. Most of the teams competing were from the San Diego section. The course was very challenging with several hills on grass and dirt for the most part.
The freshman girls did not field a complete team, yet ran exceptionally well on this challenging course. Vanessa Avila led the charge finishing in 11th in a time of 18:23.66, she was followed by Anahi Pascual 29th in 19:23.13, Nicole Gonzalez 45th in 20:00.25, and Arielle Estrada 99th in 22:55.70.
Two Fillmore competitors lined up in the D2 girls sophomore race. Top finisher and fastest time for the Flashes for the third week in a row was Carissa Rodriguez. Carissa finished 3rd in her race in a time of 16:37.39. She was followed by teammate Diana Perez who ran a personal best of 18:15.66 finished in 14th place.
Jacqueline Chavez was the lone representative in the junior division. She placed 25th overall in a time of 19:01.06.
Once again one competitor ran in the senior division for the Flashes. Lauren Magdaleno finished in 33rd place in a time of 18:58.75
Two sophomore boys toed the line for the Flashes leading the way was Nick Villela 20th in 17:55.72, he was followed by Sergio Perez 29th in 18:17.59.
Fillmore sent four juniors to the starting line. Jonathan Ordaz led the way finishing in 23rd in 17:32.2. He was followed by Michael Sanchez 26th in 17:48.49, Everardo G. Magana 41st. In 18:23.18, and Juan Ramirez 101st. In 19:52.63.
The final race of the day featured seniors Johnny Martinez , Adrian Orozco, and John Chavez. These athletes ran well with Martinez finishing in 22nd in 17:25.83, Orozco 27th in 17:33.75 and Chavez 96th in 19:19.14. Johnny posted the fastest time for the Fillmore boy competitors on the day.
The Flashes ran well winning 13 out of a possible 16 medals. The Flashes will next compete at Camino Park in Ventura at 3:00 in the first of 3 league meets that will determine league standings and CIF SS D4 competitors.