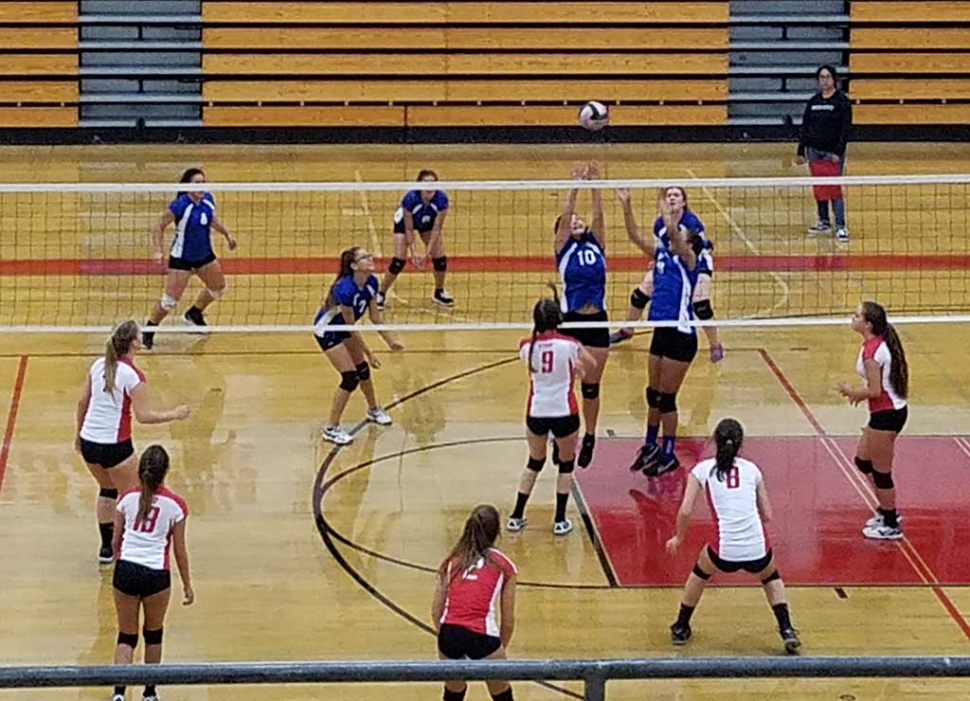 Fillmore's J.V. jump to make the block against Bishop Diego at this past Saturday's Tournament in Santa Paula.
By Gazette Staff Writer — Thursday, September 22nd, 2016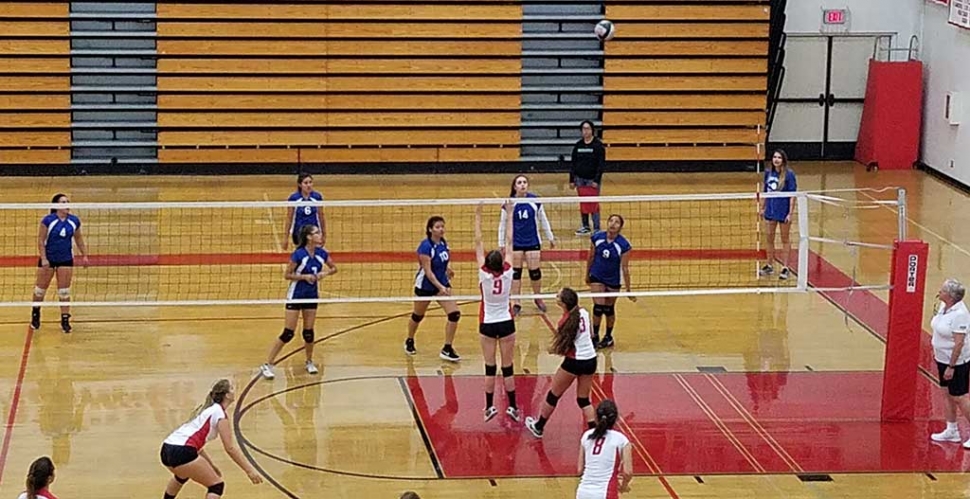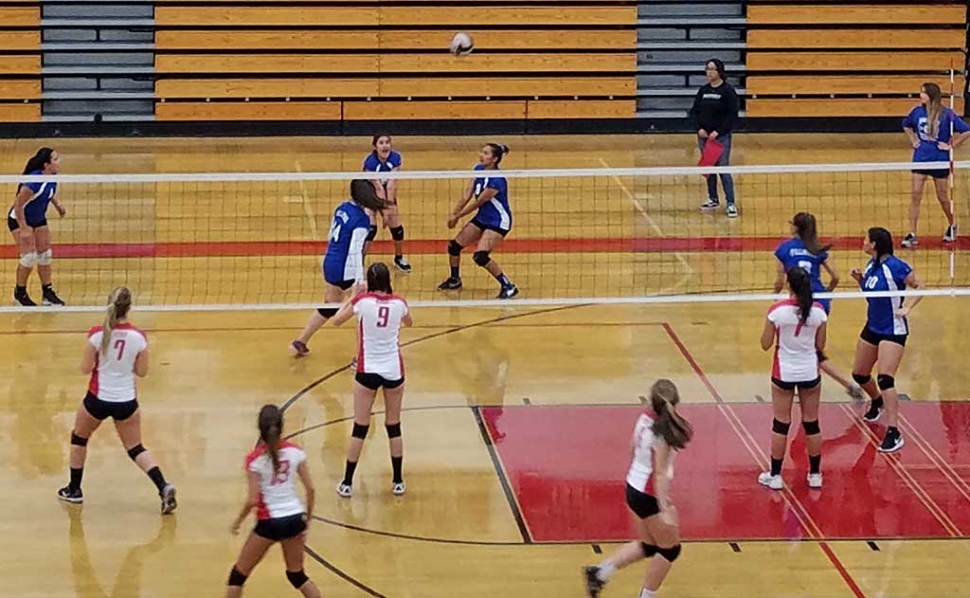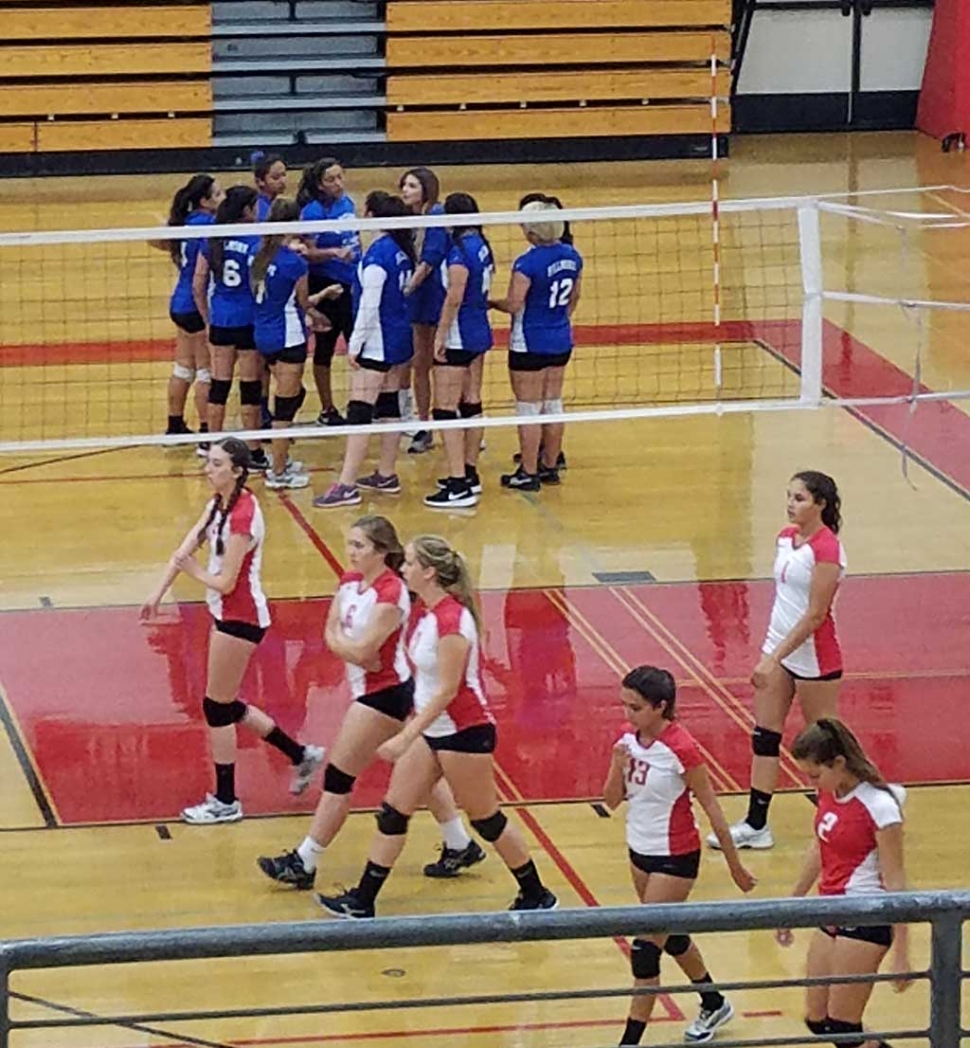 Fillmore J.V. Flashes huddle together before they take on Bishop Diego.
Wednesday September 14th, Fillmore Girls Volleyball took on Pacifica High School. Both J.V. and Varsity took a win for these matches. J.V. Player Tori Gonzales had 11 serving aces, and 2 kills, J.V. scores were 25-13 and 25-10. Varsity player's Aviana Ramirez (setter) had 17 assists, 10 digs, 1 ace, Lindsey Brown (libero) had 20 digs and 3 aces, Gisselle De La Paz had 7 aces and 5 kills, Kasey Crawford had 8 kills and 1 ace. Final Varsity scores were 25-21, 14-25, 26-24, 23-25, and 15-4. Also, this past Saturday Flashes J.V. competed against multiple teams in a tournament hosted at Santa Paula High School.
Lastly, September 20th, the Flashes took on long time rival Santa Paula at home. Frosh and J.V. teams both beat their long time rival. Frosh Final Scores: 25-9, 25-18, J.V. Final Scores: 25-8, 23-25, 15-12. Flashes Varsity fell short to Santa Paula, but put up a good fight forcing them to play four out possible 5 matches. Varsity player's Lindsey Brown had 18 Digs, Kasey Crawford 8 digs, 4 kills, and 2 serving aces, and Dezeray Zavala 8 digs and 3 serving aces. Varsity Final Scores: 21-25, 22-25, 25-23, 17-25. Next matches will be at Santa Clara on Thursday September 22nd, and this Saturday Varsity will compete at a Tournament held at Santa Paula High School.