Flashes Softball Pulls Dazzling Comeback to Defeat St. Bonaventure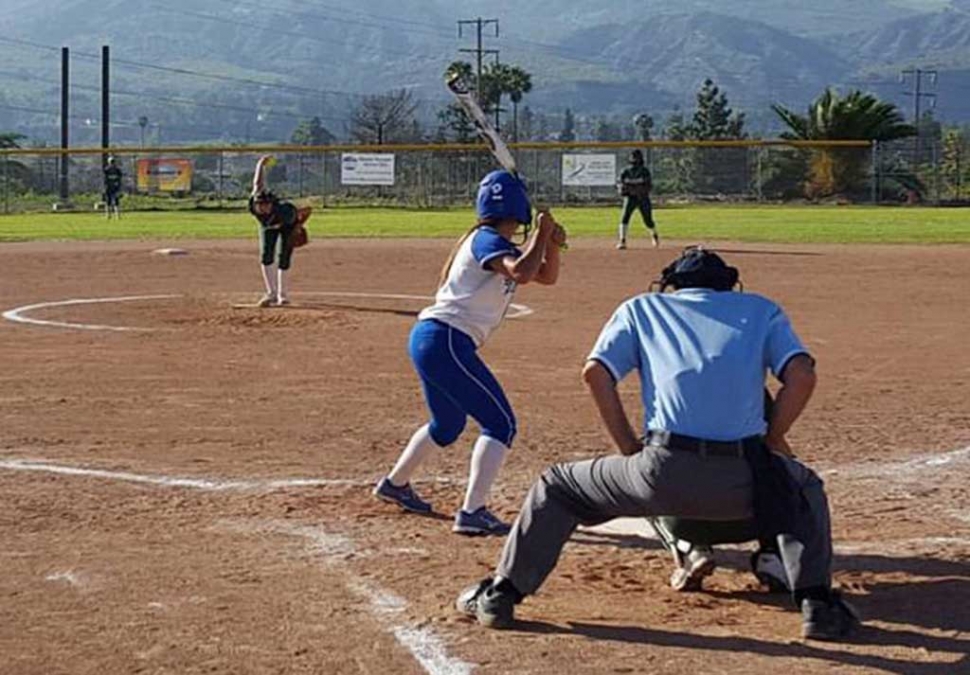 Flashes player ready to hit the ball against Bonaventure's pitcher in bottom of the 9th inning where Fillmore pulls off an amazing comeback, in last Thursday's game against St. Bonaventure.
By Gazette Staff Writer — Wednesday, April 12th, 2017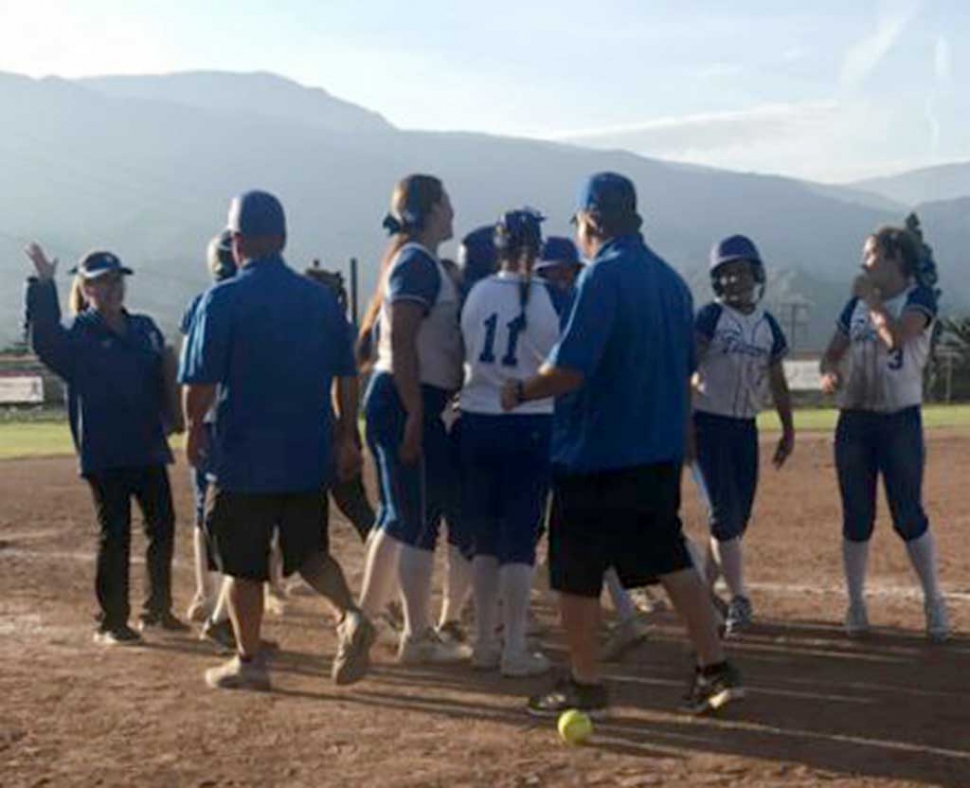 Lady Flashes celebrating their terrific comeback against St. Bonaventure, final Score 7-6 Fillmore.
Submitted By Coach Kellsie McLain
Fillmore Flashes Varsity Softball team took the win over visiting Saint Bonaventure in 9 innings!
Last Thursday the Fillmore Flashes softball team defeated the St. Bonaventure Seraphs in an extra-inning thriller. Going into the top of the 9th inning with a score of 0-0, the Seraphs scored 6 runs to take the lead. After securing the third out, the Flashes headed to their dugout knowing they had one chance to match the Seraphs' 6 run effort. Junior second baseman Maiah Lopez started the inning off for the Flashes with a single. Third baseman Cali Wyand then joined Lopez on base after laying down a beautiful bunt. Sami Ibarra (1st base) reached on an error, giving the Flashes a bases-loaded opportunity with no outs. Sydnee Isom hit a fly ball to right field for an out, but not before Lopez was able to tag up and score the first run for the Flashes. Kayla Carrillo put her bat to work with a single, scoring Fillmore's second run of the inning. After striking out a Flashes player, the Seraphs pitcher then faced freshman Jazmine Zavala. With two outs, Zavala kept the inning alive with a base hit that scored Sami Ibarra. Junior Linsey Brown then stepped up to the plate, ultimately reaching first base on an error. With bases loaded, two outs, and the Flashes down 6-3, Junior center fielder Kasey Crawford comes in with a clutch hit to score Carrillo and Zavala. With the tying run on second and the winning run on third, Maiah Lopez returns to the plate for the second time that inning. After taking the pitcher deep in the count, Lopez drives a shot inches over the shortstop's glove, scoring Lindsey Brown and Kasey Crawford for the win. The Fillmore crowd erupted in celebration as the Flashes league record moved to 3-1. The Flashes will take on their next league opponent, Foothill Tech, in Ventura on April 20th.