Flashes Softball Ends Season Two Games from CIF Title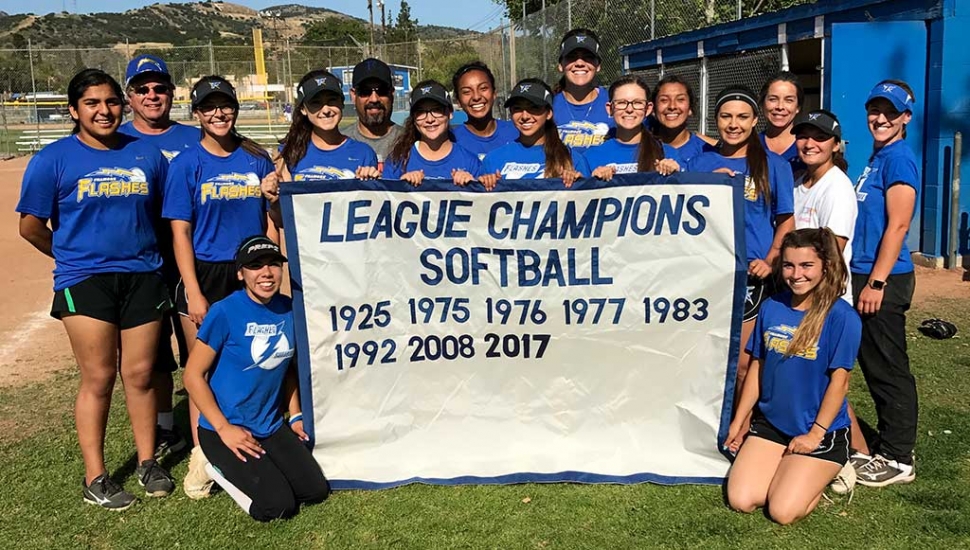 Fillmore High School's 2017 Softball League Champs, are pictured with the Champions banner. Photo Courtesy Coach Kellsie McLain.
By Gazette Staff Writer — Wednesday, May 31st, 2017
Article and photo Submitted By Head Coach Kellsie McLain
After earning a league title and playing a host of spectacular games, the Flashes Varsity Softball team ended its 2017 season just two games away from the CIF Championship. Despite missing the title match this season, the FHS team's list of accomplishments is long and varied. After defeating tough local rivals such as Golden Valley, Santa Paula, and St. Bonaventure, the Flashes also tackled CIF playoff opponents Cabrillo and Vista Del Lago in decisive 7-2 and 12-0 victories. With only four seniors graduating, the young Flashes squad has high hopes for the upcoming season. On behalf of the players, coaches, and parents, the Flashes team would like to thank the community of Fillmore for all of its support this past season. The players will be working hard to represent Fillmore well in 2018. Go Flashes!!!