Flashes Girls Tennis Kick Off 2019 Season

Pictured above are the Fillmore Flashes Girls Tennis Team (left) and the Laguna Blanca team after their match Tuesday, August 27th. Photos courtesy Coach Lolita Wyche-Bowman.
By Gazette Staff Writer — Wednesday, September 4th, 2019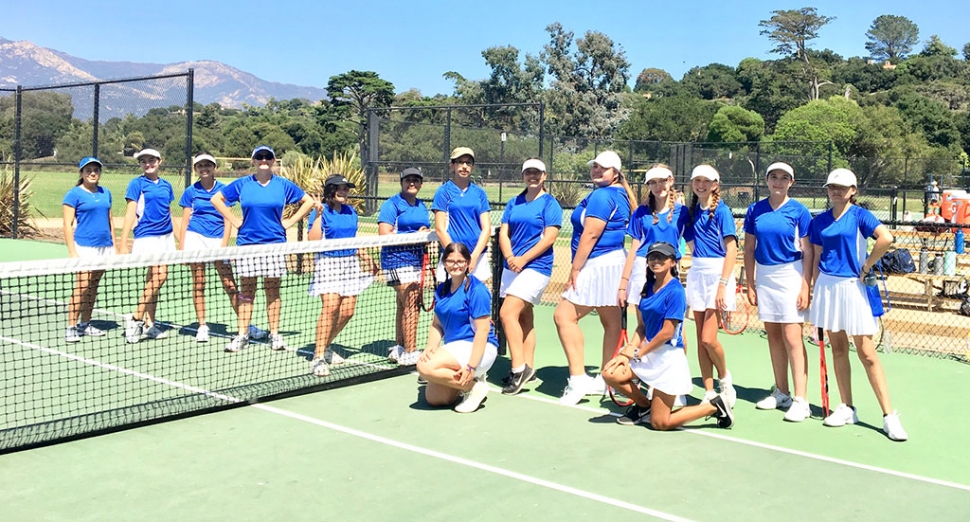 A note from tennis Coach Lolita Wyche-Bowman
We marked our first match of the season playing against Laguna Blanca. This private school is located in Santa Barbara in a beautiful setting as we picnicked on the grounds after the tennis match was completed. It was hot and humid there but the girls held up as they were accustomed to the hot and steamy weather we have been experiencing in Fillmore. The final score was Fillmore 3, Laguna Blanca 15. In high school tennis, a point is won for the team when a player wins a set against the opponent. The following girls won three points for Fillmore: Number one singles player Carla "Melissa" Higuera, number two singles player Emilia Magdaleno, and number three singles player Heillyn Burr. I have to mention that the families of all these three players had made the trip to Santa Barbara to watch their daughters play. Maritza's mom was there also! Family support paid off! Not to worry, for those families who were not available, I was there to support them, congratulated them when they hit great shots, or even consoled them when the match wasn't going their way. Laguna Blanca's head coach commented on the good skill level of the girls. He is well aware of the Fillmore's team starting from scratch this year minus our number one player. Twelve more girls from Fillmore High School competed against Laguna Blanca. Yes! We have 16 girls on the tennis team this year! I am more than pleased for this number as we have started a match with negative points when we had a team of less than nine players. I can tell you that the entire team was pleased with their performance on the court as several players commented, "Hey coach, I got all of my serves in," I wasn't as nervous as I thought I would be coach!" and "I hit some good shots, but I know I need to stay back more behind the baseline." This last comment of staying behind the baseline is a daily topic by the way. In tennis, if a player does not have enough time to hit a ball, it is difficult, especially if the player is new to the game. The player will find herself too close to the ball or in a spot where the ball is bouncing at their feet. If she stands back, then she will have plenty of time to get in position to return the ball. Even though I may tell the girls to get back behind the baseline many times, or not to leave a ball on the court when they are playing, during a real match is when all of these things are a reality for the game. Did you know that the girls learn how to deal with conflict when they are playing a match against the other team? What I tell them is, "Try and resolve it on your own at first, then if that approach doesn't work, get the attention of one of the coaches and we will intervene." If there is a problem with "calling the lines" in or out, and it is brought to the coach's attention, one coach (Fillmore or the other team's coach) will stand on the court to call the lines if there is a question. In other words, if a ball is called "out" and there is disagreement, the coach will call the point for them. This is actually a common problem with amateur tennis as there are no judges to call the lines from an advantageous platform. Were looking forward to the match schedule for next week. The next dates and opponents are as follows: 9-3 Santa Clara, 9-5 Villanova, 9-10 Providence, and 9-17 Santa Clara. We begin our first league match against Hueneme high school on 9-24. I will update the season as time passes especially to inform ALL Fillmore residents when we are playing against Santa Paula! Go Flashes! P.S. I am so proud of the team. Special thanks to the City of Fillmore as the torn nets were replaced this year.