Flashes Cross Country Wins League Titles & Advances To CIF
By Epi Torres — Wednesday, November 13th, 2019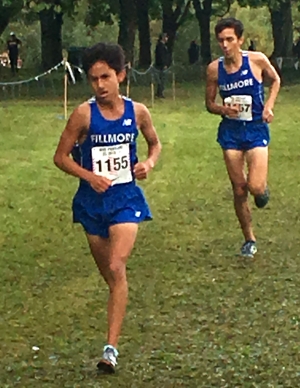 Pictured out in front is Fillmore's Michael Camilo Torres who finished in first with a time of 16:04.77 at Thursday's race at Elkins Golf Course in Fillmore. Michael was also named Citrus Coast Most Valuable Runner. Photo courtesy Kim Tafoya.
On Thursday, Fillmore's four Cross Country teams competed on their home course, on the beautifully manicured greens of Elkins Golf Course. This was the third and final meet to determine the Citrus Coast League Champions (individual and team), and the Varsity teams that will move on to CIF postseason season competition. The teams competing over the mostly grass course with two major climbs were Fillmore, Nordhoff, Carpinteria, Santa Paula, Hueneme, and Malibu.
The Junior Varsity boys started the day off as they have many times this year by running to the front right off the line. They took full control of the race before the two mile mark, led by Jesse De La Cruz from start to finish as he won in a time of 16:56.02 and thereby securing the title of Junior Varsity League Champion. His teammates followed capturing 8 of next 9 places. Juan Carlos Lomeli was second in 17:18.39. Followed by Matt Munoz 3rd in 18:07.13, Dave Bustos 4th in 18:20.22, James Flores 5th in 18:31.43, Andres Gonzalez 6th in 18:45.11, Luis Castaneda Navarro 8th in 19:09.30, Nathen Hurtado 9th in 19:09.34, Daniel Martinez 13th in 19:47.02, Bryan Sanchez 17th in 20:09.09, Brandon Gonzalez 20th in 20:26:02, Eneyin Ortega 27th in 20:43.39, Theodore Ebell 35th in 21:36.25, David Reyes 38th in 21:46.48, Nicholas Hurtado 41st in 21:54.72, Luke Hernandez 58th in 23:16.83, Izaac Mercado 61st in 23:27.15 and Anthony Estrella 62nd in 23:39.32. The top 8 Fillmore athletes in this race were medal winners.
They were followed by the Varsity Girls who were led by Senior Vanessa Avila who ran a tough race and finished in second place, posting a time of 20:08.13. She was followed by Nicole Gonzalez in 8th place in a time of 21:22.53, Alianna Tapia 14th in 22:30.94, Angelica Herrera 16th in 22:40.37, Lorena Rangel Perez 22nd in 23:09.57, and Syenna Ponce 28th in 23:33.87. Vanessa and Nicole were individual medal winners.
The Boys Varsity team dominated their race placing all 7 of their runners in the top 11 finishers. They were led by Camilo Michael Torres. Camilo ran his trademark race, running close to the leaders before making his signature move just beyond the two mile mark and never relinquishIng the top spot again. Camilo's first place finish in 16:04.77 was the fastest time posted on this course for any Fillmore athlete since we began to run at Elkins Golf Course. Camilo, League Champion, was closely followed by his teammates who as a team, posted an excellent team gap of 32.93 seconds. Fabian Del Villar was 3rd in 16:19.12, Davis Flores 4th in 16:25.51, Erick Gutierrez 6th in 16:30.45, Rey Laureano 7th in 16:37.70, Jesus Martinez 10th in 16:47.43, and Alex Manzo 11th in 17:15.23. Six of Fillmore's seven runners were awarded individual medals.
The Junior Varsity Girls brought this excellent day for the Flashes to a close with another team victory. They were led by Natalie Cobian who ran perhaps her best race of the season to finish in second place in a time of 23:49.33. She was followed by Giselle Perez 3rd in 24:01.82, Eva Vieyra 4th in 24:02.42, Anahi Pascual 5th in 24:23.58, Isabella De La Cruz 10th in 24:59.64, Emely Garcia 16th in 25:34.90, Liliana Montejano 18th in 25:40.44, Daisy Guerrero 19th in 25:53.46, Isabel De La Cruz 28th in 28:02.71, Emma Ortiz 29th in 28:04.65, and Citlalli Trujillo Valencia 39th in 31:51.74. The top 5 Fillmore athletes were individual medals in this race.
The Fillmore girls and boys Varsity team will next compete in Riverside at the CIF Southern Section Division 4 Prelims, with the goal of qualifying for CIF Finals on November 23rd.