Flashes Cross Country Advance to CIF Finals
By Kim Tafoya — Wednesday, November 20th, 2013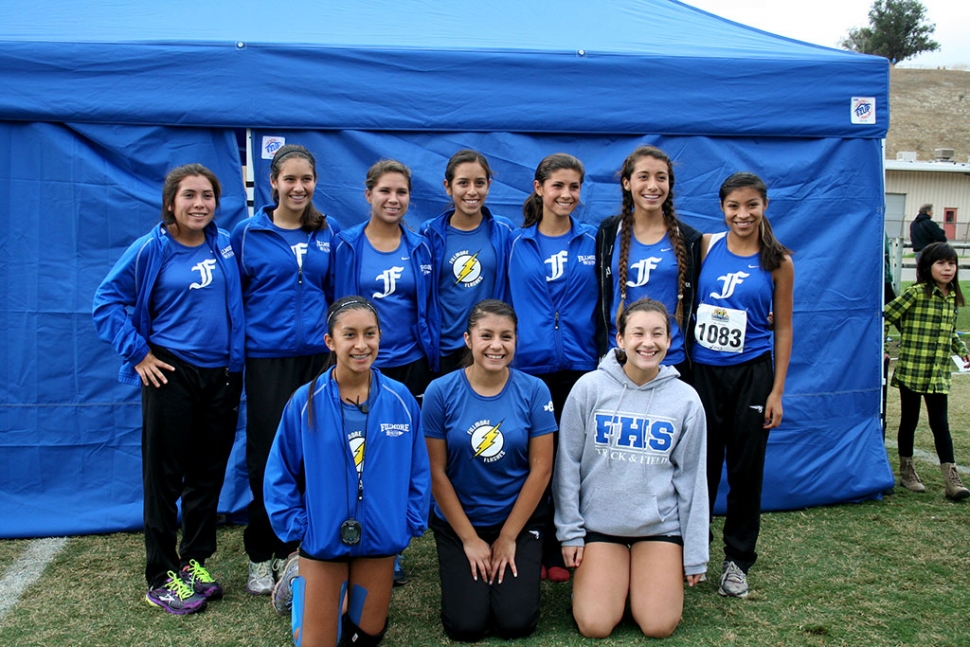 Girls CIF Cross Country Team (l-r) (top) Sofia Gallardo, Alexis Tafoya, Jordyn Vassaur, Briana Segoviano, Captain Kiana Hope, Lupita Perez and Marisol Martinez. (bottom) Irma Torres, Erika Texin and Kimberly Vazquez.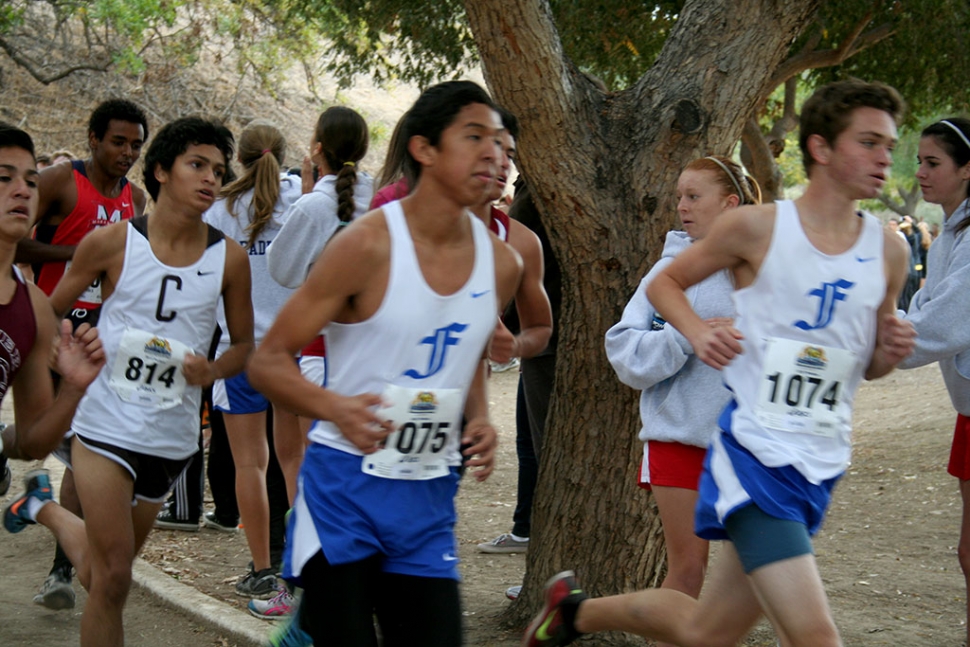 (l-r) Teammates Francisco Erazo and Justin Beach working the first mile loops at Mt. San Antonio College during CIF Prelims.
On Saturday the team raced at the 2013 Cross Country CIF Prelims held at Mt. San Antonio College. To advance to the CIF Finals both teams had to place in the top 16 out of the 32 teams at the prelims. Both boys and girls advanced and will compete this Saturday November 23rd. The girls' team has qualified to the CIF finals for two consecutive years, where the boys have qualified to CIF finals for the past four consecutive years.
CIF Prelims
On Saturday the team put forth some amazing performances. Both teams are at their peak performance where times make the difference in advancing on to the next race. We are proud of the efforts and the daily workouts that all our runners are putting in to prepare for their final weeks of cross country running.
The boys' team finished seventh in their perspective heat. Jorge Hurtado had the top performance for the flashes placing 24th in his heat with a very impressive 16:38. Dominick Gonzalez and Francisco Erazo finished 27th and 34th with times of 16:46 and 17:02, while Mario Gaspar was 5th at 17:11. Justin Beach and Nicolas Frias placed 48th and 52nd at 17:19 and 17:26.
The girls' team finished fifth in their perspective heat. Kiana Hope had the top performance for the lady flashes placing 5th in her heat with a time of 18:50. Jordyn Vassaur finished 17th with a time of 19:59. Lupita Perez placed 24th in the race, clocking a 20:38. Alexis Tafoya was close behind at 27th with a time of 20:43 followed by teammate Briana Segoviano finishing 33rd in 20:57. Sofia Gallardo, and Marisol Martinez were the finished the round up for the lady flashes with times of 22:21 and 22:26.
For full results of the whole team go to http://prepcaltrack.com and look at the division 4 results.