Flashes Blast School Records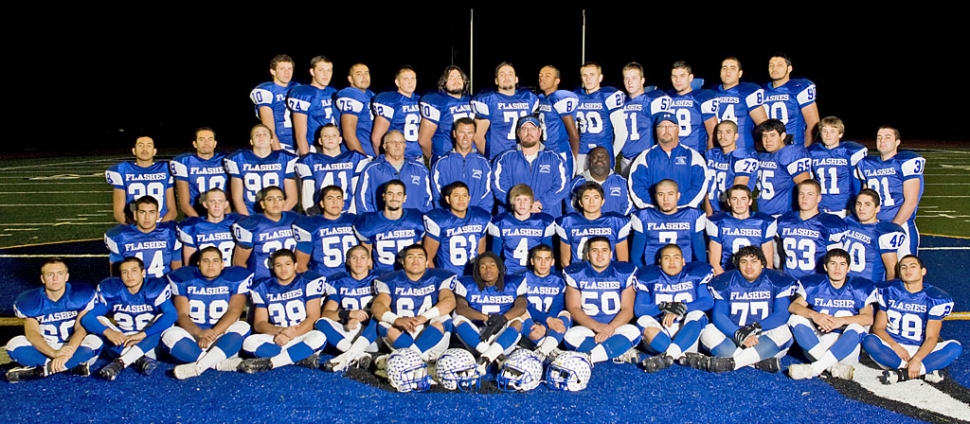 Pictured above is the Fillmore Flashes football team: Back Row: Noah Aguirre, Brandon Barker, Victor Moreno, Kevin Brock, Mike Cervantes, Alberto Morales, Major Lee, Quinn Keller, Carson Lhotka, David Esquivel, Ricky Plazola, and Emilio Gomez. Third Row: Gerardo Alday, Jessie Sanchez, Bo Zinskey, Dylan Dawson, Coach Dave Wilde, Coach Matt Suttle, Head Coach Matt Dollar, Troy Eskridge, Coach Curtis Garner, Hector Munoz, Juan Carlos Toledo, Corey Cole, and Mike Vigil. Second Row: Anthony Cortez, Kelly Bullard, Paula Ruiz, Gabriel Manzano, Johnathan Munoz, Derek Luna, Ty Casey, Victor Gomez, Nathan Ibarra, Tate Suttle, Cody Jackson, and Christian Prado. Bottom Row: Anthony Edwards, Austin Davis, Anthony Solis, Ernie Holladay, Ralph Sandoval, Jose Estrada, Troy Hayes, Nick Paz, Rene Paz, Jose Rangel, Gabriel Gomez, Jose Gonzales, and Zach Golson. It's been 36 years since the Fillmore Flashes went to the semi finals. They traveled to 29 Palms but were defeated 27-21, in what you might call one tough but well played game. The Flashes never gave up and fought until the very end. The Flashes ended their greatest season in the 86 year history of the program with a 10 and 3 record, 3343 yards rushing (school record) and 1419 yards passing (school record) for a grand total of 4762 yards of total offense (school record). The Flashes scored 443 points (school record); Nathan Ibarra set a school record with 72 completions out of 142 attempts for 1419 yards. Noah Aguirre set a school record with 30 receptions for 521 yards; Jose "Froggy" Estrada had 62 of 65 PAT attempts (school record). The defense had a total of 1029 tackles 59 for a loss, 18 sacks, 11 interceptions, and 14 fumble recoveries. Christian Prado had a school record 181 tackles 15 for a loss. According to Coach Dollar " It was a great year for the Flashes, 29 Palms was a physical athletic team with the toughest defense we faced all year, it is a hard loss for us but the team should be nothing but proud of their hard work and effort it was a privilege coaching them."
By Anonymous — Thursday, December 11th, 2008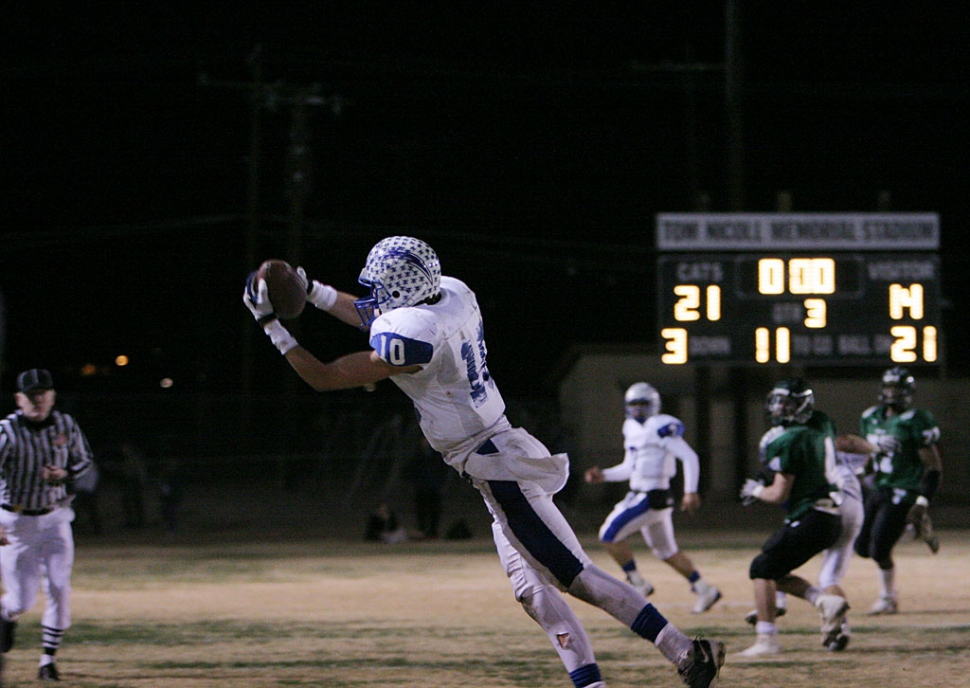 Noah Aguirre catches the ball in the air but is called out of bonds by the referee, on 4th down; there were 44 seconds left in the game. Aguirre also set a school record with 30 receptions for 521 yards.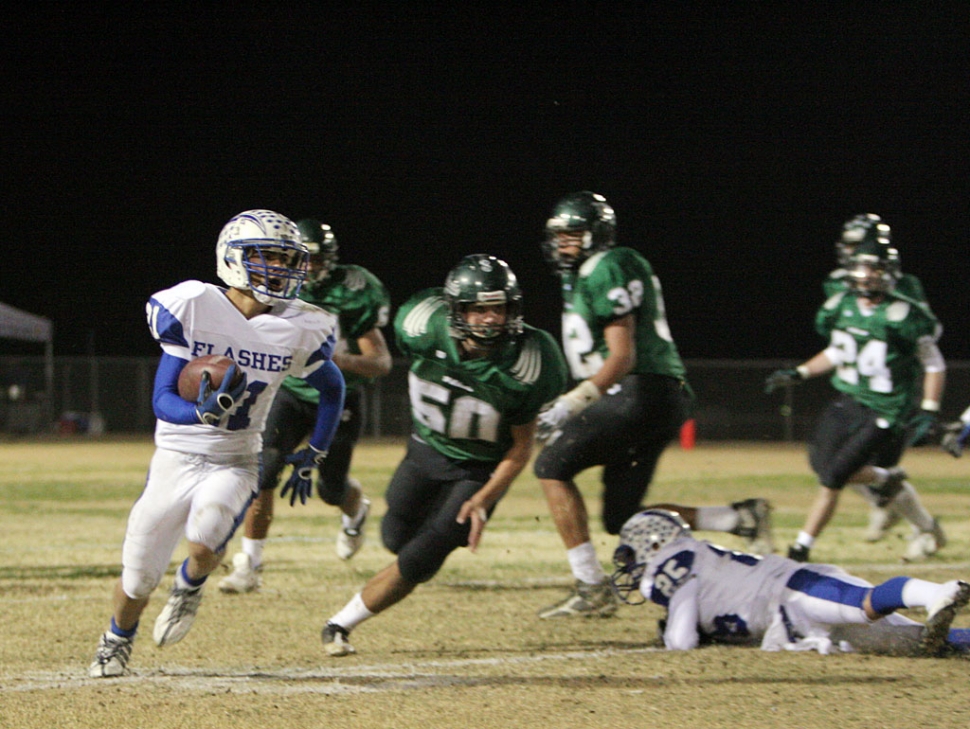 Nick Paz #21 played a great game against 29 Palms last Saturday. Paz had 21 carries for 77 yards and an interception.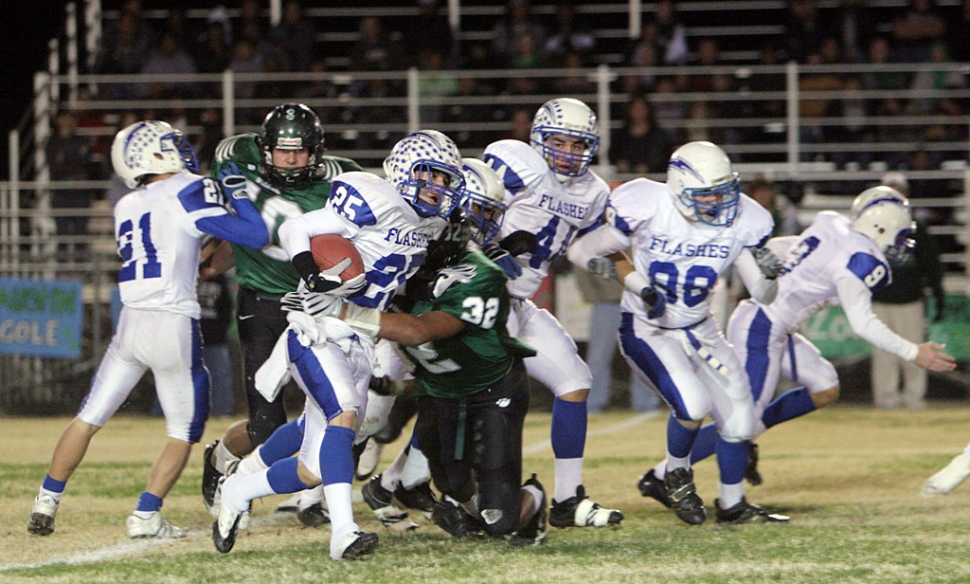 Ralph Sandoval tried to make his way through 29 Palms defense for some yardage. Sandoval had one touchdown in the game. Highlights - Nathan Ibarra was 9 of 20 for 200 yards and Christian Prado had 22 tackles in the first semifinals game since 1972..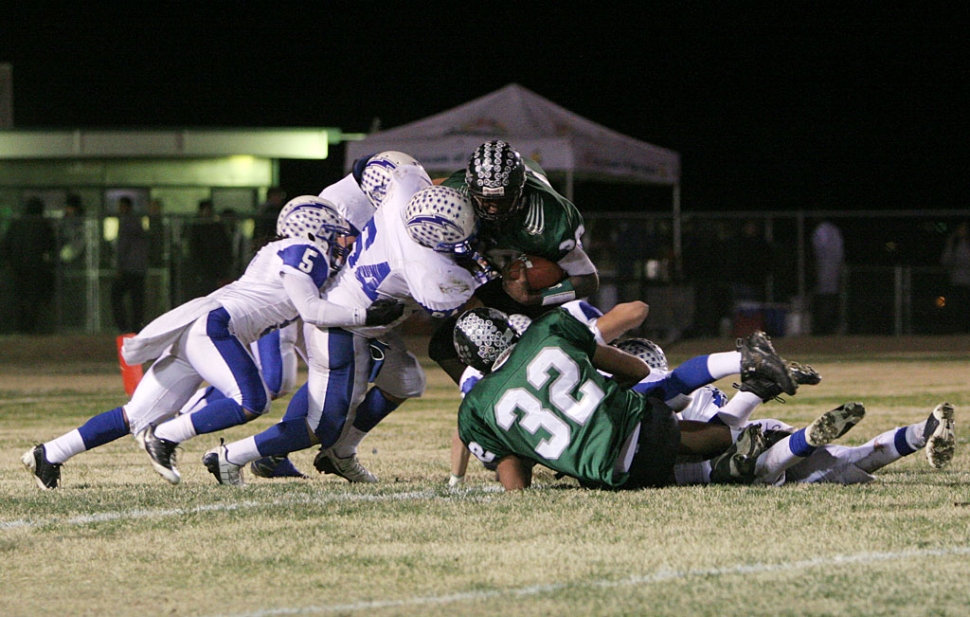 Troy Hayes #4 and Jose "Froggy" Estrada #64 worked together to bring down 29 Palms runningback. Estrada broke a school record for 62 out of 65 PAT attempts.