Fillmore Youth Condors Cross Country Team Competed At The National Level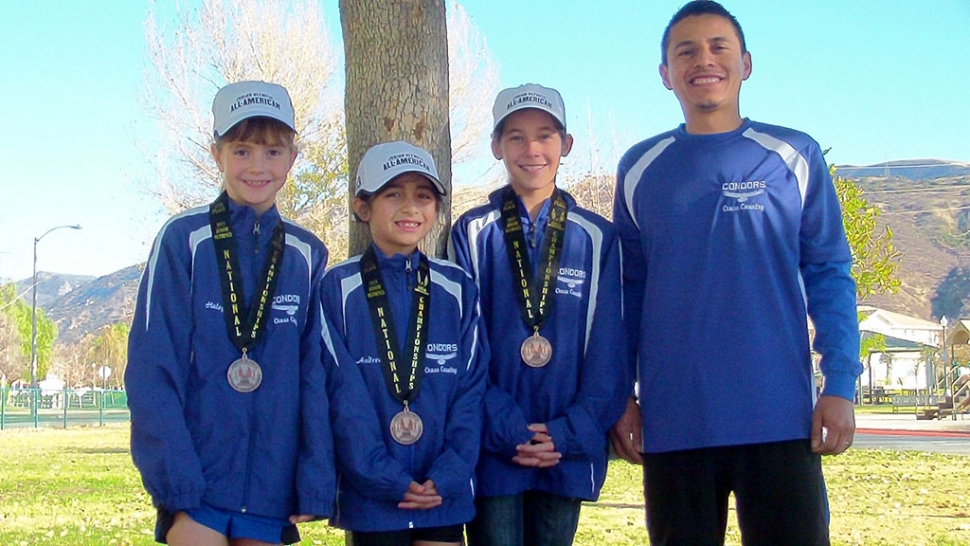 L-r) Haley Wilkinson, Andrea Laureano, Nevaeh Walla and coach Rafael Laureano.
By Gazette Staff Writer — Monday, December 23rd, 2013
The Fillmore Youth Condors cross country team competed in San Antonio, Texas, at the Unites States of America Track and Field (USATF) Junior Olympics National Cross Country Championships on Dec. 14th 2013. After competing in two meet qualifiers, association and regional, the condors were able to take fifteen athletes to nationals and compete against the best in the country "it wasn't easy , but we knew we had the talent and self motivate athletes to go to nationals" the coaches said. This program has been active for ten years and since the first year they started they have been able to take athletes to compete at the national level. They have ran at Amateur Athletic Union (AAU) and USATF national cross country meets for the California Comets, a team formed by all the teams from the SCUSATF conference. However, this year was special one, the Condors competed at the Nationals as "Free Spirit Condors" taking fifteen athletes and represented themselves as one team. Andrea Laureano, Haley Wilkinson and Yarabi Herrera ran in the 8 and under Division. Haley Wilkinson place 13th and Andrea Laureano placed 21st out of 194 girls and both runners became an All-American. All-American is an honorary athlete recognition given to only the top 25 outstanding athletes in the nation at this meet. For the boys division ages 9 to 10, Camilo Torres, Alexander Gurarie and Rey Laureano competed against 329 kids and placed in the top one hundred. In the girls division ages 9 to 10, Jordyn Walla placed 31st and Vanessa Cabral 85th out of 308. For the girls ages 11 to 12 division, Nevaeh "Nieves" Walla placed 21st and also was named All-American, Carissa Rodriguez place 31st, Syenna Ponce, Gema Toledo, Rebecca Schultz, and Hannah Wilson ran in the same race in which 405 athletes competed. For the boy's age's 13 to14 division Joaquin Rodriguez placed 110 out of 415 athletes. "We are very happy that we were able to go as Condors, we believe we have given these kids a great experience that they will never forget." They are very glad that several organizations from Fillmore and people from our community have helped to make this happen and they want to thank them: Fillmore Rotary Club, Fillmore Fire Department, Chuy from El Pescador,Heritage Valley track club, The Fillmore Lions Club, and everyone in our community that helped with the fundraisers. The Condors have a saying "PAIN IS TEMPORARY AND PRIDE IS FOREVER".