Fillmore Wolverines place Second in State Championship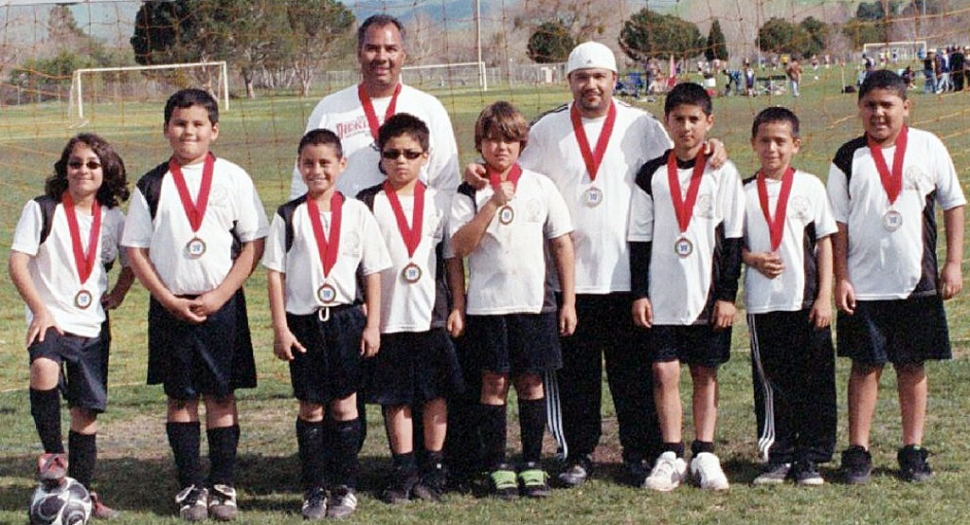 (l-r) Jesus "JJ" Hinojosa, Daniel "Nano" Vaca, Cristian Mijares, Cristian "Kiki" Hernandez, Coach Octavio Hernandez, Julian "Ju" Calderon, Coach Ignacio Calderon, Enrique Gutierrez, Alejandro "Alex" Rodriguez, Daniel Munoz. Not in picture. Giovany Lopez and Andres Avila.
By Gazette Staff Writer — Wednesday, March 17th, 2010
After winning area 10W championship in December 09, the Fillmore Wolverines participated on the 2009/2010 Section 10 League Playoffs. During this tournament we defeated teams from Bakersfield, Fresno, Lompoc and Victorville. We participated on this tournament as AYSO area 10W Champions and we proudly advanced to the finals of this tournament. Unfortunately we were only a step away from State Championship but finished the tournament second, an accomplishment that no other Boys U10 Fillmore AYSO team has done in the past. Our boys played hard and never gave up despite all the obstacles we faced during the tournament. This tournament took place during the last week of February in the city of Bakersfield. A weekend that will be remembered by both parents and players for a long time. The rain, wind and the freezing temperatures could not stop the Fillmore Wolverines from completing a near perfect playoff run of 9 straight wins. Unfortunately, being from a small town such as Fillmore, gave us a big disadvantage while competing against bigger AYSO organizations like Santa Barbara. A city with AYSO members that can influence the game and capable of bending the rules to their advantage. We are proud of our Wolverines and remember, keep your head up high and be proud to represent Fillmore AYSO. Thanks to all the parents for taking the time and making this season a season to remember. Thanks to our team mom Alyssa Calderon, our coaches Ignacio Calderon and Octavio Hernandez. GO WOLVERINES.