Fillmore Flashes Cross Country Run Well at CC League Two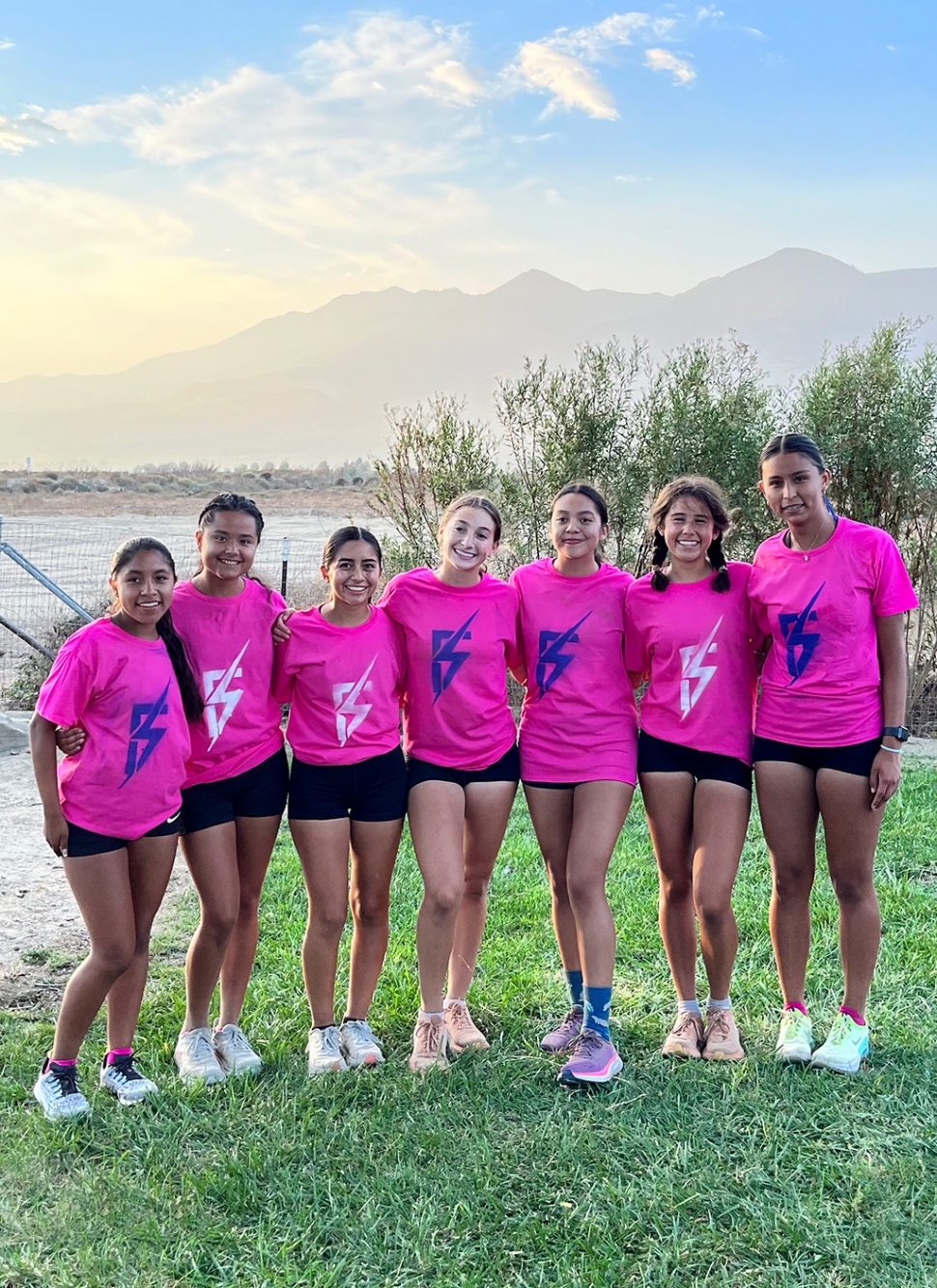 (above) The Lady Flashes Girls Varsity Cross Country Team which took 1st Place at the CCL Meet 2. (l-r) Niza Laureano, Monique Hurtado, Andrea Laureano, Leah Barragan, Diana Santa Rosa, Alexandra Martinez, and Nataly Vigil. Courtesy FHS Cross Country Coach Kim Tafoya.
By Epi Torres — Wednesday, October 19th, 2022
On Tuesday, the Citrus Coast League cross country teams met in Fillmore to complete in the second of three meets to determine League standings. Fillmore, Carpinteria, Channel Islands, Hueneme, Malibu, Nordhoff, and Santa Paula ran over the 3-mile dirt course that includes a couple of small rises.
The junior varsity boys started the day. They were led by Sammy Ramirez who finished in 4th place in a time of 20:21.35. He was followed by Omar Heredia 6th in 20:32.48, Juan Cumatz 10th in 21:00.41, Adan Topete 21st in 21:50.61, Vicente Lopez 24th in 22:41.83, Juan Castro 40th in 26:33.73, and Alexander Diaz 46th in 28:09.53. In the team competition, the Fillmore Junior Varsity team finished in second.
The Varsity Girls followed. They were led by Nataly Vigil who finished in second place. Her time was 20:16.93. She was followed by Niza Laureano 3rd in 20:28.66, Andrea Laureano 5th in 21:17.29, Diana Santa Rosa 9th in 21:46.18, Leah Barragan 11th in 22:34.03, Alexandra Martinez 13th in 22:40.67, and Monique Hurtado 22nd in 23:40.40. In the team competition, the Varsity Girls finished in first place.
The Varsity Boys were led by sophomore Eduardo Vigil. Eddie ran a great race and looked strong throughout finishing in second place in a time of 17:02.46. He was followed by Nicholas Hurtado 10th in 18:02.69, Joshua Estrada 13th in 18:12.01, Angel Garcia 14th in 18:14.75, Diego Ramirez 16th in 18:24.36, and Angel Laureano 18th in 18:39.62. In the team competition, Fillmore captured 1st place.
In the girls Junior Varsity Lorena Rangel Perez led all finishers posting a time of 23:04.07. She was followed by Liliana Montejano who finished in second in 23:42.55, Cassandra Valdovinos 5th in 24:34.32, Tiffany Velasco 10th in 25:22.62, Miley Tello 13th in 25:58.66, Luz Castaneda Navarro 15th in 27:13.77, Jacqueline Olivares 17th in 27:19.36, Natalie Perez 22nd in 27:52.04, Jannet Vega 28th in 29:27.60, Alexa Martinez 30th in 30:10.93, and Christine Nguyen 33rd in 31:34.13. In the team competition the Fillmore girls finished in first.
The Flashes cross country teams will now travel to Walnut, California on Friday, October 21st to compete in the Mt. SAC Invitational. This meet will start around noon.