Fillmore Cross Country 7th Annual Mammoth Lakes Training Camp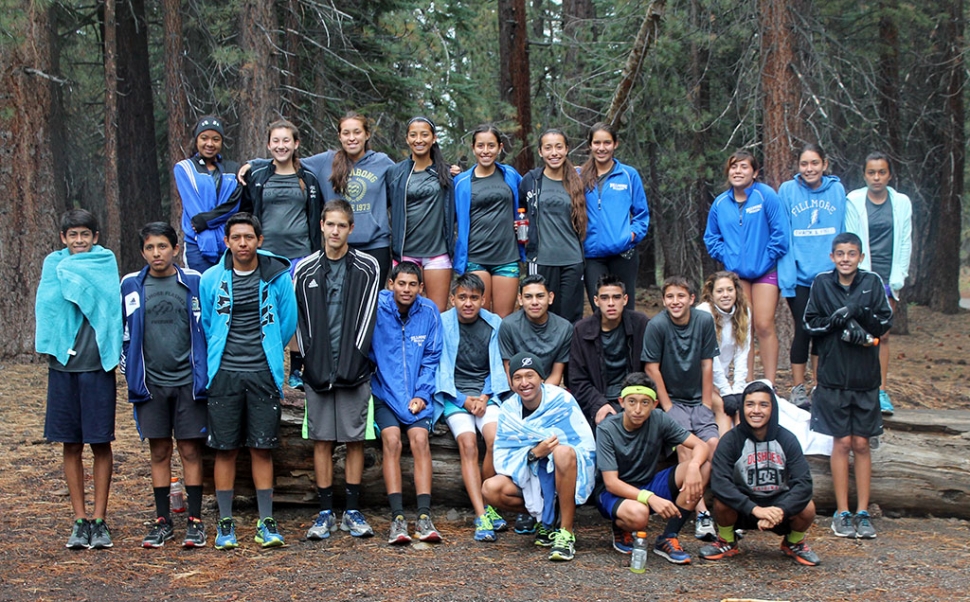 (l-r) (top) Luz Ruiz, Kimberly Vazquez, Alyssa Ramirez, Nayeli Baez, Briana Segoviano, Alexis Tafoya, Sofia Gallardo, Erika Ruiz, and Jacqueline Chavez. (middle) Johnny Martinez, John Chavez, Isai Bolanos, Luis Landeros, Jose Rodriguez, Josue Baez, Steven Valencia, Ismael Dominguez, Cristian Candelario, Jordan Manzano, and Christian Andrade. (front) Francisco Erazo, Adrian Orozco, and Christian Andrade.
By Gazette Staff Writer — Wednesday, August 20th, 2014
This year the Fillmore High School Cross Country Mammoth Lakes Summer Camp participation was at a great success with a fresh bunch of runners having their first experience in Mammoth to train. For more than six weeks during the hot summer days over forty runners kicked off their season of running to prepare for the upcoming season. As a result and the combined efforts of coaches, parents and supporters, we were able to invite twenty four high school runners to the 7th annual Mammoth Lakes Summer Camp for an intense running week. These athletes were put to the test of high altitude training over a course of eight days. Every morning the team rose bright and early to run anywhere between four and ten miles on various types of terrain in the Inyo National Forest. The Fillmore High School athletes had many opportunities to test their running ability up hills, across mountains and through large meadows. In addition, the athletes had many bonding moments of which friendships, team bonding and the sense of team were heightened. In the mix we were able to take up eighteen new Mammoth camp runners and six veteran runners. The mixture of new with the old allowed for the veteran runners to share their expertise while the new runners were able to learn from those with experience. As a result, this year's camp stood out over all the rest, for one the numbers greatly increased but more importantly it stood out because this large group came together as a team and learned how to work together to accomplish their goals.
Prior to the Mammoth Summer Camp, the athletes had a foundation of six weeks of training. The runners started fundraising for the trip back in June where they held two car washes, thanks to William L. Morris for always making your facility and equipment available to us. In addition friends, family and various businesses came through and sponsored the athletes. We would like to thank the following businesses for their support, Ernie's Auto Care & Smog, Bob's Radiator, Central Market, Aguirre Financial, Diamond Realty, FZ Tax Services, Ay Chihuahua Mexican food, Bennet's Honey Farm, La Mitchocan, Estrella Market, Vons, La Unica, Fillmore Dentistry, Patterson Hardware, Fillmore Rentals, Maher Insurance (Farmer's Insurance) and all the parents, families and friends for making possible this great opportunity for these runners. I would like to extend a special thanks to our parents who volunteered to chaperone the trip, Anthony and Brandy Tafoya. Thank you for the great meals and the security of knowing you are there to support the runners and coaches in the program. In addition the assistant coaches, Epi Torres, Victor Rodriguez and Anthony Rodriguez who work around the clock donating time to both the regular season and off season has made our program what it is today. We appreciate all the support and dedication you constantly give to the team. Our mission this year for the cross country program is to prepare for the expected difficult year ahead of us. Our program has been success for many years. The athletes are very dedicated, consistent and mindful of their training. The runners have set goals for this season, and are working hard every day to prepare for the upcoming season. We are really excited this year and believe this summer program and camp has helped our team grow both individually and as a team.