Fillmore Boys Cross Country Takes 2nd at Twilight Meet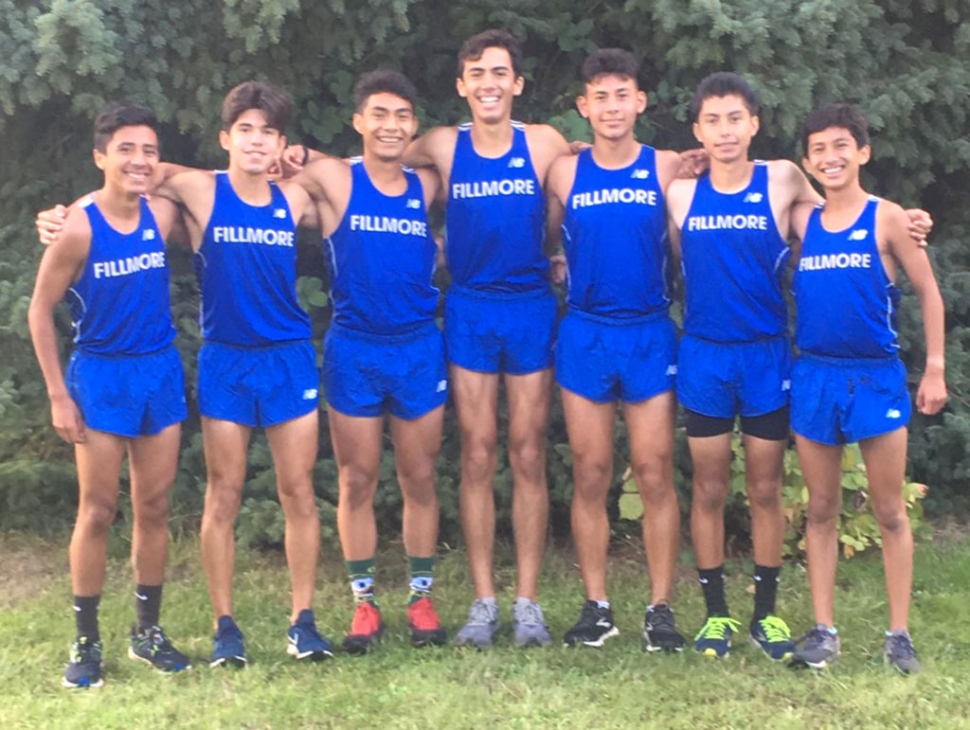 Fillmore High School Boys took second place at the Nike Portland Invitational. Photos courtesy Coach Kim Tafoya.
By Epi Torres — Wednesday, October 16th, 2019
Fillmore Girls Cross Country Team Competes at Meet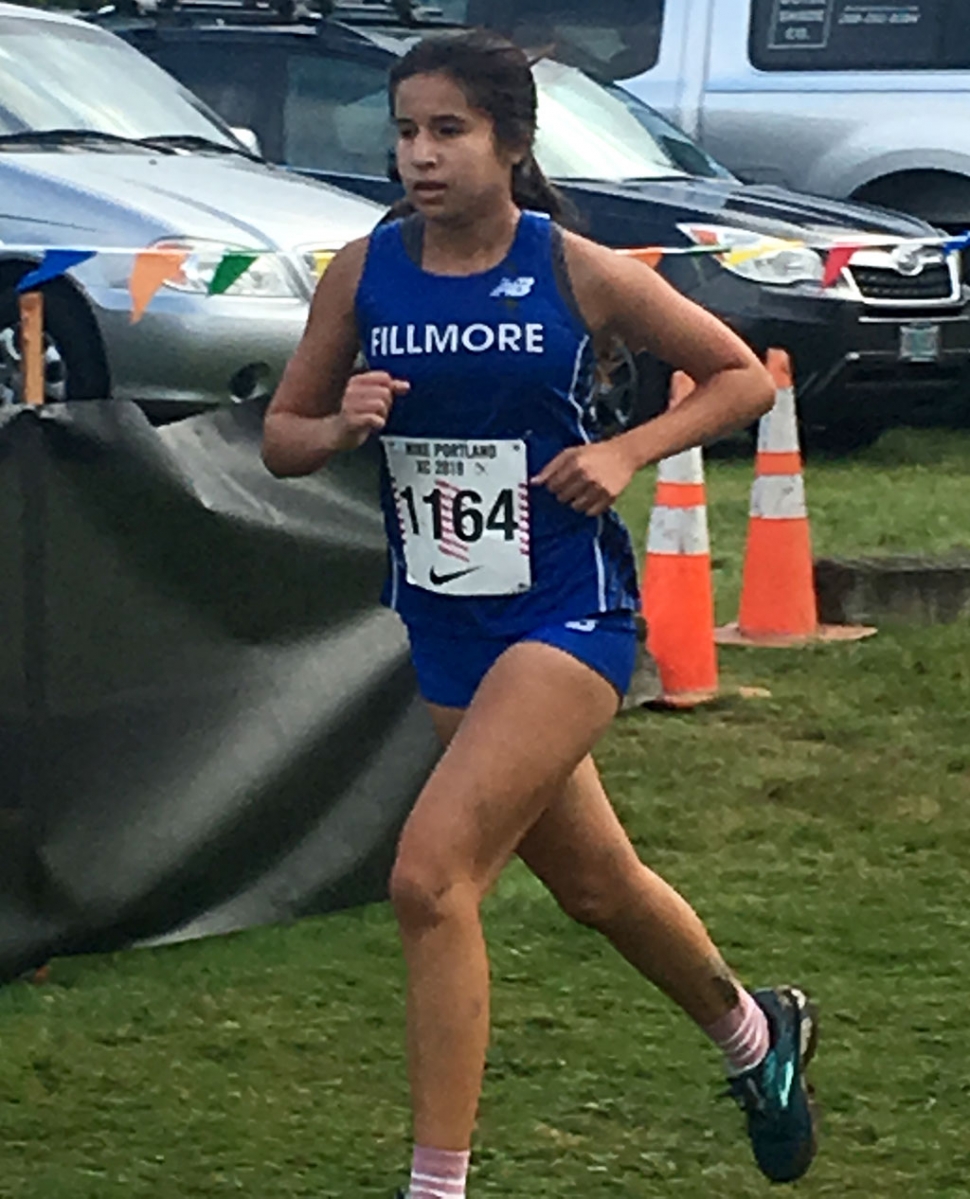 Pictured is Flashes Sophomore Angelica Herrera who finished 30th with a time of 22.26.4 at the Nike Portland Invitational last Wednesday, October 9th.
On Wednesday, October 9th, several members of the Fillmore Cross Country Team competed at Lake Casitas in Ojai in the Twilight Invitational. The meet was held over a challenging hilly course adjacent to the Lake. There were 4 races, a boys and girls1.9 mile, and a boys and girls 3 mile. Fillmore athletes competed in 3 of the races.
Two Fillmore athletes competed in the second race on the short 1.9 mile course. They first finisher for Fillmore was Daisy Guerrero who finished in 145th in a time of 16:44. She was followed by Wendy Ciciliano 179th in 18:24.1.
The second race of the day was the boys long race where all competitors regardless of grade level or school size competed at the same time. Thirteen schools and 182 competitors toed the line. Once again, Camilo Torres led the Flashes finishing in 6th place in a time of 16:31.2. He was followed by Jesus Martinez 8th in 16:36.8, Davis Flores 11th in 16:42.4, Erick Gutierrez 12th in 16:46, Rey Laureano 14th in 16:49.9, Alex Manzo19th in 17:09.2, and Fabian Del Villar 20th in 17:10.8. The top five finishers for Fillmore were separated by a mere 18.2 seconds. This is an excellent team grouping that propelled The Fillmore Boys Cross Country team to a team victory. The other Fillmore competitors who also ran well were Juan Carlos Laureano 29th in 17:28.30, David Bustos 32nd 17:35.6, Matthew Munoz 48th in 18:09.3, Luis Castaneda 59th in 18:29.6, James Flores 60th in 18:30.7, Eneyin Ortega 71st in 18:59.6, Andres Gonzalez 84th in 19:18.3, Nathen Hurtado 90th in 19:29, Bryan Sanchez 93rd in 19:36.3, Daniel Martinez 94th in 19:36.5, Brandon Gonzalez 104th in 19:50.5, Theodore Ebell 148th in 21:46.9, Anthony Estrella 1159th in 22:38.9, David Reyes 160th in 22:47.4, Luke Hernandez 174th in 24:59.9, and Nick Hurtado 175th in 25:26.8. As a team, the boy's team finished in first among all teams and the top seven boys were awarded individual medals.
The 3.0 mile Girls race followed, 11 teams competed with a total of 103 runners. Vanessa Avila ran in the top position for most of the race before finishing well and claiming the third spot in a time of 20:06.6. Vanessa was followed by teammate Nicole Gonzalez 10th in 20:59.5, Syenna Ponce 22nd in 22:03.6, Angelica Herrera 30th in 22:26.4, Jasmine Vega 32nd in 22:36.5, Natalie Cobian 61st in 24:06.3. Lorena Perez-Rangel 67th in 24:24.7, Eva Vieyra 83rd in 27:57.0, Anahi Pascual 88th in 26:47.1, Liliana Montejano 89th in 26:48.7, Emma Ortiz 95th in 27:59.8, and Isabel De La Cruz 98th in 28:21.0. The girls finished in a second place tie in the team competition. The top 5 Fillmore athletes were awarded individual finishers medals.
The Cross Country teams will next compete on Tuesday in Ojai at Lake Casitas on the same 3.0 mile course. This will be the second of the 3 meets in the Citrus Coastal League that will determine four League Championships and CIF Varsity teams and individual postseason competitors. Start time is 3:30.