Fillmore's Azaria Aguilar Plays in PGF National Championship
By Gazette Staff Writers — Wednesday, August 25th, 2021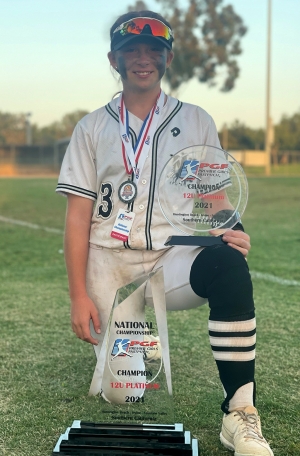 Azaria Aguilar (above) a Fillmore Middle School student who plays for the Athletics Mercado Godoy (AMG) Softball Team, competed and won the 2021 Premier Girls Fastpitch (PGF) Platinum National Championships.
The Athletics Mercado Godoy (AMG), a 12 and under girls travel softball team based out of Ventura County, welcomed Fillmore's Azaria Aguilar, 12, to the Platinum National Championships! She is a 7th grade student at Fillmore Middle School. The team won the 2021 Premier Girls Fastpitch (PGF) Platinum National Championships in Irvine. PGF is the largest and highly competitive travel ball National Tournament with teams qualifying throughout the country. AMG qualified for the tournament in May after winning a berth in a national qualifier event in Salinas, CA.
Azaria began her softball adventure at the young age of seven playing for Fillmore Girls' Softball, where she displayed exceptional skills and was named to the league's All-Star team. The following year she would move on to Ventura Girls Fastpitch before making the move to travel ball. She played with a few teams before finding much success with her current team, AMG, which is based out of Ventura County.
In the Championship Game AMG played Team Hustle based out of Arizona. Rachel Godoy toed the rubber and threw a shutout to lead AMG past Team Hustle 9-0 on Saturday, August 7th. AMG secured the victory thanks to five runs in the
fourth inning. AMG batters contributing to the big inning included Natalie, Savannah and Honesty, all knocking in runs in the inning. AMG fired up the offense in the first inning, when Maya homered on a 1-2 count, scoring three runs.
Azaria, better known to her teammates as "Big Red" for her beautiful red hair, proudly wears No. 3. She plays right field, first base, and is a pitcher. She is the oldest child of Joseph and Katie Aguilar. Big Red's first official year has brought much success batting .403 which includes 37 RBIs and 45 runs. She is described as a quiet but fierce competitor who loves the game and her softball sisters. Azaria hopes to one day follow her family's legacy as a Fillmore Flash. Congratulations to the AMG team assembled in February 2021 by Manager Carlo Godoy and Coaches Jared Schotten, Gilbert Lorona, Veronica Garcia and Phillip Hurtado. The players include: #3 Azaria Aguilar, #5 Rachel Godoy, #7 Kayla Lorona, #9 Leanna Medina, #10 Zoie Mirano, #11 Lexie Villegas, #12 Alisha Covarrubias, #13
Delilah Navarro, #23 Shyanne Saxton, #24 Natalie Pacheco, #30 Leilah Burboa, #37 Honesty Romero, #70 London
Lefler, #77 Maci Schotten, #32 Madeline Garcia, #73 Savannah Gonzalez, and #88 Maya Mathies.