FHS Track & Field give strong performances at CIF Division 4 prelims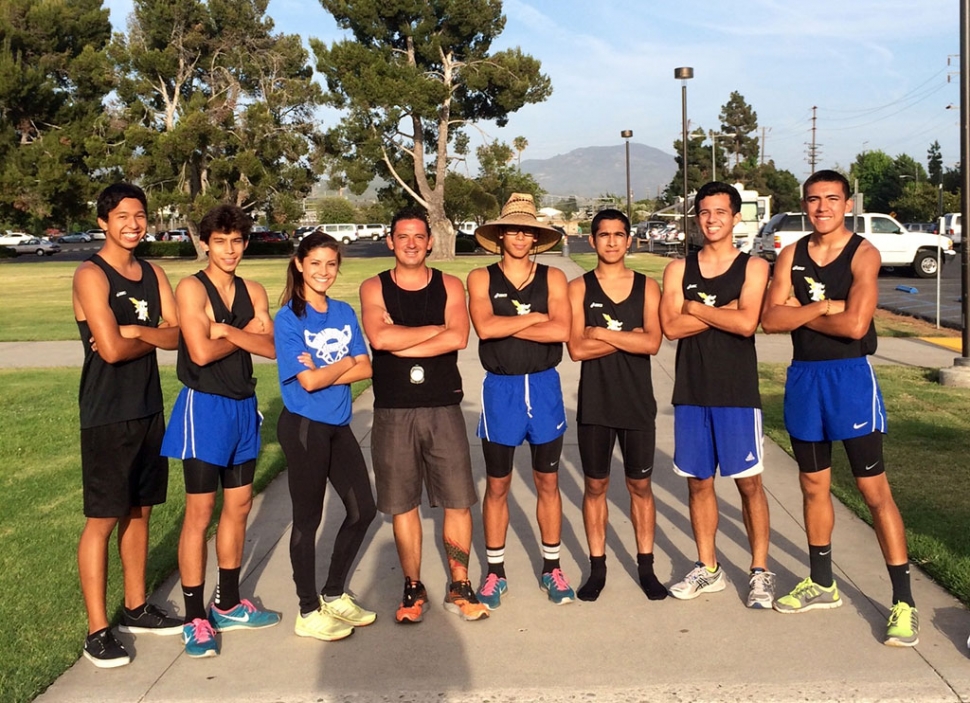 CIF Prelim Athletes (l-r) Francisco Erazo, Dominick Gonzalez, Kiana Hope, Coach Juan Viramontes, Damien Gonzalez, Demiriouz Lozano, Jesus Mendoza and Carlos Briceno. Not pictured, Kayla Grove, Justin Coert, Coach Tony Tafoya and Coach Erika Arana.
By Gazette Staff Writer — Wednesday, May 21st, 2014
Senior Kiana Hope, 3200m run placing 2nd in her heat.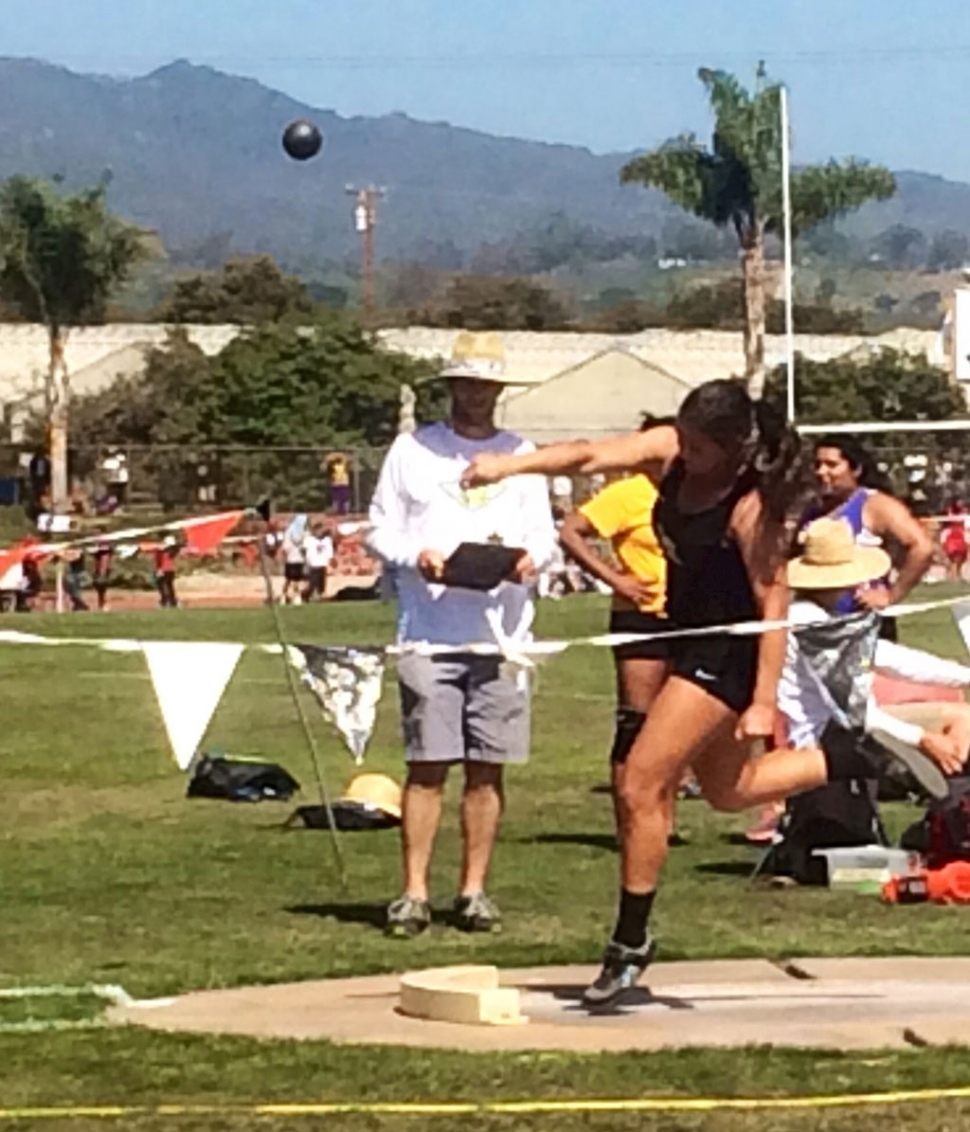 Senior Kayla Grove, 1st place in her flight throwing 35'6" in the shot put
Hope Remains at an all time strong.
FHS Track and Field athletes showcase strong performances at CIF Division 4 prelims.
Four Athletes advance to CIF Finals: Two other events narrowly miss it.
CIF Divisional Preliminaries took place at Carpinteria High School this past Saturday May 17th with great performances throughout the day highlighting the efforts, hard work and determination of the athletes. The Fillmore Flashes Track and Field took full advantage of the championship atmosphere and quickly made the center stage their comfort zone. Kiana Hope lead the way with her runner up effort in her heat and third fastest time over all in the division in the girls 3200 meters with a life time best of 11:19.70. Coming off strong performances in the Ventura County Championships and Tri Valley League Championships , Hope remains strong as she has been riding momentum and running with confidence and determination all year long. Kayla Grove continued her dominant form in the Girls shot put and also used a life time best of 35'6' to post the 6th best throw of the day and advance to the finals as well. Grove has improved steadily and has been a consistent force in the girls throws all year long. Jesus Mendoza also earned the 6th fastest time in the boys 1600 meters matching his personal best with a 4:24.21. Mendoza, a first year runner, has ran fast and climbed onto the podium in each and every single meet of the season. For some one who comes in with no running experience prior to his senior year, to place at the invitational portion or the County Championships, win a Tri valley League title and now advance into the CIF finals is beyond impressive; it speaks volumes about his discipline, guts and work ethic. Carlos Briceno, 3rd in his heat and 9th place over all round out the four athletes who will compete at the CIF Finals at Cerritos College this Saturday May 24 with Field events scheduled to begin at 11 am and running events at 1 pm. Briceno expressed his desire and determination to earn the right to compete in the finals this year, earlier in the season and he has achieved it via hard work, consistency and effort. Justin Coert placed 10th in the boys shot put with a solid mark of 44'10.75" and the Boys 4x400 of Demitriouz Lozano, Carlos Briceno, and twin brothers Damien and Dominick Gonzalez also placed 10th over all and second in their heat giving up the win only to the defending state champions Serra High School. Top 9 advance. Damien also competed in the boys high jump, tying for 18th place with a mark of 5'6". Coert and every member of the boys 4x400 are Juniors. They all will come back with the experience, a great foundation and hungrier than ever. Peaking at the right time can be the difference maker and all these athletes have found a way to nail it. CIF Finals here we come... GO FLASHES!