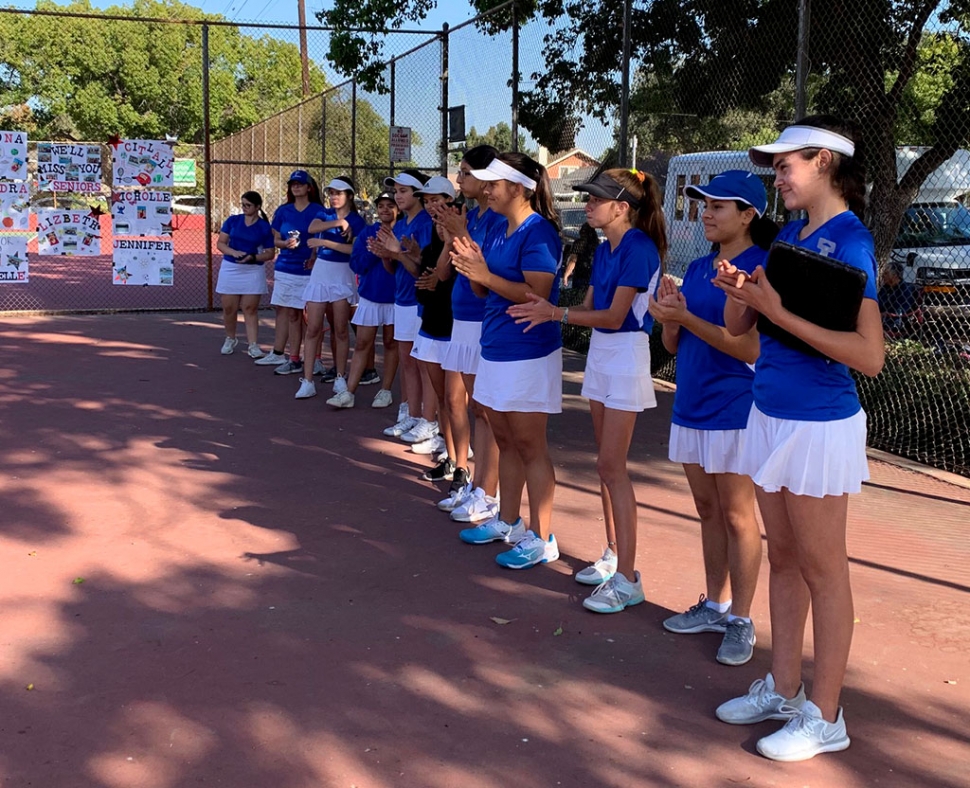 Pictured is the Fillmore Flashes Girl's tennis team as they line up to get ready for their match against long time rival Santa Paula. Photo courtesy Coach Lolita Bowman.
By Gazette Staff Writer — Wednesday, November 13th, 2019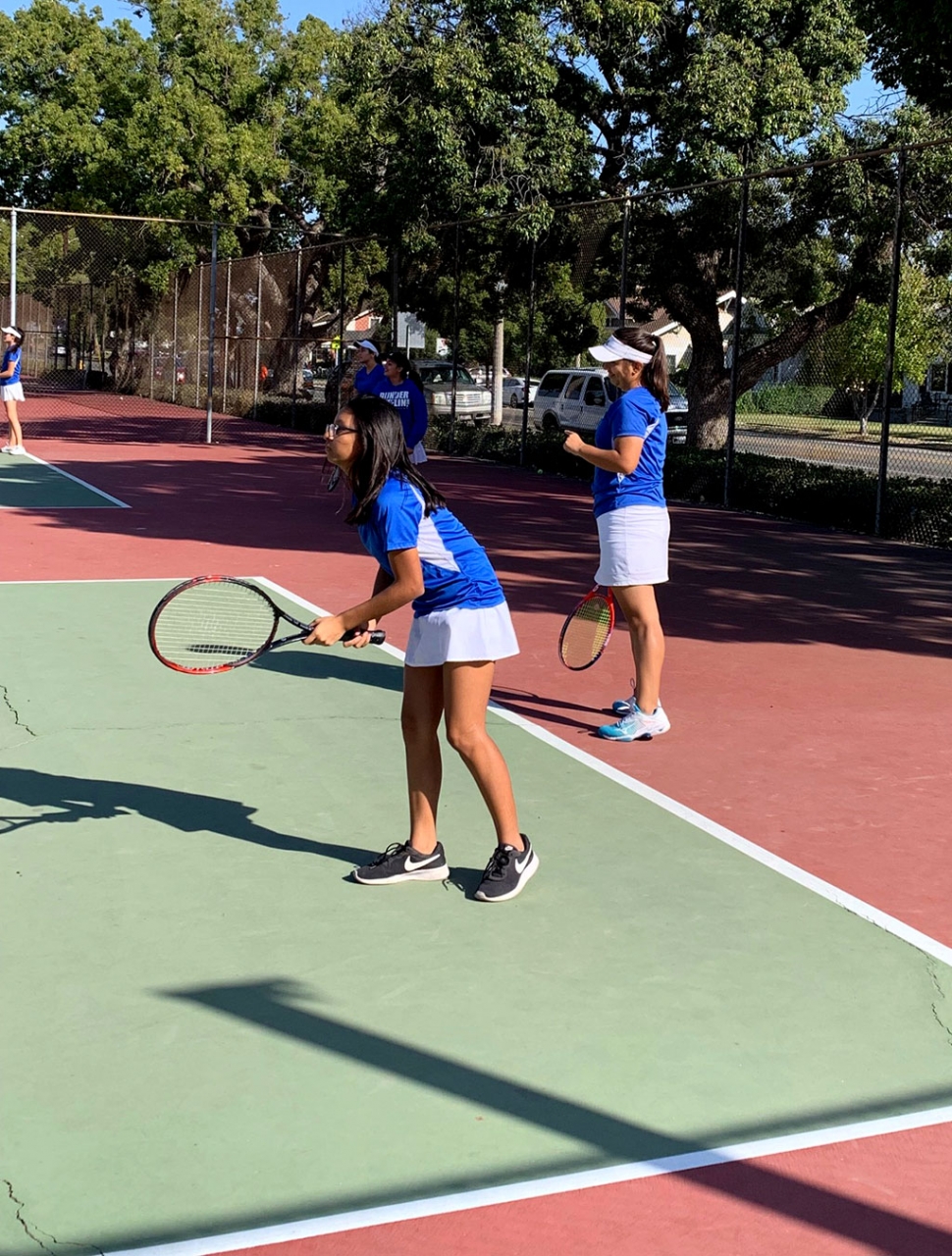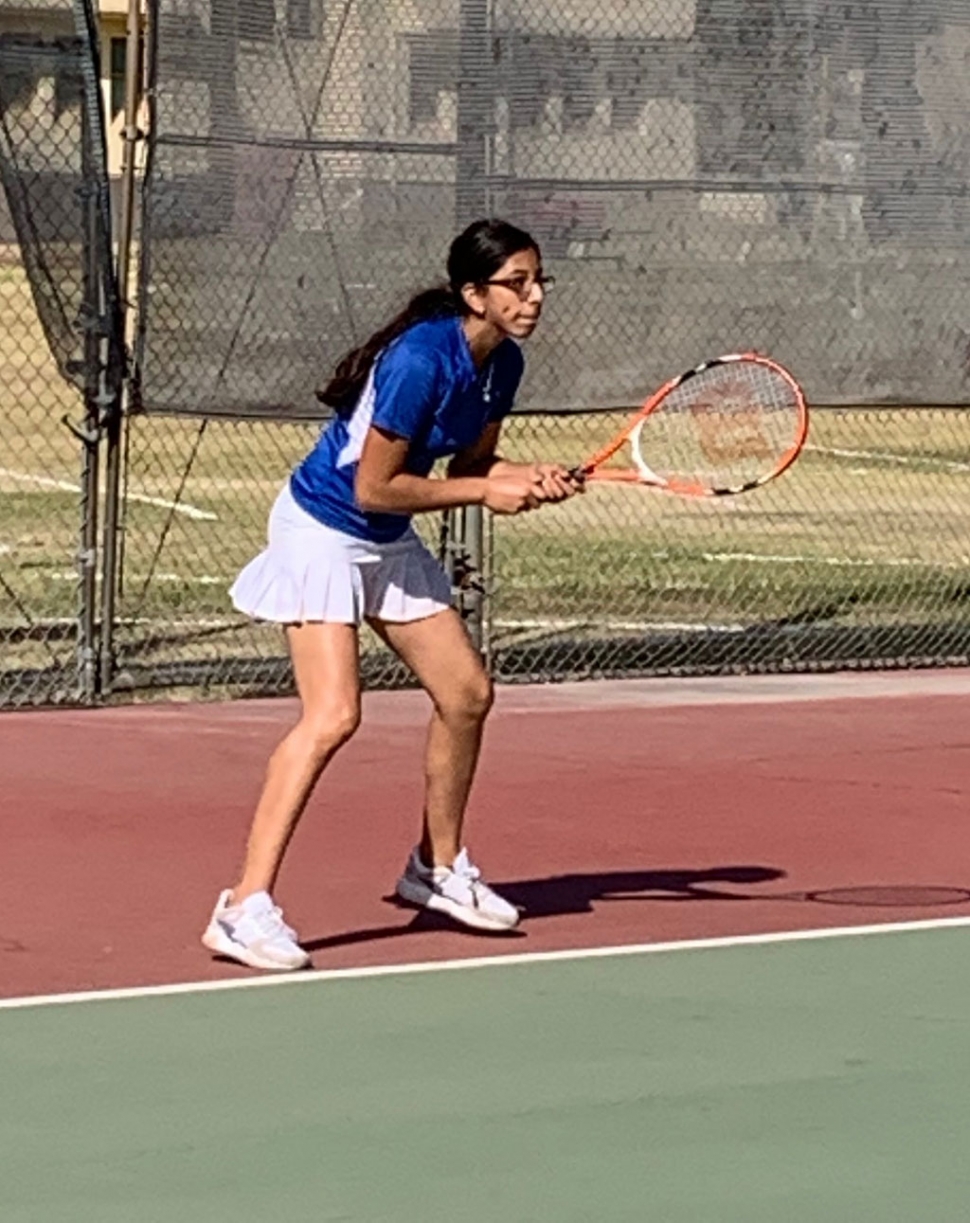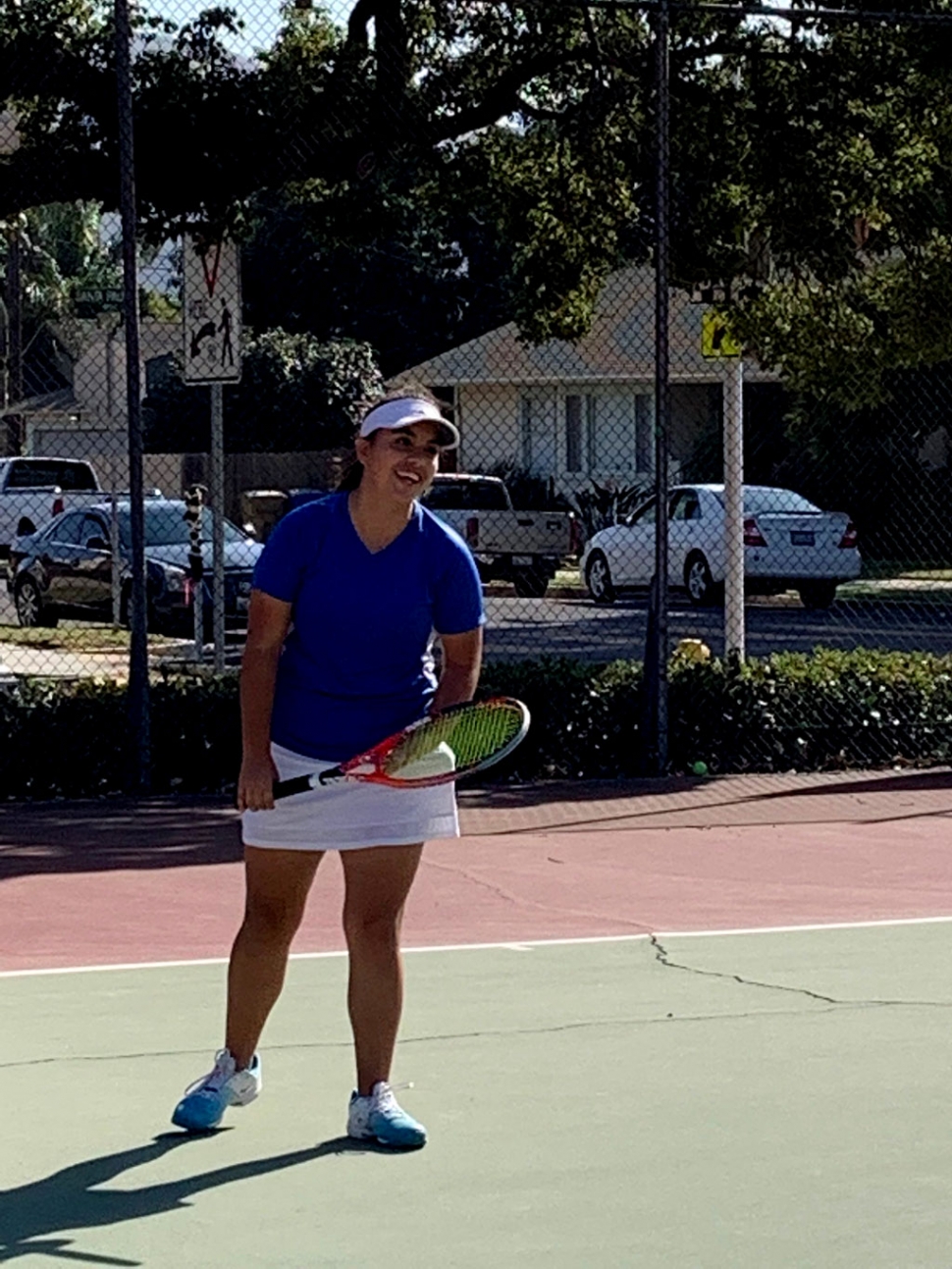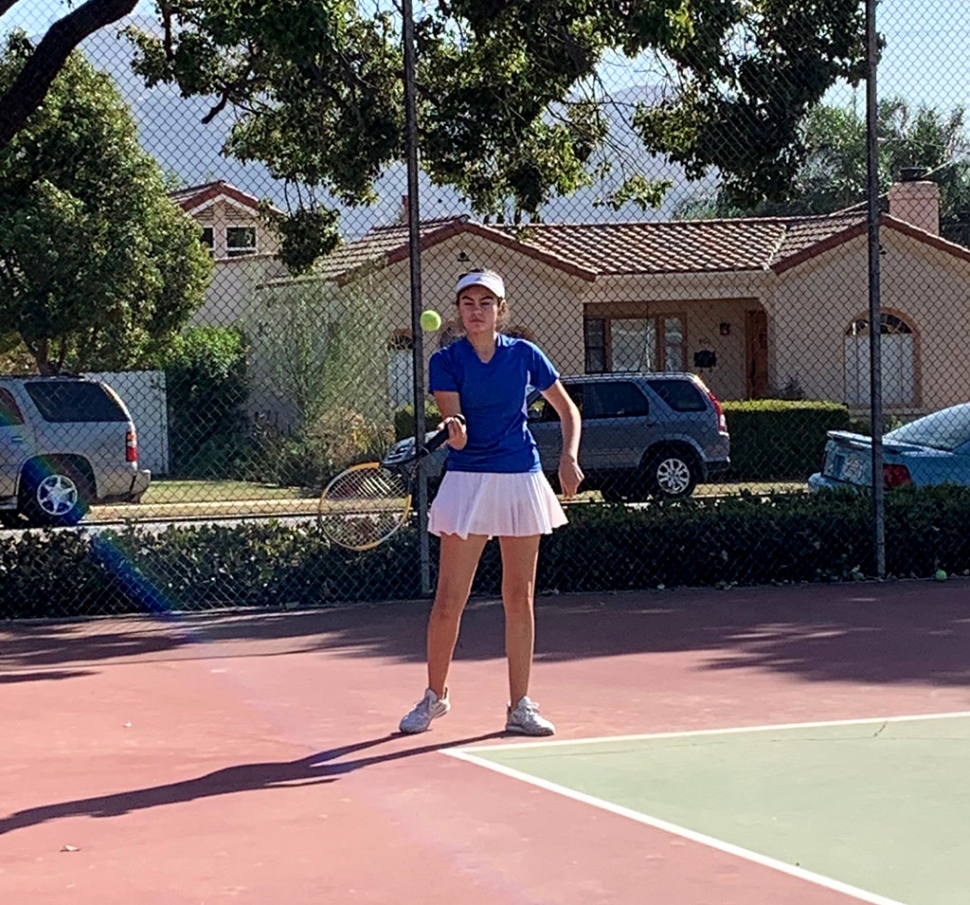 The last note from coach Lolita Bowman, for now.
Tis' the end of the tennis season, sadly. Did we beat Santa Paula this year? Well, no. But we sure came close! The final score was Fillmore 8, Santa Paula 10. The line-up for the match was as follows: Playing number one singles was Heillyn Burr, number two singles Eveleen Lizarraga, and number three singles spot was played by Jimena Cortes who is definitely a rising star for the Fillmore High School tennis team. Jimena is a new player and has some of the best strokes on the tennis team. The doubles teams were the following: Emila Magdaleno/Melissa Higuera, Maritza Campos/Rosalyn Diaz, and Sofia Cardenas/Ashlin Rodriguez. Heillyn scored one point for Fillmore beating Santa Paula player Siboney 6-3. Doubles team Melissa and Emilia won all three sets scoring three points for Fillmore! Doubles team Maritza and Rosalyn also scored two points for Fillmore. Sofia and Ashlin scored one point for Fillmore. Way to go Fillmore girls! Second string team Kira Martinez and Jennifer Carillo wiped out Santa Paula's doubles team Jaqueline and Marilyn with a score of 6-4. "We won coach, we won!" exclaimed Kira. Paola Ruiz, Samantha Pacheco, and Anneliese as four played one singles match each against their opponents. Anneliese came close with a score of 6-3 against opponent Alondra for Santa Paula. This match with Santa Paula had been previously postponed due to the windy weather and pollution from the fires in the area. I am so glad we finally we able to complete this match as we seemed to be walking on eggshells with any upcoming weather. Compliments were flying as the fans noticed the long rallies played on the courts. Thank you to Sydney, the gracious Santa Paula coach for welcoming our team on their turf as the Fillmore team is still unable to host any home matches. We are hoping to get together this summer having both teams participate in friendly pre-season matches. Even though we traveled out of Fillmore to every match, the parents of many of the Fillmore girls were consistently setting up chairs and tents to watch their daughters compete for Fillmore. Maybe the school district will implement tennis courts for the high school as the district delves into the construction at Fillmore High School. Who knows? Moreover, seeing the interested parents was a wonderful site. Did you know that Heillyn's mother is a former tennis player? Maybe it is a genetic talent. Speaking of the parents, I cannot thank them enough for their support. The girls were always more than pleased to see their parents for these events. Also, I just want to fully disclose that learning how to play tennis is no easy task. These girls for this season were just incredible. They picked up the game and were competitive. I hope that I will improve as a coach every season. If most of the players return for the 2020 school season, I imagine that the focus will be on strategy, and putting the idea of learning the basic skills of tennis on the back burner. I will be looking for a few new girls, as the team will be near the full line if most of the girls return. So, if you are interested in playing next year, it would be a good idea to begin learning now. The city of Ventura offers tennis lessons year around-most of the lessons are held at Camino Real Park in Ventura. Moving forward, there are so many rules for tennis to learn also. The Fillmore girls found that out during the season as particular instances would arise: tie breakers and line-calling discrepancies. The finals for the Citrus Coast League were played at Carpinteria High School formerly scheduled to be played at Pepperdine University. For the finals, I chose six players to attend the tournament, even though I had several other players who were well qualified to participate. This was not an easy decision. The top two singles players and the top two doubles teams are invited from each high school in the league. Fillmore is now in the Citrus Coast League which excluded private schools such as St. Bonaventure and Villanova which were formerly in Fillmore's league. Emilia and Eveleen were chosen to play singles that day on October 28, 2019. Eveleeen was defeated by Laura Ascencio from Hueneme High School. Emilia gave her opponent Veronica Palmer from Nordoff High School a run for her money as the final score was 8-5. Eight game pro-sets are played in the first round. Passer-bys were complementing the number one player for Fillmore, Emilia, especially after learning she had only been playing for a few months as opposed to her opponent's experience of more than six years I would guess. The doubles team representing Fillmore were Carla (Melissa) Higuera/Maritza Campos and Sofia Cardenas/Rosalyn Diaz. Sofia and Rosalyn were defeated in the first round against Carpinteria's team. Melissa and Maritza won their first match against Emma Silver/Esmeralda Velasquez of Nordoff, and then were defeated in the second round to Alondra Rojas and Maria Espinoza from Hueneme. Great job girls. After this tournament we celebrated at the beach enjoying the amazing sunset with pizza and laughs. The entire team will be celebrating down the road with plenty of food and good memories for the tennis season. Tennis is appetizing! Impressed with the tennis team is wording it lightly. The girls were a joy to be around, respectful and kind to one another. Thank you to all of the members of the team making being around fifteen teenagers more of a joy than a challenge! Thank you again to all of the parents, again and again!