FHS Cross Country Split Squads Run Well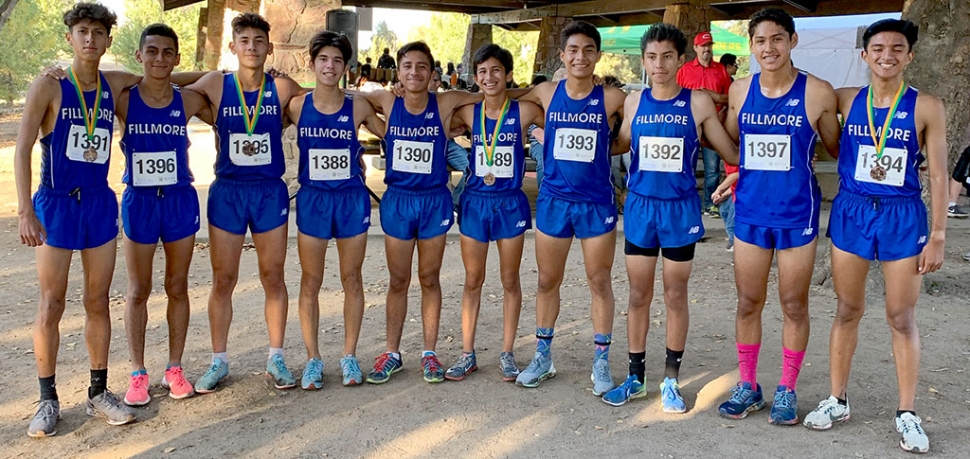 On Friday, October 18th the Fillmore Flashes Cross Country Team split up the squads and ran extremely well. Pictured is a group of 10 Flashes Cross Country runners who competed at Woodward Park in Fresno for a preview run for the State Championship Meet to take place in November. Photo courtesy Coach Kim Tafoya.
By Epi Torres — Wednesday, October 23rd, 2019
On Friday, a group of 10 boys traveled to Woodward Park in Fresno for a preview run /race over the same course they have set a goal of competing on for the State Championship Meet in November. 249 competitors toed the line for the start of the small school division (1,750 or less) at the Rough Rider Invitational. This was Fillmore's first foray into this 40 plus year classic. On another note, the Varsity Boys are currently ranked as the 3rd team in the Division 4 Southern Section Rankings posted on 10/21.
Fillmore boys won the race in a tight team battle with Calaveras Redskins from the Sac-Joaquin Section, a Division 4 School. Leading the Flashes was Camilo Epitacio Torres capturing 14th place in 16:48.2. He was supported by his teammates Rey Laureano 20th in 16:54.7, Davis Flores 22nd in 16:55.6, Alex Manzo 24th in 16:57.2, Erick Gutierrez 26th in 17:04, Jesus Martinez 29th in 17:07.8, Jesse De La Cruz 37th in 17:11.8, Juan Carlos Laureano 41st in 17:17.7, Matthew Munoz 61st in 17:45.8, and David Bustos 81st 18:14.1. The top five finishers was separated by a mere 15.8 seconds. They were awarded a team trophy. Camilo, Rey, Davis, and Alex were individual medal winners.
The second group of athletes traveled to Ojai and competed in the Ventura County Cross Country Cross Country Championship Meet on Saturday. Fillmore fielded one complete team and several individual competitors.
David Reyes started off the morning for the Flashes as the lone competitor in the boys Freshman Race. David placed 23rd in a time of 21:38.5, a 2 minute 14. 4 second improvement for him on this course. He was our first medal winner on the day.
The Frosh/Soph Girls followed and Lorena Rangel Perez led the Fillmore group of four placing 17th in a time of 23:24.7. She was followed by Liliana Montejano 29th in 25:08, Daisy Guerrero 34th in 27:10.3, and Citlalli Trujillo Valencia 44th in 33:12.9. Lorena was an individual medal winner.
Two girls competed in the Varsity Girls Race. Leading the way, as she has all year, was Senior Vanessa Avila. She placed 3rd in the Small School Division in a time of 19:58.2 and was awarded an individual medal. This is a personal best on this course for Vanessa. Fellow Senior Eva Vieyra followed in 44th in 25:39.1.
The Varsity Boys were led by Andres Gonzalez who finished in 37th in 18:45.6. Bryan Sanchez followed 43rd in 19:47, and Anthony Estrella 49th in 22:19.3.
In the Sophomore Boys Race, Fillmore ran a scoring team. They were led to second place team finish in the small school division by James Flores who placed 6th in 18:37.4. He was followed by Brandon Gonzalez 11th in 19:32.2, Nathen Hurtado 13th in 19:48, Isaac Mercado 27th in 22:29.8, and Luke Hernandez 28th in 22:34. Their second place finished was awarded with a team plaque. James, Brandon and Nathen were medal winners.
The final race of the day the Junior Varsity Girls featured Fillmore's best finish for an individual. Nicole Gonzalez led the charge with a first place finish in the Small School competition posting a time of 22:11. She was followed by Syenna Ponce who finished in 9th in a time of 24:42. Both girls were medal winners.
The Flashes will next travel to Riverside and participate in the Riverside Invitation on Saturday.