Elkins Golf Course League XC Meet
By Gazette Staff Writer — Wednesday, October 21st, 2015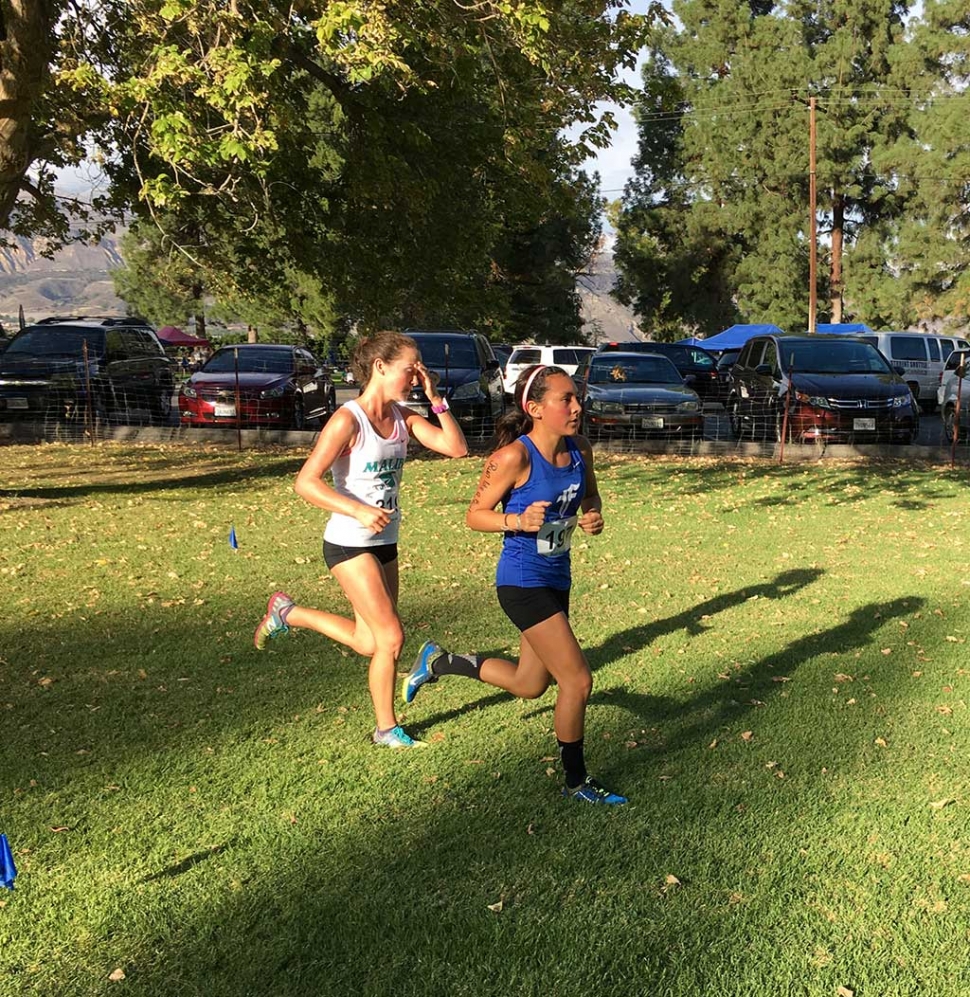 Carissa Rodriguez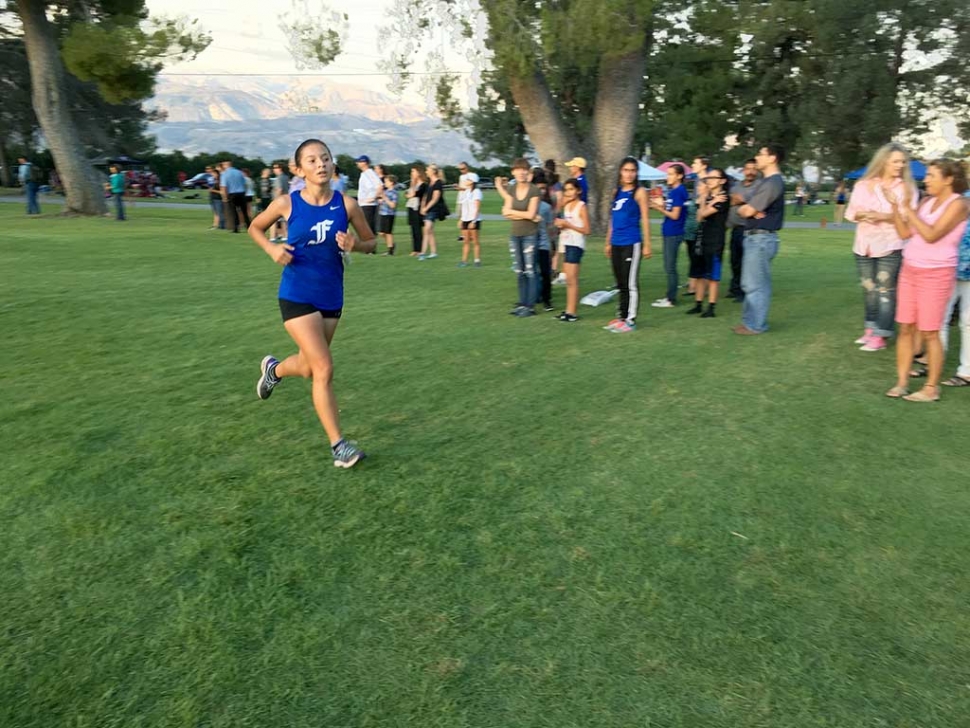 Julissa Martinez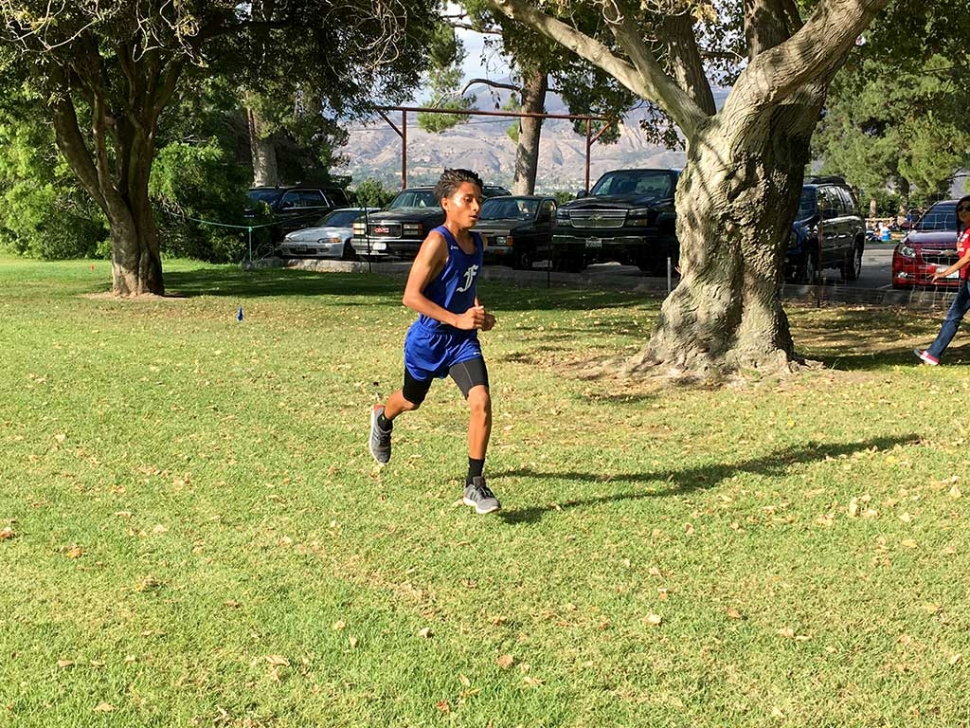 Juan Ramirez
For the first time ever Elkins Golf Course hosted 13 TCAA teams in the second of 3 league meets. Running on this beautiful course proved to be a formidable challenge for all competitors as they had to navigate two major climbs. One of the climbs came early in the first mile and the final climb came in the last mile of this course. All 4 races will determine league championship teams and which boys and girls varsity teams will represent TCAA at the Southern Section CIF prelim meet on November 14th at the Riverside City Cross Country Course.
The first race of the day saw a powerful Foothill Technology boys JV team dominate the race by claiming the first 7 places followed by Fillmore claiming the next 4. Foothill won the team race scoring aperfect 15 points followed by Fillmore 52 points and Thatcher rounding out the top 3 with 103 points. Top runner for Fillmore was Juan Ramirez 8th in 19:21.51, followed by Nick Villela 9th in 19:27.11, John Chavez 10th in 19:48.02, Everardo Garcia Magana 11th in 19:48.31, Sergio Perez 14th in 20:13.67, Steven Valencia 18th in 20:42.54, Dean Lomeli 21st in 20:45.79, Mario Hurtado 23rd in 20:50.15, Jorge Acevedo 30th in 21:18.38, Roberto Magana 31st in 21:25.58, Jaime Malagon 49th in 22:22.32, Misael Ponce 53rd in 22:46.81, Andrew Hernandez 66th in 24:09.40, Eric Hernandez 69th in 24:51.03, Daniel Cruz 70th in 24:53.49, Antonio Villalobos 71st in 24:55.82, and Luis Leon 82nd in 26:34.94.
The most exciting race of the day was the girls' varsity race. This race feature two determined competitors, 11th grader Abby Blackwood of Malibu High School and 9th grader Carissa Rodriguez of Fillmore High School. These ladies battled side by side and traded a slight lead multiple times before Abby Blackwood was able to pull away and win in a time of19:04.65, Carissa followed finishing in 19:06.29. The team battle was claimed by Foothill Technology with 46 points, Fillmore claimed 2nd with 69 points, and Malibu was 3rd with 96 points. Top scorers for the Flashes were Lupita Perez 11th in 20:34.86, Andrea Marruffo 17th in 21:40.31, Irma Torres 19th in 21:47.75, Erika Ruiz 20th in 21:55.92, Jackie Chavez 26th in 22:20.95, and Kimberly Vazquez 29th in 22:32.21.
In the boys varsity race Foothill Technology again claimed the top spot winning the team competition with 34 points. Fillmore finished in 4th place with 119 points. The top individual winner in this race was Isaiah Lozano from St. Bonaventure in an excellent time of 15:34.12. Fillmore was led by senior Jose Rodriguez 11th in 17:34.26, followed by Adrian Orozco 19th in 17:58.41, Curtis Ponce 20th in 17:59.42, Johnny Martinez 32nd in 18:48.96, Michael Sanchez 37th in 18:58.23, and Jesus Castro 38th in 19:00.72.
The final race of the day was the girls JV race. The winning team was Foothill Technology taking the first 5 spots and scoring a perfect score of 15 points. The runner up position went to Fillmore who was led by Susie Garcia 6th in 22:35.73, followed by Julissa Martinez 7th in 22:.57.90, Cecilia Cisneros 9th in 23:04.66, Lauren Magdaleno 11th in 23:36.24, Emma Orozco 12th in 23:38.62, Marisol Martinez 14th in 24:07.29, Maria Rubalcava 17th in 25:01.24, Briana Lopez 26th in 26:13.28, Yakeline Magana 28th in 27:05.63, and Maria Lopez 50th in 31:20.93.
Fillmore coaches were proud to host this meet on a perfect day and on such a wonderful venue that provided spectacular views and a challenging course for all competitors. It was great to see so many Fillmore fans and family come out and support the teams on this great day. A special thanks goes out to the Elkins Golf Course Board of Directors, staff, and Fillmore Rotary. Thanks for working with us to make this meet a great success.
The Flashes will next compete on Friday at the nations largest cross country meet at Mt. San Antonio College in Walnut, California. You are invited to visit our cross country website at Fillmorecrosscountry.com and peruse additional team information including our schedule.