By Iris Villalobos — Wednesday, November 26th, 2008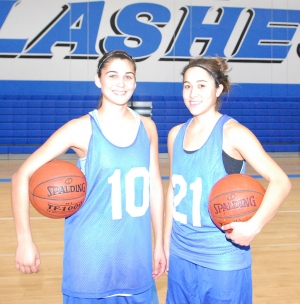 At Fillmore High School, seniors Aimee Orozco and Rebecca Herrera have been named co-captions of the 2008-2009 Lady Flashes Basketball Team by Varsity Coach, Harry Bums. Orozco, a forward-guard-wing player is the most versatile player on the team and she calls the defensive alignments. Herrera, the point guard, runs the offense and calls the plays with a series of hand signals.
"Rebecca has a very high basketball I.Q. and a calm, patient manner running our Stack and Motion Offense. Aimee, on the other hand, is a purely instinctive player who can shoot from the Dynamic Duo outside or drive to the basket almost at will. The players compliment each other well on the court and they are very deserving of this high honor" emphasizes Coach Bums.
Assistant Coach Amelia Aparicio designed the new Lady Flash logo using a photo of Aimee Orozco as she dribbled a basketball. There is a golden lightening bolt behind Aimee and this idea was voted in by the entire team. The logo represents all Lady Flashes basketball players.
Rebeca Isabel Herrera is the daughter of Jorge and Oralia Herrera. She is a 17 year old senior at FHS and she currently maintains a 4.34 GPA. She began her basketball career at the age of six where she excelled and became the starting point guard for the Varsity Lady Flashes since her freshmen year. Last year Rebeca was named to the 1s1 Team All Ventura County selection. She was also awarded Tri-Valley League Co-MVP last season. Ms. Herrera has shown great commitment to community service. She was Team Captain of the "A" Team for the American Cancer Society "Relay for Life'. Rebeca also Volunteers at St. Francis ofAssisi Church and for Soroptimist International of Fillmore. More importantly she has helped spearhead numerous benefi t concerts for several FHS and community organizations, proceeds were in excess of $60,0()(). Rebeca has applied to CSUN, UCLA, UCSD but she hopes to follow in her brother's footsteps by attending UCLA. Rebeca Herrera is the Lady Flashes team Co-Captain and she has high aspirations for her team this season.
Aimee Orozco is the daughter of John and Tracy Orozco. She is a 17 year old senior, who is been playing basketball for 11 years. She has a 4.3 GPA and plans on studying Zoology as her Major in College. The schools she has applied to are San Francisco State, UC Davis, San Diego State, Humboldt, Cal Poly SLO and University
of Colorado where she hopes to play basketball and try out for the swimming team. Last year Aimee was 1st team All Tri-Valley and 2nd team All County. This past summer Aimee participated in NCAA sanctioned tournaments in Arizona, Oregon, Tennessee and Southern California. Aimee said "'Beka' and I used to be rivals because she was my main competition in youth basketball, but now we are very close and our goals are the same for this basketball
season." Aimee went on to say "we would like to be Tri-League Champions by ourselves and go deep into the CIF playoffs and make a drive for a CIF Championship".
This article was submitted by Iris Villalobos, Junior at Fillmore High School.