Cross Country host meet at School Farm October 14th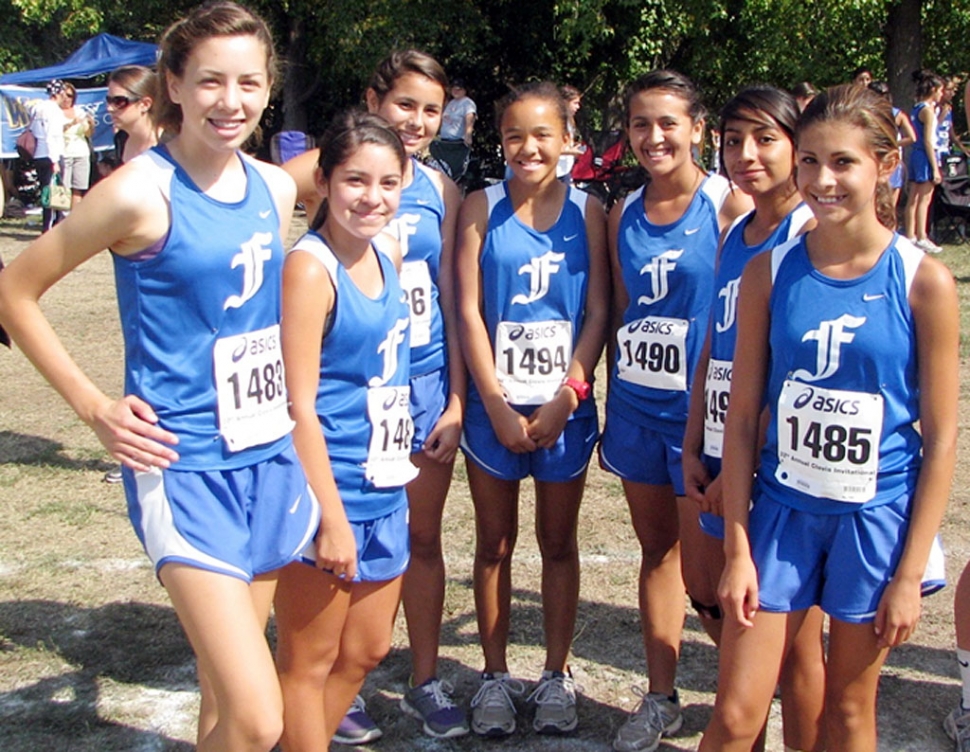 Pictured (l-r) Laura Garnica, Lucia Diaz, Anissa Magdelano, Amber Wilmot, Maria Villalobos, Iruma Trujillo, and Kiana Hope. Both Cross Country photo's courtesy of Joel Frias.
By Gazette Staff Writer — Wednesday, October 13th, 2010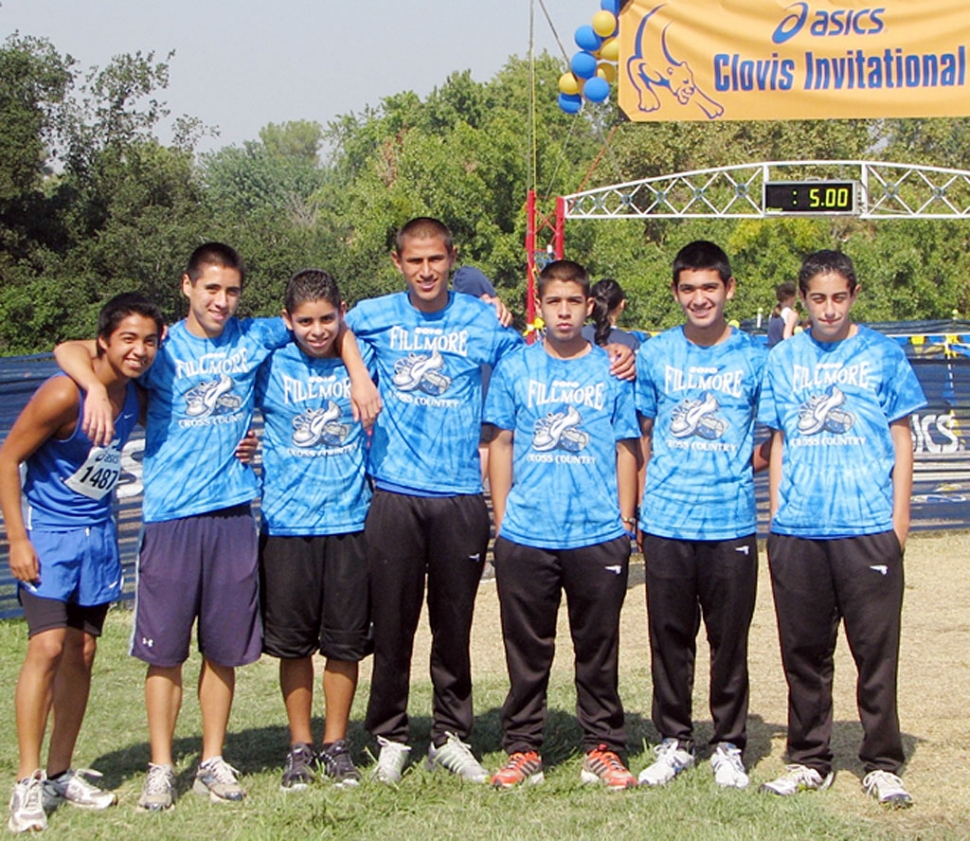 Pictured (l-r) Christian Rodriguez, Ruben Cruz, Anthony Frias, Hugo Valdovinos, Adrian Mejia, Sammy Martinez, and Alexander Frias.
The Fillmore High School Cross Country Team's quote of the year came out on their 2010 t-shirts a little over two weeks ago. The quote for the year states, "Cross Country is a mental sport and we're all insane." Currently on the team there are 55 dedicated runners that are visibly working out in the 100 degree weather and in the pouring rain. In fact you may have seen them running in the park, on the roads throughout Fillmore and sometimes at the High School Track. It has been an amazing journey to get where we have come, beginning the season with many dedicated runners that put in 10 weeks of preseason training. I would like to introduce all individuals to our community. This week we will feature our Varsity runners. The Varsity Girls are currently in 4th place for the Tri-Valley league. The team consists of Kiana Hope, who is currently ranked 4th in the league, this week she placed 12th at the Clovis Invitational in Fresno, California. Second is sophomore, Laura Garnica an amazing runner who also ran very well at Clovis Invitational, she ran over two minutes faster than last year's time at this course. Number three on the Lady Flashes Cross Country team is Lucia Diaz, formerly a JV runner last year has made huge gains in practice and in the meets, her personal best was ran at the Blue Lagoon Invitational at UCSB. Our fourth runner is Iruma Trujillo, a senior, was out with a fracture most of the summer, has been working out hard in practice to regain her potential, her personal best was at the Blue Lagoon Invitational. A new runner to us this year, Maria Villalobos, scouted in the track season, recently had her best race at the Clovis Invitational. Rounding out the 7 varsity girls for Fillmore High School Cross Country, Anissa Magdaleno, a junior, returning to us from the Varsity 2009 season ran a personal best at the Blue Lagoon Invitational and Amber Wilmot, a sophomore, ran her best at the Seaside Invitational in Ventura. Both girls are up and coming runners and we believe will peak in their upcoming races.
Our Varsity Boys are made up of a tight group of runners that are primarily sophomores. The Fillmore High School Varsity Cross Country boys include, Hugo Valdovinos, sophomore, a recruit out of track, a soccer player made distant runner. Hugo is a natural athlete with a great work ethic. He recently placed 22nd at the Clovis Invitational and has a personal best in his first 3-mile race, 16:36. Our second and third runners, Anthony Rivas and Alexander Frias have been working together as a team and have consistently and constantly been successful in their races. Anthony, a sophomore is a first time cross country runner; he ran his personal best at the Clovis Invitational. Alexander Frias, sophomore, has made huge gains as an individual from last year to the present. His last year best was in the low 20's, today he is running in the low 17's on a 3-mile course. To date he has been one of our most improved runner's between seasons. Again another sophomore, Adrian Mejia, has a huge amount of potential; he is also running a low 17 minutes for 3-miles. Our final 5-7 runners have been interchangeable throughout the season. Our boys' team has been blessed with depth; we currently have 6 runners that can contribute to these spots in any given race, in no particular order, Ruben Cruz (senior), Jovani Oregon (sophomore), Alexander Gonzalez (junior), Sammy Martinez (sophomore), Christian Rodriguez (junior) and Jose Almeguer (sophomore). Currently our boys' standings in the Tri-Valley League are 4th place. These boys are aspiring to become a CIF team both in our current season and in the future. We would like to extend our appreciation to the community for their support and invite the Fillmore community to join us on Thursday October 14th at our Fillmore High School Farm where we will host the 2nd of 3 Tri-Valley League Meets with the first race beginning at 3:30. See you at the races!