Congratulations to the U19 undefeated area champions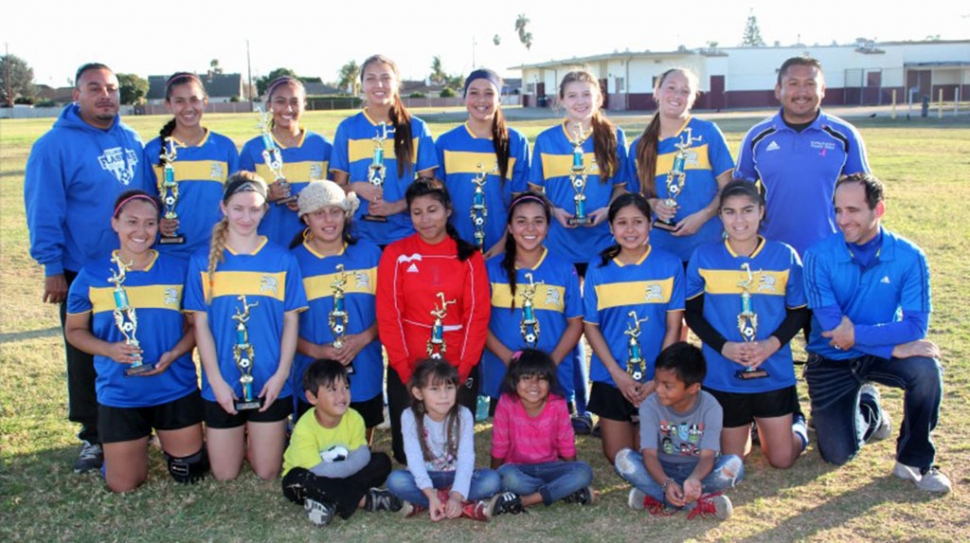 Players and coaches, (l-r) (bottom row) Rachel Rivera, Sarah Volmert, Lizette Martinez (Nena), Salma Gomez, Ana Rincon, Jocelyn Munoz, Caroline Esquivel, Coach Willy, (top row) Coach Homer Martinez, Grace Topete, Reylene Martinez, Emily Garnica, Esmeralda Murillo, Vanessa Estrada, Ryan Nunez, Coach Arnold Munoz. Little cheer squad: Isaac Martinez, Maddie Munoz, Mia Munoz, Adrian. Players missing from photo: Briana Santa Rosa, Denise Vasquez, Betty Morales.
By Gazette Staff Writer — Wednesday, November 5th, 2014
The U19 girls team won 1st place on November 2nd after defeating Santa Barbara on Saturday November 1st and Oxnard and Santa Barbara teams on Sunday November 2nd. The U19 girls team is coached by Homer and Arnold, with the volunteer assistance of Willy and Chris. The U19 team is now advancing to the next tournament in Bakersfield this weekend November 8th and 9th. We wish luck to the team and coaches on their next challenge ahead!!