Conaway, Castenada compete in international Festival of Speed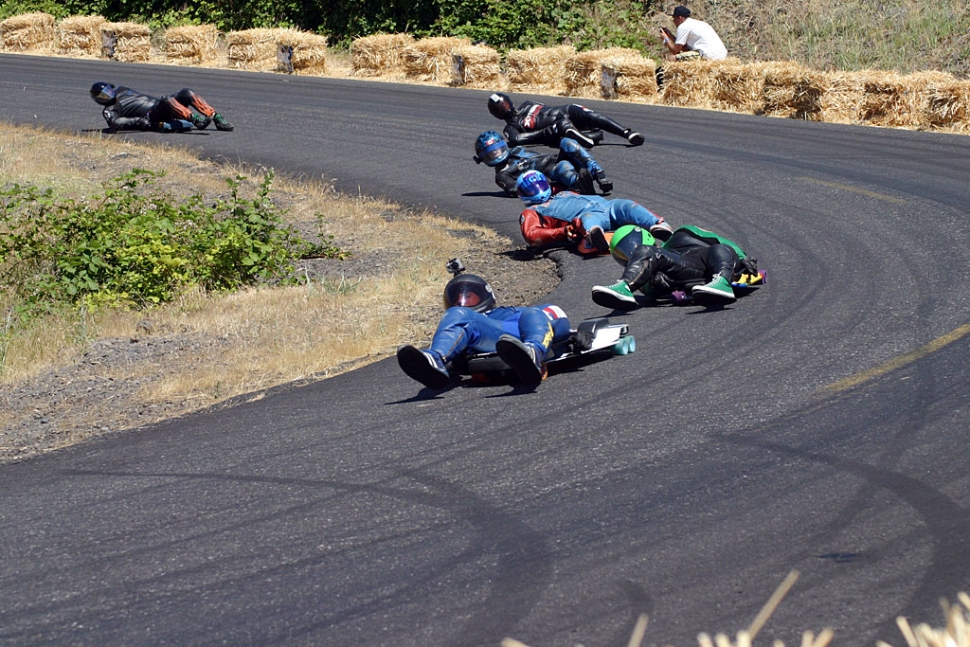 Christian Conaway (in blue and white leathers) and Kyle Castenada (black and green leathers) leading Chris Hicks, Kolby Parks, Will Myrvold and Frank Williams through Cowzers Corner.
By Gazette Staff Writer — Wednesday, July 11th, 2012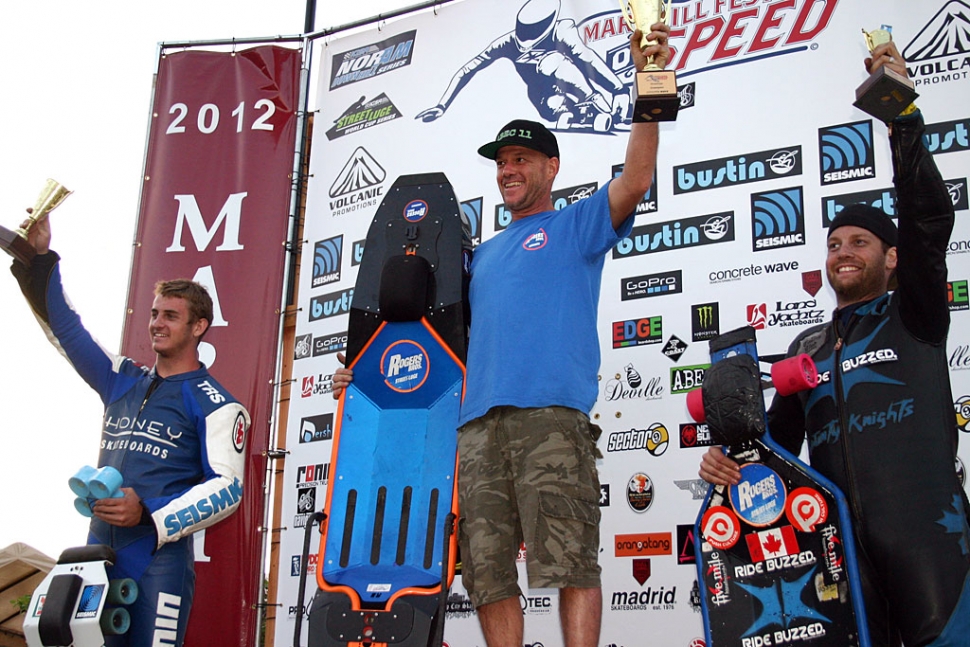 John Rogers, Christian Conaway, of Fillmore, and Kolby Parks on the podium.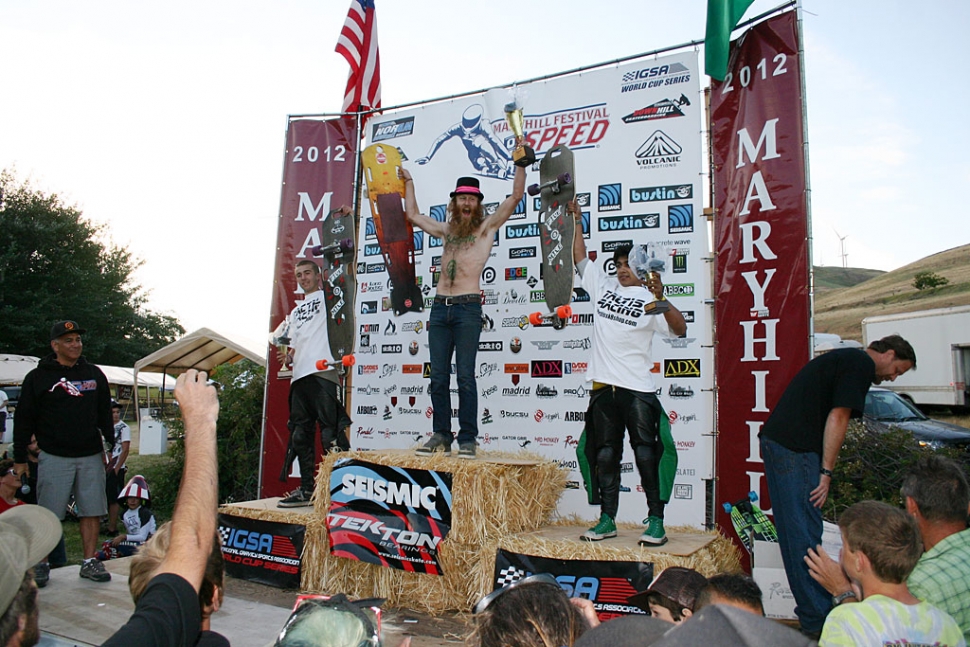 Jon Huey, Keith Henderson and Kyle Castenada, of Fillmore, on the podium for their Classic Luge results.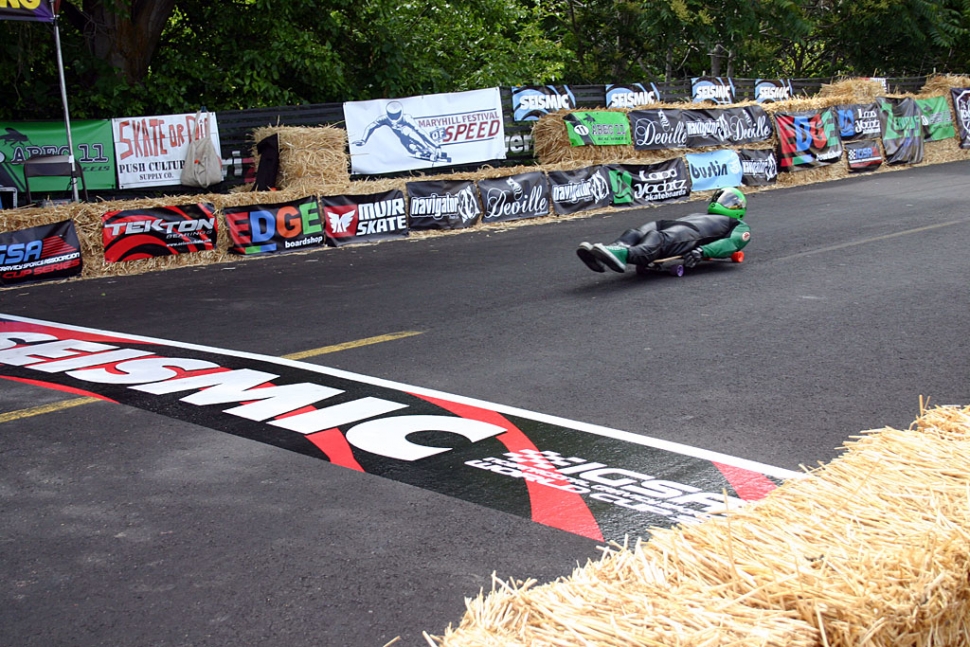 Kyle Castenada qualifying on his Classic Luge.
Fillmore natives, Christian Conaway (18) and Kyle Castenada (19) traveled to Goldendale Washington to compete in the International Gravity Sports Association sanctioned 2012 Maryhill Festival of Speed race. 240 gravity racing athletes from over 14 countries gather together for this much anticipated race. Racers traveled from as far away as Europe, Japan, Brazil and Peru to race on the famous Maryhill Loops Road course.
On June 29th Christian Conaway pulled off "The Double" by setting fastest qualifying times in both Street Luge and Classic Luge with a time of 3:03.060 minutes down the 2.25 mile long course on his Street Luge and broke the course record for Classic Luge with a time of 3:11.140 down the course. Castenada earned a time of 3:11.168 setting the second fastest time in the Classic Luge class on the first day of qualifying.
The second round of time qualifications was held the following day. Conaway's time on his Classic Luge held throughout the day. Kolby Parks out of Canada set a blazing time of 3:03.010 and bested Conaway's first Street luge qualifying time. On his second qualifying attempt Conaway ran a 3:03.067, which was .007 of a second slower the second day.
With Conaway and Castenada both earning one of the top six fastest times in Street Luge they both qualified for the King of the Hill race on Saturday evening. The race was held late in the afternoon under rapidly darkening skies. Racers were reporting rain at the top of the course and wet track conditions at the starting line. Conaway jumped out front for an early lead heading into the first left hand corner, but due to slippery conditions slid out but avoided going into the hay bales. At that point the King of the Hill Race became a survival event. At the finish line all the racers crossed with a few seconds of each other with John Rogers earning the title King of the Hill. Castenada crossed the finish line in 5th place, with Conaway crossing in 6th place.
The Street and Classic Luge Finals were run on Sunday July 1. Conaway and Castenada quickly advanced through the heat races to seed themselves in the Street Luge and Classic Luge Finals. In the Street Luge Final race Conaway was passed by John Rogers and Kolby Parks after he took a corner a little wide. Conaway, in third place, took advantage of the last corner prior to the finish line and cut in on Kolby Parks for an inside left hand pass to take over second place at the finish line. Parks said "I couldn't see anything at the last corner as the sun was in my eyes when Conaway made the pass on me". When Conaway was asked what he saw when he made the pass on Parks he simply said "I saw 2nd place". After five days of practice and racing the 2.25 mile 17 corner and hairpin turns both Conaway and Castenada came home with trophies. Conaway took second place in Street Luge and came in 4th place in Classic Luge. Castenada took 3rd place in Classic Luge and 4th Street Luge.
Complete final results were as follows: Street Luge Classic Luge, 1st. John Rogers 1st Jon Huey, 2nd Christian Conaway 2nd Keith Henderson, 3rd Kolby Parks 3rd Kyle Castenada.