Blazer's Conclude Season, Paola Estrada Breaks Another Record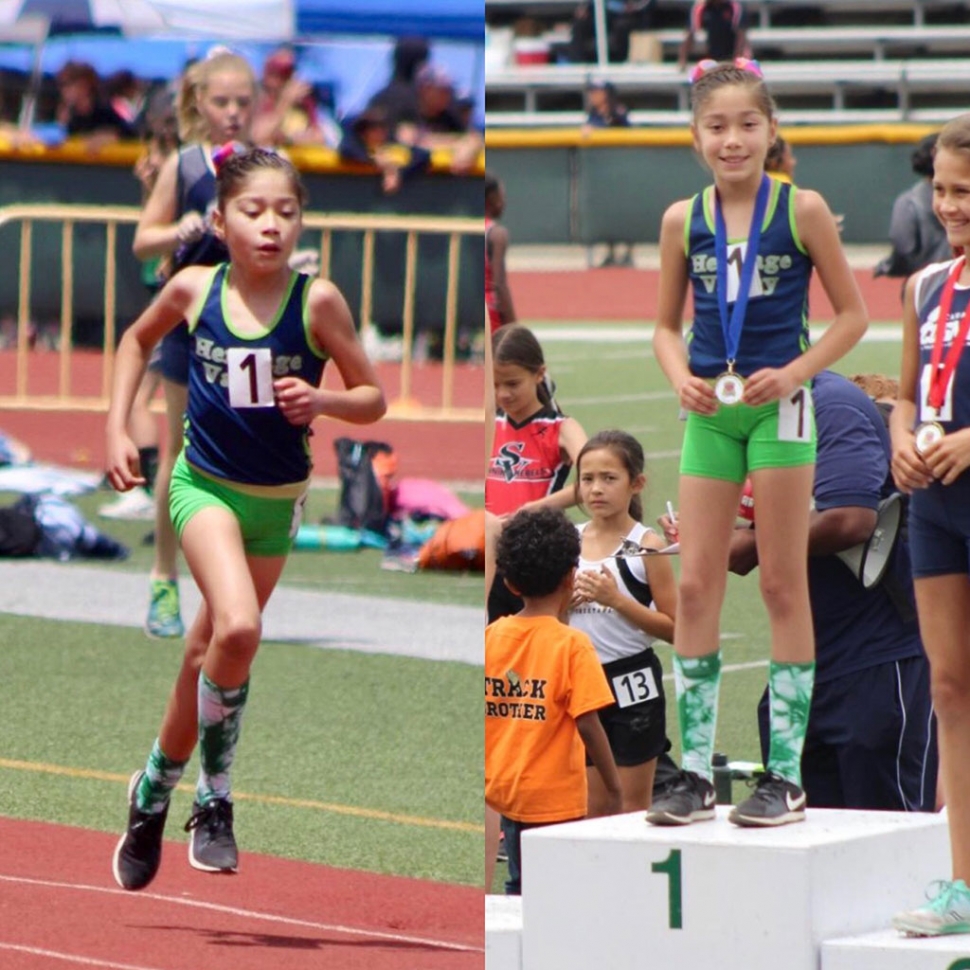 Heritage Valley Blazer Paola Estrada who broke another record in the 9/10 year old division 1500m relay with a time of 5:32.08, and also took first place in the 800m relay with a time of 2:40.04. Photos courtesy Margarita Felix.
By Gazette Staff Writer — Wednesday, May 22nd, 2019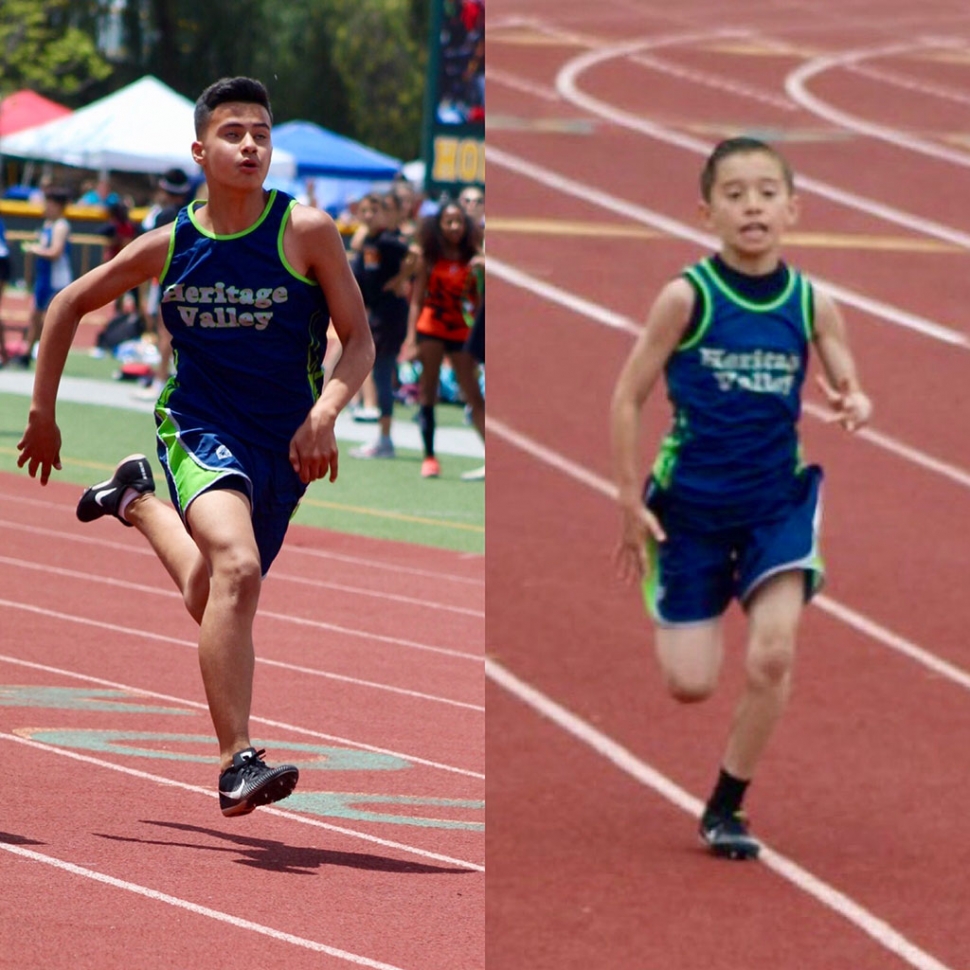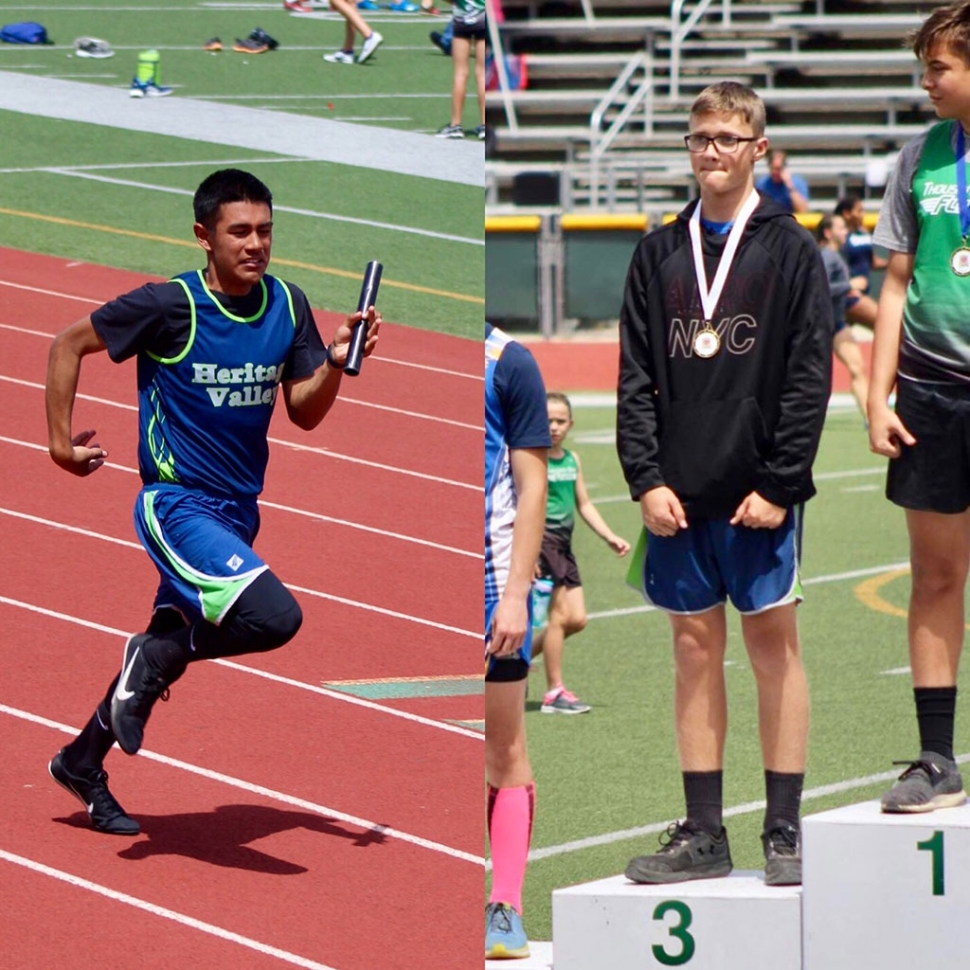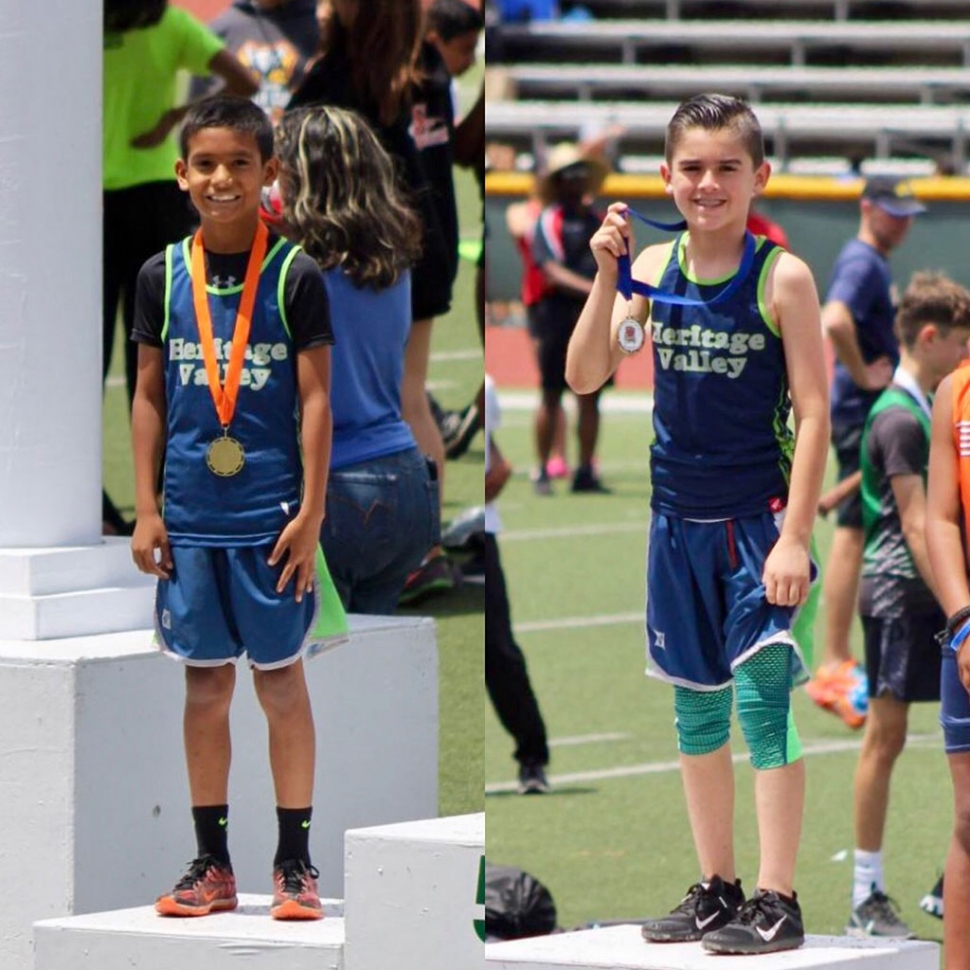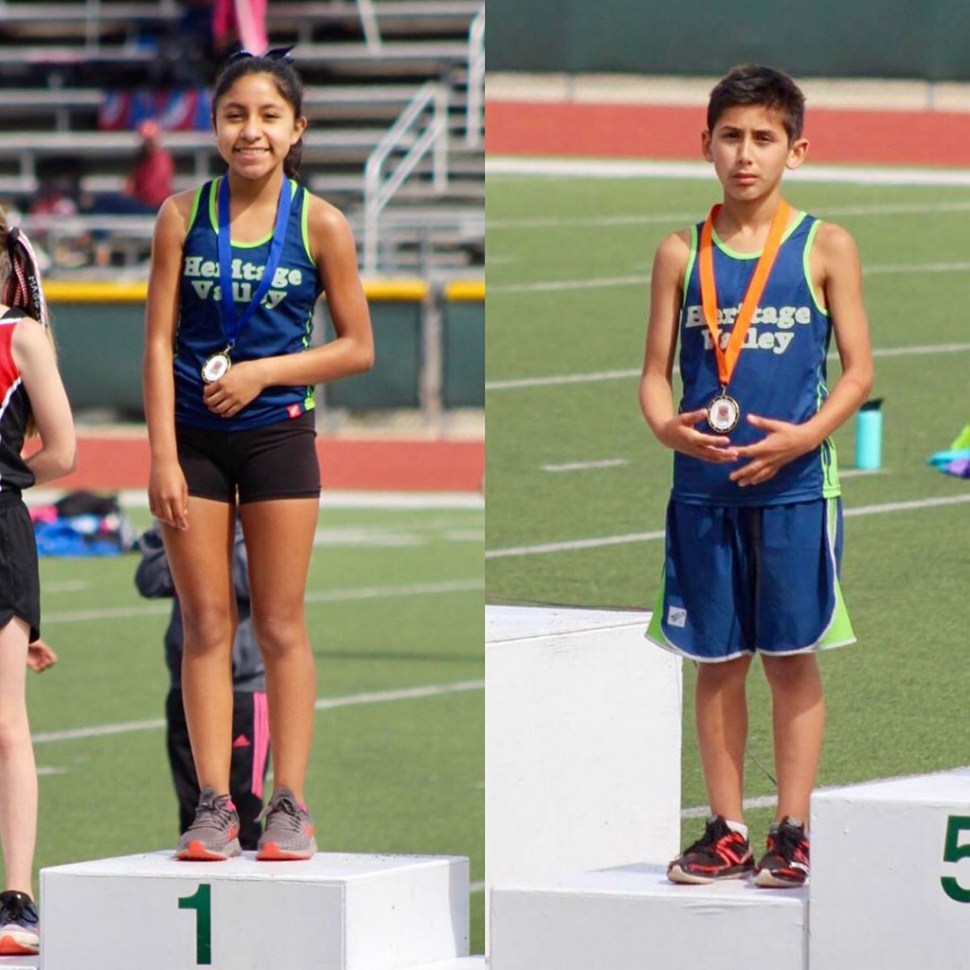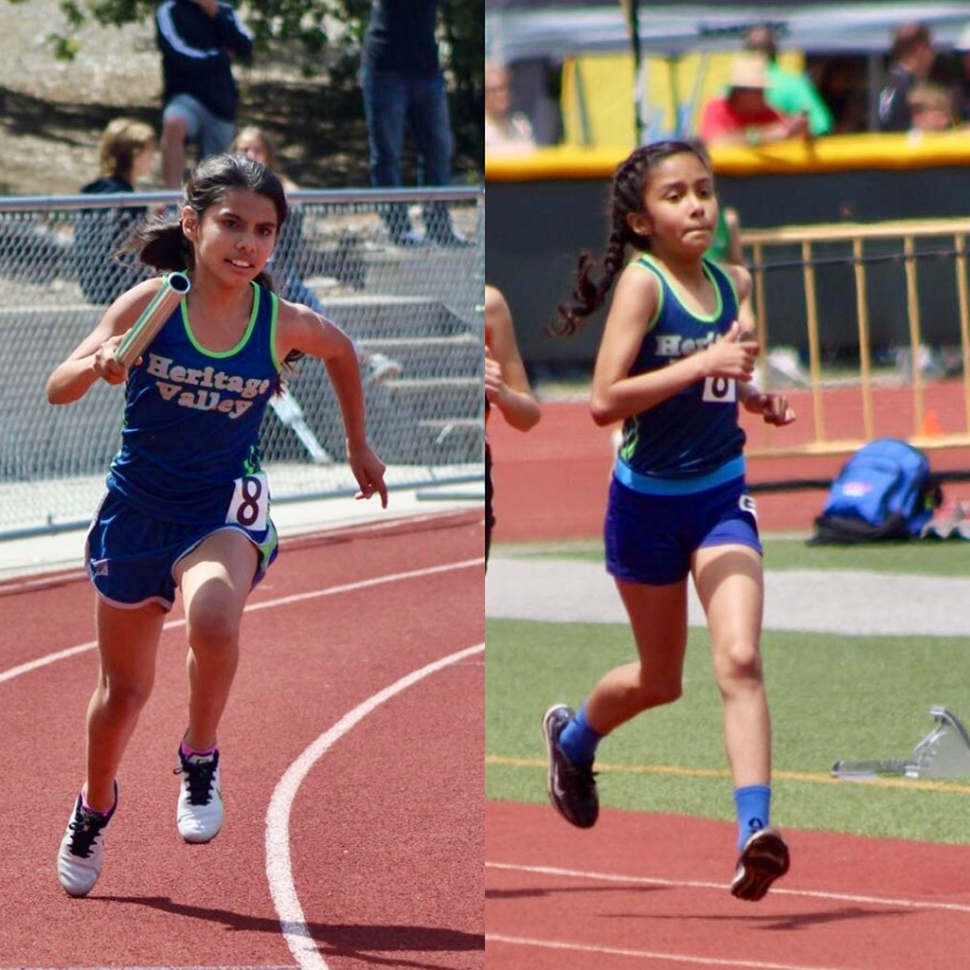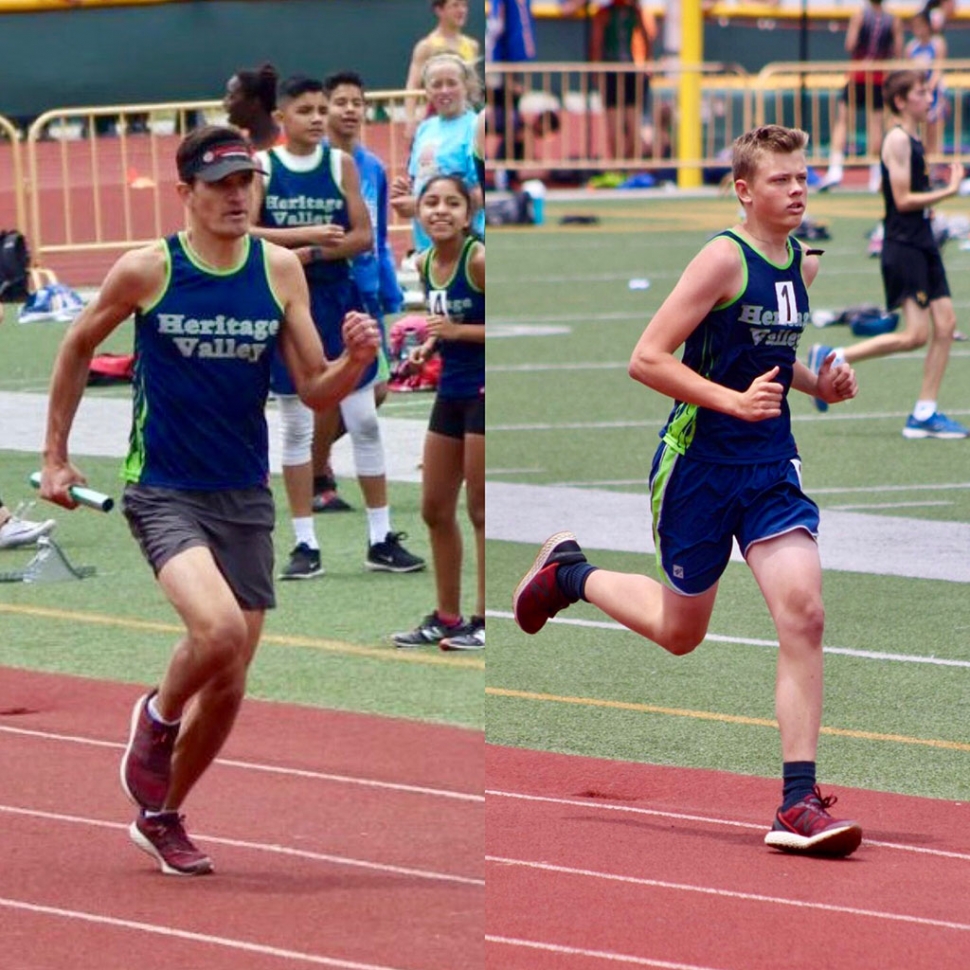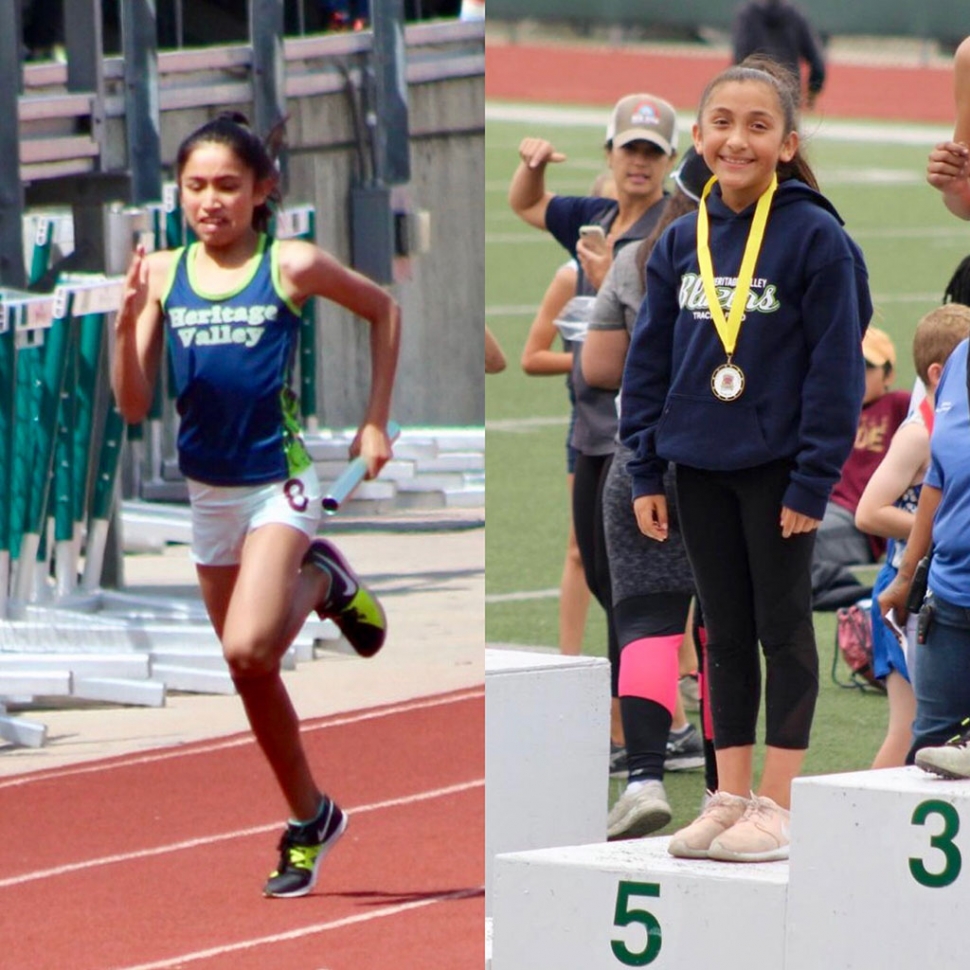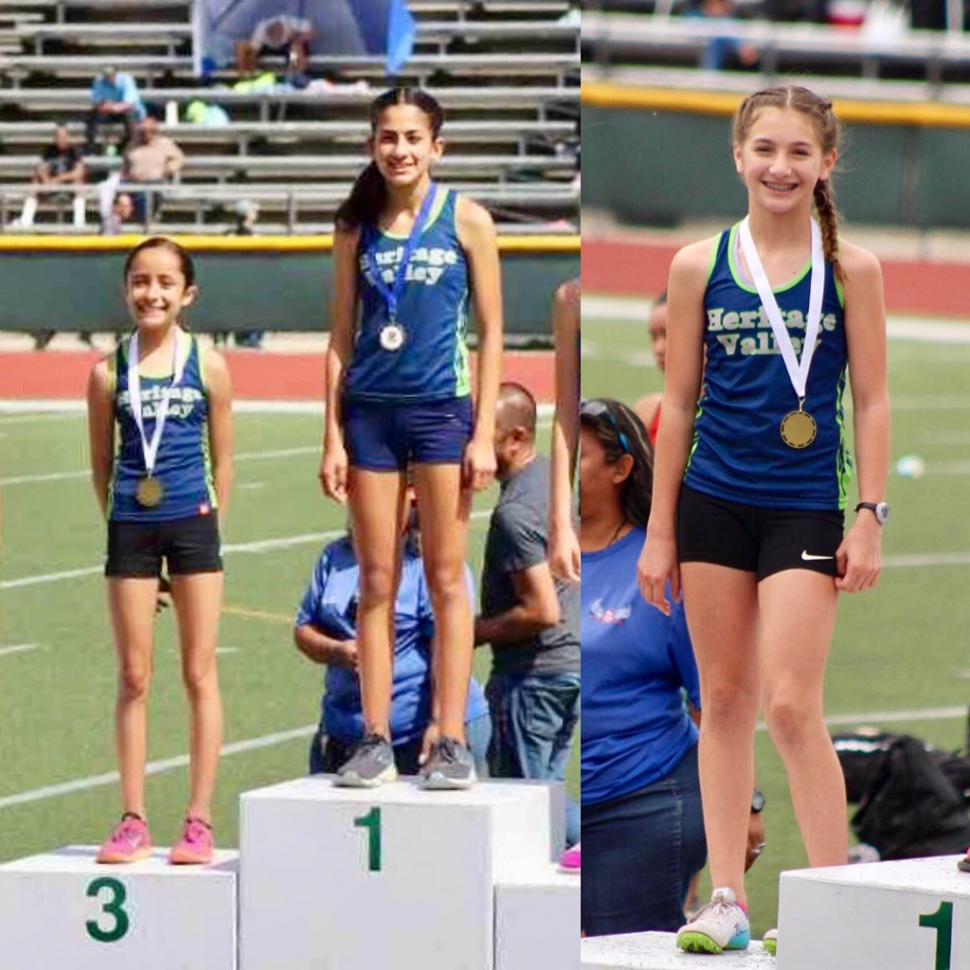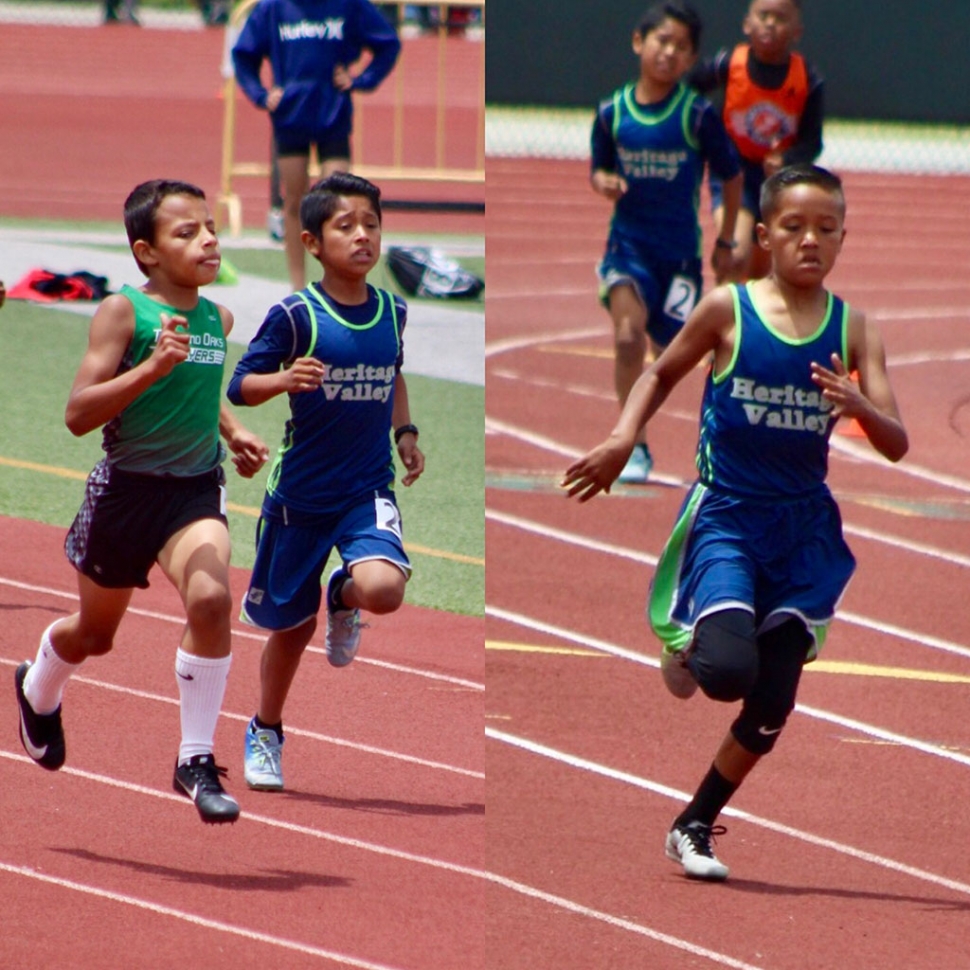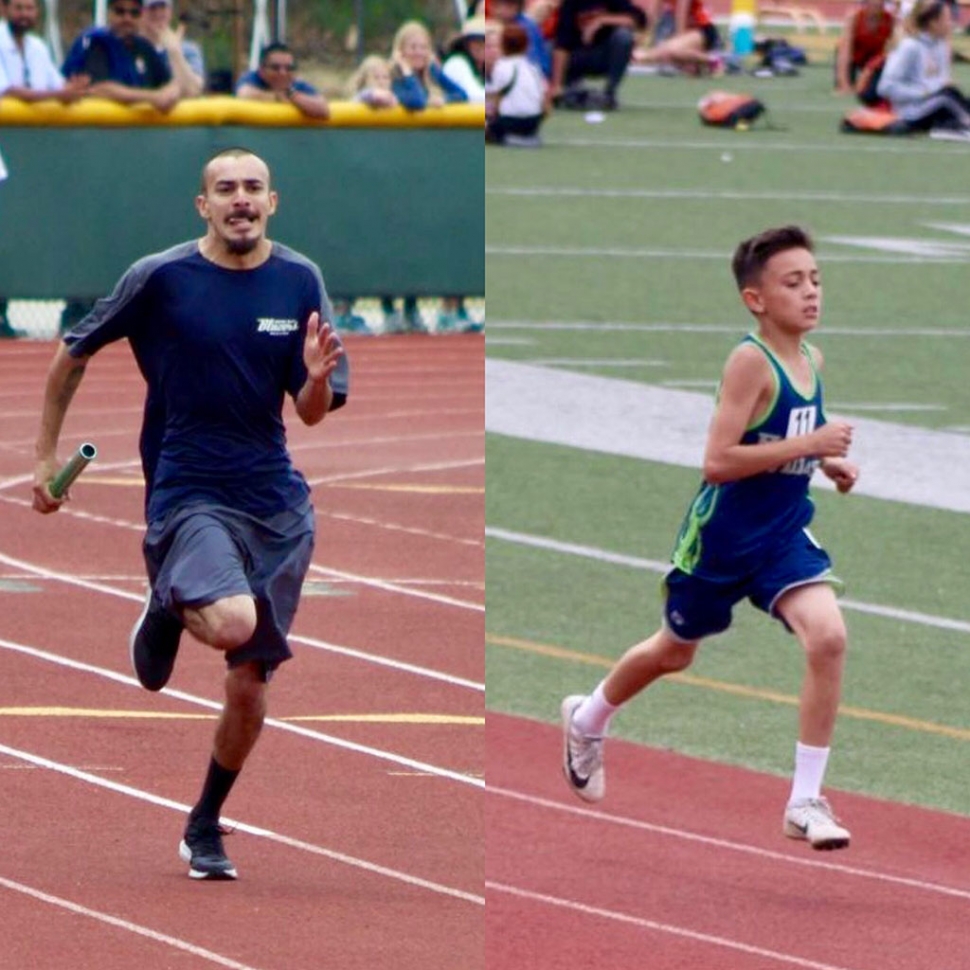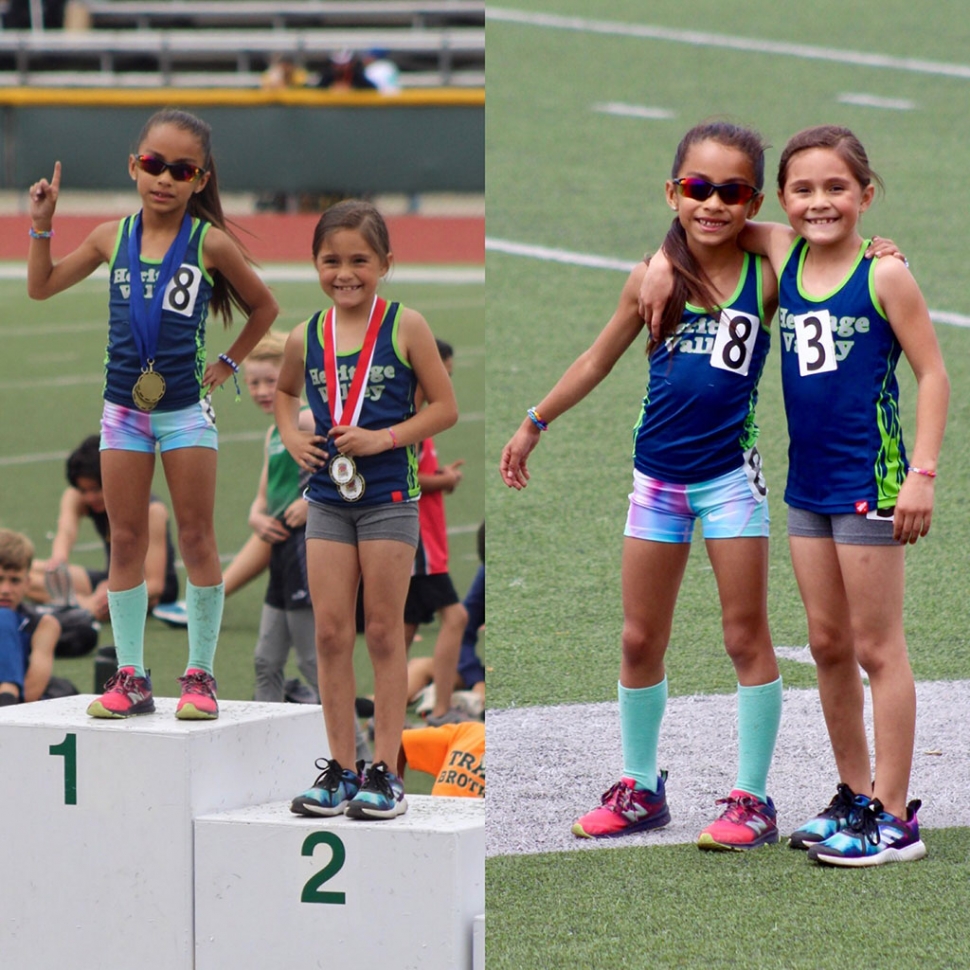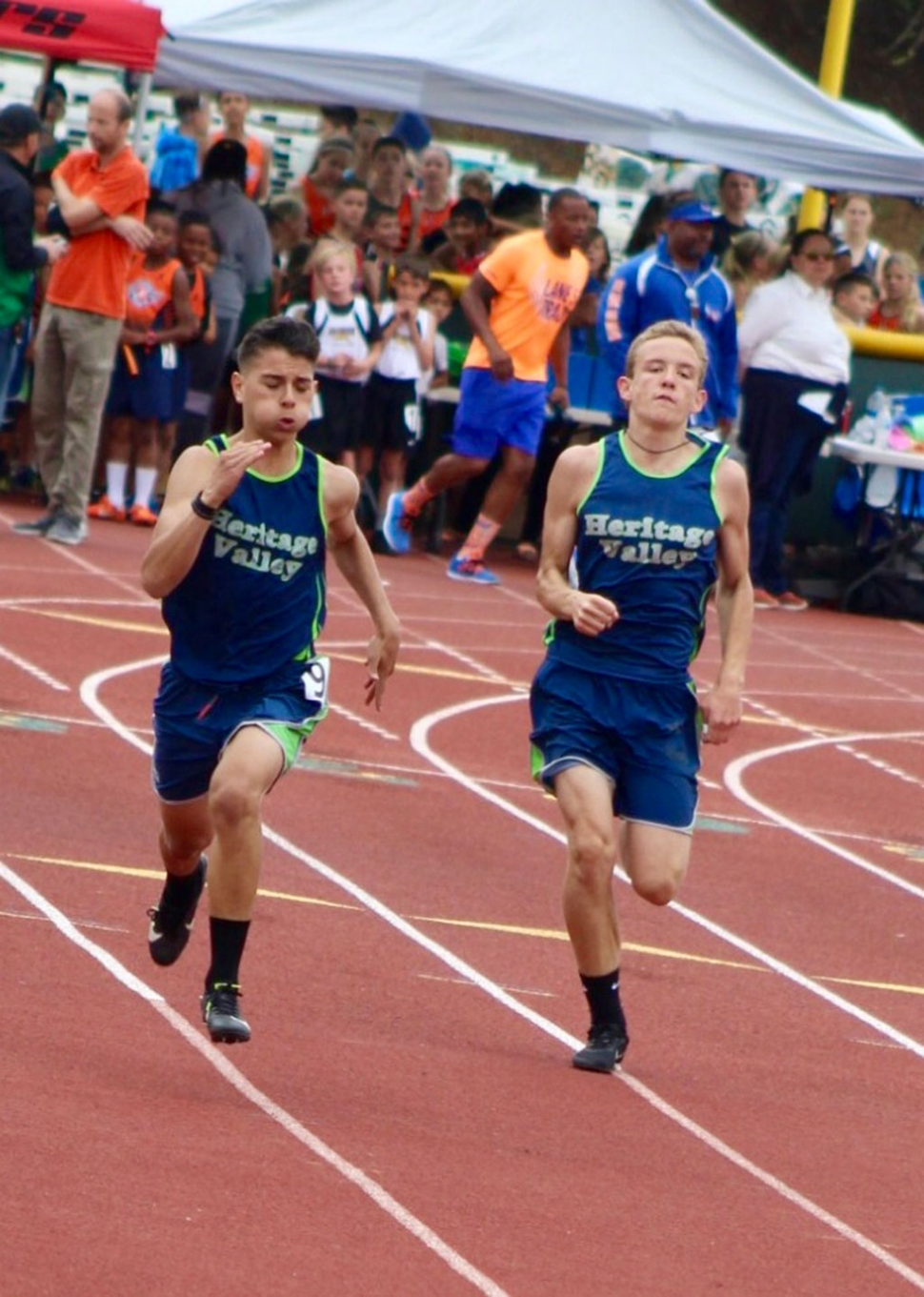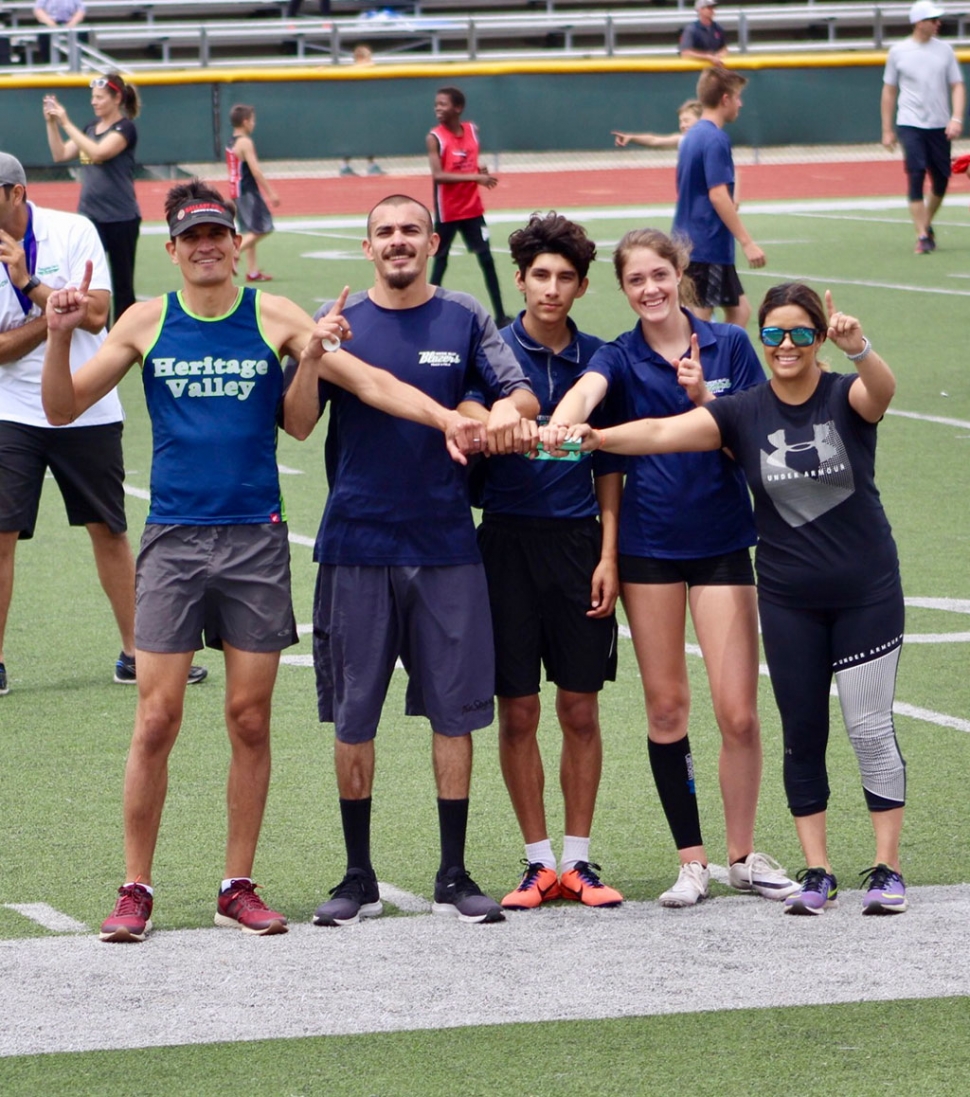 By Margarita Felix
The Heritage Valley Blazers track and field team completed their 2019 season at SCYTFC-VCYTC Co-Conference Championships on Saturday, May 18, 2019 at Moorpark High School. This meet was against the best athletes from both conference, Moorpark, Thousand Oaks, Oxnard, Simi Valley, Ojai, Ventura, Calabasas, Chatsworth, Santa Clarita, Canyon Country, Palmdale and Agoura Hills competed against each other. This was the final meet for our local athletes and completed their track season with personal records.
In the (7-8/division) our girls dominated with Luzy Zuniga taking two 1st place PR finishes in the 800m 3:11.34 and 1500m 6:17.02. Teammate Destina Guzman's also had a PR and a 3rd place finish in the 400m 1:25.88 and a 2nd place finish in the 800m 3:15.6.
In the (9-10/division) the Bantom Boys Ayden Marquez took 1st place in the 1500m with a PR of 5:32:08 and had a 4th place finish in the 800m 2:42.88; Teammate Abel Arana ran his Persoanl best in the 1500m 5:32.08 with a 7th place finish, he also competed in the 800m with a time of 2:55.81; Timothy Pillado II took first place in both of his individual events with PR's in the 400m 68.65m and 800m 2:41.13; Rodrigo Castillo competed in the 400m with a time of 74.81; Isaiah Morales long jumped his way into 3rd jumping 12-4.50.
Paola Estrada's feet do not fail her. She completed her season by breaking another record in the (9-10/division) 1500m 5:15.17, previous record was set in 2013, 5:15.27; Paola also took 1st in the 800m 2:40.04; Teammate Emily Arriaga had a PR in the 1500m 5:49.61 and 800m 2:57.40; Jasmine Gonzales had a PR of 74.34 in her 400m with a 5th place finish; The Girls 4x100 Relay team members took a 3rd place finish with a time of 61.86, members were C'enna Uribe, Sarah Cedillos, Jasmine Gonzalez and Kaylani Perez. The boys 4x400 relay team had a 2nd place finish with a time of 4:59.30, members were Jacob Martinez, Isaiah Morales, Rodrigo Castillo and Timothy Pillado II. Girls 4x400 relay took a 1st place with a time of 4:56.94, members were Sarah Cedillos, Jasmine Gonzales, Paola Estrada and Kaylani Perez.
In the (11-12/division) Diego Felix had a time of 11:36.56 in the 3000m with a 7th place finish; Alberto Penuelas competed in the 100m with a PR of 13.46 and a 5th place finish in the 200m, 28.78; Ethan Ramirez ran a 29.73 200m; Noah Halcon ended the season with a time of 2:41.99 in the 800m; Nathan Alcantar had a 6th place finish in the shot put with a throw of 28-04.75; Niza Laureano had a 1st place finish in the 3000m, 11:23.86, 4th place in the 800m, 2:41.44 and a 3rd place finish and PR in the 1500m, 5:21.60; Sprinter Leah Barragan had a 3rd place finish in the 400m with a PR of 66.12 and a 2nd place in the 200m with a PR of 28.25.
In the (13-14/division) Lindsey Ramirez had two 1st place finishes and PR's in the 3000m 10:55.49 and 800m 2:22.70; Carolina Garcia ran a PR of 11:28.45 with a 3rd place finish in the 3000m; Our shot putters Celeste Velazquez had a throw of 29-08.50 and Kade Larson took 3rd place with a PR throw of 38-01.75; The girls 4x400 relay girls team had a 5th place finish, members were Lindsey Ramirez, Carolina Garcia, Jennifer Castillo and Yaraby Herrera. Boys 4x400 relay had a 3rd place finish, team members were Luis Castaneda, Joseph Moore, Eric Morales, Nathan Kendricks.
In the (15-16/division) Joseph Collins and Diego Amezcua particpared in 4 events each. Joseph 400m 62.22, 200m 26.19 PR, 100m 12.85 PR and a long jump of 14-11.25; Diego had PR's for all his events 400m 60.32, 200m 26.14. 100m, 12.54 and a long jump of 17-03.50; Distance runner Peter Kubler had two 1st place finishes in the 1500m PR of 4:52.48 and 800m 2:24.75.
Blazer coaches show our athletes how it's done by racing their way to a 1st place finish in the coaches relay. Starting the 100m 1st leg was Maria Elena Alcantar, 100m 2nd leg Ashlan Larson, 200m 3rd leg Bobby Halcon, 400m 4th leg Jared Kuebler and an 800m final leg Alejandro Uribe.
We are very proud of our BLAZER coaches and athletes. They put in countless, tiring hours every season to reach their goals and we as a club strive to get the best out of them. Good luck on your upcoming sports. Keep building your endurance!
The Heritage Valley Blazers is the only local youth track and field club covering Fillmore, Santa Paula, and Piru that provides training in running and field events for both first time and experienced youth athletes ages 6-16.