Blazer's Host Conference Finals - West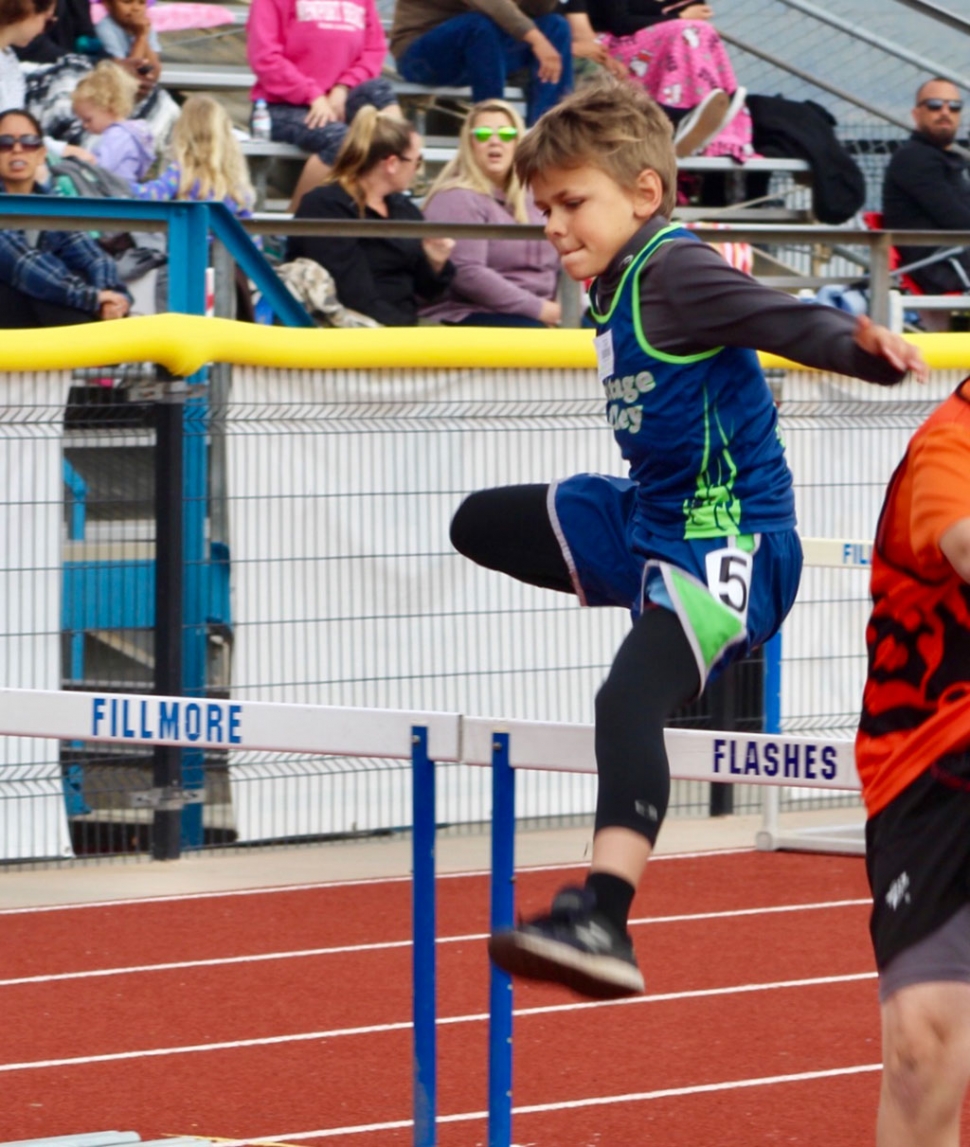 Pictured is a Fillmore Heritage Valley Blazers as he leaps over the hurdles in the races this past Saturday at the Conference Finals, which were held at Fillmore High School. Photos Courtesy Erik Arana.
By Gazette Staff Writer — Wednesday, May 8th, 2019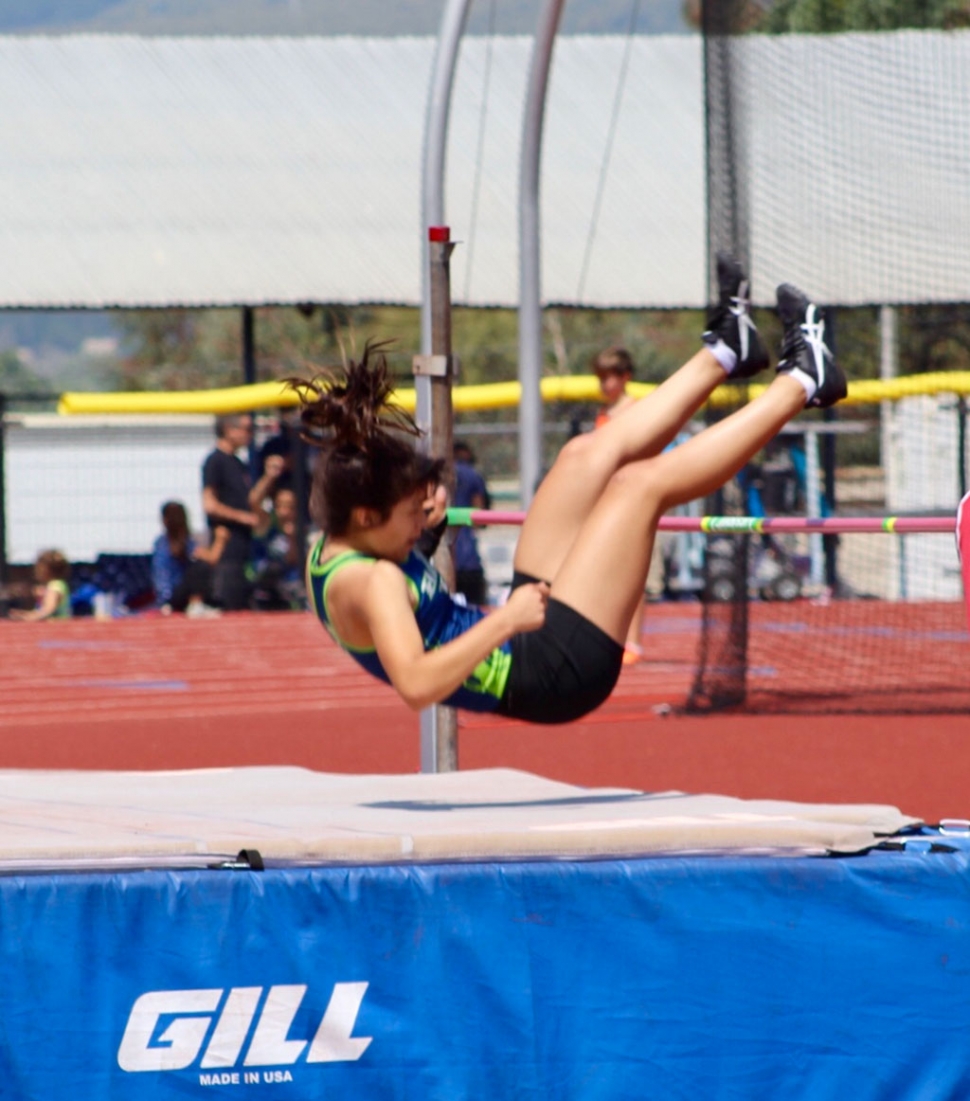 Pictured is one of the Heritage Valley Blazers as she lands after her pole-vaulting jump in this past Saturday's finals.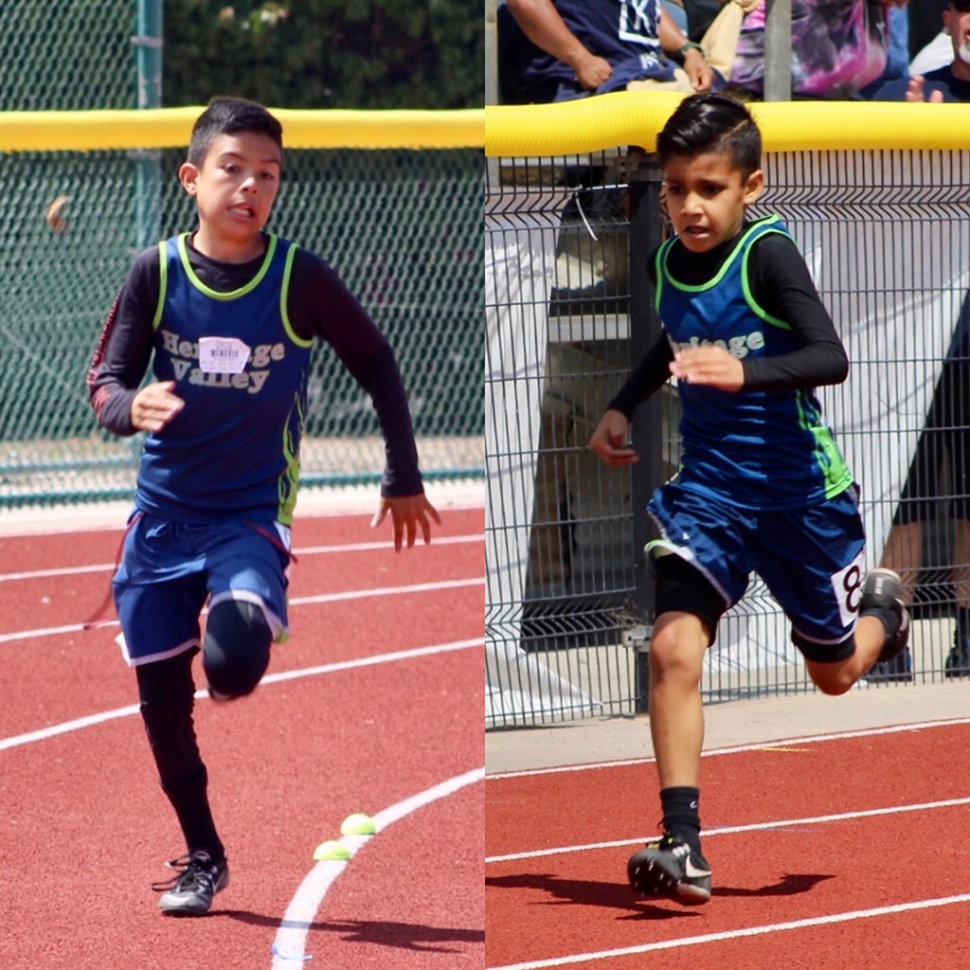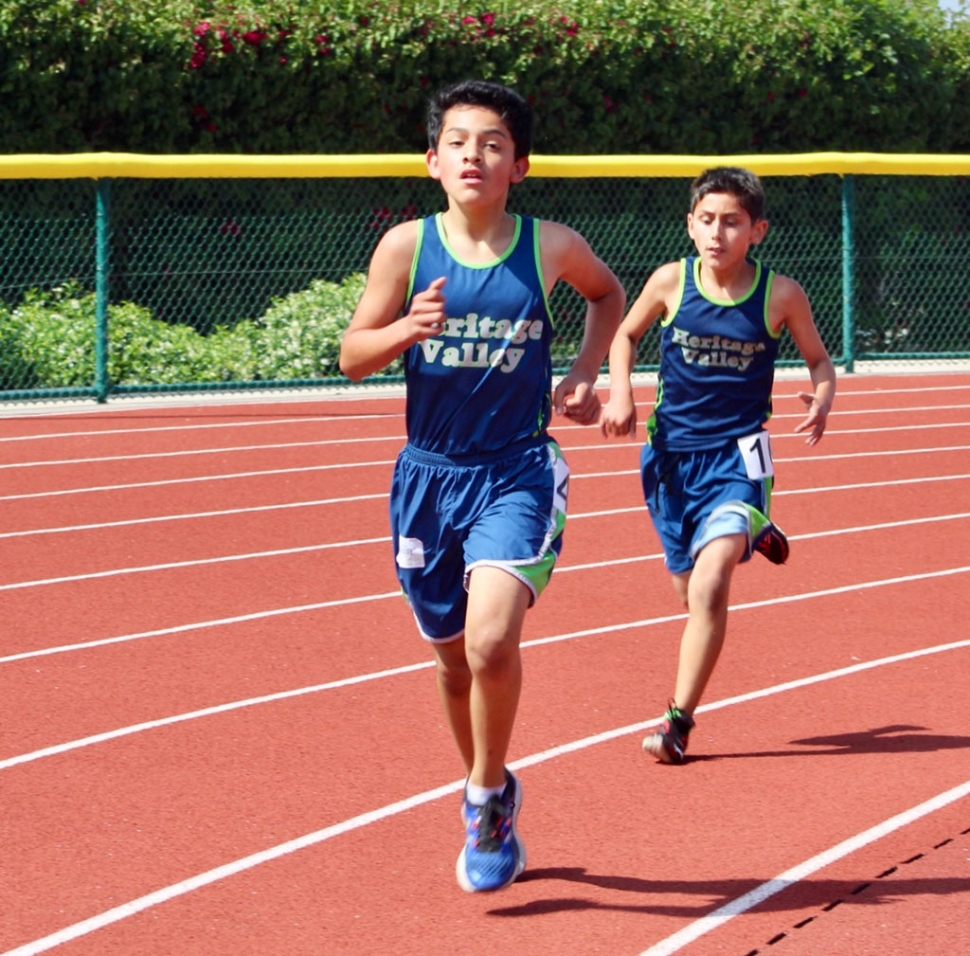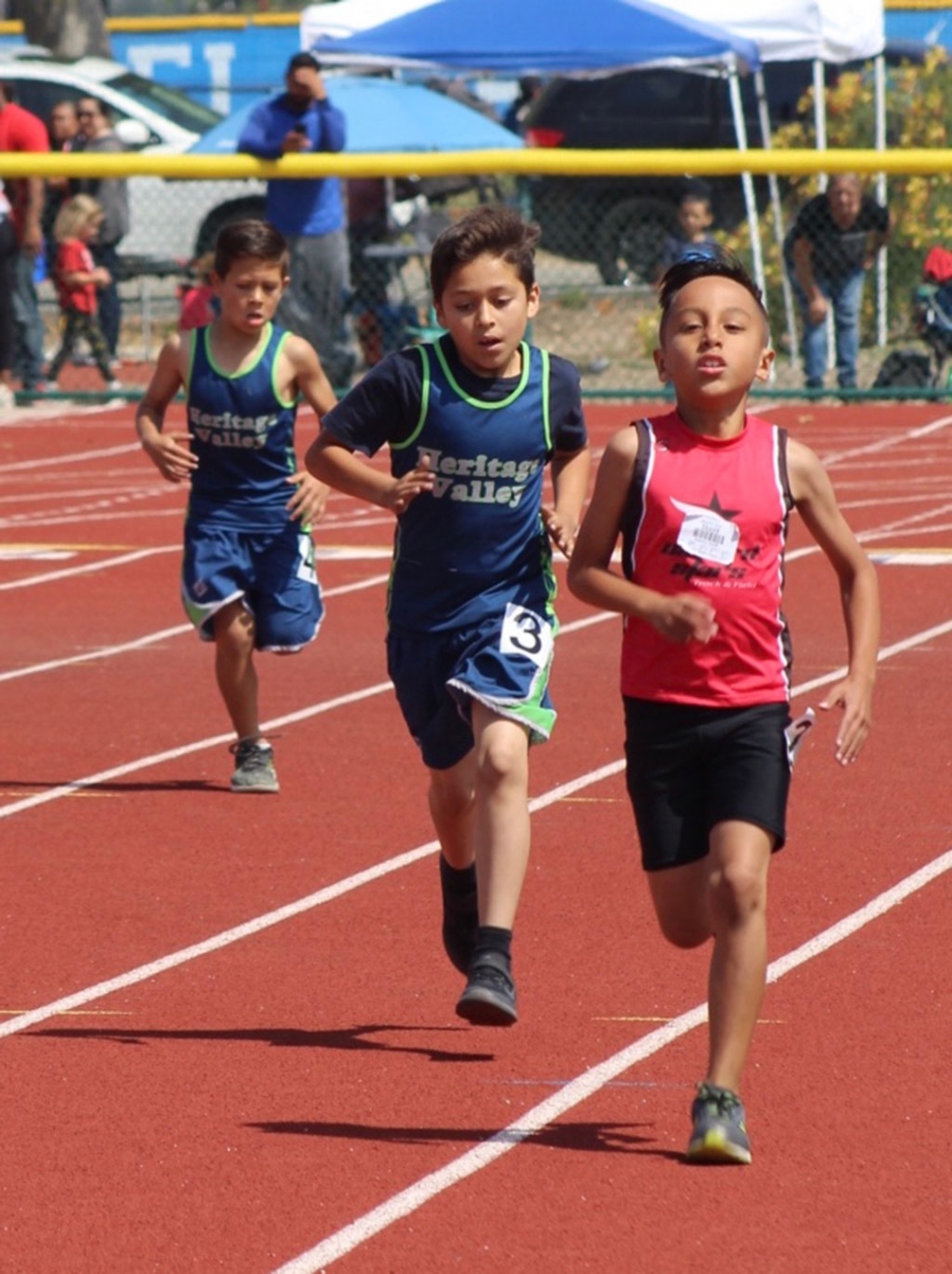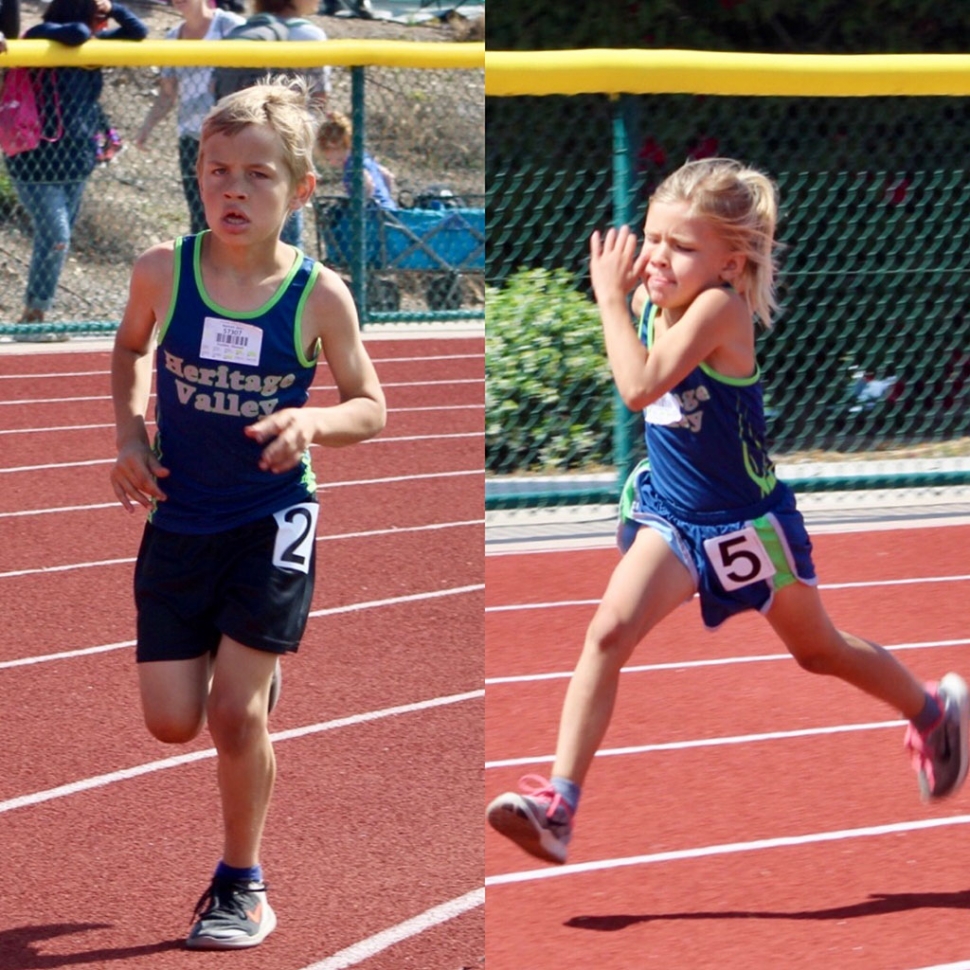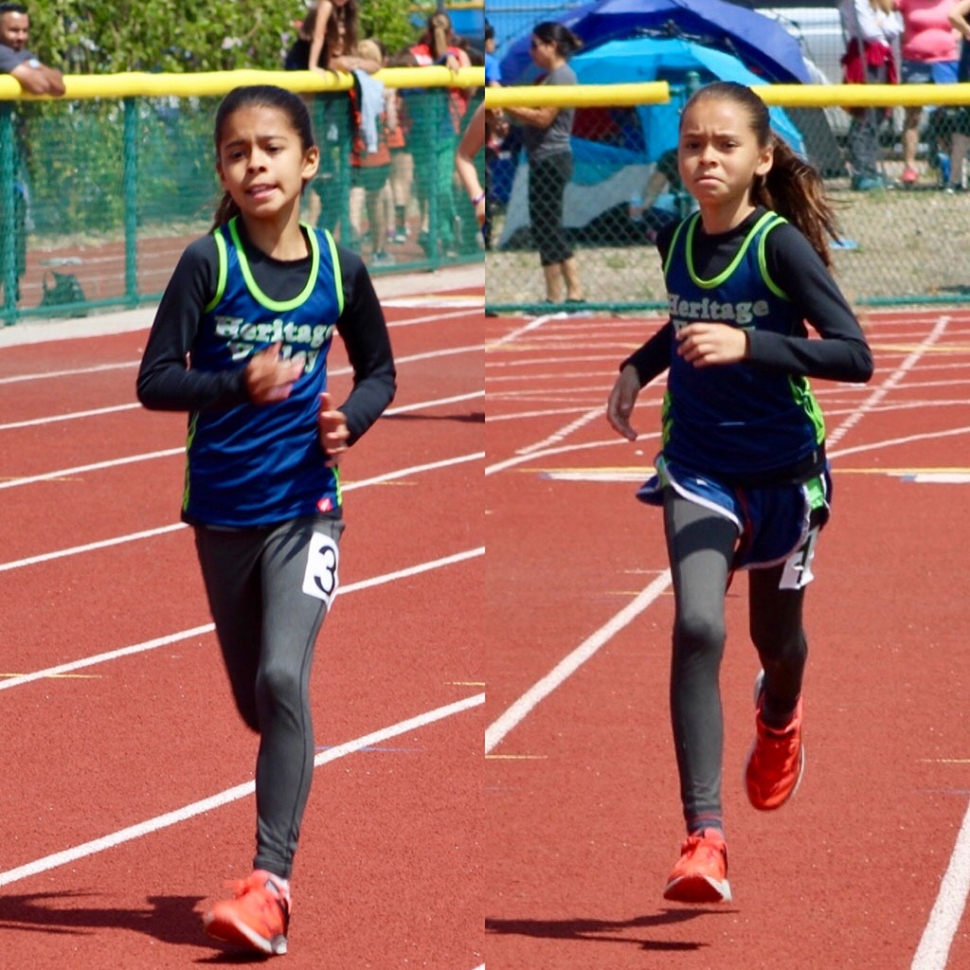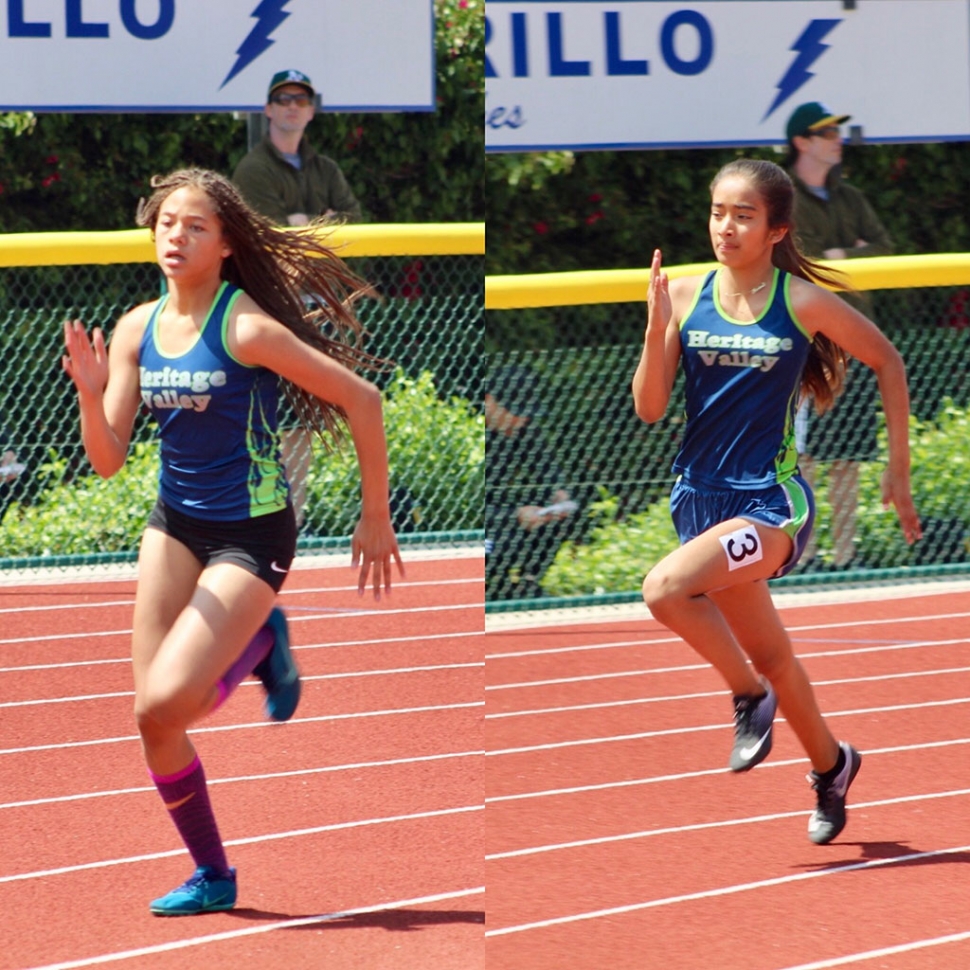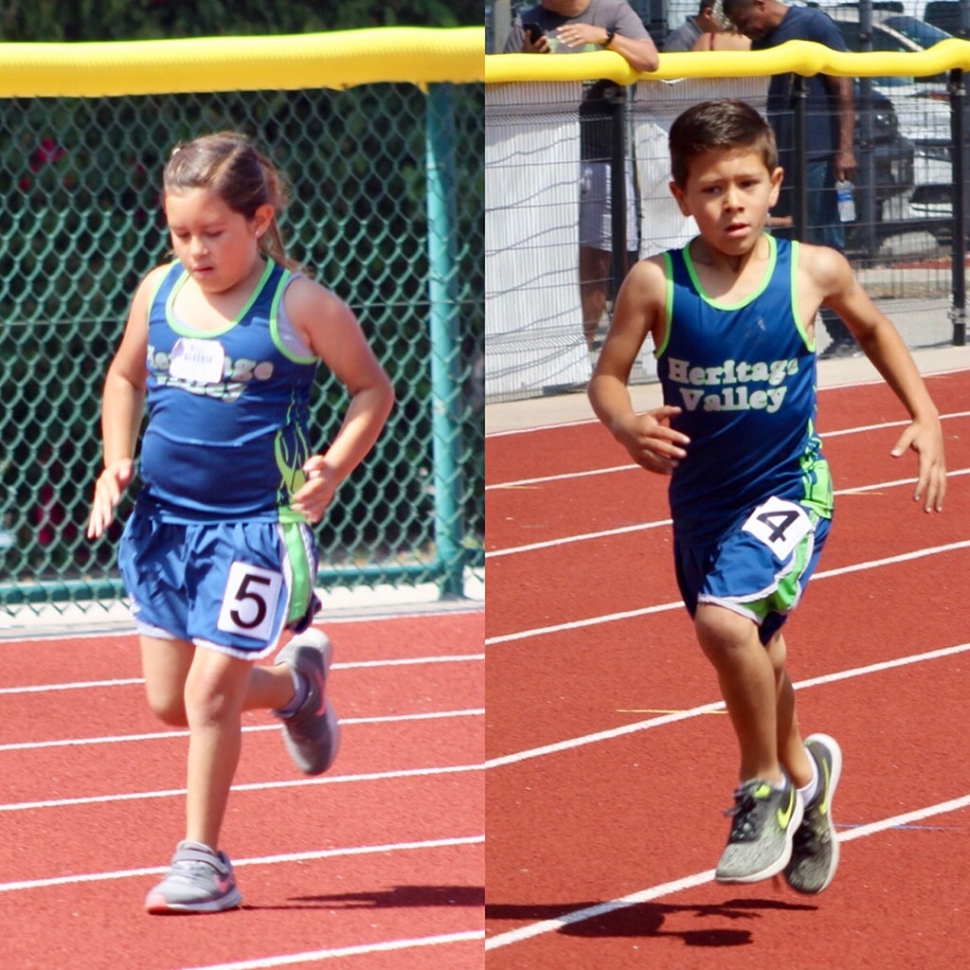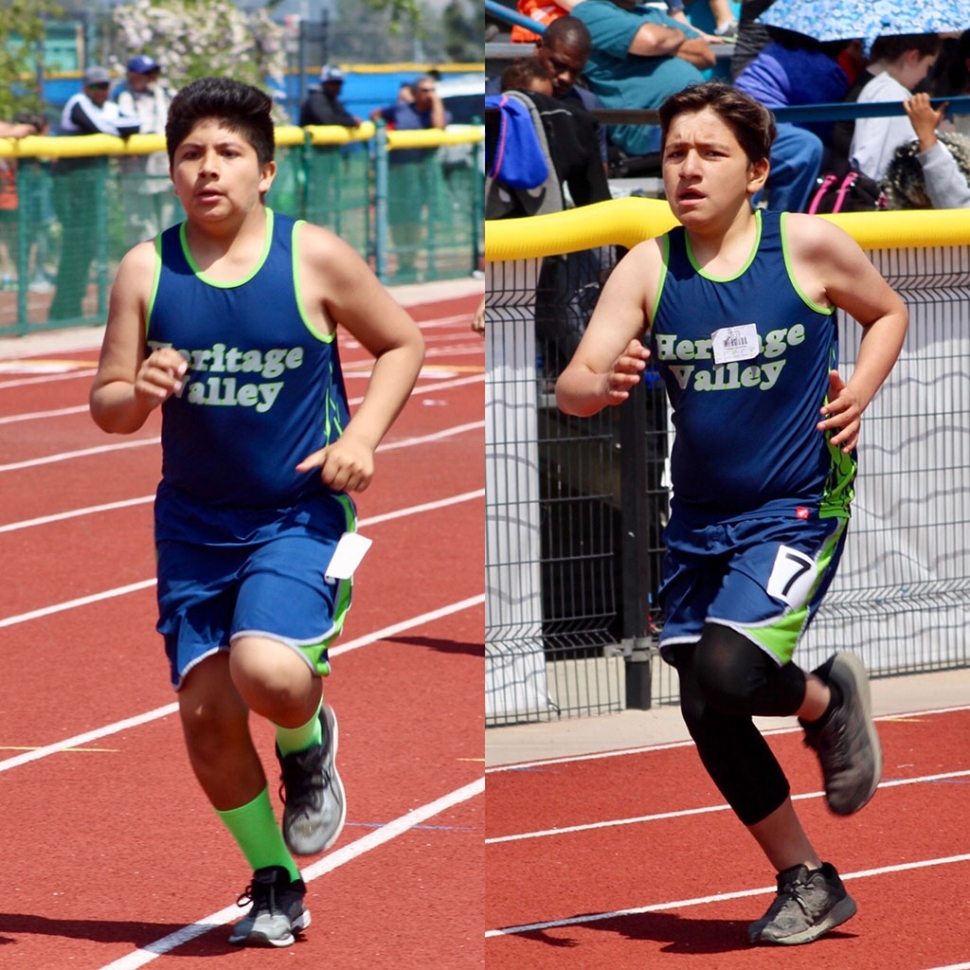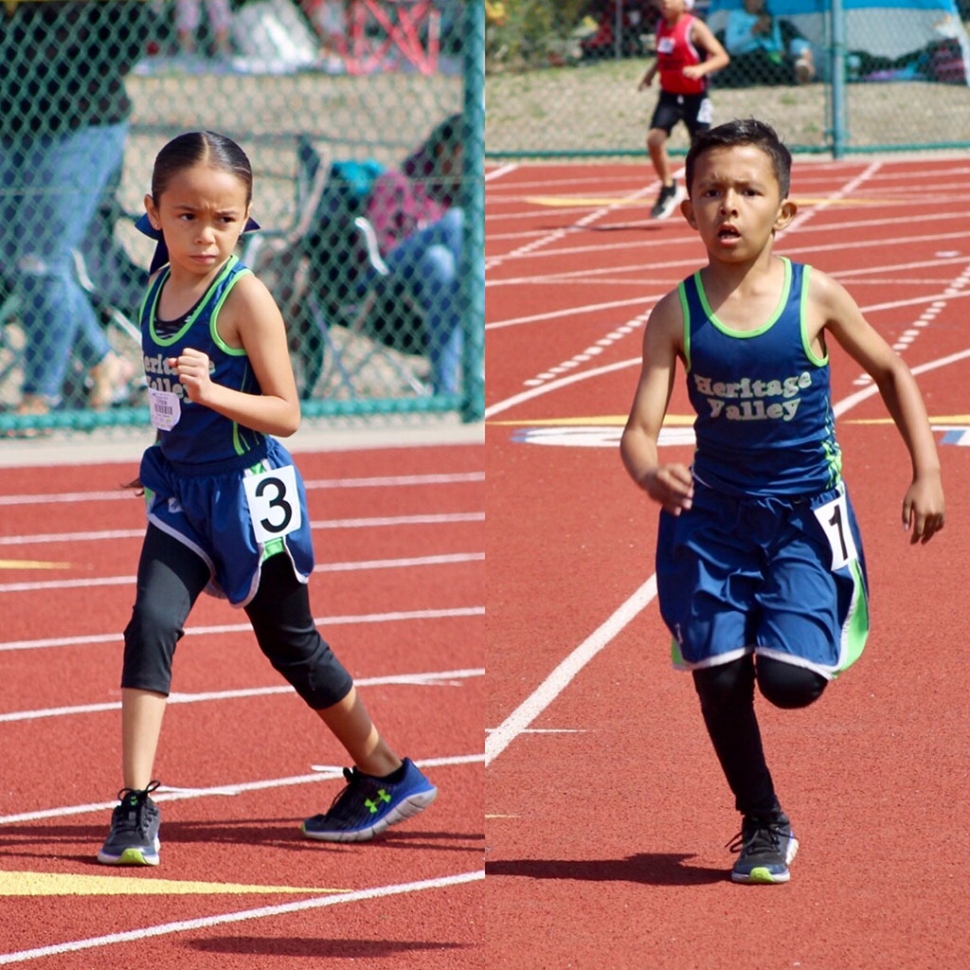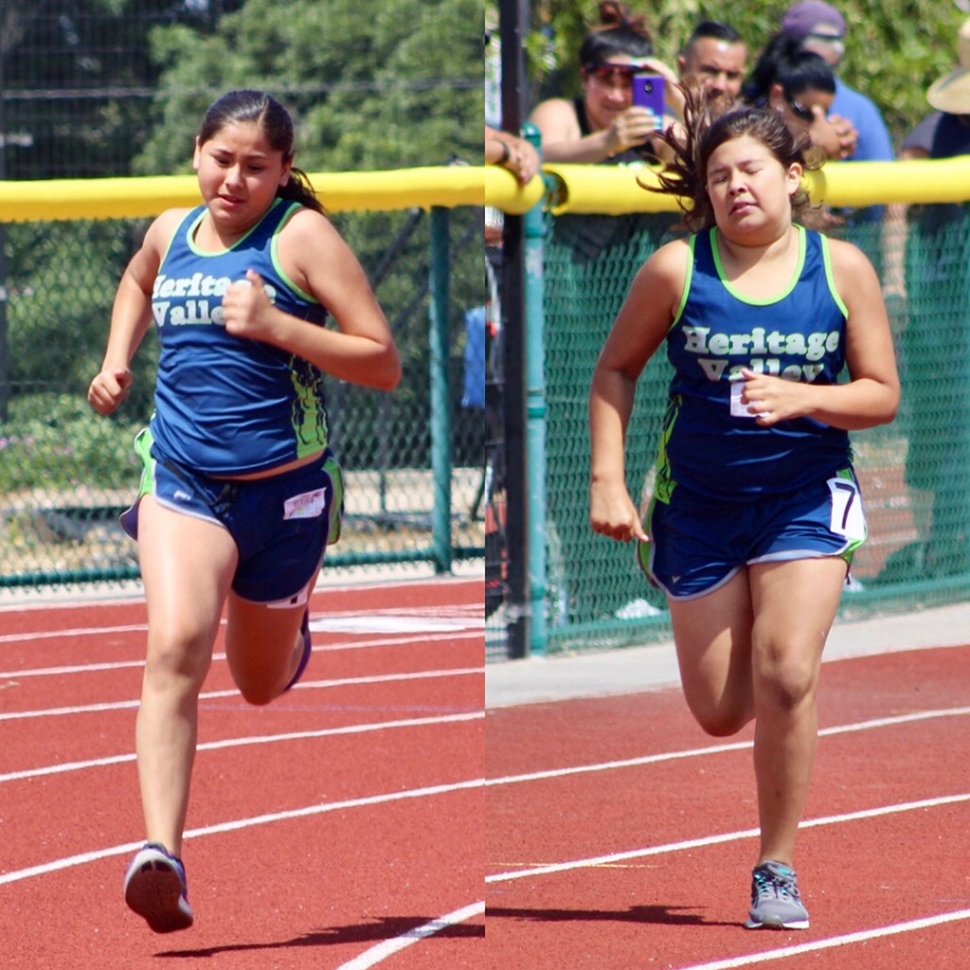 Submitted by Erika Arana
The Heritage Valley Blazers track and field team held Conference Finals, formally know as (JV Finals) on Saturday, May 4, 2019. This meet was against Oxnard, Simi Valley, Ojai and Ventura. Many of our local athletes completed their track season with personal records.
In the (7-8/division) Jayden Cortez's feet did not fail him in his last track meet of the season, he Personal record's in the 100m 19.09, 200m 42.64 and 400m 1:29.83; Jacob Vasquez 17.35, Aiden Arias 17.49 and JuanCarlos Garcia 18.52 all in the 100m; Aaliyah Arias ran her heart out with a 400m 1:59.30 Personal record; Jaylene Ponce both in the 100m 19.90 and 800m 3:33.68; both Maren Kubler 1:41.38 and Natalia Retana 1:44.45 in the 400m.
In the (9-10/ division) Jacob Martinez had a Personal record in his 400m 1:12.55; Eddie Sumaran 16.89 and Manuel Kubler 18.21 in the 100m; in jumps we had Adrian Uribe 10'-01 and Declan Doran 6'-06.25 with their best jumps of the season. Julie Luna 20.20, Sandra Vaiz 19.28, and Kaylee Riedmiller 15.38 all had a 100m Personal record; both Sarah Cedillos 15.71/32.93, C'Enna Uribe 15.73/32.99 raced to a Personal record in their 100m and 200m; Alani McKeen 1:29.18 and Aliana Manzano 1:24.58 both Personal record 's in the 400m race.
In the (11-12/division) Elijah Kubler leaped over into a season best time of 20.69 in the 80m Hurdles; Noah Flores Personal record's in the 1600m 5:54.18 and right behind him was Diego Felix who excelled with season bests in the 800m 2:49.05, 1600m 5:54.48 and a throw of 20'-03.5 in shot put. Also throwing his Personal record was Jasiah Patterson 20'-09.25; For the girls 400m race, PR's we ran by Ava Manzano 1:29.02, Sara Magdaleno 1:33.04 and twin sisters Karinna 1:22.95 and Emelie Magana 1:32.49.
In the (13-14/division) the 100m race Personal record 's we accomplished by Kade Larson 13.58, Benedict Collins 13.68 and Noah Juarez 14.78; 200m RESONAL RECORD was ran by Angel Gonzalez 31.66; in the 400m race Personal record 's were ran by Josiah Guzman 1:00.27, Luis Castaneda 1:01.78, Eric Morales 1:02.14 and Nomar Diaz 1:25.94; In the long jump we had Josiah Cruz with a Personal record of 11'-07.25; Jonathan Tarango ran a 1:23.57 400m Personal record and threw his furthest in shot put with a throw of 24'-11.5. In the 100m race Alexis Lopez ran a PR of 17.81; Aaliyah Kendricks 200m PR of 31.97 and then jumped a season best of 12'-4 in long jump; Danna Munoz 400m Personal record of 1:30.50; Yaraby Herrera jumped her highest in high jump with a 4'-3 PR; Karime Ramirez had two season best in the 200m 32.91 and 400m 1:20.76 races to complete her track and field season.
This Saturday, May 11th, 2019 Heritage Valley Blazers will be taking all their "A" Relay teams and an additional 34 athletes who qualified for the Ventura County Youth Track Conference (VCYTC) Championships, formally known as Varsity at Moorpark High School. They will be competing against the top athletes in Ventura County. GO BLAZERS!
The Heritage Valley Blazers is the only local youth track and field club covering Fillmore, Santa Paula, and Piru that provides training in running and field events for both first time and experienced youth athletes ages 6-16.
Please visit our website http://www.hvblazers.org. You can also follow us on Instagram @hvblazers and on Facebook at HV Blazers.