Baseball Season Opens in Piru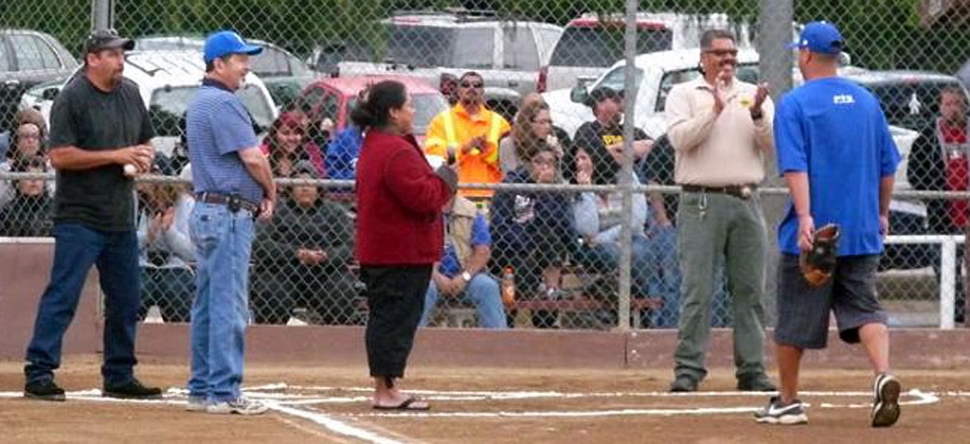 Piru Youth Sports Opening Ceremonies first pitch. Pictured (l-r) Mr. Fernando Vancini, Mr. Gil Escoto, Mrs. JoAnn Torres, Mr. Danny Ramirez and Mr. Hector Sanchez. Photo courtesy Heritage Valley Studios.
By Gazette Staff Writer — Wednesday, April 14th, 2010
Local Group of Volunteers Organize Sports League that Serves 168 Piru Youth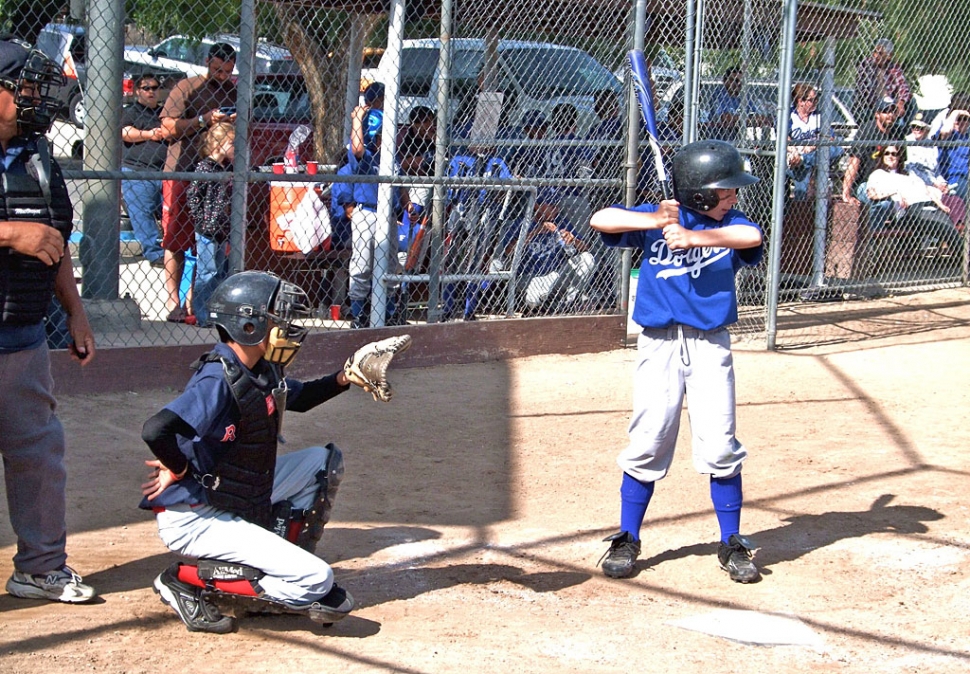 Piru held their opening ceremonies last Saturday. Above catcher Freddy Hurtado (Red Sox) and hitter Brendon Baker (Dodgers) show how it is done.
On Saturday, April 10 Piru Youth Sports held it's opening ceremonies which kicked off a full day of games. This marked the beginning of a 10-week long youth baseball season for the kids of Piru.
Piru Youth Sports board member JoAnn Torres introduced the leagues, (Tiny T-bal, T-ball/Coach Pitch and Baseball) the 13 teams and volunteer coaches. Then the first pitch was thrown by Piru Youth Sports Board member Fernando Vancini and caught by Piru Youth Sports supporter and volunteer Hector Sanchez.
Piru Youth Sports began in January 2009 as a group of community members recognized that many families in Piru have limited resources to involve their children in athletics outside of the community, and that there were no athletic programs available within Piru. With the intention of getting the kids of Piru off the couch and out of trouble, in two months, 30 volunteers formed Piru Youth Sports. During the 2009 season, 90 kids played baseball and soccer with donated equipment. Volunteers from Piru stepped up to be coaches, umpires, stat keepers, score keepers, announcers, do field maintenance and cook at games. This year looks to be a big growth year for the organization as 168 kids are currently playing baseball. The Soccer season this fall is sure to be just as popular.
Piru Youth Sports is a non-profit organization and all donations are tax deductible. PYS is not affiliated with any other local, state or national league or organization, so all donations stay in Piru. Current needs are: Cash donations, equipment bags (soccer and baseball), batting cage and nets, electronic ball thrower/launcher, practice equipment (bats, balls, batting helmets), soccer goals.
The Board of Directors are: Mr. Gil Escoto, Mr. Luis Lechuga, Mr. Danny Ramirez, Mr. Jimmy Sanchez, Mrs. JoAnn Torres, Mr. Tomas Torres and Mr. Fernando Vancini.
Support the kids of Piru! See our website for the game schedule. All games take place at One River Field, Warring Park, 802 Orchard Street in Piru.