Aguirre named 2009-10 MIAC All-Rookie Team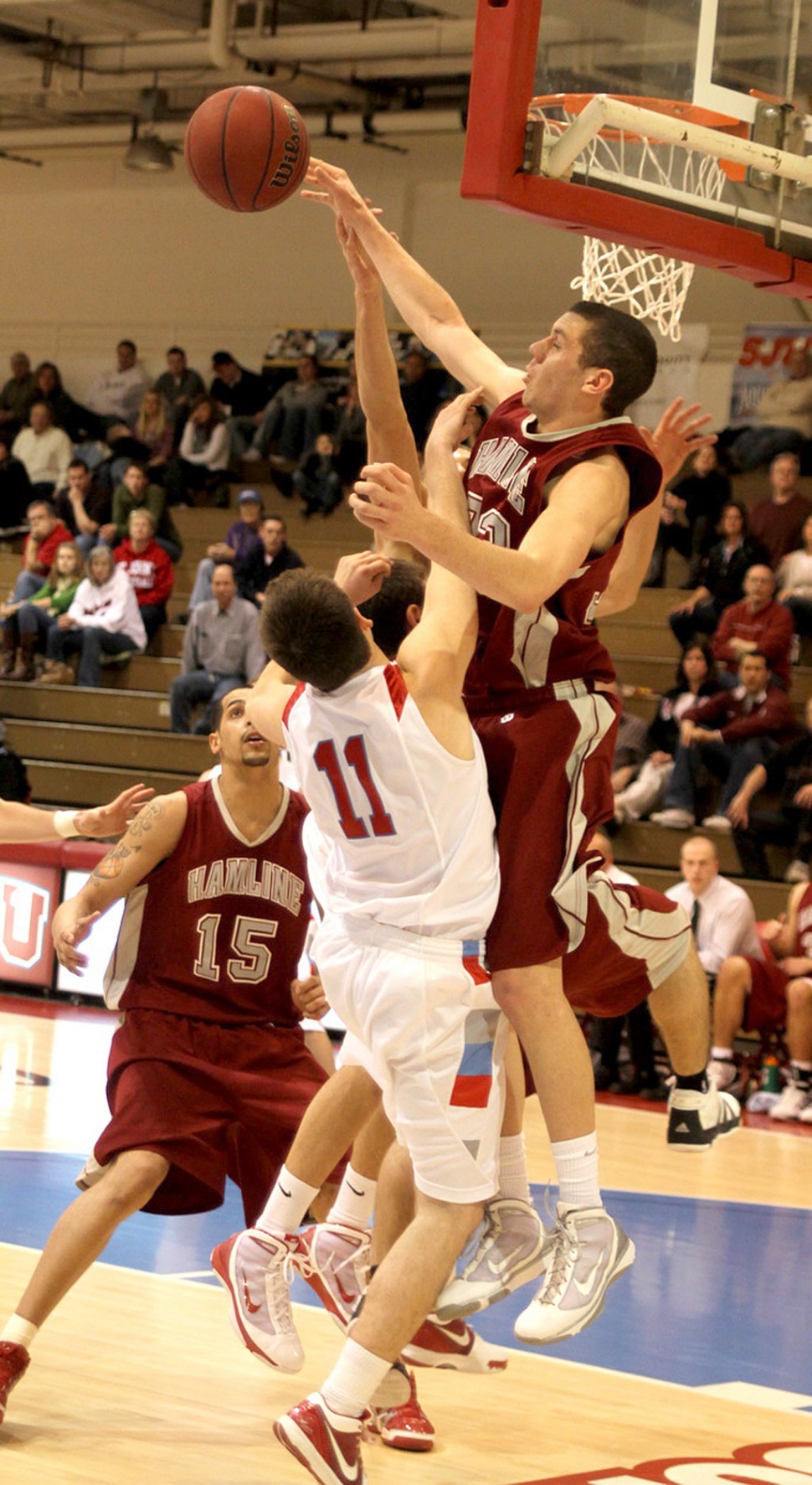 Noah Aguirre
By Gazette Staff Writer — Monday, April 5th, 2010
Four members of the Hamline University men's basketball team, including Fillmore, California native Noah Aguirre, were honored by the Minnesota Intercollegiate Athletic Conference for their play during the 2009-10 season.
The Pipers finished the season with an overall record of 15-11 and were 11-9 in MIAC play. The overall record marked the first time since the 1993-94 season that the Hamline basketball program has finished above .500 and was the most wins since a 16-9 record in 1990-91.
Junior Carl Hipp (Little Canada, Minn.) led the charge for the Pipers, earning both All-MIAC and All-Defensive Team honors. The center led the Pipers in overall scoring with 17.7 ppg, 16.9 ppg in MIAC play. Hipp averaged 9.4 rebounds per game and tallied 69 blocked shots this season. He also had 18 steals.
Ray Brown (Sr., Saint Paul, Minn.) joins Hipp as an All-MIAC honoree, averaging 17.2 ppg overall and 18.6 ppg in conference play. He averaged 7.3 rebounds per game this season and blocked 24 shots. He also had 31 steals and 52 assists.
First-years Jordan Schmidt (Northbrook, Ill.) and Aguirre were two of the five players in the MIAC named to the All-First-Year Team. They were third and fourth on the team in scoring, respectively. Schmidt averaged 7.6 ppg
overall and 6.9 ppg in MIAC play. He led the Pipers in assists with 70 total.
Aguirre had an average of 7.3 points per game, 3.2 rebounds a game. Aguirre had 43 assists, 17 Aguirre named 2009-10 MIAC All-Rookie Team steals and 5 blocks. He started 20 of 26 games. He averaged 23 minutes a game, shot 44% from the field, 85% from the foul line. He had a season high of 27 pts.
Hamline ended the season 15-11, 5th place in the MIAC conference. The team lost in the first rd. of playoffs to end their season. Hamline came to CA. in Dec. to play in the Cal Lutheran tournament in Thousand Oaks which Hamline won the championship.
Noah is looking forward to traveling to Greece on a basketball tour with his team this summer. Noahs major is undecided. Hamline is located in St. Paul MN.