10U Fillmore Girls All-Stars headed to Nationals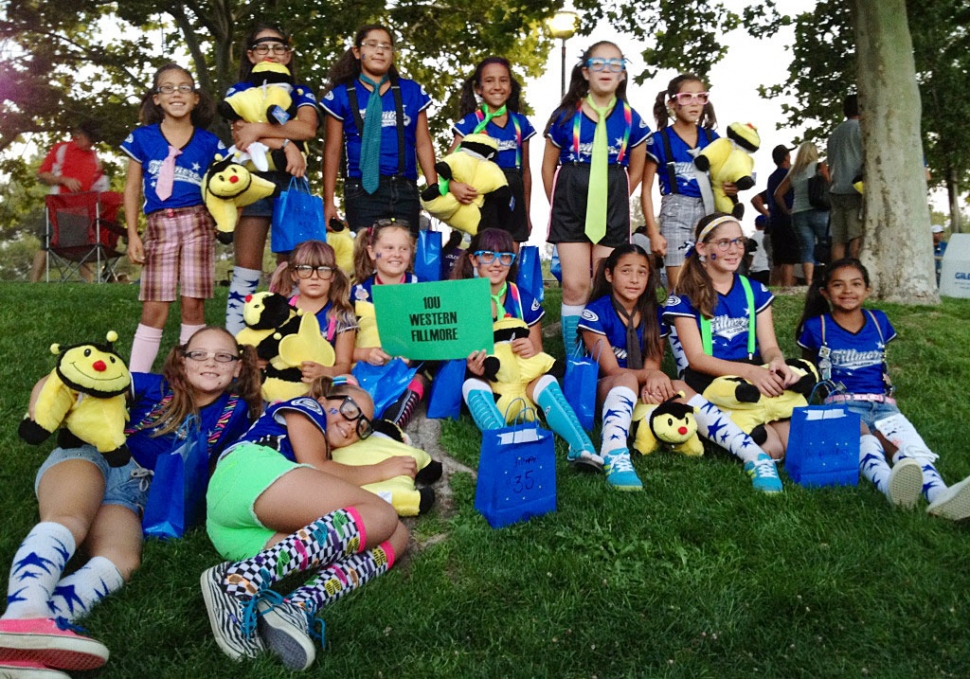 (l-r)(top row) Alyiah Golson, Isabella Ayalah, Lexi Garza, April Lizarraga, Nevaeh Walla, (bottom row) Alyssa Ibarra, Olivia Robledo, Addison Weeks, Jessi Fontes, Heaven Aparicio, Alexis Johnston and Julissa Montes.
By Gazette Staff Writer — Tuesday, July 10th, 2012
Car Wash Fundraiser Saturday, July 14, Balden Plaza (next to Verizon) 9am-2pm
BIG Congratulations to our Fast Pitch Softball 10U Fillmore Girls All-Stars for their berth to Nationals in Spokane, Washington July 30 through August 5, 2012.
Our girls qualified in the DIstrict Tournament in El Rio June 25-27, leading them to a State Tournament July 6-8 in Lancaster where they lost their first game Friday and battled through the loser bracket in 90 degree plus weather. We faced off Sylmar in the final game for Nationals. Winner advances to Washington and losers to end their All-Star season. In the top of the second inning, the first run scores giving Fillmore the lead by 1-0. Sylmar comes back to score 2 runs in the third inning to take the lead by 1-2. In the sixth inning Fillmore scores to tie the game 2-2. We went into international tie-breaker in the top of the eight inning where Sylmar scores again to reclaim the lead 3-2. Fillmore scores a run in the bottom of the eight to tie it back up, 3-3. Our defense holds Sylmar from scoring in the top of the ninth inning. During bottom of the ninth, Nevaeh Walla sacrifice bunt moves Alyssa Ibarra our runner to third bases and Ollie Robledo hits to left field and Alyssa scores our winning run. Jessie Fontes picks up the win pitching the entire nine innings.
This is the first time in Fillmore history that a "B" Gold League has qualified for National Tournament to represent the City of Fillmore at the highest level of ASA Softball.
Please come out and support our Car Wash this Saturday July 14 at Balden Plaza, 502 W. Ventura St. next to Verizon in Fillmore from 9:00 am to 2:00 pm. Baldwin Plaza will be matching our fundraising earnings during this car wash.
We will also be having a Chicken dinner drive thru at the Fillmore Fire Station on Wednesday July 25, 2012 between 5:00 pm and 7:30 pm. Phone orders will also be available, contact Mario at (805) 766-2122 or Vanessa at (805) 824-7015 and our girls will deliver.
We are proud of these young ladies and their commitment. Good Luck girls and play your hearts out at Nationals!
Thank you Fillmore Girls Softball and to our City of Fillmore!