Obituary
Simon Carrillo (1932-2013)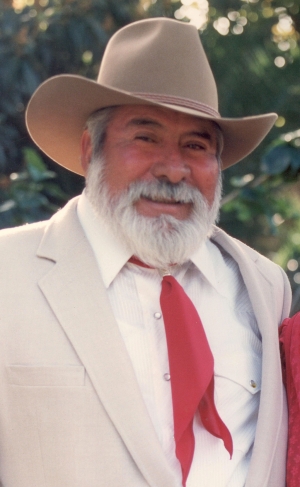 Simon Carrillo (1932-2013)
Simon Carrillo was called home to be with the Lord on Monday, July 8, 2013. We are deeply saddened to announce his passing, but he left us in the comfort of his home, surrounded by family and friends.
Simon (Moni) was born to Encarnacion and Guadalupe Carrillo on January 5, 1932. He was one of five children who were born and raised in Fillmore. Upon graduating from Fillmore High School he joined the US Navy and served his country. Once returning from his service, he furthered his education at Ventura College while attaining his Associates Degree in Horticulture, and later transferred to Fresno State University. Simon returned to plant his roots back in his hometown, dedicating his career in the city of Fillmore. As a carpenter by trade he then began a career working for the City of Fillmore, where he spent the next 28 years officially, but continued to be the "city's go-to man" throughout his life. During the final years of his career with the city, Simon and his wife pursued their dream and fulfilled their passion for cooking, through opening their own restaurant, Nancy's Café. As an avid member of the community, Simon has been recognized through the lens of different organizations. Simon and Nancy were the founders of Piru-4H in 1981, he was Mr. Chili-Pepper in 1987, and the Fillmore Grand Marshall in 1992, along with many other accolades. Through Simon's desire to live an active life, he kept up with his hobbies of fishing, hunting, cooking, farming, building, helping and being known as the handy man of Fillmore. As a man of strong values, he exhibited an immense amount of dignity, knowledge, courage, strength and patience in all that he did, and served as a strong role model for his family. He was a devout Catholic and parishioner of St. Francis of Assisi Church. Above all else, Simon enjoyed sharing these values, stories, lessons and quality time with his family. Every holiday season you would find Simon enjoying time making tamales with friends and family, sharing recipes, and laughter.
Simon is preceded in death by his loving parents Encarnacion and Guadalupe Carrillo, sisters Josephine Ortiz and Helen Romero, and granddaughter Amber Leon. He is survived by his wife, Nancy Carrillo, children Ray (Maria), Simon (Denise), Shannon (Robert), Jonas (Diane), Kelly (Albert), Lisa, Kathryn, Jim, Scott (Amber), 21 grandchildren, 16 great-grandchildren, sister Manuela Carrillo and brother Agapito (Jovita) Carrillo.
Simon will be remembered and greatly missed by his family and friends, remaining forever in our hearts.
A rosary was recited at 7:30p.m., Sunday, July 14 at Saint Francis of Assisi Catholic Church, 1048 W. Ventura Street in Fillmore. A Mass of Christian Burial was Celebrated at 9:30a.m., Monday July 15 also at Saint Francis of Assisi Church. Committal & Interment followed at Bardsdale Cemetery.
To sign the family's online guestbook, share stories and post pictures please visit our website: www.santapaulafuneralhome.com and click on Simon's name located below "Recent Obituaries."
Funeral Arrangements are under the direction of the Family Owned & Operated Robert Rey Garcia Jr Funeral Svcs., Santa Paula, CA 805.229.7054.