Tai Chi: Moving for Better Balance
By Bob Crum — Wednesday, March 22nd, 2017
Fall prevention for the elderly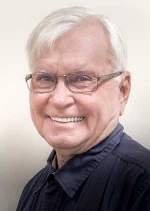 Bob Crum
According to the National Council on Aging (NCOA): "Falls are the leading cause of fatal and non-fatal injuries for older Americans. Falls threaten seniors' safety and independence and generate enormous economic and personal costs.
However, falling is not an inevitable result of aging. Through practical lifestyle adjustments, evidence-based falls prevention programs, and clinical-community partnerships, the number of falls among seniors can be substantially reduced."
Fillmore residents will soon have the opportunity to participate in a evidence-based falls prevention program. It's called Tai Chi: Moving for Better Balance. In introductory class will be held at the Active Adult & Community Center, 533 Santa Clara Street, Fillmore on March 28, 2017 from 1- 2:30 p.m.
Tai Chi may not be a familiar term for many in our society but it's been around for centuries. The Tai Chi: Moving for Better Balance is simplified for seniors, intended for beginners. Canes and walkers are okay.
Your instructor for Moving for Better Balance is Dina Ontiveras, experienced with working with the elderly. Ontiveras emphasized that "the class is easy-to-learn Tai Chi based on the Yang style though not the real Yang Tai Chi.
As Ontiveras explained, "this class is designed to be easy to learn, easy to do for people at risk of falling over the age of 60. It is specifically designed for people who have had falls or at risk of falling. It's equivalent to physical therapy but is not physical therapy because it's symmetrical. This means everything you do on the right, you also do on the left.
"There are only eight forms to learn," Ontiveras said, adding, "we take our time, we go very slow to be sure everyone learns the forms. A participant does not have to do the whole thing standing, it can be done sitting."
As Ontiveras stated, "it's an evidence-based class meaning there was a study behind it, which showed that the people who took the class, lessened their risk of falling by 57% because they become stronger and have better balance."Furthermore, "some have started the class using a walker", Ontiveras said, "then moved to a cane and by the end of the class, needed no assisted device."
Ontiveras said, "the course is only 12 weeks long and is presented in English and Spanish as needed."
The importance of taking the Moving for Better Balance course cannot be over-stressed. Dr. Thomas Duncan, DO, FACS, Chief of Staff, Ventura County Medical Center, alarmed by the increasing amount of patients admitted from falls and related injuries, started a county-wide initiative to reduce falls by the elderly. The course being presented in Fillmore is a result of Dr. Duncan's initiative.
Dina Ontiveras again emphasized the danger of falls saying, "falls and related injuries is the leading cause of death for people over the age of 65... more than cancer, heart disease and stroke combined."
With awareness about the potential of falling, there cannot be a valid excuse not to take this important Tai Chi: Moving for Better Balance course right here in Fillmore.
For more information, stop by the Active Adult & Community Center or call Marie Garfio, 805/524-3030.