Stretch Band for Home Exercise on August 8 at Fillmore Senior Center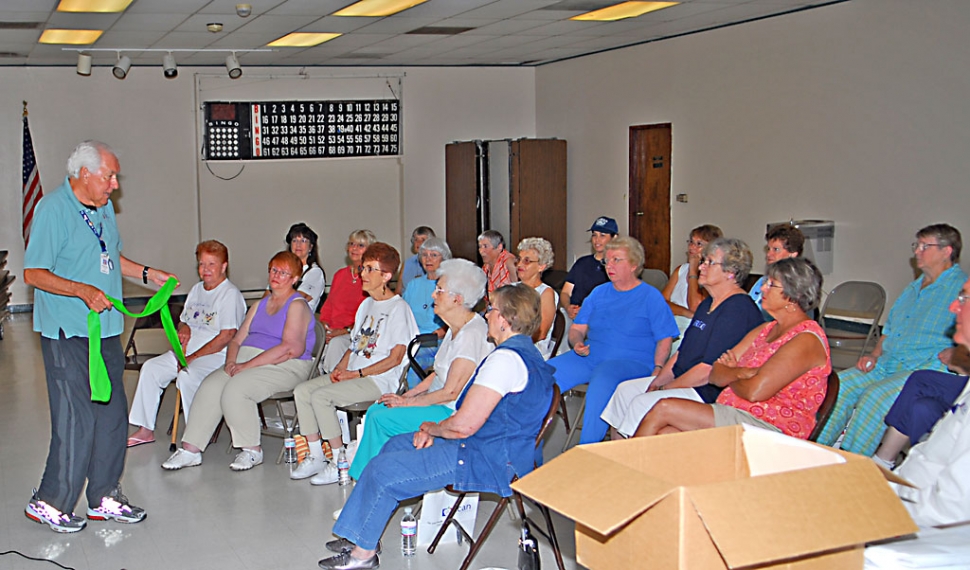 Bob McCullagh, certified instructor and senior advocate with the SCAN Senior Resource Center, demonstrates a stretch technique at the Fillmore Senior Center.
By Gazette Staff Writer — Wednesday, August 6th, 2008
Fillmore Senior Center and SCAN Senior Resource Center have teamed up to offer a special 90-minute class to help seniors increase their strength, balance, endurance and agility through a home exercise program. "Senior Stretch at Home" will be held on August 8 at the Fillmore Senior Center at 533 Santa Clara St., Fillmore. A free Stretch Band Kit ($10 value) will be provided to participating seniors.
"Physical activity does not need to be strenuous or time-consuming," said Bob McCullagh, a certified instructor and senior advocate with the SCAN Senior Resource Center. "My goal is to help people discover simple ways to make activity part of their day and help them reap the health rewards of being more active."
This class is specifically designed for individuals who don't want to commit to an ongoing exercise class. Participants will gain:
• the motivation needed to get started,
• an understanding of what to do, and
• instruction from a fellow senior uniquely qualified to lead them into a higher level of fitness and health.
Refreshments will be served. Call 658-0365 for more information and to register. Space is limited.
For more than 30 years, SCAN Health Plan has been focusing on the unique needs of people with Medicare and today is the fourth largest non-profit Medicare Advantage plan in the United States. The company currently serves more than 105,000 members in Los Angeles, Orange, Riverside, San Bernardino, San Diego, Ventura and Kern counties. In Arizona, SCAN offers a health plan for Medicare and Medicaid-eligible individuals and also provides long-term care services to individuals enrolled in the state's long-term care system in Maricopa County. Further information may be obtained at www.scanhealthplan.com.